If you run an online business, you'll need to know how to edit a WIX website. Editing a website in Wix is one of the most important features of the website platform. Without being able to edit a site, then a site will become dated and users will engage less with the site itself.
It also means if you're an ecommerce business you wouldn't be able to update any products to your site. That's why, with any web builder, editing tools are always available, whether you use WIX, WordPress or your own code to build a site.
In the below video, we will explore some of the many features WIX has to offer to edit your site.
Adding Your Own Personal Logo
When you create a WIX website using a template, a logo for your site will automatically be made for you. If you already have a logo designed or the logo is not right for your brand you can edit this easily.
Logos always appear in the navigation bar of the website.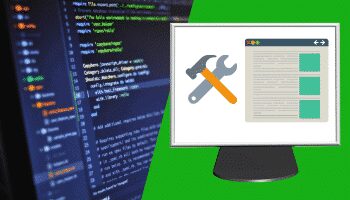 The first step is to erase the logo already in your navigation, which was provided by WIX. To do this, click on the image or text and hit backspace on your keyboard. You can also right click and then click on delete. This will delete the logo.
The next step is to add your own logo. To do this go to Add Element on the left side on the screen, go to images then upload images. Here you can upload your personal images, which is great for making your website feel more personal to you and your users.
Click upload images and find the right file to upload. Once the image is uploaded click 'Add to page'. The logo will then appear on the page and it is then u pto you to place and resize the image to suit your needs. In the video it was resized to fit the navigation.
Editing the Navigation Bar
Editing the navigation bar is also easy. To do this click on the navigation bar. Here you will be able to resize it to your needs. You can also change the layout off the navigation with the layout element.
Layouts can start from left to right, right to left and others. Choose the ideal one for you.
With the navigation you can also change the design. To do this beside the layout element there is a design button. WIX has many designs for the navigation including bubble navigation, block navigation, navigation with an outline and much more.
Once you've selected the right design for your navigation, select the 'Customise Design' button. Here you can further edit the navigation.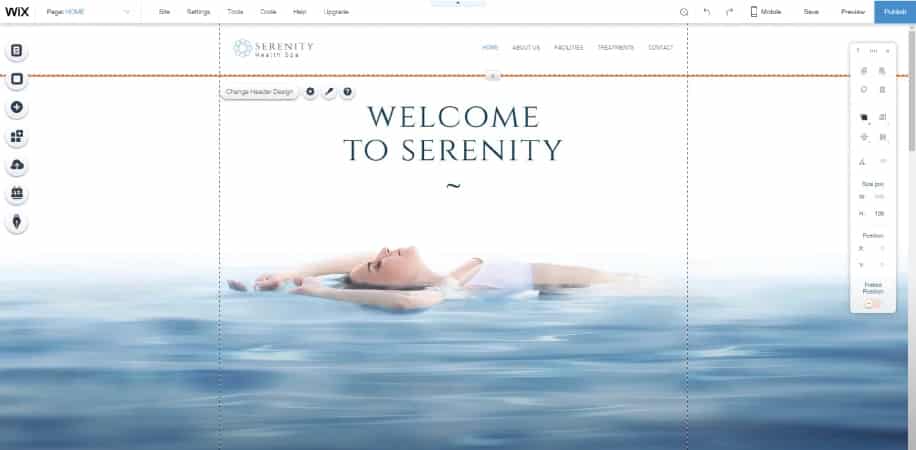 Options you have to customise the navigation include the text, border, colour, spacing and more. We suggest trying out different options to find the best one for you and also keep the colour of your navigation in line with the theme used.
There are also options for when hovering or clicking the navigation. The hover option is great as it allows the colour of the button to change when the mouse is hovering over it. It helps the user understand which page they would be clicking onto.
You can also change the colour of the button whenever it is clicked in these options too. This means whenever the button is clicked, the colour will stay a different colour from the rest of the buttons when still on that page.
Again this helps users understand which page they're on.
What Kind of Content Should You Have on Your WIX Site?
However, it's naturally useful to know what kind of content you should actually publish on your WIX website. Generally, most websites have different combinations of the same kinds of content.
Here are a few of the key kinds of pages you should have on your WIX site.
Product and Service Landing Pages
Most sites sell some kind of products or services to make money. As such, it's vital to have dedicated pages on your site for each product and service you offer. This is important for both attracting and converting users.
For example, if you run an ecommerce store which carries a range of footwear products, you should have a product page for each individual item, which can then be optimised for specific keywords relating to that product.
In other words, you can edit a WIX website in such a way that each individual product or service page attracts traffic from transactional searches.
Additionally, product and service pages should be edited to work as high-converting landing pages for your offerings. This is crucial when using a range of marketing strategies, including social, email and PPC.
Home and About Pages
When you edit a WIX website, one of your other main goals should be to fully optimise your Home and About pages. Specifically, your homepage should be the main point of entry to your site for a range of different keywords.
These include branded search terms, as well as industry-related informational and other non-transactional keywords. The goal is to use your homepage to attract visitors for all of these keywords, and then redirect them towards the relevant page for their needs.
This works by using your home page as a platform to signpost different kinds of content to your users. You can edit a WIX website on an ongoing basis to keep this up to date as your site changes and grows.
Blogging and Content Marketing in WIX
Blogging and content marketing is probably the area where you'll need to edit a WIX site the most often. This is because content marketing relies on a constant stream of new blogs, articles and other collateral.
This requires you to know how to add new blog posts and categories, as an absolute minimum. This includes adding content, SEO optimisation, metadata and embedding media like images and videos.
More reading related to Wix Website Builders:
5 Essential Wix Apps For Your Online Store
Building a Website Without Coding
Social Media Guide: COMPLETE One-Stop Essentials
Additionally, it's vital to edit content pages on an ongoing basis in order to be sure they are performing to their potential. Specifically, as you work on your content strategy, you'll likely uncover best practices, which you'd like to go back and implement on your existing articles.