What is Twitch? In short, it's a community where streaming, gaming and pop culture meets social media. Millions of people around the world use this streaming service to share their gaming skills, cooking skills and lifestyle, and anything else they're interested in.
You can also become part of the action with your channel or engage with your favourite competitors, using the chat attached to every live stream.
One great benefit of Twitch is that setting up your channel is very simple. Using a range of devices, you can quickly create an account, set up a stream, and start publishing amazing live video content.
Additionally, Twitch is a popular tool for marketing products and services in a range of different industries and niches. This is a growing trend, allowing brands to become early adopters of Twitch in their space.
Let's take a look at everything you need to know about the world's most popular streaming platform: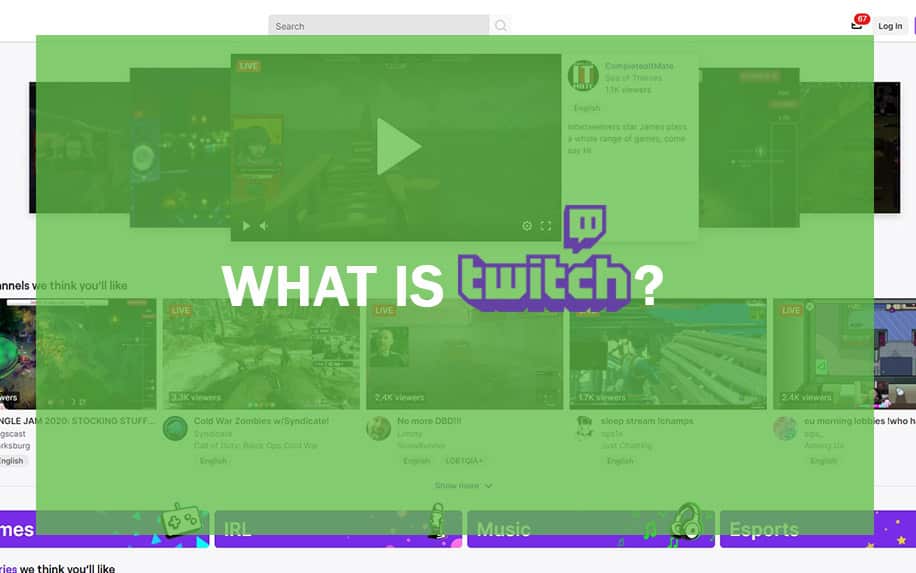 Table of Contents
What is Twitch TV?
So what is Twitch? Twitch is best known for gaming streams, but these days it is used in all industries.
In 2011 Twitch was founded as a video streaming network, originally as a streaming service for video games and gamers to share their skills. It has now developed into a streaming service network for talk shows, TV shows and much more.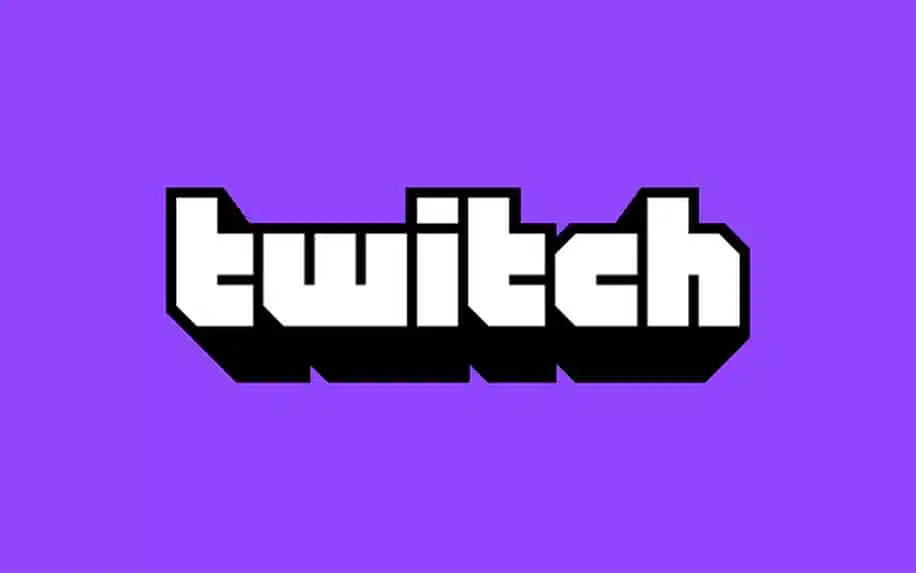 Image credit: Twitch
Twitch is the biggest online streaming service for live on twitch streaming, amassing over two million streamers every month, with many making a living through the service. In 2014 Twitch was purchased by Amazon and has worked a lot with the online giant since, adding features such as Twitch Prime and Amazon payment.
What is Twitch now? Twitch has grown well beyond the gaming industry and into the mainstream. Just take a look at the growth of the amount of content viewed on Twitch over the last couple of years.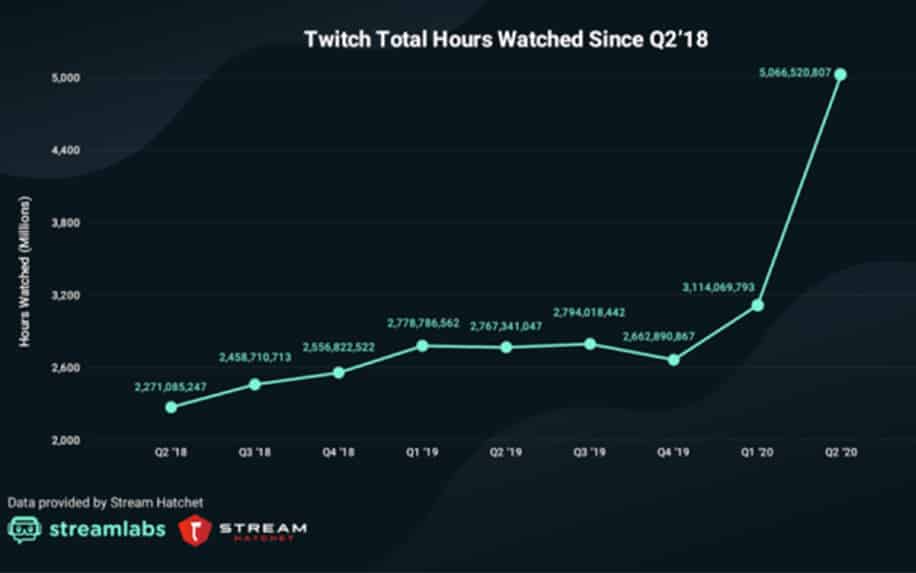 Image credit: Tech Crunch
What is Twitch in popularity? Twitch is the most popular platform for streaming and Twitch's popularity exploded over the COVID crisis!
You'll notice that Twitch exploded in popularity in the first part of 2020, due to the emergence of the coronavirus crisis. Like many changes to the way we live, this is showing no signs of being reversed.
What is Twitch Streaming?
Twitch streaming refers to the process of broadcasting live video content on the Twitch platform. This is most commonly associated with video game streaming, where broadcasters, also known as "streamers," play video games live while interacting with their viewers through chat.
However, Twitch streaming can also encompass other types of content, such as music performances, art creation, cooking, talk shows, and more.
How does Twitch work?
Twitch is a live streaming platform where users can watch, interact with, and broadcast content. Here's a basic rundown of how Twitch works:
Creating an Account
To get started with Twitch, you'll need to create an account. This is free and allows you to interact with streamers and other users.
Watching Streams
What is Twitch like for watching Streams? Once you have an account, you can browse the site for live streams. These are categorised by the game or type of content being streamed. You can also search for specific streamers or games.
Interacting with Streams
What is Twitch like as an overall Streaming Platform? While watching a stream, you can interact with the streamer and other viewers through the chat. You can also follow the streamer to be notified when they go live, or subscribe to support them financially.
Broadcasting Your Own Stream
What is Twitch like for Broadcasting? If you want to broadcast your own content, you'll need to set up a broadcasting software like OBS (Open Broadcaster Software). This software captures your screen and sends it to Twitch to be streamed live. You can stream gameplay, creative content, real-life activities, and more.
Twitch Monetization
What is Twitch like for earning? Streamers can earn money on Twitch through several methods. Viewers can subscribe to their channel for a monthly fee, donate on twitch directly, or use Bits (a virtual currency on Twitch) to cheer. Streamers can also earn money through ad revenue and sponsorships.
Community
What is Twitch like in terms of community? Twitch has a strong sense of community. Streamers often build a community of regular viewers, and there are also communities built around specific games or types of content.
Video on Demand (VOD)
Past broadcasts are saved as VODs, which can be watched later. Streamers can also create highlights from their VODs.
Clips
Viewers can create short clips from streams to share their favourite moments.
Extensions
What is Twitch like for extensions? Twitch allows the use of extensions, which are interactive overlays and panels that can be added to a stream to enhance the viewing experience.
Where Can I Access and Watch Twitch?
What is Twitch like for accessibility? Twitch has become easily accessible to everyone around the world. Users can access the platform on their website and through apps on Apple and Google devices. This means you can have the platform at your fingertips, anywhere in the world.
You can also watch the service on many video game platforms, including Xbox and PlayStation. Twitch is also accessible on a range of smart TVs, as well as certain set-top boxes.
Other devices to access Twitch include Fire TV, as well as Google's Chromecast and the NVIDIA Shield. On each of the devices, you can create an account to follow different streamers and also take part in the online chat attached to each stream.
What is Twitch App?
The Twitch app is a mobile and desktop application that allows users to watch and interact with content on Twitch. The app provides a more convenient and mobile-friendly way to access Twitch's features compared to the website.
Features you can access through the Twitch app include:
Live Streaming: Watch live streams from thousands of creators around the world. This includes video games, creative content, real-life streams, and more.
Chat: Interact with the streamer and other viewers in real time through the chat feature.
Follow Channels: You can follow your favourite streamers and get notified when they start streaming.
Browse: Discover new streamers and content through the browse and search features.
Video On Demand: Watch past streams and other video content from your favourite streamers.
Subscriptions and Bits: Support streamers by subscribing to their channel or cheering with Bits.
Notifications: Get notified when the channels you follow go live.
Mobile Streaming: On the mobile app, you can also stream directly from your device.
What is Twitch? is it Just Streaming for Gamers?
Contrary to popular belief, there are all kinds of different content on Twitch. So what is Twitch like now?
As you now know, Twitch was originally developed for just gamers. But it has since changed a lot since it was founded in 2011. Nowadays the biggest category is still gaming, but there are a few different and newer type categories.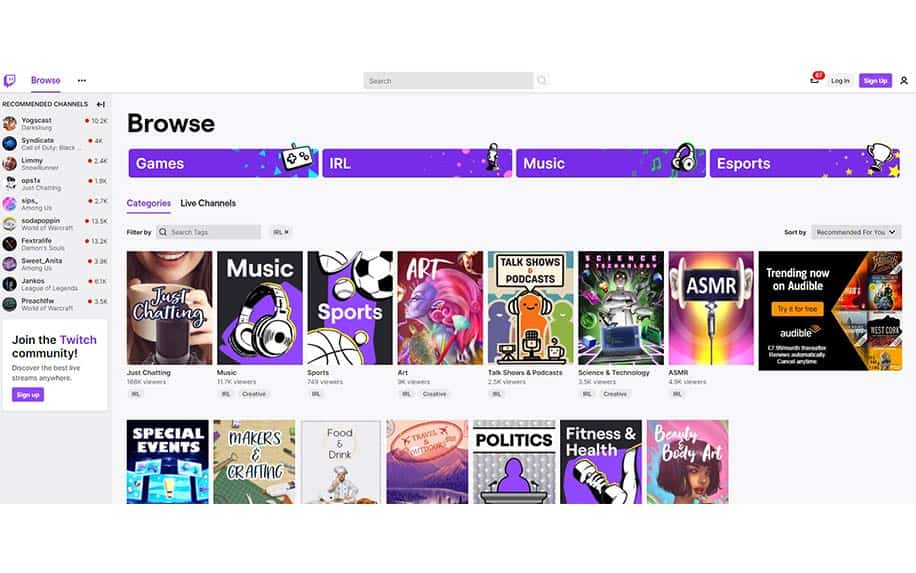 Image credit: Twitch
If you run a non-gaming brand, this means that it's an excellent time to get ahead of your competitors by becoming an early adopter of Twitch in your niche.
One of the largest non-gaming categories is called 'IRL', an abbreviation for 'In Real Life'.
People can now upload live streams of their own life. Within this category, you will find people talking about their life, dancing routines, people cooking and sometimes people live streaming their experiences.
In other words, this is normal social media-style content, only live.
There is also a creative category, which is ideal for people with more artistic tastes. Many people would use this category to stream Photoshop or Illustrator tutorials. Recently, producers have even started streaming their process for remixing music.
Recently Twitch has also crossed over more into mainstream entertainment. Specifically, more and more comedians and podcasters are beginning to use Twitch to engage with their audiences in real time.
What is Twitch like as a Social Media Platform?
What is Twitch like for Social Media? Many people will describe Twitch as a streaming platform for all. Therefore, not many people will see Twitch as a social media platform. However, if you really think about it, Twitch has social media features.
One of the main social media features is the streaming chat available on every stream. Users can talk to their favourite streamers and others watching the same stream with this chat feature.
Image credit: Twitch
Since Twitch is based around like-minded communities, there is a strong social element.
It is a great place to get to know your favourite steamers if they don't have a lot of viewers as they won't have as many users in their live chats. Other users can also discuss with one another on the platform.
Furthermore, Twitch has also implemented a private chat feature. Instead of users chatting within public chat rooms on live streams, they can talk directly to one another. Twitch streamers can also talk to other streamers with the use of this feature.
A status update-like feature also allows users to post updates on a timeline, moving even closer towards a social media-like platform.
Twitch and Amazon
What is Twitch like for Amazon? Twitch integrates heavily with other Amazon services.
We already know that Twitch was bought by Amazon in 2014. So, what is the relationship like between Twitch and Amazon? Since the buy over by Amazon, users can donate to streamers on the service using a service called Amazon Payments.
This is how some streamers make a living on the Twitch platform.
Users can also sign up to Twitch Prime, which is a Twitch membership which links up with Amazon Prime. Prime services are designed to integrate with one another, for cross-platform promotion.
Twitch and Amazon – Image credit: Amazon
So, what are the benefits of integrating Amazon with Twitch?
Every prime user on Twitch gets an ad-free experience on the service. Quite similar to what YouTube now offers in the UK. Users also get video game discounts when they have a prime account on Twitch, as well as a free subscription to any Twitch partner programs.
What is Twitch Prime?
What is Twitch Prime? Now known as Prime Gaming is a premium experience on Twitch that is included with Amazon Prime and Prime Video memberships. It offers members free game content every month, free games, a channel subscription every 30 days at no additional cost, and more.
Here are some of the benefits of Prime Gaming:
Free Monthly Channel Subscription
Prime Gaming members receive a channel subscription every month at no additional cost, which can be used on any Partner or Affiliate channels, providing the streamer with financial support.
Free Games and In-Game Loot
Members get access to free games every month, which are theirs to keep forever, as well as in-game bonuses like skins, boosts, and more for popular games.
Exclusive Emotes and Chat Badge
Prime Gaming members have access to exclusive chat emotes and a chat badge that distinguishes them as Prime members.
Expanded Broadcast Storage
Members can store their broadcasts on Twitch for 60 days rather than the standard 14 days.
Member Access to Game Content
Prime Gaming often includes access to new games, or special in-game benefits in popular games.
What is Twitch Turbo?
What is Twitch Turbo? This is another premium subscription service offered by Twitch. With Twitch Turbo you will receive the following benefits: 
Ad-Free Viewing
With Twitch Turbo, you can enjoy an ad-free viewing experience across all channels. This means you won't see any pre-roll or mid-roll ads while watching streams.
Custom Emote Set
Twitch Turbo users get access to a set of exclusive emotes.
Chat Colour Options
You can choose from a variety of chat colours.
Priority Customer Support
Twitch Turbo users receive priority when it comes to Twitch's customer support.
Badge
You get a special badge that shows you're a Twitch Turbo user.
The emergence of upgraded features like Twitch Prime and Twitch Turbo indicates how popular the streaming platform has now become. There is a demand for enhanced functionality and user experience and people are willing to pay for it.
What is Twitch like with Competitors? Do they have Competitors?
Question?
As Twitch can now be described as the biggest streaming company online, who does that leave as the competition?
Answer?
Twitch has several high-profile competitors, including Facebook and YouTube. 
In the year that Twitch was developed, YouTube brought out its own live-streaming services. It didn't take off at first but in 2014 any channel with over 100 subscribers could now live stream on the service. This makes YouTube a major competitor.
Image credit: ProfileTree
Facebook has also stepped into the world of live streaming, as has Instagram. Periscope is another live-streaming service with a large following.
However, there is a major issue with Periscope, which Twitch does not. You only can live stream vertically, so it is great for live streaming on the go but not so good for desktop. This means, as an all-rounder, Twitch remains a favourite.
But let's see what the competition does next!
What is Twitch? And Why Should Brands Care?
It's a common misconception that Twitch is simply a streaming site for gamers. Indeed, gaming content still dominates. However, we're nonetheless beginning to see the signs of change.
These days brands in just about every industry are using Twitch to stream live video content to their audiences. After all, this is a fantastic way to engage your customers with regular valuable content. It's also much cheaper than traditional video content.
There are two ways to go about this. The first is to cultivate your own audience on Twitch. The second is to leverage existing audiences by engaging with influencers and creators to feature your products and services.
Which is best will depend on your industry, goals and resources. In either case, Twitch is an excellent platform for all kinds of brands to build strong relationships with their customers and fans.
How to Use Twitch for Brands
What is Twitch like for Brands? Energy drink manufacturers are among the brands which use Twitch to great effect. When discussing any online platform, the biggest question is often how brands can benefit from using it. Most brands understand how they can benefit from traditional social sites, but live streaming is a slightly different beast.
Image credit: GFuel
The first hurdle is to figure out how live streaming can fit into your brand strategy. Luckily, there are a bunch of different kinds of content which lend themselves to live streaming. This is easy if you have a product that you can offer regular tutorials on.
If not, you might choose to produce regular live interviews with your staff, or other key players in your industry.
Once you've decided what direction you want your Twitch content to take, it's time to start thinking about what way you'd like to present it. Specifically, you have two options:
Creating your own Twitch presence,
Engaging with existing Twitch users and influencers.
Which of these is best will depend on your goals and your resources. Let's take a look at each in turn.
Creating Branded Twitch Streams
This is the more involved option, but arguably offers more rewards, if you see Twitch becoming a major part of your brand strategy. This requires you to do the legwork of creating your own Twitch channel and building up an audience to achieve ROI on your live video content.
Of course, this is challenging and can take quite a long time.
However, it can quickly become the more cost-effective option, as you'll be in total control of your Twitch content strategy, and eliminate the costs associated with engaging influencers in your niche.
Of course, the first step is to create a Twitch account.
Once you've done this, you can pretty much start streaming with nothing but a computer and a webcam. The only tricky part is Twitch audience acquisition.
For existing brands, your best bet is to cross-pollinate using your existing audiences. This is actually a pretty simple process. All you have to do is create posts on your existing channels to notify your fans of your new Twitch presence.
User Generated Content on Twitch
What is Twitch like for User Generated Content? If you don't have the time or resources to cultivate your own following on Twitch, the best option is to leverage external users with existing audiences. However, depending on your industry, this might be difficult.
Remember, that Twitch is still pivoting away from being an exclusive video game-centred platform. In many niches, Twitch influencers might simply not exist. This doesn't mean that you can't use Twitch for your brand, but you might need to think a little bit more laterally.
Once you've decided on your targets, the next step is outreach to secure a feature in their stream
People who've never done cold outreach often find it scary, but in reality, it's not that hard. The key is to focus on the value you're offering to recipients, over what you want to get out of them.
When reaching out to Twitch influencers, you can offer two key pieces of value. Firstly, you're giving them an easy content idea that they can run with. This is extremely valuable, as you'll understand if you've ever tried to figure out what to talk about every day of the week.
Secondly, you can offer them freebies, including access to your products and services.
How to Stream on Twitch?
Here's a basic rundown of how Twitch streaming works, you can follow these steps to live stream your own content and grow your audience.
Setting Up
To start streaming on Twitch, you'll need a Twitch account, a decent computer or console, a good internet connection, and broadcasting software. The most commonly used broadcasting software includes OBS (Open Broadcaster Software), Streamlabs OBS, and XSplit.
Broadcasting
Once you've set up your streaming software to capture your screen (or specific window) and your microphone, you can start broadcasting. This will send your gameplay or other content live to your Twitch channel.
Interacting with Viewers
While streaming, viewers can watch your stream and interact with you and each other in the chat. As a streamer, you can respond to chat messages, questions, and comments in real time, creating an interactive experience.
Monetization
There are multiple avenues for streamers on Twitch to generate income. They can receive monthly subscriptions from viewers, accept direct donations, or gain support through the use of Bits, Twitch's own virtual currency. Additionally, streamers can monetize their content through advertising revenue and various sponsorship deals.
Community Building
Successful Twitch streamers often build a community of regular viewers. This can involve hosting regular streams, interacting with viewers on and off Twitch, and creating a positive and welcoming chat environment.
What is Twitch Hosting?
What is Twitch hosting? It allows a Twitch user to broadcast another channel's live stream on their own channel. When you host another channel on your own Twitch channel, your viewers can watch the hosted stream and interact with the chat on your channel, creating a community experience even when you're offline.
Hosting is a popular way for Twitch streamers to share content they enjoy with their audience, or to support other streamers by exposing their content to a larger audience. It's also commonly used when a streamer is done streaming for the day and wants to send their viewers to another live channel.
To host a channel, you simply type "/host" followed by the channel name in your chat. For example, if you wanted to host the channel "ExampleUser", you would type "/host ExampleUser" in your chat. To stop hosting, you would type "/unhost" in your chat.
Twitch also offers an auto-hosting feature, which allows you to create a list of channels that your channel will automatically host whenever you're offline and they are live. This can be a great way to keep your channel active and engaging for viewers even when you're not streaming.
What is Twitch Affiliate?
What is Twitch Affiliate? This is a program launched in 2017 to provide streamers with the opportunity to make a living from their channels. Once a streamer becomes a Twitch Affiliate, they gain access to monetization features, including:
Cheering with Bits
Viewers can cheer streamers on with Bits, virtual goods that viewers can buy to support streamers.
Subscriptions
Affiliates can earn income from subscriptions. Viewers can subscribe to an Affiliate's channel to support them regularly. Subscriptions also offer the viewers additional benefits like ad-free viewing, emotes, badges and more.
Game Sales
If an Affiliate is playing a game that is available for sale or has in-game items for sale on Twitch, a purchase offer appears on the channel page below the video window. Affiliates earn a commission on these sales.
How to Become a Twitch Affiliate?
To qualify for the Twitch Affiliate program, a streamer must meet the following requirements:
At least 500 total minutes broadcast in the last 30 days
At least 7 unique broadcast days in the last 30 days
An average of 3 concurrent viewers or more over the last 30 days
At least 50 Followers
Once these criteria are met, Twitch sends an invitation to join the Affiliate program to the streamer's email associated with their Twitch account. It's a great way to encourage content creators to stick around on the Twitch platform, as opposed to competitors such as Facebook or YouTube.
What is a Twitch Partner?
What is a Twitch Partner program? It's a level above the Twitch Affiliate program. The Partner program is designed for the top streamers who have grown their channel and community to a significant size and engagement level.
Twitch Partners have access to more monetization options and platform features than Affiliates. These include:
Ad Revenue
Partners earn a share of the revenue generated from any ads played on their channel.
Subscriptions
Partners can earn income from subscriptions. Viewers can subscribe at different price points (including $4.99, $9.99, $24.99, and the Twitch Prime free subscription) to support the streamers. Subscriptions also offer the viewers additional benefits like ad-free viewing, emotes, badges, and more.
Bits
Viewers can cheer on Partners with Bits, virtual goods that viewers can buy to support streamers.
Game Sales
If a Partner is playing a game that is available for sale or has in-game items for sale on Twitch, a purchase offer appears on the channel page below the video window. Partners earn a commission on these sales.
Exclusive Partner Features
Partners have access to exclusive features, such as priority access to new features and tools, partner-only opportunities, verified user badge, extended broadcast storage, and more.
How to Become a Twitch Partner?
What is Twitch like for becoming a Twitch Partner? The requirements to become a Twitch Partner are more stringent than those for Affiliates. While there are no set-in-stone requirements, Twitch generally looks for:
An established and steadily growing audience and chat
A regular streaming schedule of at least 3 times a week
Content that conforms to Twitch's rules and guidelines
Twitch reviews these and other factors during the Partner application process. It's important to note that meeting these criteria doesn't guarantee Partner status, as the final decision is up to Twitch.
What is 100 Subs on Twitch?
On Twitch, when someone says they have "100 subs," it means they have 100 subscribers. Subscribers are viewers who pay a monthly fee to support a streamer's channel. This is different from followers, who simply follow the channel to get updates but do not pay a subscription fee.
There are three different subscription tiers on Twitch that a viewer can choose from:
Tier 1: $4.99/month
Tier 2: $9.99/month
Tier 3: $24.99/month
Each tier comes with its own benefits, such as ad-free viewing, access to exclusive emotes, and more. The benefits vary depending on the streamer's settings and the tier of subscription.
Twitch pays streamers a portion of the subscription fee, typically starting at 50% for Affiliates and potentially higher for Partners, depending on their agreement with Twitch.
So, if a streamer has 100 subscribers, they are earning a monthly income from those subscriptions, although the exact amount can vary depending on the mix of subscription tiers among their subscribers.
What is Twitch Bounty?
What is Twitch for the Bounty Board program? It's a way for Twitch streamers to connect with potential sponsors. It's essentially a marketplace where game developers, publishers, and other companies can post "bounties" — opportunities for streamers to earn money by streaming specific content.
Here's how it works:
Companies post bounties on the Bounty Board. These bounties specify the game or product to be promoted, the requirements for the stream (such as length and format), and the payment offered.
Twitch streamers who are eligible for the Bounty Board program can browse the available bounties and choose the ones they're interested in.
The streamer streams the specified content on their channel, following the requirements set out in the bounty.
After the stream, if the streamer has met the requirements, they receive the payment specified in the bounty.
The Bounty Board program provides a way for streamers to monetize their channel and for companies to reach a targeted audience. The program is generally only available to Twitch Partners and select Affiliates, but as Twitch renews their policies, this could potentially be opened to more streamers.
Who is the Most Followed on Twitch?
Twitch is showing absolutely no signs of slowing down and in recent years the platform has even produced 'Twitch Celebrities' if you will. Ninja, for example, is the most followed streamer on the platform with 18.5 million followers, he generates around – $500,000 – $1 million every month for $5 per month per subscription.
What is the Future of the Twitch Platform?
Twitch is becoming a streaming giant if it isn't already considered to be one. It is the top destination for audiences to watch video games, tournaments and competitions in real-time, think of like the ESPN of computer gaming.
But the platform is only going more strength to strength, bringing in more genres and content creators, it is set to be the next marketing playground that's being added to the evergrowing list of social media channels we need to manage.
Out advise? Don't wait around until it's a necessity to market on this platform, stay ahead of the curve and capitalise on it while you can!
More on Digital Marketing
Want to know more about the world of digital marketing and how you can utilise it for success? if so, check out these articles: How to use AI for Digital Marketing | GA4 Training | TikTik Banning | What is the Best Podcast Equipment? | Instagram Facts | When was YouTube Created?