Key Performance Indicators or KPIs have become a universally accepted method in determining a company's success. Regardless of the field or industry, KPIs can help track progress towards your company's goals and targets.
Simply put, KPI's are a versatile tool that can measure any type of organisational performance. Ultimately the idea here is to isolate the variables which lead to improved profitability, and measure changes to these over time.
This can be done company-wide, or at the level of individual teams and employees.
Of course, there are numerous factors to achieving great results.
Depending on the business, or more specific functions, KPIs can be measured through a wide variety of variables. These include things like efficiency, performance, operational factors, and communications.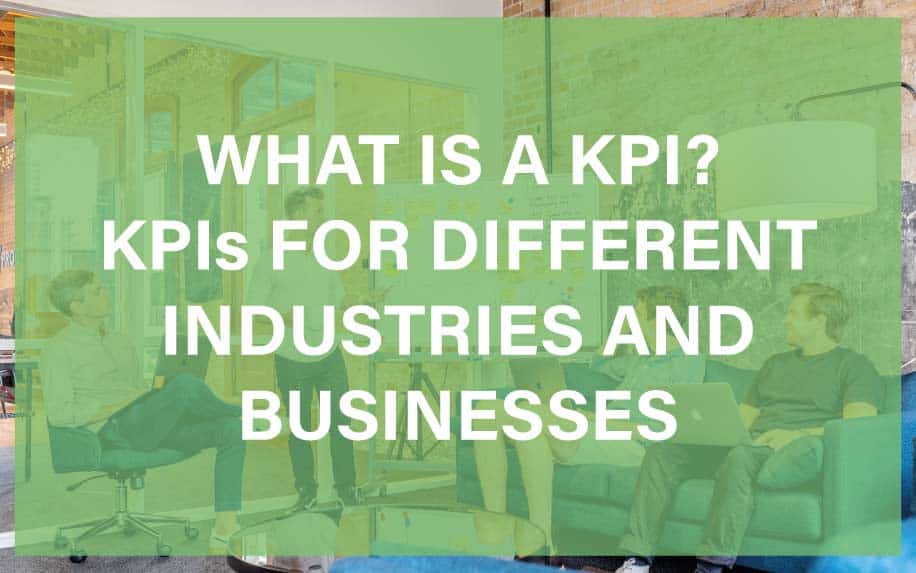 Today we'll cover everything you need to know about KPIs. First off, let's start with the basics.
What is a KPI? What Does KPI Stand For?
KPI, short for Key Performance Indicator, is a way for businesses to measure how they're performing. They can be used to tackle any business's weaknesses and thus increase its efficiency.
KPIs demonstrate how effective your work is and what steps you should be following to reach your goals more effectively.
There are two varieties of KPIs:
Low-level indicators can be used to track different fields in a business.
High-level indicators are used to measure the general performance of the whole business.
Key performance indicators differ according to the criteria you're using them in as well.
For example, the KPI used in the retail field will not be the same as that used in marketing since KPIs are precise in what they measure.
Also, KPI can only measure what has already happened. Dealing with futuristic data becomes a prediction. Sometimes this is based on the performance indicators used beforehand but still not called a KPI.
However, if used unwisely, KPIs may cause a great loss and potential harm in your field of work. Often, this means spending all your time on money on something which ultimately doesn't matter
Hence, there are ways to reasonably choose your KPI since not all KPIs will be relevant to your business and how you achieve your core goals.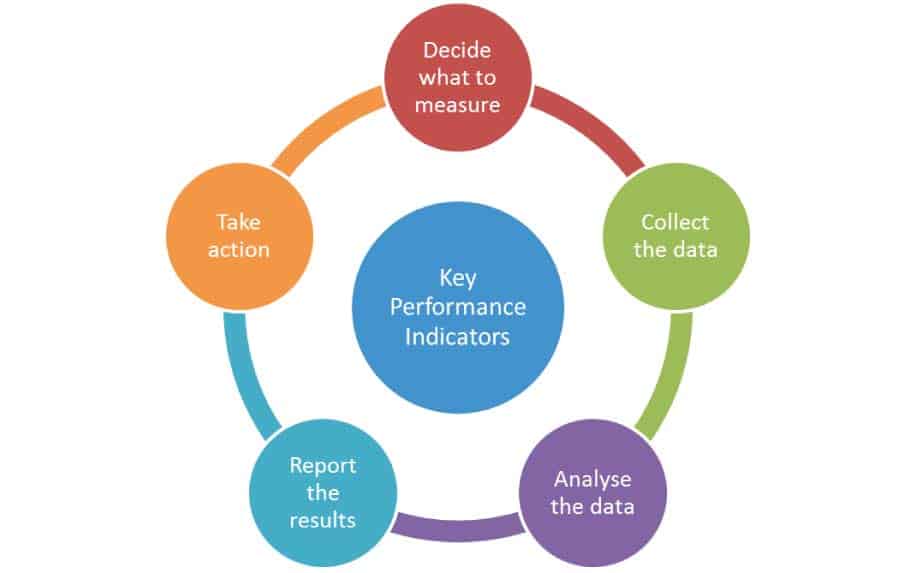 Why Do Businesses Use KPIs?
In order to define a KPI, your business must have clearly defined goals. Setting up KPI reporting facilitates this.
There will likely be several layers of goals and objectives to set, as the company might have specific long-term and short-term goals, but then each department and team will have its own sets of goals, broken down by timeframe.
Accountability
Establishing KPIs drives accountability for defining these goals, while the KPIs themselves hold you accountable for reaching them.
Getting your colleagues on board with expressing their desired outcomes is critical to aligning your processes for success and discussing them effectively. The data points used for KPIs can provide your teams with a vocabulary by which to discuss progress.
KPIs also help to keep individual employees accountable for the quality of their work, especially when these count towards their salary reviews or progression within the company.
What Are The Most Important KPIs?
Every KPI is a metric, but not every metric is a KPI. KPIs help businesses to know where they stand and progress from there.
There is no one significant indicator. However, depending on each case or business, the needs may vary, and the important indicators do too.
For instance, if an up-and-coming digital media startup is working on implementing its first hit campaign, the team should set a couple of external KPIs to track their progress before, during and post the campaign. KPIs are made to tackle core business objectives.
So, in this case, the startup should focus on target audience reach, interactions, satisfaction, and retention. They also should mind the online marketing and traffic rate.
KPIs should be very precise.
Internal And External KPIs
There are two types of KPIs that all businesses deal with. The first type is internal indicators which department managers strive to achieve in order to improve the company's human resources, employee satisfaction, or the performance of a certain department.
On the other hand, external KPIs are the umbrella over any external goal the business is trying to accomplish. For example, these often relate to sales and marketing objectives. We'll take a look at each of these in more detail a little later.
What Makes a Great KPI?
Not every metric is actually useful. Performance indicators are not set for fun. They are measurable, quantifiable statistics that can be easily comprehended and used by managers and business owners.
A valid KPI has to follow these conditions.
Be available: the possibility of checking the status at all times is vital.
Easy measurable: indicators come down to the tiniest detail. They should be measurable as percentages or ratios.
Relevant: if the indicator doesn't show direct correspondence to the business goals or the project goals. This means that the indicator isn't very accurate, thus, having faulted or inaccurate results.
Instantly useful: e.g. Return Of Investment. One can easily access and understand the ROIs.
KPIs in Marketing
Offline and digital marketing platforms alike need strong measuring metrics to determine the effectiveness of their campaigns. Key indicators allow companies to assess their inbound and outbound marketing strategies, budget per campaign as well as new sales accounts.
The beauty of this metric system is that companies can easily break down campaigns based on activities, target audiences and more. Providing employers with useful data to improve their performance over time.
The following points are significant in evaluating the impact of social media campaigns. However, the same principles can be applied to all other kinds of marketing campaigns.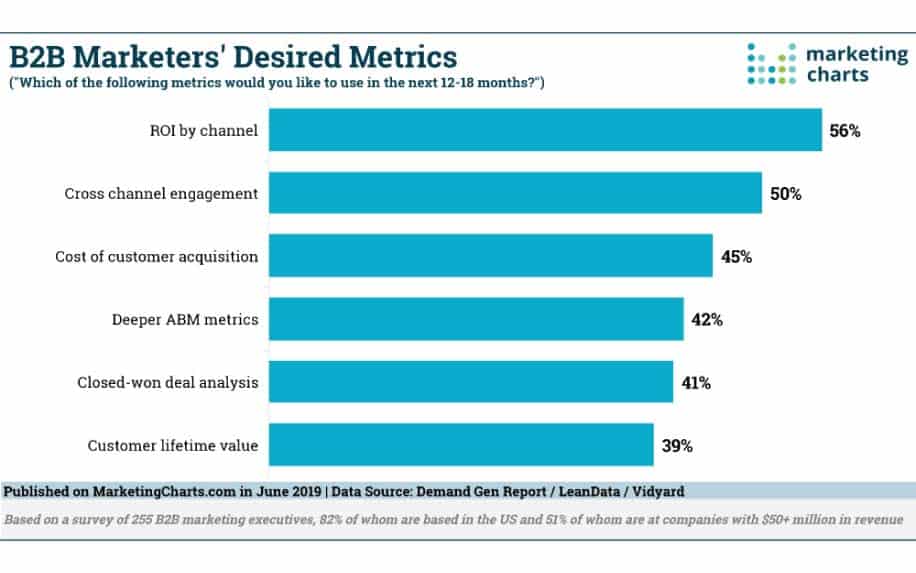 Determining the Number of Lead Conversions Via Each Social Media Outlet
Each channel has its own nuts and bolts. Checking the individual leads will help in improving the campaign's messages and directing more leads along the way.
Measuring the Number of Customer Conversions Via Each Social Media Outlet
Employers might be getting interesting lead conversions statistics but not so great customer conversions. This conveys that the campaign messages are clearly missing something or are not hitting the right audience segment.
Assessing the Traffic of Each Social Media Outlet
Since the world is turning digital, marketing agencies have become consumed with putting attractive indicators for online interactions like Facebook likes and shares, without proper measurement or assessment of how these statistics are actually beneficial to the company.
While many savvy marketers would agree that measuring clicks is not the most effective way to gauge ROI given this level of uncertainty, clicks are still the predominant key performance indicator.
Since programmatic media can generate a large number of clicks, it is a major focus area for most marketers.
Instead, companies should look behind their steady or increasing traffic, and pay more attention to their low or decreasing traffic-to-lead ratio. When this data isn't coherent, it indicates missing a clear call-to-action.
What Does KPI Stand For in Sales?
The 'key' in KPIs for sales is basically the departments' efforts to keep track of the monthly sales target while putting the goals and percentages in mind.
Other crucial figures are also the cost of sales to revenue ratio, the sales growth vs goals, as well as the conversion of Marketing Qualified Lead (MQL) to Sales Qualified Lead (SQL) and ultimately winning conversion rate.
KPIs are an integral part of any sales department. There are eight points every sales manager should be measuring:
New Leads/Opportunities,
Client Acquisition Rates,
Sales Volume by Location,
Competitor Pricing,
Existing Client Engagement,
Employee Satisfaction,
Upsell/Cross-Sell Rates,
Net Promoter Score (NPS).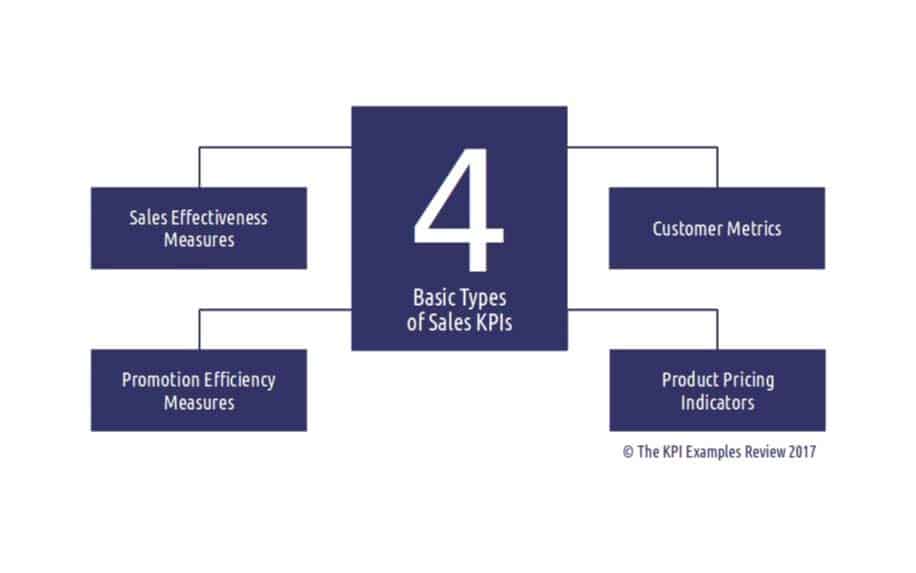 How Do You Write Sales KPIs?
Key performance indicators can be used to track strategic objectives, projects progress, employee performance and more. The integral difference is the components used to reach the specific indicator.
Whether the goal is to impress a client or a stakeholder, or evaluate the productivity of an internal department, make changes in strategic aspects to cope with market trends.
In order to successfully develop insightful KPIs, one needs to include the following elements:
Produce clear objectives that best represent the task at hand.
Share them with stakeholders.
Review, review and review some more.
Decide on an expressive call to action.
Adapt to market and business changes.
Update and modify objectives as needed.
How to Write KPIs for your Business
KPIs are vital for tracking the growth and success of any business, allowing your employees both to better understand how their efforts are performing while also allowing them to identify potential solutions.
Again, the more sophistication you are able to bring to your KPIs, the better your business intelligence will be.
You can do this by automating their collection, by collecting a wide range of relevant data points, by tracking them over time and generating reports that are clear and easy to digest, and more.
This all means it will be easier than ever to identify value-adds to help your business.
If you need help improving the performance of your sales or marketing campaigns, contact ProfileTree today.