Thinking about your company brand? The world of Irish whiskey – yes, Irish whiskey – can give some great lessons about authenticity, emotional connection and much more.
Thanks to the recent arrival of a very large number of new brands, there's a big conversation about authenticity in the Irish whiskey market. And it has some lessons for all of us.
Pull up a chair and we'll take a closer look via some personal views from ProfileTree copywriter Conor…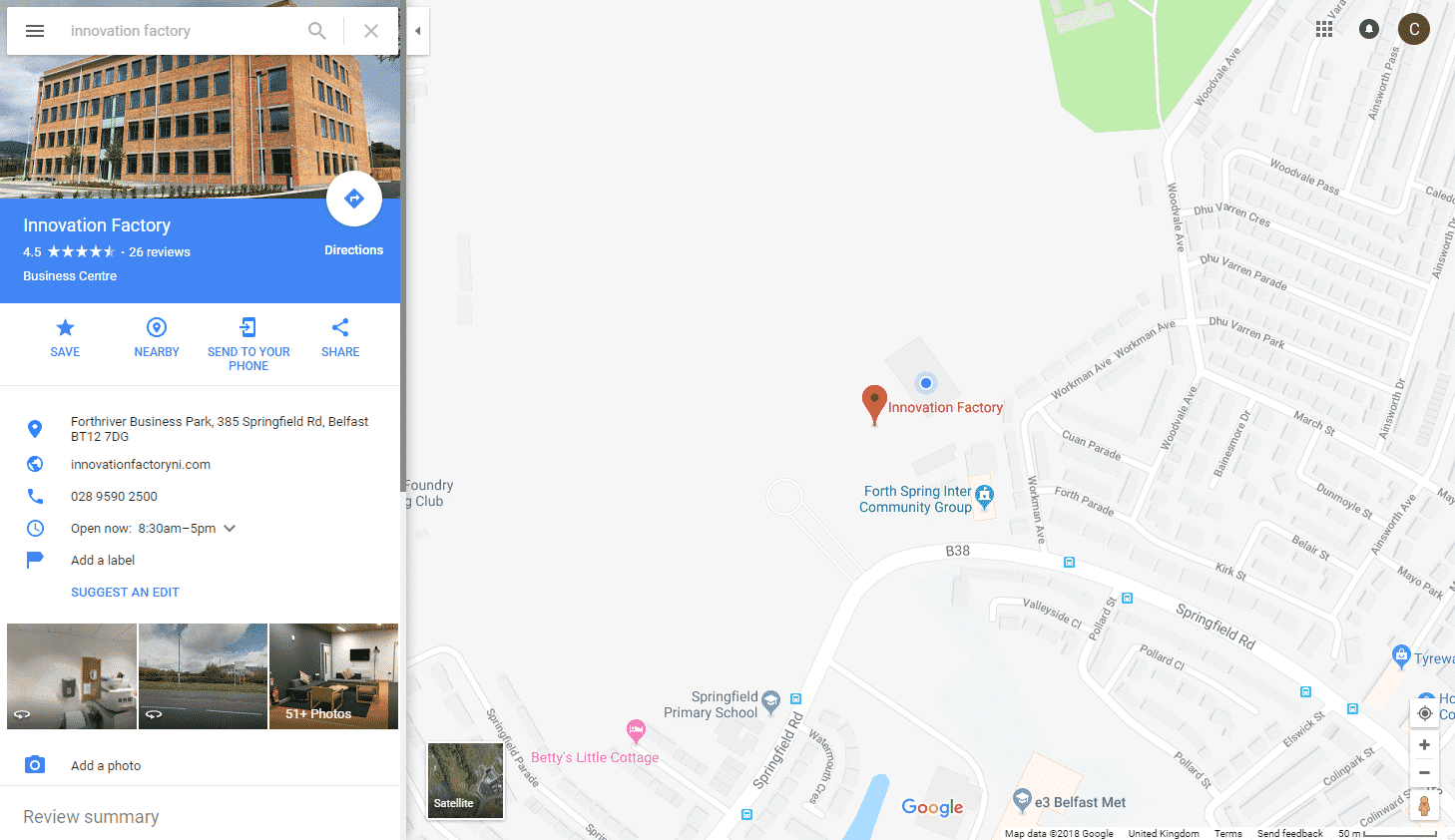 Company Brand Lesson 1: How Far Can You Go?
For a relative outsider to Irish whiskey, it becomes clear very quickly that the subject of where the whiskey is 'made' can become a bit complex.
Firstly, a quick note: Ireland not only spells whiskey with that extra 'e' but boasts one of the oldest licensed distilleries in the world by way of Old Bushmills Distillery. Coincidentally, Bushmills is a short distance (by sea, anyway) from the Scottish island of Islay. This area, although small, is home to some of the world's finest and most trusted whisky brands.
But back to those labels and the fact that, just a few years ago, there were only four distilleries in Ireland.
However, there are now dozens of whiskey brands across Ireland. Many use age and a specific location as a selling point.
This means that occasionally some spirit brands can find themselves receiving negative attention on social media and beyond by those who say the original source spirit may not match their brand image geographically.
The lesson? Be ready for the fact that sharp-eyed enthusiasts may well question your brand in public. This has happened in the aficionado scene to more than one spirits brand. Authenticity in the digital era, for all types of businesses, is being met with due diligence from savvy buyers who can do their own research very easily. Plus, if your industry thinks questions are being asked too often, a debate around trust in brands will start to occur. How will yours stand up to this spotlight?
Company Brand Lesson 2: The Right Sense of Place for Your Market?
The very best brands seen at a recent whiskey event in Belfast had a substantial, and most of all very genuine, sense of connection to a real place.
However, those places – which, in the case of two stand-our examples – were Belfast and Derry, have an emotional 'feel' people can connect to.
Let's dig a little deeper.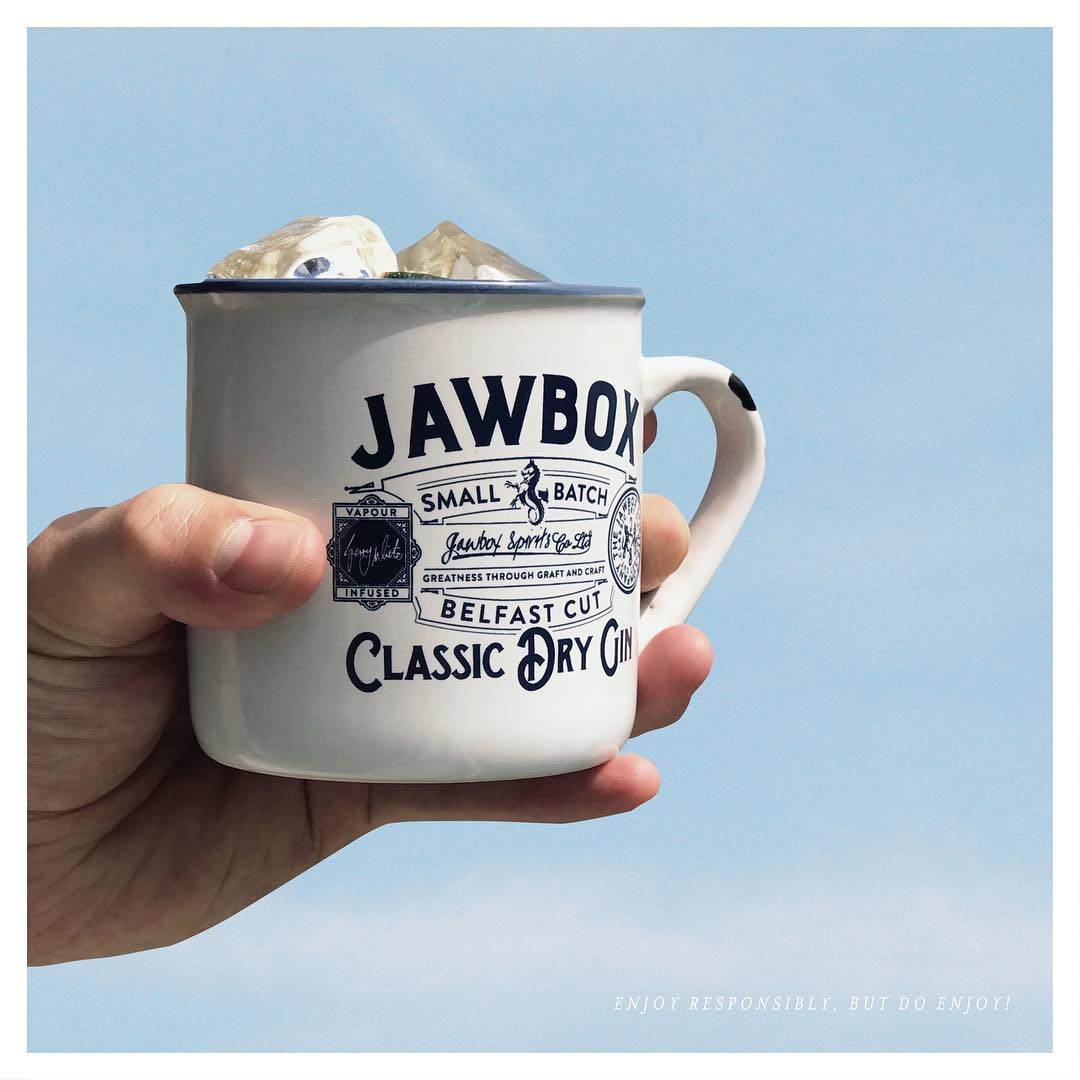 Firstly, the beautifully-marketed Jawbox gin (one of the non-whiskey spirit producers at the show show) intentionally evokes images of old Belfast sinks and chipped enamel shipyard mugs.
The brand also evokes the famous, smokey industrial heydays of the city's past.
This simple, stunningly-executed premise can be seen in the brand's labelling, merchandise, physical style of exhibition presence and much more.
It's a brand that lives its clear purpose and allows you to relive those days through their product.
A Belfast Resurgence
Another great example? Dunville's Irish whiskey, which recalls the famous Belfast Dunville & Co brand of old. The relatively-new whiskey, which brought three products to the recent Belfast show, uses rich, iconic design to build a timeless sense of Belfast city.
Meanwhile, The Quiet Man whiskey from Derry uses a great brand story to plant its feel firmly on the local, North-West ground. That's because it is named after the brand owner's father, who was a bartender who 'told no tales'. The brand also uses beautiful Irish language copy – 'an fear ciuin', or 'the quiet man' – for even more of a localised, cultural anchor.
There's a nostalgic feel to these products which doesn't just connect with how local people see the past but also does so in a way people from elsewhere can connect to.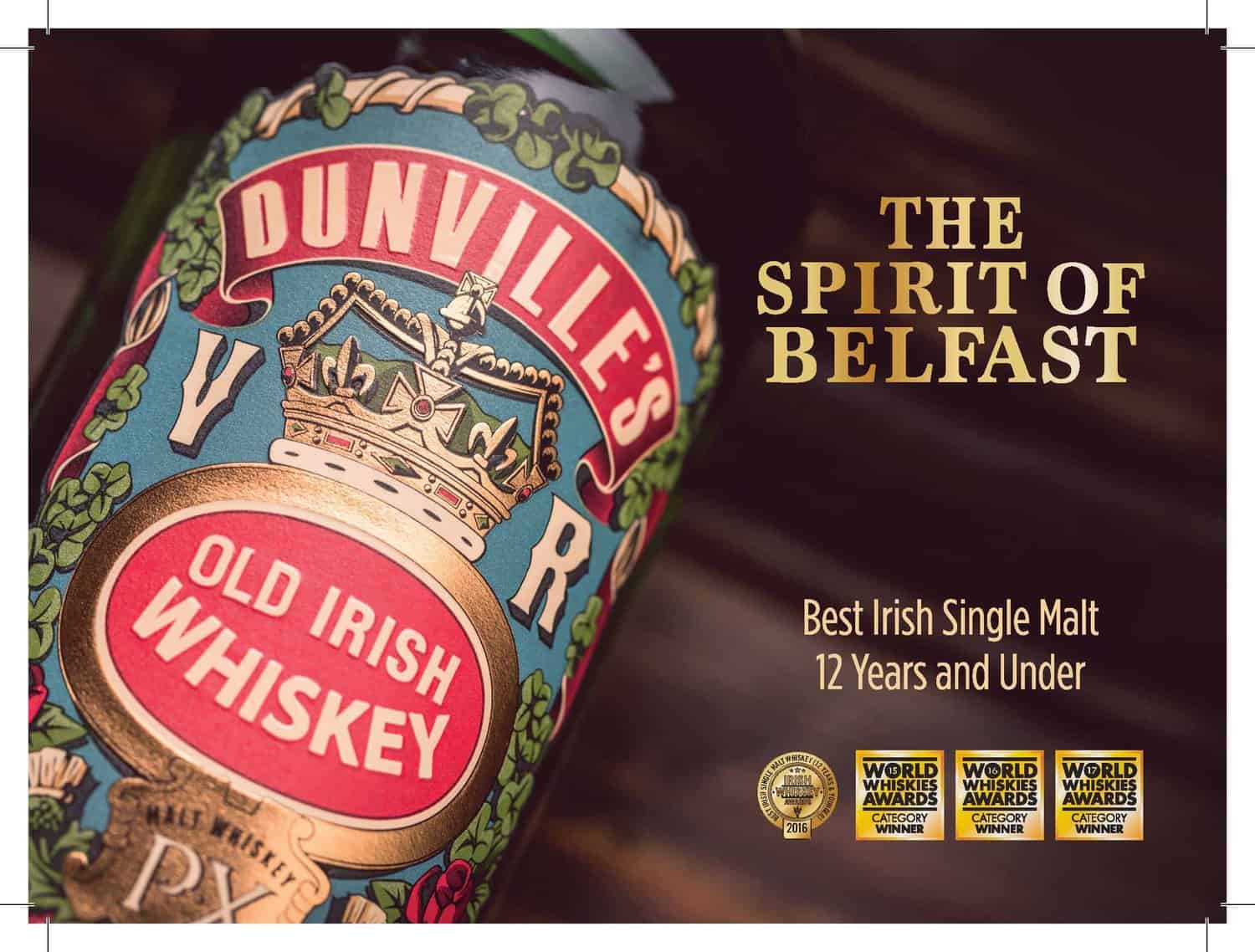 In contrast, at the Belfast Irish whiskey show there were brands which – again, subjectively – felt designed for the American market. Their brands had a much broader America-friendly sense of place, perhaps once less accessible for people from Belfast and Ireland themselves. Would this matter in the American market?
Probably not, making the products on-brand for what they need to do.
The lesson? A very local brand story, a firmly-rooted sense of being part of the tactile 'feel' of a place are vital parts of a local brand hoping for global success. While a global brand hoping for a little local success can have a very different focus.
Company Brand Lesson 3: You Can't Shake Off Corporate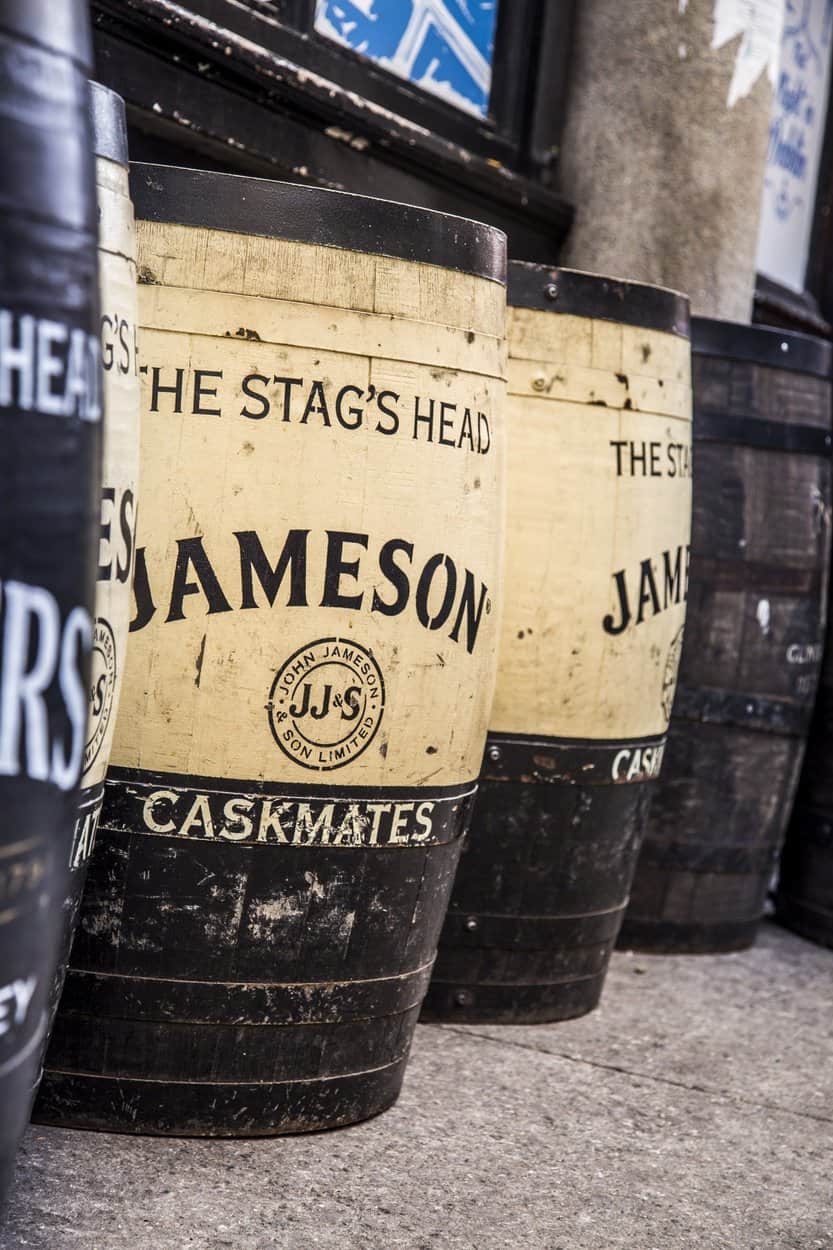 A giant, doubled-sized stand at the whiskey show in Belfast served to provide a very clear symbol of a recent change in Northern Ireland. That change is something whiskey-lovers in the area will have noticed occurring in recent years.
A striking development in Belfast of late has been the increased, intentional dominance of the local market in some bars by Jameson whiskey brands. This has been carried out using heavy branding in pubs in Belfast, and Northern Ireland. Meanwhile in many of these premises Jameson whiskey brands and sub-brands will very clearly fill the prime shelf-space.
Corporate vs Artisan?
The effect in the whiskey show venue was no different. Yes, Jameson had some world-class prestige sub-brands, and fascinating 'artistan'-type small batch sub-brands and projects. But this 'corporate' feel ran through their presence.
This, of course, sat in sharp comparison to the more independent and very local brands displaying their wares a few steps away. It's also far from necessarily being a bad thing: Jameson is a best-selling Irish whiskey. It, like recent Guinness projects, has been seeking to tap into an 'artisan' image attached to some sub-brands. How a potential buyer responds to this is entirely a matter of personal choice.
The lesson? If your brand has an umbrella company and image, think about how to 'own' this in an authentic way. Different consumers may – of course – respond in differing ways.
Company Brand Lesson 4: The Power of Association

Let's finish with a fun diversion: which Irish whiskey products have you seen on TV shows and on the movie screens?
County Antrim's Bushmills are masters of the craft. A Bushmills bottle has even been seen with Jeff Goldblum as his choice of drink to toast the apocalypse in Independence Day. (As an aside, Bushmills are among the Northern Ireland spirit companies who invest heavily in the likes of airport marketing in Belfast. This helps make their brand synonymous with home for locals and with the highlights of their trip for visitors).
Meanwhile, in a magnificent piece of promotion (intentional or otherwise), the brand was seen in the hands of Lucille Bluth in the cult Arrested Development TV series.
There was, as many people spotted, one small error when the whiskey was being lifted from Lucille's shopping bags. Perhaps the cast and crew couldn't wait to get started on the Northern Ireland-made whiskey. Why? The bottle was already clearly empty when it was seen on camera!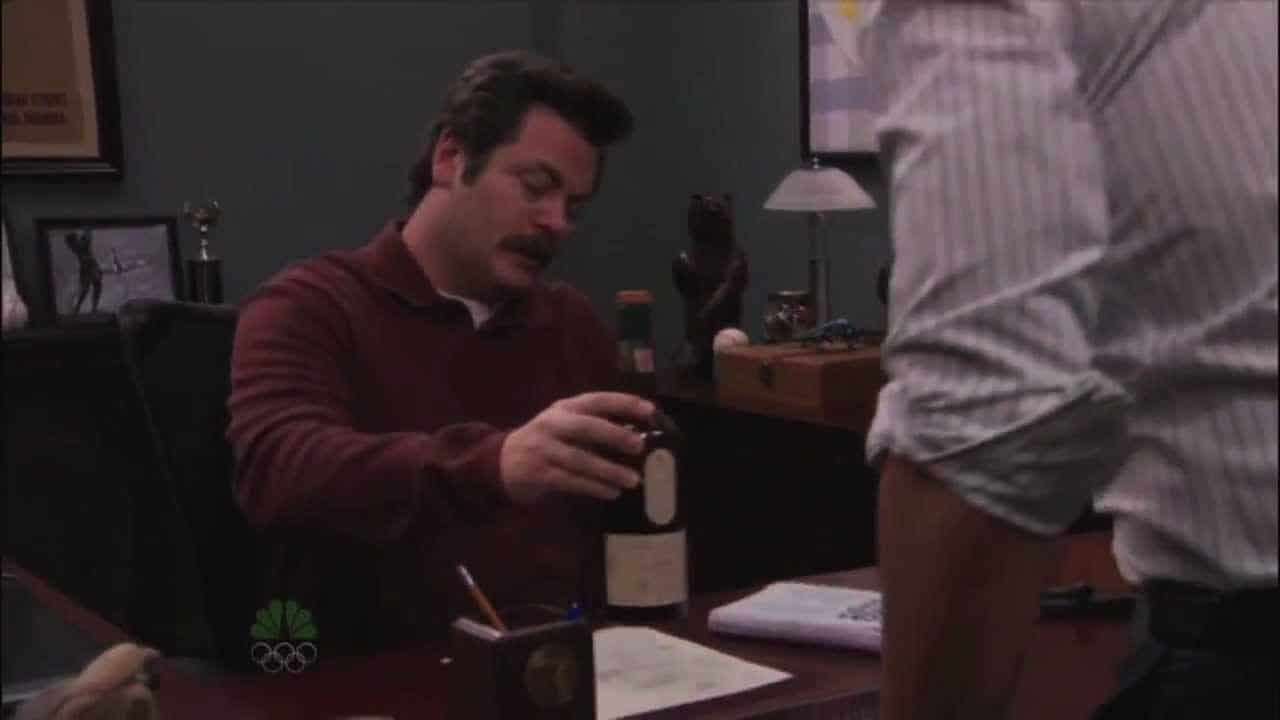 Back to Islay
Scotland's Lagavulin whisky, albeit with some strained pronounciation from Nick Offerman's Ron Swanson, receives constant on-screen promotion on the iconic series Parks and Recreation. This includes the mother-of-all placements in a final show…but we can't reveal this for fear of spoiling things for those still catching-up. The Islay island makers of Lagavulin have, understandably, taken the connection further with an ad spot featuring Offerman.
Back closer to Belfast, and on a more serious note, Jawbox Gin connects itself to the more hyper-local artisan food and pub scene to make sure those from Belfast and visiting Belfast associate Jawbox with the city…and their tastebuds. An original style of 'serve', featuring the ingenious use of honeycomb, has also been developed.
In this way, the brand is recommended outwards, with Belfast as its epicentre, with the buyers themselves as brand advocates.
The lesson? As any car, soft drink or clothing company could tell you, WHO a brand is seen with can be a key part of a marketing plan. But, with a little patience and imagination, you don't need a global budget to make a global impact.
Good luck…and cheers/ sláinte is táinte to your brand.
* NB: The views above are very subjective and written by a member of the ProfileTree team with an interest in brand messaging, particularly brand copy. Neither the writer or ProfileTree are whiskey experts. Further, more in-depth coverage of the issues raised can be found elsewhere.
Essential reading from ProfileTree… VERY Blunt Copywriting Tips | How Not To Choose A Digital Agency | SEO Explained…in Minutes
Questions? Want to know how we can help turn content into results?
Drop us a hello! We'll put the kettle on.