Change in business can be hard to manage. But, when we are prepared and proactive, it can lead to great success. In our latest Business Leaders episode, we explore innovation and getting ahead of the curve with Lydia McClelland, Head of W5.
To learn more fascinating insights about this topic, check out our full Business Leaders interview with Lydia below, or read on for the highlights.
Using Innovation to Keep Up With Change in Business
W5 is one of Northern Ireland's top attractions, bringing science and technology to life for all ages through interactive experiences.
This, of course, requires constant innovation, meaning Lydia has to continually come up with fresh ideas to develop the business.
In our interview, Lydia explains that she has some exciting things in store for W5 – but how did she get into this role? Outlining her career path, she notes that she was always interested in helping businesses find success through different means.
"My background is in business development and marketing, I've just recently joined W5, but before that I held roles with the Ulster Orchestra, University of Ulster and Castlereagh Enterprises. So quite a mixed bag of background in terms of economic development, the arts and higher education sector."
From joining W5, she has been briefed on a major task – maintaining W5's dominance in the science and education sector.
"The key thing for W5, and why my role was created, was about creating sustainability for W5 in the longer run to make sure we're here to safeguard the site of W5 as a science centre for the people of Northern Ireland. My focus is on the commercial development of W5 over the next number of years and on securing its future."
Lydia gave an example of how innovative thinking had been used by W5 to keep introducing new ideas to create a unique visitor experience.
"This year, we piloted W5 Late, which is an adults-only event. We're now running those three times a year. These events have been great for W5, and the audience who have come along have really enjoyed it."
The event is positioned to appeal to the over 18 market. Using the hashtag '#NoKidsAllowed', and with bar facilities on every floor – this reinvents the space as a casual yet invigorating space that taps into the familiarity we can all relate to having grown up in Northern Ireland
"We have found that it tends to be those who want to recapture their youth having grown up with W5."
The evening is also changed to keep things exciting every time, and encourage repeat visitors.
"Not only is it just access to W5, we curate content for the night as well. So there's a lot of added value content in terms of lecture theatre talks and exhibits. We bring in face painters and music to create a bit of atmosphere on the night as well."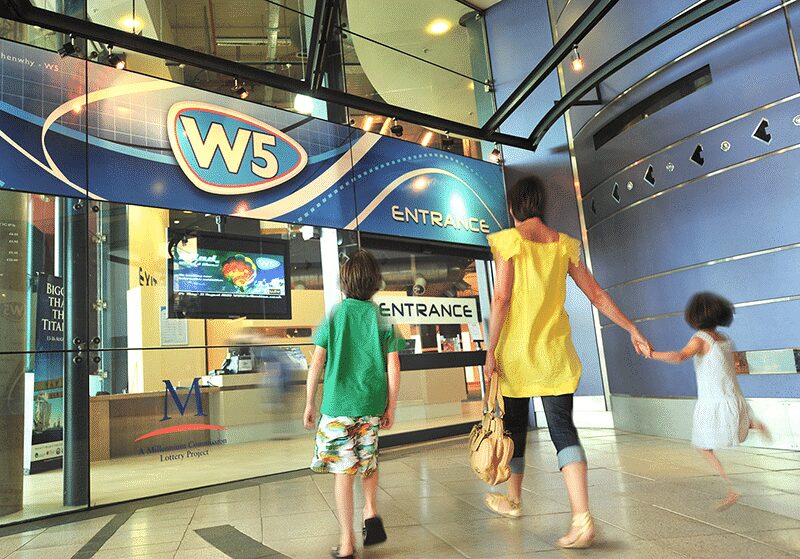 Business Development: The Key to Success
This immersive idea would never have been possible without the creativity that is involved in business development.
In her interview, Lydia explains how business development plays a major role in W5's success.
"I think it's really important to always be future-focused and do your horizon scanning. You need to keep your eyes open and see what's happening out there – not only in terms of the local markets – but the national and international markets as well."
In business development, it all revolves around finding gaps in markets – or hidden opportunities that may seem too obscure to explore.
"It is key to always look for the next opportunity and explore all opportunities. I always say 'no idea is too crazy' and encourage the team to bring ideas to the table and we can either rule them in or rule them out.
"Business development for us is key not only to the growth of W5, but to the whole site in terms of the SSE Arena and the Belfast Giants as well."
During our Business Leaders interview with Lydia, we asked how the differences between marketing and business development can be defined.
"They are very different skill sets, the roles I have held to date have always been a hybrid of the two and I'm comfortable floating between business development and marketing. I have a mantra that a marketer is only as good as the product they are given to market.
"So in terms of the business development team coming up with the opportunities and new product ideas – the marketing team is only as good as those ideas."
To hear more insights from Lydia, check out our full Business Leaders interview. To see what new things are happening at W5, visit the centre's official website.
Become a Part of Our Business Leaders Series
Interested in featuring on our Business Leaders series? In our acclaimed series, we share amazing advice, tips and stories from business owners, managers and senior leaders. More articles to check out from our business blog:
Digital Agencies: An Ultimate Guide to Digital Agencies
Understanding Business Strategy in the 21st Century
Social Media Guide: COMPLETE One-Stop Essentials
From growing your business to looking after your staff, new industry insights and innovative ideas – we cover everything to inspire professionals across all sectors. If you want to become a part of it, simply drop us a message.