Plugins are an important key feature of a successful WordPress website. There are all kinds of plugins out there that you can install onto your WordPress site to further aid you, including security, SEO, and ranking plugins, among many others. There are even ones to help enhance the overall look of your websites. Among these are the WordPress calendar plugins, which every e-commerce website needs.
Depending on your website's niche, you may need a plugin to help you organise all of your events, bookings, schedules, and more. Luckily, WordPress is a mine of plugins, both paid and free. You don't have to clutter your Google calendar with any kind of business appointment anymore. With a WordPress calendar plugin, your administrators and users can interact with events' dates and times in a visually pleasing and organised manner.
Why You Need a WordPress Calendar Plugin
If you are running an e-commerce website (using WooCommerce, for example), you will definitely need some sort of a tool aid to help you, your administrators, and your users have a sense of organisation instead of hand-written bookings or calendars. Installing calendar plugins is a means to get rid of this old-fashioned way of cluttering your physical calendar and having a disorganised set of booking lying around. It will definitely make things easier for you and your website, and your users (and yourself) will surely thank you for it.
Here are some of the benefits of using a WordPress calendar plugin:
Easy to use: Most WordPress calendar plugins are easy to set up and use, even for beginners. You can create, edit, and even delete events however and as many times as you like, all in one place.
Versatile: There are WordPress calendar plugins for all types of businesses and organisations.
Feature-rich: WordPress calendar plugins offer a variety of features, such as event management, appointment scheduling, and Google Calendar integration.
Customisable: You can customise the look and feel of your calendar to match your website's design, giving your website-themed calendar an aesthetically pleasing look.
Scalable: WordPress calendar plugins can be scaled to meet the needs of your growing business.
How to Choose a WordPress Calendar Plugin
There are many calendar plugins on WordPress that cater to different users. What you need to look for first is a plugin that fits all your needs. Are you planning on having the plugin for booking, scheduling, displaying events, or ticketing?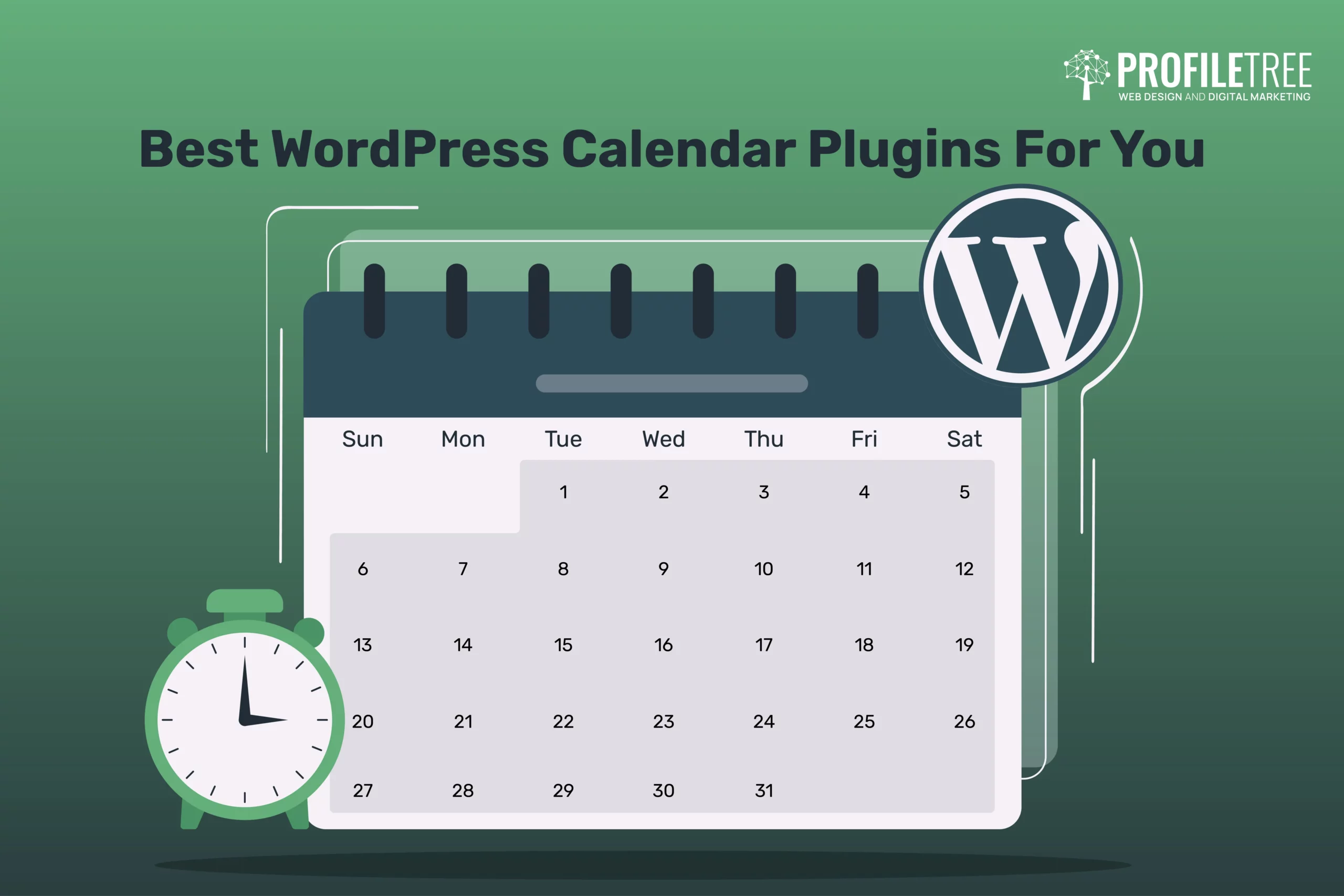 Once you have got this out of the way, the second most important thing to look for is a plugin that's updated regularly because you don't want to have a plugin that no developer is working on—this will compromise your website's security, hence the third most important feature: a secure plugin. Look for plugins that are secure and don't compromise your site's security or contribute to any data breaches. So, always use the most trusted plugins and check the reviews on them.
Your site's security is non-negotiable, so make sure that you have your security plugins activated. If you notice any performance issues after installing a calendar plugin (or any plugin), use Lighthouse or Google PageSpeed Insights to help you figure out the exact problem with your site's performance.
Best WordPress Calendar Plugins
Because there are hundreds of calendar plugins on WordPress, we are here to help you by narrowing it down to the best choices. Here are our top picks for WordPress calendar plugins:
Booking Calendar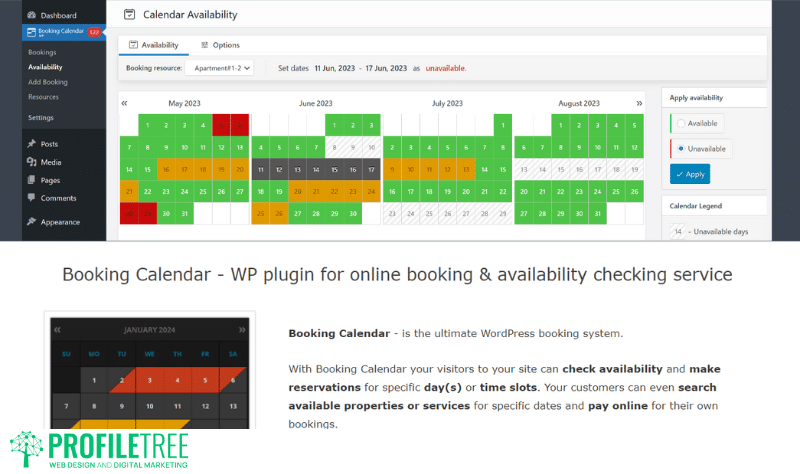 Active Installations: 60,000+
Average Rating: 4.7/5
This is the OG booking calendar plugin for WordPress. Its easy-to-use interface allows your users to enter their details easily and make a booking or check the available times in the calendar. The calendar plugin can help you with resource scheduling (if you are running a B&B, renting a house, etc.), client scheduling, patient scheduling, and more.
The Events Calendar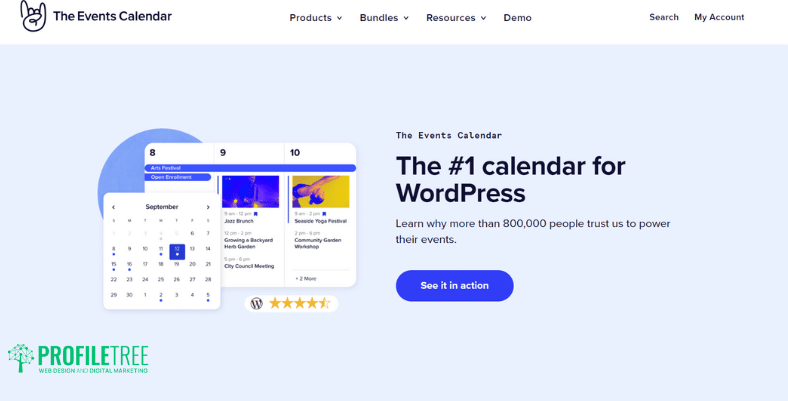 Active Installations: 800,000+
Average Rating: 4.2/5
This is a free calendar plugin for WordPress that will take care of displaying all your events in an organised manner. The Events Calendar is very easy to use, even for beginners, to help you arrange all your events, whether in-person or virtually. It's also very customisable and extensible.
With a simple way of installation, just search for the plugin on your WordPress backend and click on "install." Within a few seconds, you can go back to check your installed plugins and activate the calendar. The free version gives you month, list, and day views, while the Pro plan exclusively gives you week, map, photo, and summary views and premium support.
My Calendar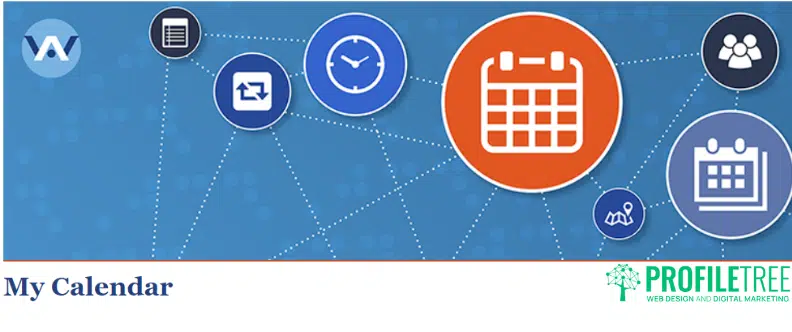 Active Installations: 20,000+
Average Rating: 4.7/5
If you are looking for an easy-to-use calendar plugin with a simple interface that can display all your events in a customisable way, look no further than My Calendar. It's a pretty straightforward plugin, giving you the opportunity to display your created calendars by categories, locations, or authors. Because a great user experience should be guaranteed, My Calendar provides custom templates and several widgets.
If you are looking to do more with your calendar, My Calendar Pro offers several more features, including user-submitted events, which you can approve or reject, integration between posting and event creation, and importing events from outside sources like Google Calendar.
Booking for Appointments and Events Calendar – Amelia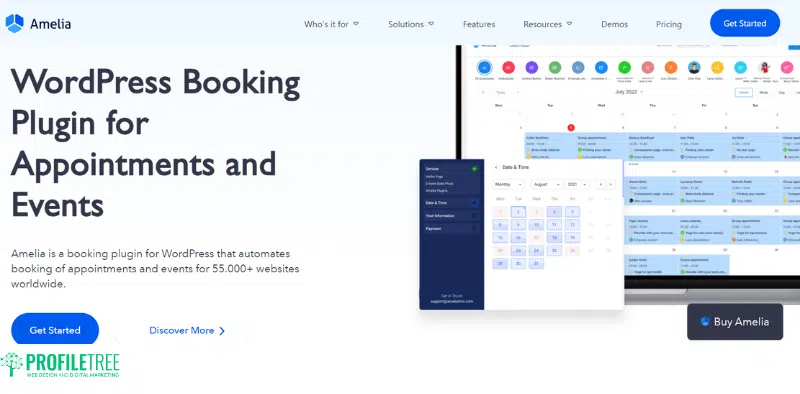 Active Installations: 50,000+
Average Rating: 4.6/5
Amelia is a WordPress plugin that allows you to easily create and manage bookings for appointments and events. This flexible plugin can be used by businesses of all sizes, from salons, yogis, and coaching sessions to personal and professional services (photographers, wedding planners, etc.), consultants, and healthcare providers (dentists, doctors, and nutritionists). It has all that you will ever need for event bookings in an organised and easy-to-navigate manner.
Overall, using a WordPress calendar plugin will significantly enhance your site's functionality by making it easier to schedule, manage, and display various types of time-based activities. Your website visitors can increase by simply having a visually organised way in front of their eyes. Not only that, but your administrators can save a lot of time and manual labour by automating these booking and scheduling tasks by just entering a few details about the event or available times for booking.