Why add Facebook Pixel and Yandex Metrica to WIX? Both of these are tools for analytics on your WIX site, an essential to keep track of how your site is performing. As a business owner, it's important to know where your traffic comes from, and how your users behave.
This allows you to direct investment towards what's working, and fix what isn't.
Yandex Metrica is an analytics web tool developed by Yandex, a Russian multinational corporation, specialising in internet related products and services. You can think of it as the Russian equivalent of Google.
Similarly Facebook Pixel is a tool developed by Facebook to track analytics of your site on many different builders such as WordPress and Magento. For the purpose of this tutorial, we used WIX.
Take a look at our videos tutorials, showing how to connect each tool to your WIX site.
1. Getting Started with Facebook Pixel
The first note to make about using Facebook Pixel is that it is a feature that only works with a connected domain name. Without this Facebook Pixel wouldn't be able to connect or work.
The brilliant feature about Facebook Pixel is that WIX will automatically forward events to your Facebook such as when a product is viewed, a product has been added to a cart or when someone has entered the checkout process.
To access Facebook Pixel, you first need to create a Facebook Business Manager account. To do this, search for 'Facebook Business Manager', on a search engine and you will find it easily. Once in the tool, head to business settings in the top right of the screen.
The next step is to select data sources in the left hand navigation then pixels.
2. How to Use Facebook Pixel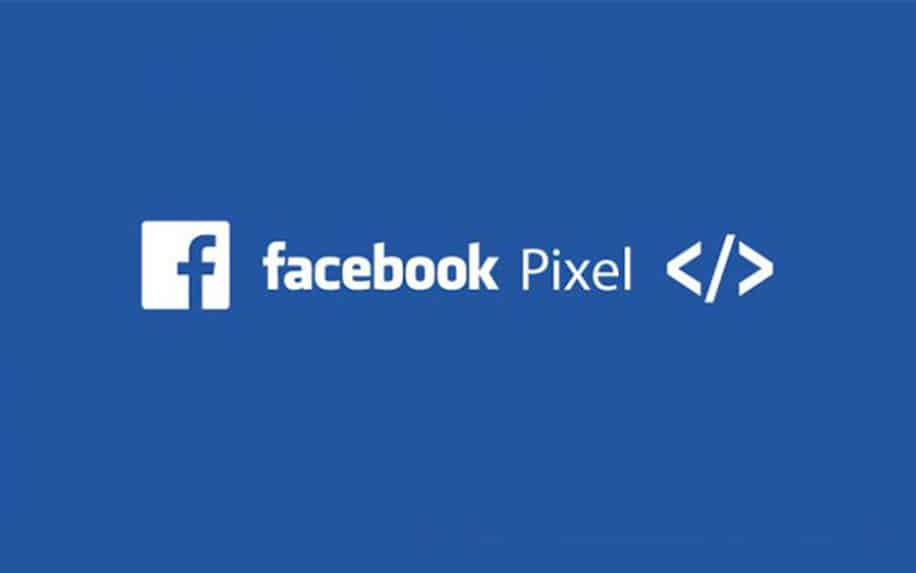 To use Facebook Pixel, you will need to add a new Pixel. To do this once you have clicked on the pixel data sources, in the top beside the word 'Pixel', it will say add. You can also select a ready made pixel from your business manager.
It will automatically have an ID/Code. When you click into a pixel, depending if it is active or not, you might see usage information. In our tutorial above, there is no information as our pixel isn't active.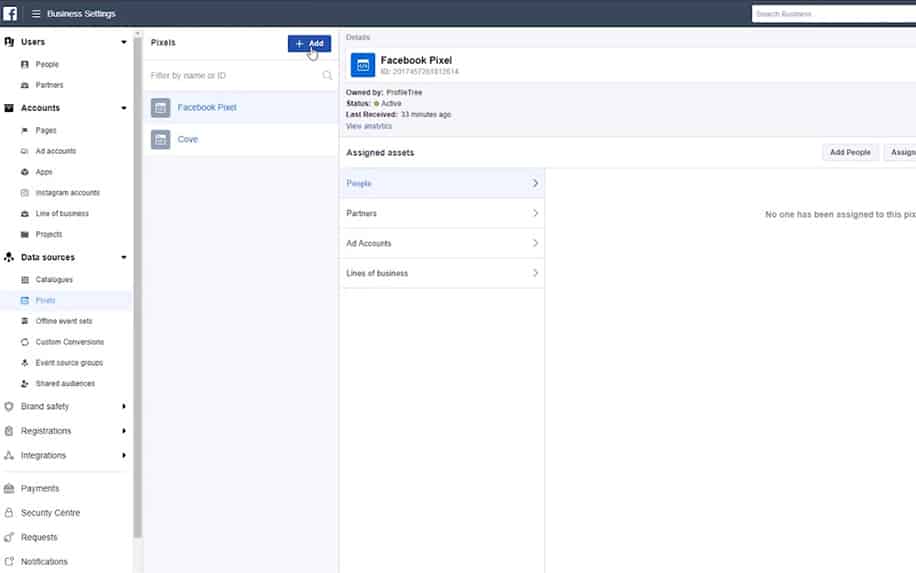 The next step is to set up Pixel. Just click the green button shown in the middle of the screen that is labelled, 'set up pixel'. There will then be three select options to choose from. These are:
Use an integration or tag manager,
Manually install the code yourself,
Email instructions to a developer.
For the purpose of our video tutorial, we have shown the first setup method. Once clicked on the method, the next step is to choose a partner. There are many to choose from, such as WordPress, Magento, WooCommerce and many others.
Of course we're going to use the WIX partner. A step by step guide will be shown by Facebook Pixel to how to implement the pixel into your WIX site. Follow this step by step and it should be set up. The main part of the tutorial is the ID/Code shown by the pixel.
1. Getting Started with Yandex Metrica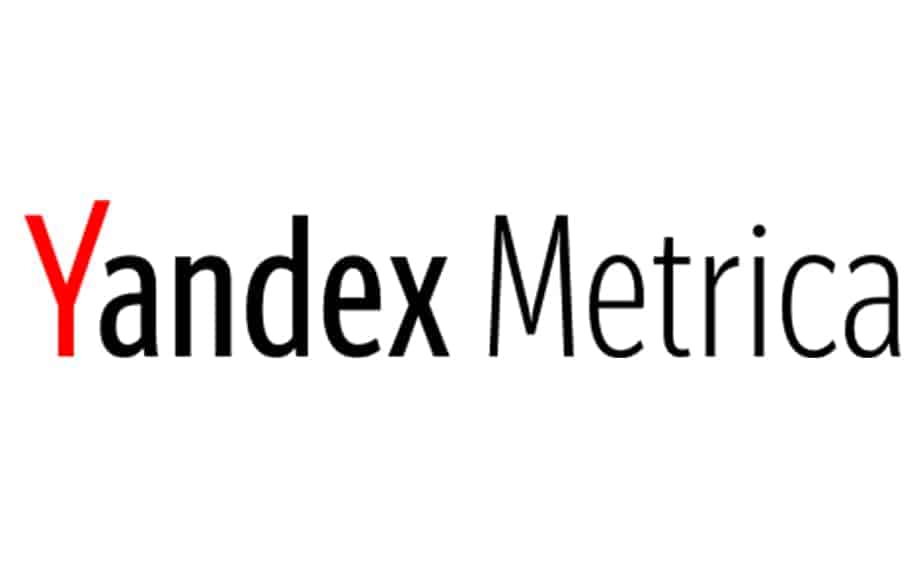 Similar to Facebook Pixel, Yandex Metrica is another analytics tool. Yandex is a Russian online based site that operates and offers similar services to Google. Therefore if you're familiar with Google Analytics, this tool might be for you.
Indeed, it offers most of the same basic functionality, including analysis of your sites traffic, user behaviour, demographics and session data.
Below is a tutorial on how to add the Yandex analytics tool to your site.
2. How to Set up Yandex Metrica in WIX
Adding Yandex Metrica to your WIX site is very easy. You will first need to navigate to the settings tab within your WIX dashboard. Once in the settings tab and under 'Advanced Settings' you will find tracking and analytics.
This will then open up a new window, where you can add a new tool. Click 'New tool' in the top right of the window and a drop-down will show.
Click Yandex Metrica and a new window will appear asking for a tag number.
To add a Yandex Metric tag number to your WIX Site:
Go to your WIX Dashboard,
Select Settings,
Click New Tool,
Choose Yandex Metrica,
Press Insert Tag Number.
To get your tag number, you will first need a Yandex account. Simply sign up using their main site. Once signed up, search for Yandex Metrica and follow the steps when 'Get Started' is clicked.
The next step to getting the number is filling in a form and inserting a tag name.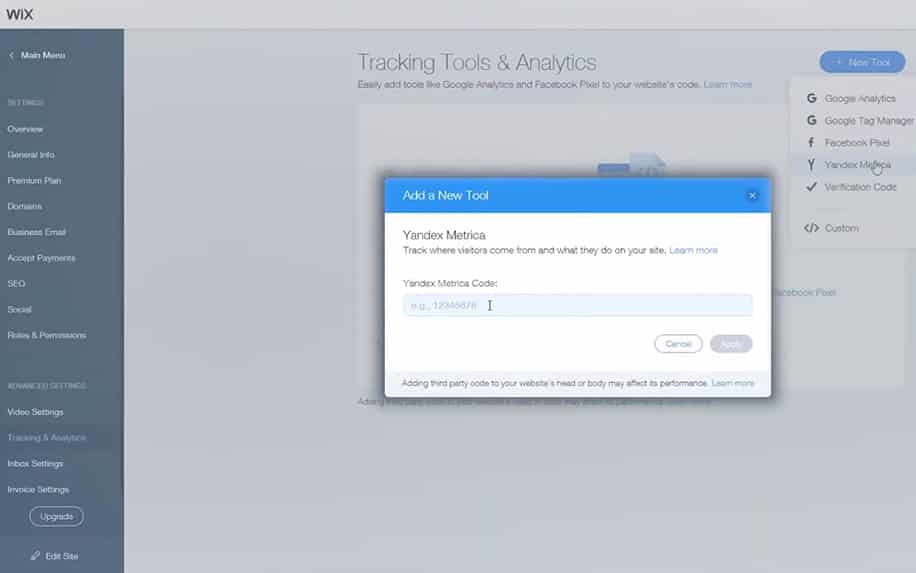 It's best to call it the name of your website and select the session replay slider to make sure it is on. Accept the terms and create the tag. You will then have three options, but to insert Yandex into a website click on the 'CMS and website builders' and copy and paste the tag.
To do this:
Select New Yandex Account,
Choose Yandex Metrica Search,
Click Get Started,
Press Form,
Select Tag Name & Session Replay,
Choose CMS,
Repeat the steps above for adding a Yandex tag.
One you have entered the Tag number, Yandex Metrica should be added to your WIX site. It's really as easy as that!
How to Use Facebook Pixel or Yandex Metrica in WIX
Pixel and Metrica are both WIX tracking tools. In other words, their goal is to help you figure out how your site is performing across key metrics, and how you can improve each of these. This is typically in terms of how you attract and convert web traffic.
For example, you might examine your traffic sources to determine the success of your marketing campaigns across different channels. In fact, this is essential if you want to measure the ROI of your efforts across SEO, social or PPC marketing.
Once users actually enter your site, it's also important to know how they behave.
Pixel and Metrica allow you to determine the entry and exit points of your users, as well as how long they spend on each page, and which actions they take on your site. That way, you can identify UX and CRO issues which are hurting your overall conversion rate.