Many marketers have asked what is online marketing because it is a fairly new concept used to raise awareness of a product. This utilizes the ease of communications across the globe created by the Internet.  It is fairly cheap compared to the number of views it generates. Marketing is the process by which a product is introduced to potential customers (the market) in order to maximize sales and ensure success.  It is highly adaptable to the needs of the consumers so, naturally, in our technologically advanced times, the Internet has become a valuable marketing tool. What is online marketing you say? Well, in simple terms, online marketing is the targeting of potential customers online via the Internet in an attempt to convince them to purchase a product.
What Is Online Marketing?
To explain online marketing, we must first understand the Internet (also known as the World Wide Web) which is a network of connected computers that spans across the globe. It allows for effective communications regardless of the distance between the users and this is why it is incredibly powerful. Online marketing targets customers with relevant interests to ensure that it reaches a relevant audience. The effectiveness of it comes from the fact that it is cheap compared to the number of views it generates. Online marketing definition may be seen as the utilization of the Internet to reach a global audience either through one-way communications (web ads and search engine optimization) or interactive communication through social media.
Here are the benefits of Online Marketing in comparison to other traditional marketing mediums:
1- Your product reaches a global audience
2-Your products reach people with relevant interests
3-Relatively cheap when compared to other physical mediums
4-Increases Brand Loyalty through interacting with customers
5- Constant exposure to a brand boosts Brand recall
6-Reliable location for business updates
Internet Marketing Mediums
1-Display Advertising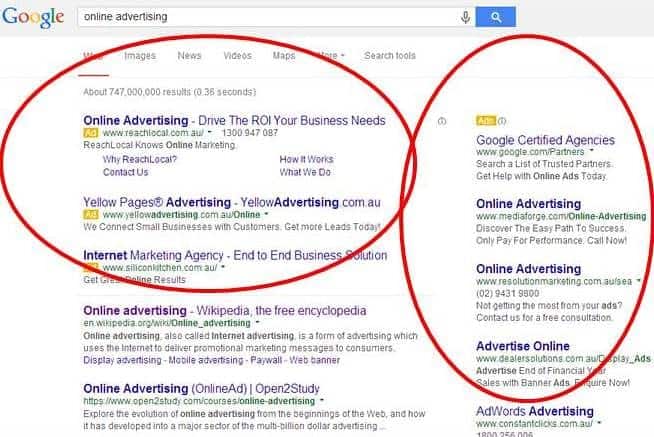 The simplest type of online advertising which involves the use of banner advertisements on 3rd party websites usually through Google Ads. In order to avoid intrusions on the user's experience, the banners (still or animated) are on the sides of a page. It is considered to be the first adaptation of the traditional Out of home advertising into the technological age. Viewers of the ad may choose to click on it if they are interested.
2-Search Engine Marketing
This requires a proper understanding of how search engines rank pages to maximize the traffic to your website. This is one of the most essential mediums for natural growth of your online entity. All views in this case are interested in what you have to offer. This method involves adjusting your content in order to please search engine algorithms to ensure that you rank high on a results page.
3- Social Media Marketing
Arguably the most important Online Marketing Tool due to its incredible flexibility. It is for interacting in order to gain favor (brand acceptance) or to remain competitive. It is of no doubt that online recommendations are the natural evolution of word of mouth marketing, which is essentially the ultimate marketing goal of any business. It provides the most exposure; however requires the most amount of effort.
There are several social media websites, each serving their own function. A Facebook page is essential to show the amount of people who liked your product. Twitter may be used for more instant interactions with the customer base as well as a chance at viral tweets with these tools at hand. There are several more uses of social media for marketing
Examples of Online Marketing Success
By now you should have a general idea of what is online marketing and it's uses. To further convince you of it's benefits, let us observe some stories of success. These companies had a clear understanding of what is online marketing which allowed them to generate massive amount of exposure for their business.
1- Uber
A company that allowed car owners to temporarily work as private drivers. It is of no doubt that Uber struggled to integrate into society when it started, but through vigorous online campaigns, their vision became real through many promotions and their reliance on electronic "word of mouth."
2-Airbnb
A company that allowed users to rent their apartments to people visiting. It completely relied on user generated posts and images of these apartments. Their huge success may be attributed to sharing a common interest with their users. Despite governmental pressures, the company survived due to gaining the support of people.
3-Dollar Shave Club
Another young company that managed to win people over because of their relevant jokes and the refreshing twist they added to an otherwise stale industry. People doubted their success on launch because no one is willing to wait several days for their shaving kit. However, with their unique and funny ads they managed to capture people's attention and then it was all smooth from there. Their #RazorBurn campaign encouraged users to send jokes for a chance to win free supplies which greatly increased their exposure.
One of the many user generated content supporting Dollar Shave Club's #RazorBurn publicity campaign
3- Amazon.com
The online shopping website Amazon is another great example of success. Amazon was one of the first pioneers in the field of online shopping and the success of their venture may be attributed to the incredible innovations that have led to the "winning over the Internet."
4- Influencers
Perhaps, one of the most recent business models that are considered to be the child of our technological advancements. These persons rely on the huge following they have gained through their online popularity to endorse products. Their business model relies on them setting trends through their content creation either through blogs, videos or pictures. These individuals rely on the millions of likes and views they generate through affiliate marketing as a source of income.
Let's Recap on What Is Online Marketing?
First, we understood what is online marketing through the identification of the internet and its available mediums. Several examples were discussed to prove it's viability. But Like any other marketing tool, the Internet is incredibly powerful when used correctly. It's relatively low costs and large audience are the main attracting factors. Having a good understanding of these Online marketing mediums allows for a proper plan to be made that ensures maximal exposure for your business. Not only is it good for innovation, but it is also a great medium for receiving feedback directly from customers, which allows for further development. This ensures that you retain your customers as well as growth through positive word of mouth recommendations. Online marketing success is one of the most sought after achievements because it brings massive organic growth through the satisfied users which is essentially the ultimate goal of any marketer.