TikTok has slowly risen to prominence as one of the most popular social media platforms with over 689 million active users worldwide. Not only that, it is available in over 150 markets around the world in over 39 languages. With that in mind, every marketer should be considering TikTok advertising and the benefits that they can reap from it.
Knowing where to begin can be daunting. We have created a guide to help you make your first ad and understand why you should use them. Don't miss out on using this exciting platform to develop your brand's awareness and grow conversions for your business.
Why You Should Be Advertising on TikTok
Major brands are hopping on the bandwagon and so you should too. TikTok advertising is developing daily with a greater range of products being advertised and sold through the platform.
One of the major demographics that is attracted to TikTok is younger generations, particularly those in Gen Z and Y. This is a large pool of potential customers to glean from. With usage trends showing an increase in 25-54-year-olds though, there is a great market to make income and appeal to a wide audience.
There is also an impressive appeal to international markets. TikTok began in China and has the largest number of users in India. With growth in companies like Mexico and Russia as well, there is a large audience to appeal to.
Having been downloaded over 2 billion times with 165 million downloads in the United States alone, TikTok is a trend that is rapidly growing. Young users, between the ages of 4 to 15 spend up to 80 minutes per day on TikTok, opening the app up to eight times a day – the perfect opportunity to advertise to them.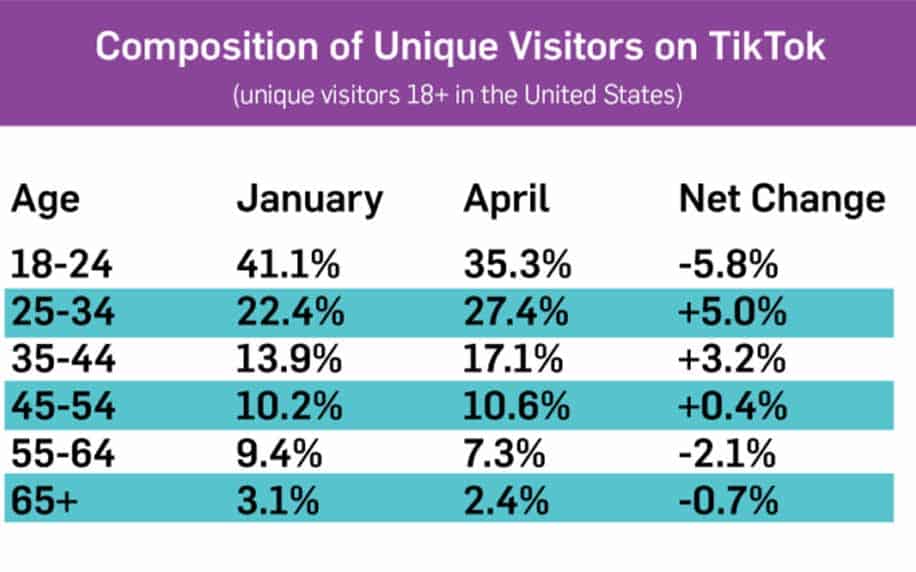 How to Advertise on TikTok
Now that there is clarity on why you should be using TikTok advertising in your business strategy, now you need to understand how to set up your adverts. You can outsource this to a TikTok ad manager or you can use their self-service platform. Here are some of the different ad types that you can select and how you can set them up:
Select Your Ad Type
There are a variety of paid advertising options available for marketers and selecting the right one is critical for your business. Here are some of our favourite types:
TopView ads
Like brand takeovers, TopView ads display on the full screen. The difference is that these ads can be 60 seconds long, and they are on a delayed play, so they don't start with app startup.
Brand Takeover
Brand takeovers are full-screen, three- to five-second video ads that show up as soon as someone opens the app. The ad will also show up in the For You feed. You can include a clickable hashtag or website link as well.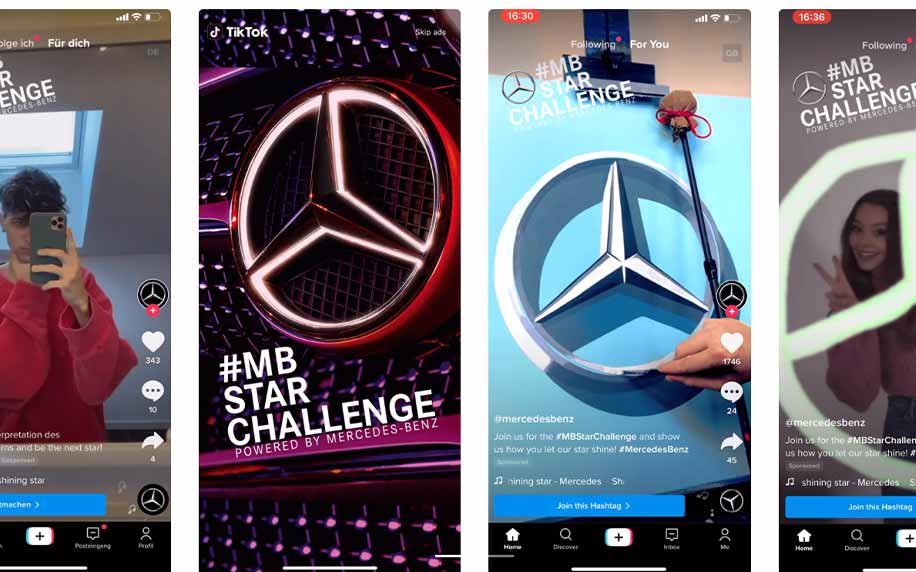 In-Feed Video Ads
In-feed ads are short-form videos that appear in users' news feed on the For You page. They look similar to native TikToks, so they blend organically into the feed. Right now, they are the only advert option available to self-service advertising customers.
Branded Hashtag Challenge
In a branded hashtag challenge, a brand asks TikTok users to videotape themselves performing something, like a choreographed dance, and then post it with a specific hashtag.
These ads are placed at or near the top of the Discovery page, and a click on the hashtag leads visitors to a collection of TikToks from the same challenge.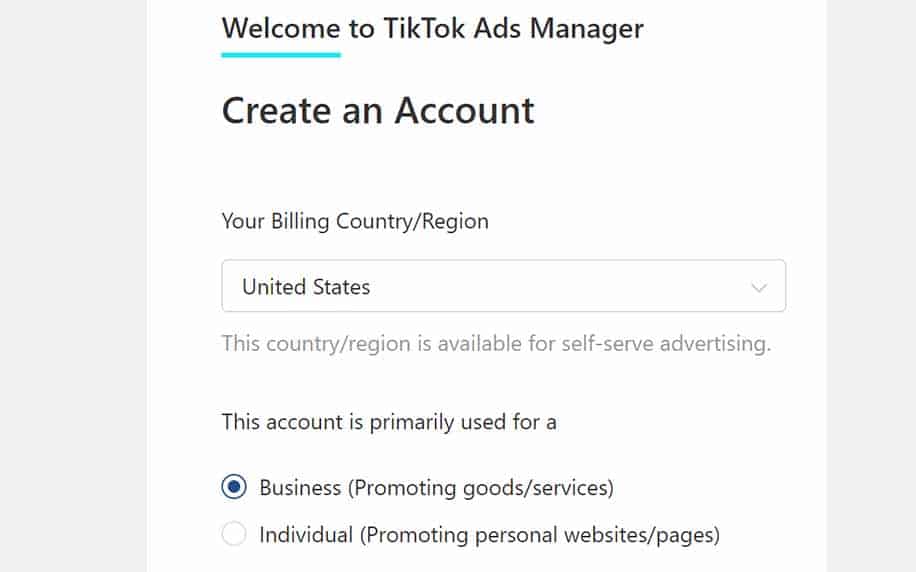 Create Your TikTok Ad Account
Before you launch your first ad, you'll need an account. Click Get Started from the TikTok for Business landing page, and then enter your region, followed by your business type and, finally click next. From here, you can fill out your details and click 'sign up'. After this, you are ready to start advertising on TikTok.
Create a Campaign
In TikTok, you follow a hierarchy by first creating a campaign and then an ad group, and finally an ad. Go to the Campaign tab on the top of Ads Manager and click Create. Pick your objective.
Depending on what your marketing goal is, you'll choose awareness, consideration, or conversion. That's all you do to create a campaign. TikTok will automatically keep you moving to the ad group section.
Create an Ad Group
Now you can choose your ad placement. We recommend that you use auto-placement as it is easiest for your first ad. Choose promotion type, URL, display name, profile image and how you want users to engage with your ads.
Decide if you want to use TikTok's automated creative optimisation. This is one of the tools TikTok created for small businesses. It basically builds ads using your images, videos, and copy and then continually tests them for you.
Pick your audience targets. You can target audiences based on demographics and interests. You can also create a custom audience from your customer files, website traffic, app activity, or previous ad engagement.To build a custom audience from website traffic, you'll need to install the TikTok pixel on your website.
The pixel also helps you optimize ads and tie the success of your ads to customer behaviors on your website. Choose between a daily or lifetime budget which is the total you'll spend during the life of the ad set or campaign Set up your bidding plan and then click next and you're ready to create a new ad.
Create an Ad
Upload your ad creative. This can be either video or images. TikTok will turn still images into a video. For maximum exposure of your brand using the TikTok algorithm, be sure to follow TikTok's ad creative guideline.
Now you can fill in your ad text and call to action. Click Submit and your campaign is sent off for review. TikTok will check each ad against their guidelines.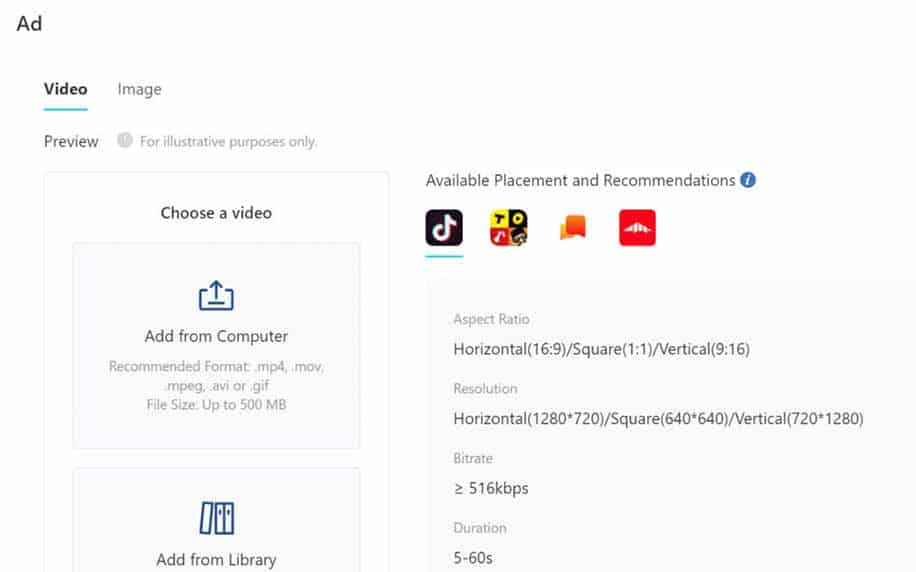 How Much Do TikTok Ads Cost?
While TikTok doesn't directly advertise how much their non-PPC adverts cost, it was leaked through Ad Age (in a leaked pitch deck in 2019) that prices are varied. For branded hashtag challenges or brand takeovers, it would cost a whopping $50,000 to $150,000.
While this is mostly inaccessible for small businesses, in-feed ads have more achievable prices. They are a biddable asset with a minimum spend of $50 per campaign and $20 per ad group.
TikTok Advertising and Your Audience
Using TikTok is a great way to create meaningful content and connections with a larger audience of all ages. Blending your organic TikTok with a steady stream of PPC can help engage your audience and push them to convert. Fill your channel with content that you users come to the app to see and watch as you generate interest in your brand.
Not everyone is @DanielMac and getting started in the TikTok world can be difficult. If you'd like more information or help in advertising your brand to potential customers using social media platforms, get in touch with ProfileTree. We have a team of social media experts who can help you develop your social accounts and create strategies to successfully secure sales.