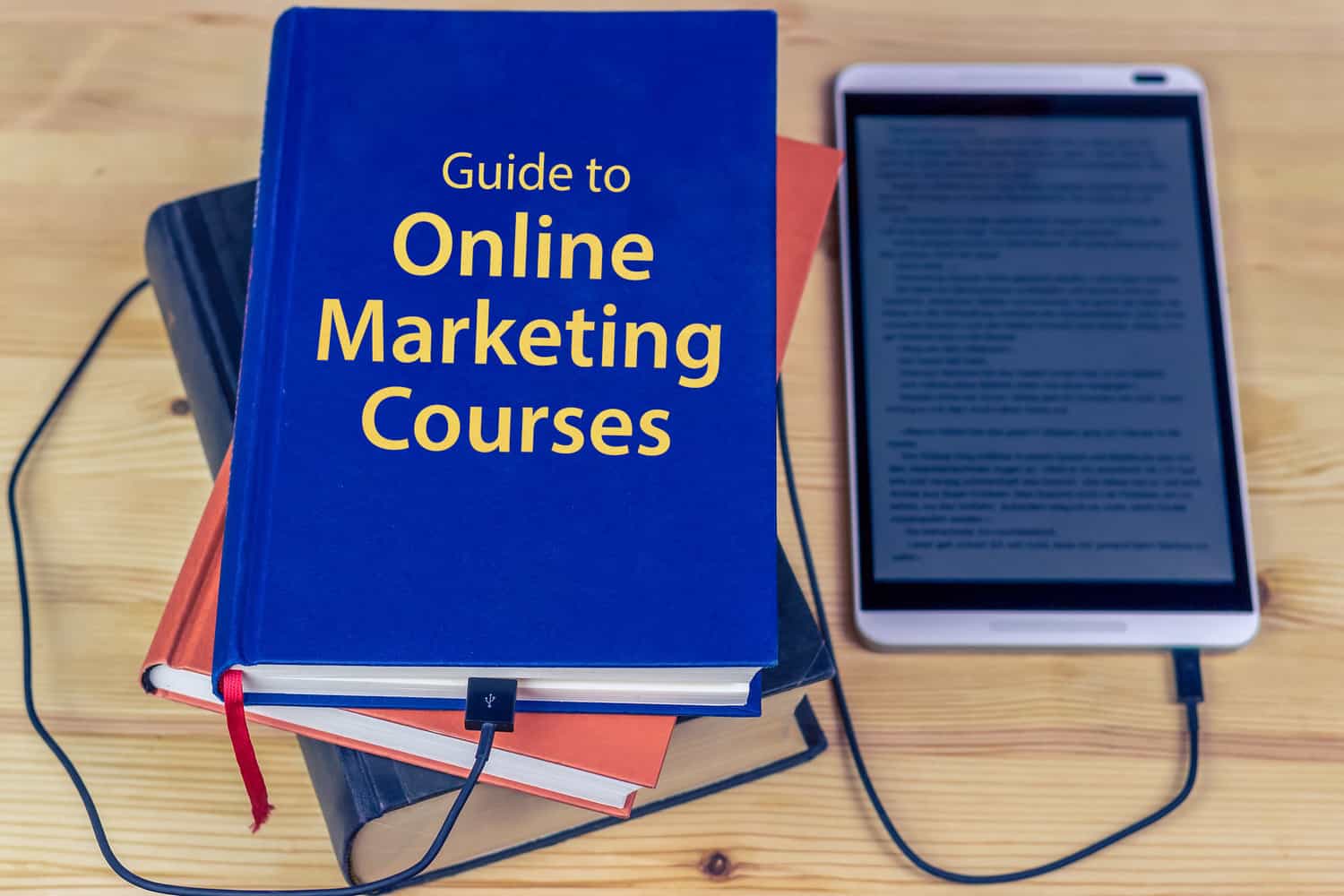 Marketing enthusiasts, business owners, and entrepreneurs are always trying to find out more about marketing by the second. There are many ways through which you can develop your marketing skills, whether through reading marketing books, getting a degree, or even watching video tutorials. Online marketing courses are one of the most effective ways that can teach you a lot about marketing. Surely at one point, you have thought about taking online marketing courses and you were puzzled or did not know where to start. This article should put you on the right path of choosing reliable online marketing courses that match your business needs. It will tackle several questions that usually face anyone considering taking a marketing course online.
What Are Online Marketing Courses?
It goes without saying that marketing courses are one of the most demanded courses that are offered online. So the next question should be: what will you learn from these courses? Marketing classes have a variety of levels, from a beginner level to an advanced one. Marketing courses for beginners can teach you the basics like creating a marketing strategy, brand building, advertising and budget allocation. More advanced ones revolve around broader subjects such as finance, economics, planning and managing projects. In addition, there are multiple digital marketing courses online, which are essential nowadays to any start-up company to reach its business goals. Digital marketing courses can teach you about managing your online blog or social media business account. Some of the most important topics that you will learn from digital marketing courses are computer programming, SEO, and content marketing.
Why Should You Consider Taking Online Marketing Courses?
There are many benefits that you can gain by studying marketing online. Firstly, having a solid marketing background on your resume can be a plus for many job vacancies. Therefore, taking online courses can help you pursue a career in marketing, as long as you can prove you are qualified. If you are a business owner, taking online marketing courses can be your gate to knowing how to brand your product and reach more audience, how to set up your marketing budget, and how to convince people with your product. This ultimately achieves your goal of making them your customers. With the rise of Internet marketing, taking online digital marketing courses can be a turning point for your startup. It is substantial, especially for small and medium-sized businesses, to have a blog or a social media account to promote their products. Hence, learning how the digital marketing world goes can totally boost your numbers.
Pros of Online Marketing Classes
There are a number of reasons why you should favour online marketing courses over any other method of learning about marketing:
Flexibility
Online marketing classes give you the most flexible time schedule, you definitely need that if you are already working full time and you have a busy schedule. The advantage of attending your marketing class from the comfort of your home or office is a valuable one. On top of that, you will not be committed to an attendance list, and you will never miss a session. You can also record each session so you can get back to it whenever you need it.
Customizing Your Own Course
In addition to customizing your class's schedule, customizing your online marketing course means that you will learn at your own pace. If you do not understand a certain point, you can simply take your time with it until you fully absorb it. Another appreciable advantage is that you can define exactly which course you need in order not to waste your time. For example, college students who study marketing may be obliged to take courses that might not be relevant to their needs. This is something that you can avoid by choosing to take a marketing course online. So, if learning about SEO is your interest, you can simply choose a course that discusses this specific topic.
Cost Efficiency
There are a variety of choices when it comes to online marketing courses. You can find many free marketing courses that contain valuable content. Moreover, you can also find paid courses at low costs. Definitely, free marketing courses are a huge benefit for those who cannot afford costly ones.
Where Should You Look for Marketing Classes?
If you search on the Internet for online marketing courses, you will literally find thousands of pages which offer their courses as the "best." Although it is great to have many options, it may be disappointing for someone who is trying to choose from a sea of choices. Here are some recommendations of credible online courses sites:
• Alison is a popular website that offers free of charge courses; you can definitely find there a variety of marketing courses.
• Udemy has more professional and versatile courses, unlike Alison, it is not free of charge; yet you can still find courses at very low prices.
• Coursera offers courses from top universities all over the world, with fancy names on the list such as University of Pennsylvania, Stanford University.
Tips
In order to make the most of online marketing courses, you need to first define your needs and set your goals. Ask yourself what kind of information you are lacking and why exactly you need this information. This will help you find the most suitable topic to study. Another piece of advice would be that the cost of marketing classes does not guarantee value; do not get tricked by highly-priced ones. Many free marketing courses contain valuable material. Finally, commit yourself to study your course, and put some effort into applying what you learn to your business or your career.
Enjoy the Learning Process
Learning about marketing should not be boring or too complicated to understand. Of course, you will be exposed to new ideas and concepts but they are often applicable and relevant to the real-life market. Online marketing courses make it easy for anyone, no matter what his or her goal is, to study and benefit from them in order to develop their business. The aforementioned tips can direct you towards determining the type of course you need, how you will benefit from it, and where to find such courses.