How to make use of the best media buying software and tools in today's market?
Your customers become more exposed to messages in more ways than ever before. As a result, we consume media online, in publications, on the radio, on TV and on our phones, to name a few ways we get information every single day. 
But with the expanded digital marketing landscape and increasing platforms out there, you need to select the best tool or software to handle your daily marketing tasks.
It can be hard to tell which media buying software you should consider over others.
Indeed, the job of a media buyer demands a diverse skill set. That is because there are so many areas you need to master, including logical vision, creative eye, strict organisational capabilities, and intuition.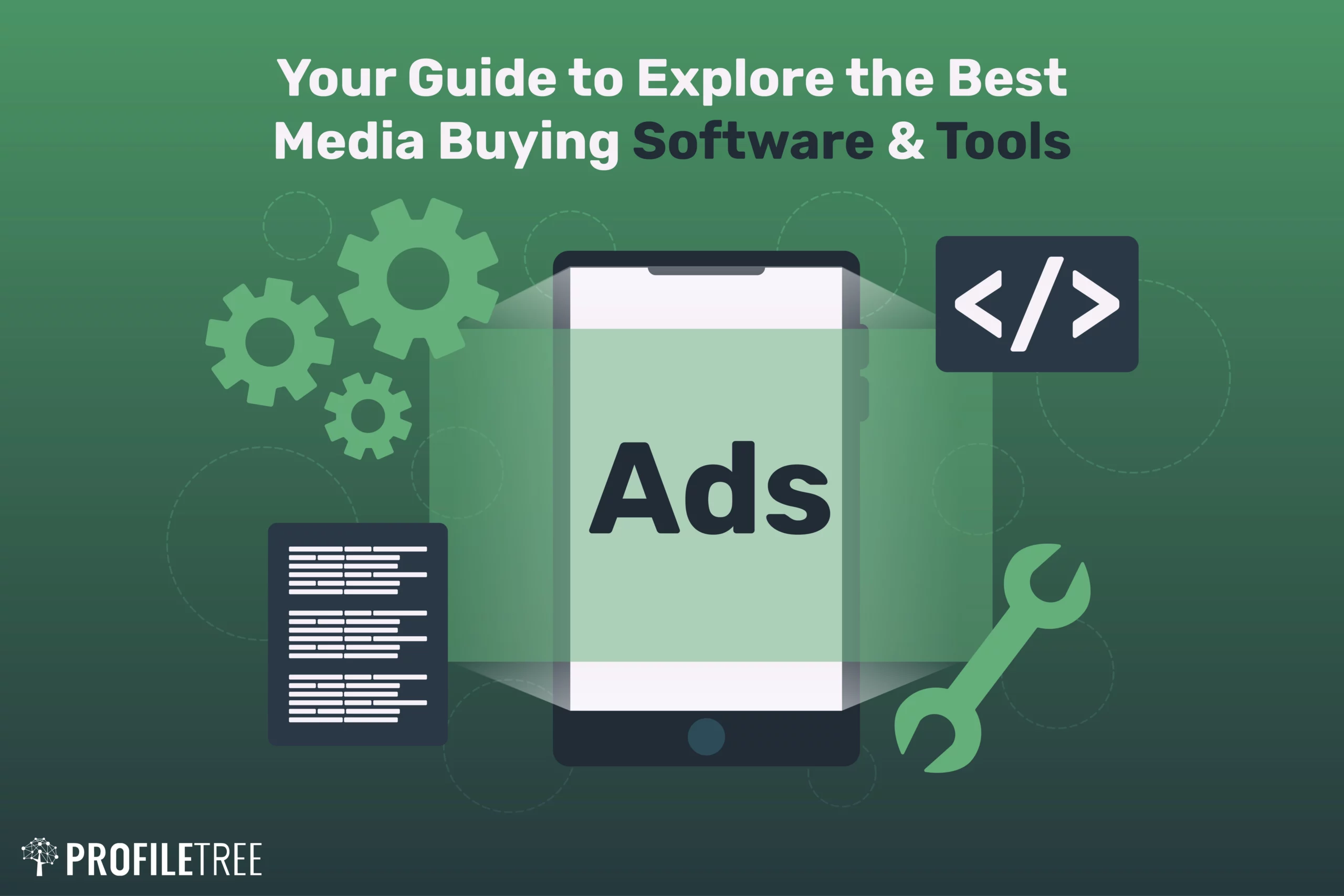 But hang on!
If you're looking for the best media buying software and tools to help with your next campaign, you've come to the right place. In this guide, we'll explore some of the top options available and take a deep dive into your performance marketing. Also, we will provide an insider guide on what you should look for when selecting the right software for your needs. Whether you have a small business or a large enterprise, a media-buying solution is perfect for you. So, let's get started!
This article is meant for informational purposes; you should ultimately make your own decision on which software you want to buy and if you want to use any at all.
What is Media Buying?
Media buying involves planning, negotiating, and purchasing ad space to reach a target audience. It can be a complicated and time-consuming process, but it is essential for businesses that want to advertise their products or services.
Buying media involves numerous considerations, such as the type of media (television, radio, print, online), the target audience, and the budget. Businesses must also decide where to place their ads (in a newspaper ad section or during a commercial break) and how often they should run them.
Media buying is essential to any marketing campaign and can make or break a business' marketing efforts. Due to the high stakes, it is crucial to work with an experienced and reputable media buyer who can assist you along the way and ensure your campaign is successful.
What is Media Buying Software?
Media buying software is a tool that allows advertisers to automate buying ad space on websites and other platforms. By using media buying software, advertisers can save time and money while still getting their message in front of potential customers.
One of the great things about media buying software is that it enables you to figure out how to target specific audiences, making sure that your ads get noticed by people who are most likely to buy what you offer.
Organisations now invest money and efforts in selecting the proper channels to deliver their ad campaigns. And to make a perfect choice, the marketing team should use idyllic media buying software to reach the relevant audience to induce them to get engaged.
Benefits of Using Media Buying Software
Having an affection for media buying software can be an asset for your company. It will help you switch your business from traditional methods to highly-optimising solutions.
For a company, this means a reduction in both costs and downtime.
You can also track your spending and performance to make informed decisions about your advertising budget.
Media buying software can help you negotiate better rates with publishers and increase your ROI.
As your media buyers can't manually keep track of everything, a good media buying tool will enable you to work smarter and more efficiently. Everything is aggregated into one online source.
Using a single authoritative source will give you access to generate and compile reports to help you optimise and plan.
Creating specific media plans will be much easier for each campaign you will launch, which will help you create ultra-targeted ads.
You can enhance the approval process using the right tool, as all teams will work and collaborate in one data-driven platform.
Save too much time on workflow, including revisions, servicing, changes, etc.
After all, you can take advantage of this technology without selecting the right software and identify how it works and why you can make the best of its features.
Top Media Buying Software and Tools
For companies hoping to get connected with the right people across multiple channels, media buying software is a must.
So, it's high time to turn your focus to the media buying, planning, and management software that's improving how businesses coordinate their marketing activities at the strategy level.
Important: Please note that media buying software can also be used for media planning. So, feel free to explore one of the additional tools, and if you need any assistance, our expert team is here to help you!
With so many options and variables to consider when planning a media buy, it can be challenging to know where to start. That's where bionic media planning software comes in. This software is designed to help you quickly and easily create an effective media buying plan that takes into account all the necessary factors.
Bionic media planning software supports your media buying plan by providing insights and data that would be otherwise unavailable. For example, bionic Media Planning Software can help you zero in on your target audience by considering things like demographics, psychographics, and geographics.
Not just that, you will be able to generate flowcharts, IOs, RFPs, media plans, reporting, trafficking, and monitoring client dashboards.
The platform prides itself on its tremendous monthly software updates, allowing agencies to use up-to-date planning tools to manage and organise their campaigns.
A cloud-based dashboard makes it unique, meaning you'll be up and running in no time. And you will get unlimited support, training, and data backups at no extra charge.
With many people asking about the best media buying software, we will never stop recommending HubSpot products which will help you keep track of a lot of things.
This template is designed to help you plan and manage your campaigns efficiently and effectively.
For example, it helps you save time by providing a structured approach to media planning and campaign management by identifying how much attributable revenues have been produced from each source. In addition, that's how you can stay organised by keeping all your campaign details in one place.
We will put your eye on your progress and performance throughout running your ads by allowing you to set goals and KPIs for your campaigns. Also, you now can know how much you're spending on paid media.
Eventually, it provides insights and recommendations based on data analysis to help you optimise your campaigns for better results. Plus, you will gain access to charts that automatically calculate your ROI once you add your spending and other data.
The big bounce you will get from this creative scheme is that it will let you compile data from media buyers' efforts monthly. Thus, you have the complete picture of which paid media channel is best for your company and leads to the best results for your bottom line.
The good news is this template is FREE!
However, don't expect more than just a template. It's neither software nor a tool. It's just a way to rearrange your ideas and set your goals clearly for all your team where your messages have gone out.
You may need this media buying software if you or your business use online ads.
It's the next generation of how to make the Internet of Things work for you.
AdColony helps brands reach all mobile app users on both Android and iOS.
With AdColony, you can target your ads specifically to the users you want to reach, making the most of your media buying budget. In addition, AdColony provides detailed reports on your campaign performance so you can fine-tune your strategies for even better results.
What we like most about this tool is it offers multiple placements and video formats, including full-screen, interactive, interstitial, and banner— so beneficial for you to taste various forms which garner the best results.
If you're ready to take your mobile app campaigns to new heights, AdColony is the perfect solution.
Have you heard people rave about how programmatic ad software can be a game-changer for you?
They are most likely to say that after using Kantar SRDS. Forget about any digital marketing disrupter who might overwhelm you and your team.
The designers for this platform have realised one fact; the most valuable resource for any media buyer is data!
Indeed, any marketing guru wants to feel confident promoting media on a specific platform. This tool will help you know who is on each channel to understand who people you will speak to.
That happens by giving you access to extensive datasets on audience demographics and statistics. So you can choose the right audience, message, and channel.
Listen to this: your ad could be brilliant, but it will lead to nothing, and your campaign will never reach its true potential if you do not place it in the right place and target the right people.
So, we will also recommend this media buying software, a fantastic programmatic advertising and planning tool. 
You will gain access to advertising flowcharts, blocking carts, along with media execution plan templates at a glance. However, the ability to access multiple formats where your ads will be placed, and the timing and durations of each ad will be very valuable while designing your advertising strategy.  
It's a self-serve platform with all media-buying tools to make media-buying tasks a breeze.
With Media Flowchart, you can manage your entire media strategy in one designed space. From ideation to execution, more efficiently than ever, your plan will be seamlessly run and gone.
You will not need to spend hours scanning through scattered documents and spreadsheets to find and compare data. Instead, this software takes every point of your planning and buying operation and breaks it down into actionable steps.
To simplify the process even more, you can plan, manage and connect with vendors while checking all the information you need in just one place.
What Should You Look for in Media Buying Software?
Adapting programmatic ad buying in your business needs some adjustments. For example, choosing the first automated technology or a simple template doesn't make sense without considering your options and what you have.
Here are what you should look for when choosing media buying software or platforms:
Pre-campaign Planning Features
To help your business buy the most relevant ad space, you need to pre-campaign planning. No matter whether it will be a media buyer or a planner's job, what matters is to pick the right tool which will give you access to planning features such as team chat, cloud storage, shared calendars, and so on— especially if you have a global team who work from home.
Additionally, you can invest in advanced features, including approval flows that enable you to easily send media plans to your clients or in-house teams and track progress.
Nothing will be more important for productivity than stripping down your many tools and applications to only one platform to streamline your work process. When you have an all-in-one media buying software, you help your team work and collaborate in the same space. That's how you will be sure that nothing is missing.
Imagine how much hassle you save for all.
Check that your team will collaborate effectively within a single platform where they can chat, share, and keep their focus on their performance. It helps you lighten workloads and improves processes.
So, top-level visibility for things should be your priority when setting targets, budgets and other customisations when looking for an efficient media buying software or tool.
Not to mention how much it's vital to double-check each platform you use to ensure it gives you access to strategic planning features.
We need to focus on one thing right now: your ultimate goal in having media buying software is to target the right audience in the right place at the right time, right?
So, what you need is to utilise data and algorithms to help you serve your ads. That's why it's critical to control taxonomy to structure and organise data in your way.
And it doesn't happen without shopping for media planning software that offers customisable features and names certain conventions so you can choose how to classify your data and readjust your ads campaigns.
That will ensure that you're on the right track to improve your data quality and feel confident that your teams are using what you need.
How Can ProfileTree Help You?
You have read many topics and posts telling you how media buying is the best option for your business to keep flourishing in this competitive environment.
If you ever nod when people claim programmatic advertising is great but don't actually understand why, you're in luck because we can help you!
Using the right media buying software is where you should start; we are happy to come up with the most effective plan to translate all your objectives into reality. There is no one software that is best for every business; if you want to know what software best suits you or if you even benefit from the software, we can help.
Media buying is one of the most effective approaches to reaching your audience without surpassing your budget.
Just remember that advertisers only pay when the viewer makes a specific action, such as when someone clicks through their page or watches a video until the end or makes a purchase.    
We're experts at helping businesses see, value, and reach their true potential.
How can we make that happen?
We'll take a deep dive into your performance to understand your position in the market.
Your growth will be our focus, so design your marketing strategy from scratch, introducing ways to align your objectives with your potential and identifying what channels offer the highest return.
You will never have to stress about understanding how this software works and why you should use it. You don't need to think of what makes a programmatic media buying plan brilliant because we have already tried all tools around there and will give you the hidden features and drawbacks of each.
Our results-originated team will give you a consultation at every step till you receive a satisfactory outcome.
Our mission is to offer a tangible result that you can point to, thanks to our champions who build this multi-award-winning digital marketing agency with a long and successful record of pushing up sales and profits for SMEs and large-scale companies throughout the UK and beyond.
Our data-driven full-funnel strategy combines cutting-edge techniques with high-end performance and best-in-class creative production for accurate results.  
We won't advise something that you don't actually need. If we think that your business will benefit better from something else in marketing, we will tell you.
We're masters in mixing art and science to drive the performance you aim for.
Need help in choosing a media buying software? Get in touch with us now to find out more about how we can assist you in reaching your intended demographic and achieving your marketing objectives.