Endurance International Group (EIG): Who are they?
After writing many articles on web hosting, I have seen a running trend. This trend is that most hosting companies are owned by themselves. The other companies that are not owned by themselves are all owned by the Endurance International Group commonly known as EIG for short, or nowadays, Newfold – but we'll get into that a bit later.
If you're anything like me, then you might not have heard about EIG, until now. The weirdest part about this group, is actually how big they are in the hosting/domain industry. I can't believe it took me a while to even know about EIG. Below you will find everything you will need to know about EIG.
Endurance International Group (EIG)
Table of Contents
Who are they?
Endurance International Group is a leading provider of cloud-based platform solutions designed to help small and medium-sized businesses succeed online and grow their digital presence.
They offer various different services through the main parent company and through subsidiary companies including; domain registration, web hosting, website design and management, SEO services, security, email marketing, and more.
Some of their most notable brands include Bluehost, HostGator, Constant Contact, and Domain.com, among others. Each of these brands offers a suite of tools and services that cater to different aspects of operating a business online.
The company's growth strategy has involved both organic growth and strategic acquisitions, allowing it to expand its offerings and reach a larger, international customer base.
History of the Endurance International Group EIG
Did you really think you were getting away without knowing the basics? EIG was founded in 1997 before I was even born. They were founded as BizLand and BizLand eventually turned into Endurance in 2001.
This name change was mainly due to the dotcom crash in the late '90s. EIG was re-setup in 2001 by only 14 members of staff and has since grown massively, gaining over 4,000 staff members.
EIG Merged with Web.com Group in 2020
In an amazing turn of events, the Endurance International Group was acquired by Clearlake Capital Group and Siris Capital Group in November 2020. As part of this acquisition, the organisation was merged with Web.com Group, a portfolio company of Siris Capital, to create a new combined company named Newfold Digital.
Newfold Digital is now one of the leading providers of web presence solutions and digital marketing services for small- and medium-sized businesses worldwide. The new company continues to operate various familiar brands such as Bluehost, HostGator, Network Solutions, Register.com, Web.com, and Constant Contact.
Endurance International Group Headquarters
The headquarters of the Endurance International Group is based in Burlington, Massachusetts, United States. The exact address is below;
Endurance International Group
10 Corporate Drive
Suite 300
Burlington, MA 01803 USA
US Based Offices
Altogether, the Endurance International Group has ten centres in five different states in the US. This includes two central locations in Massachusetts and two in Texas, with the others being in New York, Utah, Colorado and Arizona.
However, since the merger, the Newfold company has also developed a main office in Jacksonville, Florida – 5335 Gate Pkwy Jacksonville, FL 32256.
International Offices
However, since their exponential growth, EIG also has developed offices based in many other locations around the world including, South America, Europe and Asia. In Brazil, for example, they have two locations with also one in Amsterdam and two in India.
What do they do?
For not such a well-known company in the industry, EIG does a lot. Of course, you know that they are involved in web hosting and domain registration, but they are also involved in online marketing and helping businesses thrive within the digital marketplace.
Subsidiary companies of EIG (Newfold) offer tailored services to businesses in building their brands online. This includes website building, web management, SEO, security and a range of other online marketing tools. All of these services link together in some way and they all involve a strategic effort towards online business success.
EIG Business Model
This type of business model allows customers to not feel as overwhelmed when looking for digital marketing assistance, selecting services that appeal to them and not getting lost in the confusion of the world of digital marketing.
One quote from their Marketing Design Manager summarises this perfectly,
"Our company provides simple solutions for everyone who wants to bring their business online, we always try to speak in a language that is understandable to all of our clients."
One thing they definitely do well on is their business plan. It's quite simple and it has revolutionized the hosting industry for the years to come. Their business plan consists of buying over a host, and basically buying customers.
Some customers would then inevitably, become increasingly dissatisfied with their host and go in search of a new host. Many times these customers would then change host to another host that EIG own, so realistically they haven't actually lost the customer, they are just pivoting them between different brands.
This then happens over and over again. You could say that they have monopolised the web hosting industry and are attempting to do the same with digital marketing brands.

Endurance International Group Subsidiaries
As I have said before EIG own many hosting/domain companies. Below I will outline all the 41 subsidiary companies that they own, but by the time you're reading this, it could be a lot more than that.
While researching all the companies above to make sure that they were all a part of EIG I saw a running trend with the websites and where they are based. Many of the websites of these companies had similar contact/support pages, leading me to believe that they are part of the Endurance International Group.
Examples of this are below.
WebStrike Solutions
WebStrike Solutions is an EasyCGI Company, and EasyCGI is an Endurance International Group company. Webstrike solutions have a support page which is very similar if not exactly the same support page as netfirms, iPower, NetworksHosting, PureHost, USAnetHosting.com, Verio, Virtual Avenue, Webhost 4 life, Xeran, my domain and PowWeb.
Netfirms
Netfirms is a web hosting and domain registration company that offers services mainly to small and medium-sized businesses. Netfirms was founded in 1998 and it is owned by Newfold Digital (formerly known as the Endurance International Group).
Here are some of the services provided by Netfirms:
Domain Services: Netfirms offers domain name registration, transfer, and renewal services. They provide a variety of top-level domains (TLDs) to choose from.
Web Hosting: Netfirms provides various types of web hosting services, including shared hosting and VPS hosting. They offer different plans to cater to different needs and budgets.
Email Services: Netfirms offers professional email services that allow businesses to have custom email addresses based on their domain names.
Website Builder: Netfirms offers a website builder tool that allows users to create their own websites without needing to know how to code.
E-commerce Solutions: For businesses looking to set up online stores, Netfirms provides e-commerce solutions that make it easy to sell products online.
Marketing Services: Netfirms offers marketing services to help businesses attract more traffic to their websites. These include search engine optimization (SEO) and pay-per-click advertising services.
However, upon investigation, Netfirms looks a lot similar to Webstrike Solutions.
From the images above you can see the similarities between the two web pages on the separate websites. The layout is the exact same and the call to action button is also the same. This only emphasizes that all of the companies that have similar-looking pages and layouts are owned by the same company especially when the call to action is the same.
Dotster
Dotster is another company within Endurance International Group (EIG). They also have a group within them which consists of Namezero and Namesdirect, which you can see below.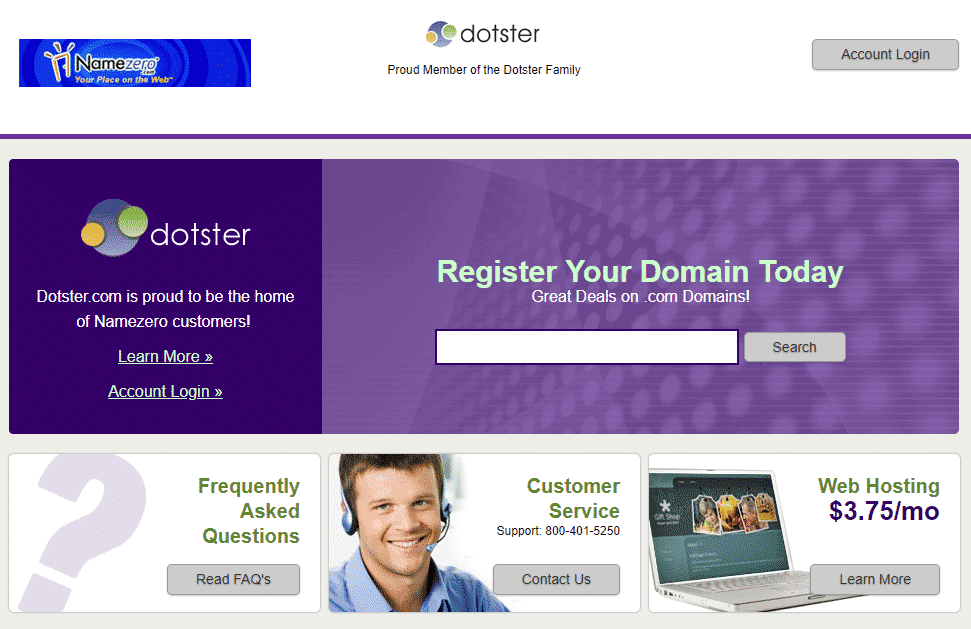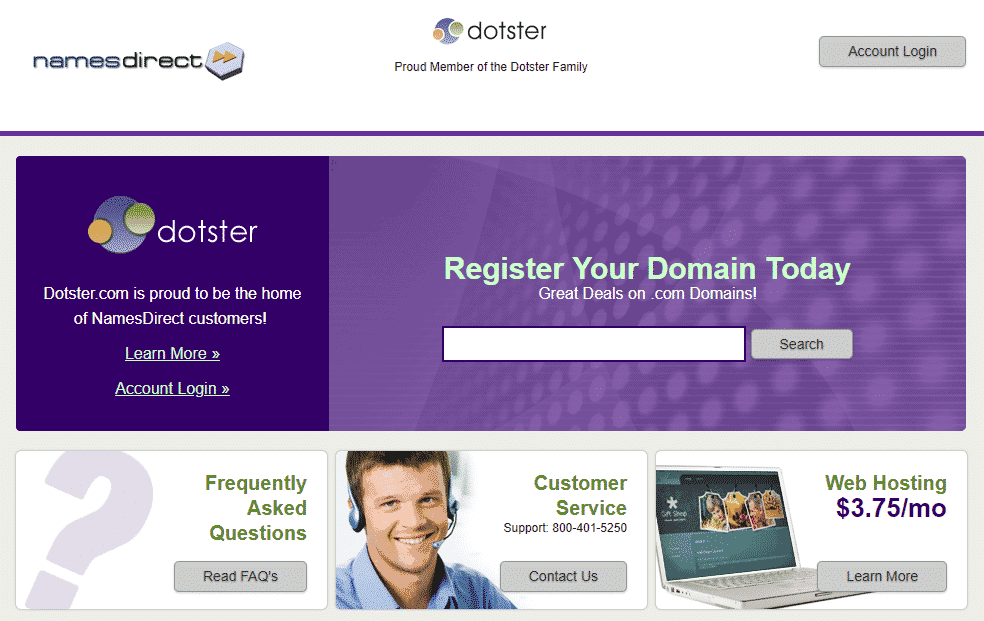 Other sites owned by EIG also give a link to iPage which is owned by EIG also. This is the first example of EIG shutting down some websites such as Hostclear and Ideahost, but keeping their domain names, if people were to search for them. This is a great way to forward more traffic to more successful hosts.
HostClear
HostClear is a web hosting service that offers a range of services, including unlimited disk space, bandwidth, and email accounts, as well as a free domain name and website builder tool. They were known for their simple, all-inclusive hosting plan that was aimed at small businesses and individuals.
However, HostClear is no longer operating as a standalone service. The website redirects users to JustHost, another web-hosting company also owned by the Endurance International Group.
iPage
iPage is a web hosting and domain registration company that provides a variety of services to help businesses and individuals establish and manage their online presence. The company, which is owned by Newfold Digital (formerly Endurance International Group), was founded in 1998 and has since grown to serve over one million websites.
iPage offers a broad range of products and services including:
Website Hosting: iPage offers shared hosting, WordPress hosting, VPS hosting, and dedicated hosting, catering to a variety of website needs.
Domain Services: They provide domain registration services, allowing you to register new domain names or transfer existing ones.
Website Builder: iPage's website builder makes it easy for users to create a professional website without the need for coding or design skills.
Email Services: iPage provides customizable email addresses with autoresponders, spam filters, and enhanced security features.
eCommerce Solutions: For those looking to sell products online, iPage offers tools and integrations for setting up an online store.
Marketing Services: To help websites attract more traffic, iPage provides a range of marketing services, including search engine optimization (SEO) and email marketing tools.
iPage is known for its budget-friendly hosting plans and robust customer service. However, like any service, it's recommended to do your research and see if their offerings align with your specific need
Core Values
Core values play a major role in establishing a positive company culture, guiding decision-making processes, and informing the way the organisation conducts its business.
Here's an overview of the values of EIG, aka Newfold Digital.
Focus on the Customer
This underscores the organisation's commitment to putting the needs of the customer first. Customer satisfaction is considered paramount, and every effort is taken to listen to their voices, meet their expectations, and build their trust.
Act as One Team to Deliver Exceptional Results
This highlights the importance of teamwork and collaboration within the organisation. Employees are encouraged to work together to achieve outstanding results, recognizing that the success of the customers and the company are closely intertwined.
Demonstrate Passion for Excellence
This emphasises the organisation's relentless pursuit of excellence in all that they do. They strive to be the best, not just good, and this drive for excellence extends to every aspect of the roles within the organisation.
Foster a Sense of Belonging
This underlines the importance of creating an inclusive and respectful work environment where everyone feels valued, appreciated, and free to be their authentic selves. It recognizes that diversity and inclusion breed innovation and enhance team performance.
Ultimately EIG, (Newfold DIgital) prides itself on being driven by a desire to see businesses and people succeed online. These core values listed above underpin their approach to this goal and their company culture.
What's the problem with EIG?
Many hosting companies and users alike are very concerned with EIG. The reason for this is that they are trying to become a monopoly within the hosting industry. They are doing this by buying and acquiring some of the biggest web hosts out there.
Realistically they seem more of an umbrella host to me, that includes iPage and HostGator to name a few, but this could be bad for a few reasons;
They own many competitors, so changing your host company might mean you are still shopping with EIG.
Similar problems might happen if you change from one EIG host to another.
Outages and downtime might affect more than one company owned by EIG. This has happened a number of times before.
Takeovers are certainly going to reduce the quality of products.
Much of the support for the various companies comes from the same place.
With these points listed above, it's clear to see that the end consumer is going to have few and fewer options should EIG remain on its path to monopolise the industry. It reduces healthy industry competition and ultimately, it could lead to a substandard service of web hosting and domain companies.
Overall
Of course, there are many advantages and disadvantages to this type of hosting. The benefits are just mainly for EIG, now known as Newfold, in that they will be making more money than other companies as a whole.
They will also have a good chunk of the hosting market in comparison with competitors. Especially if they are buying over smaller companies. Other companies are right to be concerned as it looks like EIG, aka Newfold, is going to at least try to buy other hosts and websites, which is a major cause for concern.
But you really have to give credit where credit is due, and admire the unique business model that has made them grow from a small company of 14 staff to an international and industry-leading corporation.