How to connect 3rd party marketing apps to your WIX website? After all, there are a large number of apps you can use for marketing purposes on your WIX website. Apps such as WisePops, Privy and HelloBar are just a few of the applications you can choose from.
In fact, there are a multitude of different apps that you can add to your WIX website, serving a number of different functions. These include things like SEO, user-facing functions, auditing, and just about anything else you can imagine.
This guide will take a look at how to add apps to your WIX website, as well as some of the best options for a number of different functions.
Let's dive right in!
To install an app on your website, you need to go to the WIX dashboard. On the left hand navigation bar, you will see the Apps feature. Here is where you will find all the apps on your WIX site, including ones already installed.
From here you can install new WIX apps on your site and manage ones you've already installed.
WIX apps can be an amazing asset on your website. They can improve the user experience and are helpful for taking your website that extra step. Overall Wix has over 300 different applications, and you can search for a specific app within the search bar of the dashboard.
What Can You Do With WIX Apps?
One of the essential parts of any website is gaining traffic. Traffic is potential customers. To improve traffic in the future, a website needs a range of things. A website needs to work efficiently, be easy on the eye and be welcoming to all users.
Otherwise, it might be hard to retain traffic.
To keep on top of all these, the WIX app market is the perfect place. Here you will find a range of apps that will improve your site's functionality. The app market has been tried and tested by top tool testers also, so you know that, if used correctly it can only help develop your site.
The app market also has a range of tools, perfect for any site and business. Tools include social media apps, additional marketing tools and analytic apps.
An important note to remember is, you shouldn't just use an app for the fun of it. It may look good or you might need it in the future. It should be used effectively.
Useful and Interesting WIX Apps
When looking through the WIX app market, you will find a range of apps which are very useful. Some might be useful on your site when you first visit the WIX app market and some others may be useful in the future.
For example, on the WIX market there is a timer countdown application. This allows you to set a date and time a certain feature on your site will end. If you have a WIX store site, this would be particularly useful if you ever run a seasonal sale.
WIX also offer a range of their own native apps. Overall there are 110 WIX applications at time of writing. With these apps you can create forms, start a blog and include a store on your website.
There is even a WIX chat app which allows users to contact your site directly through a live chat feature.
You can even start to take bookings on your WIX sites with apps such as Simpl-E-Schedule, Vacation Rental Booking and Scheduling Pro.
One thing to look out for when wanting to use a WIX app is the app compatible with your version of WIX.
Different apps need a premium account to use on WIX, others give out a free trail and many are just free to use. Don't get yourself stuck paying for an app because you used a free trial, when there could possibly be another app that does the same job for free.
How to Use a WIX App to Add Exit Intent Pop-Ups to Your Website
Of course, the best way to learn any new skills is to look at a real world example. So, let's look at the steps for adding a couple of different high profile apps to your WIX website. Specifically, we'll look at adding three different exit intent pop-up apps.
Adding WisePops to Your Site
WisePops is a tool for creating exit intent pop-ups, so that you can capture the contact details of users as they leave your site.
Getting started with WisePops is easy, all you need to do is sign-up on their own website. To sign-up you need to insert your name, email and add a password.
Alternatively you can also sign-up using your Gmail account, if it is more handy to you. You will get a 14 day free trial as a tester. There is then a feature when login to your WisePops account on a browser to add it to your WIX. This feature is the 'Tracking Code' in the top navigation of WisePops.
Click on 'Tracking Code' and the following window should appear.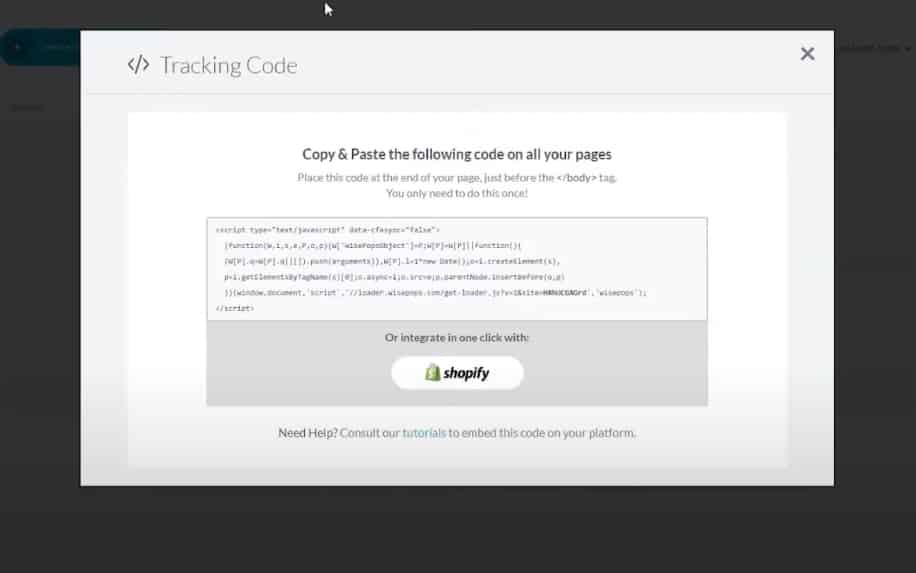 Within the window there is a lot of code. All we need is a small piece, which is shown in the image above. Copy and paste this ID number into your WIX account. Head back to your WIX dashboard and navigate to the marketing tools tab within the dashboard.
Then select Marketing Integrations.
This will then show many of the marketing tools you can add to your site. Tools such as Google Analytics, Mailchimp, Facebook Pixel and Yandex Metrica are just a few of the tools shown. Scroll down the tools and find the WisePops tool.
Click the 'Go for it' button on WisePops. It will then show a new page which will show details on how to connect your WisePops to your WIX. In the top right of the page, click 'Connect WisePops', enter the code, you previously copied and pasted and then hit on save.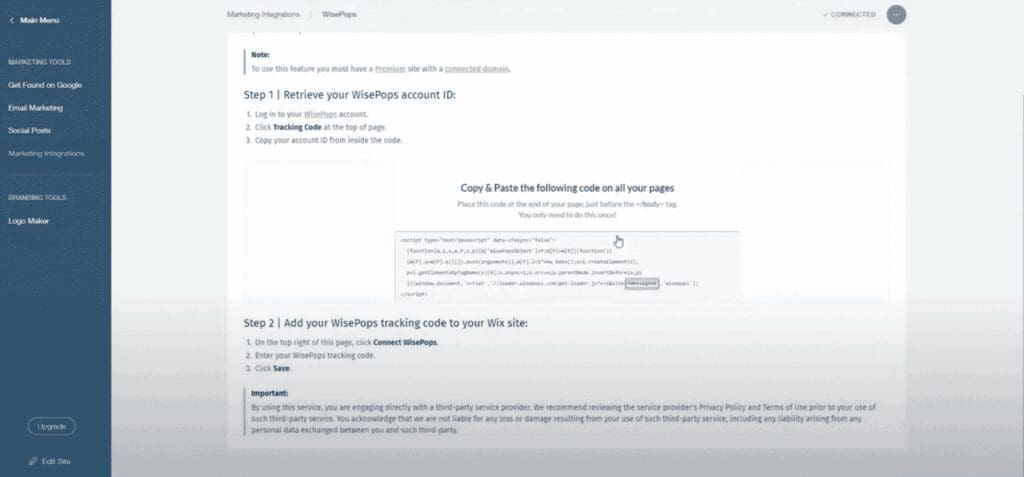 This will then connect your WisePops account with your WIX account.
Adding HelloBar to Your WIX Website
HelloBar is another exit intent tool.
Just like WisePops, sign into your HelloBar account. If you don't have an account, you will need to sign-up using your email. Once logged in to your account, navigate to the summary tab in the top left of the screen.
It will then show a new tab with many different options. Options include install the code yourself, WordPress and of course WIX.
Click on 'I use WIX' and a drop-down should appear. Here you will see your ID, copy this ID. The next step is to head to your WIX marketing tools, then marketing integrations.
You will see all the marketing tools, you can connect to WIX. Find the HelloBar app and click, 'Go for it'. A new tab will be shown and click, 'Connect HelloBar' in the top right corner of the screen. Paste the ID/code that was copied from the browser and click save.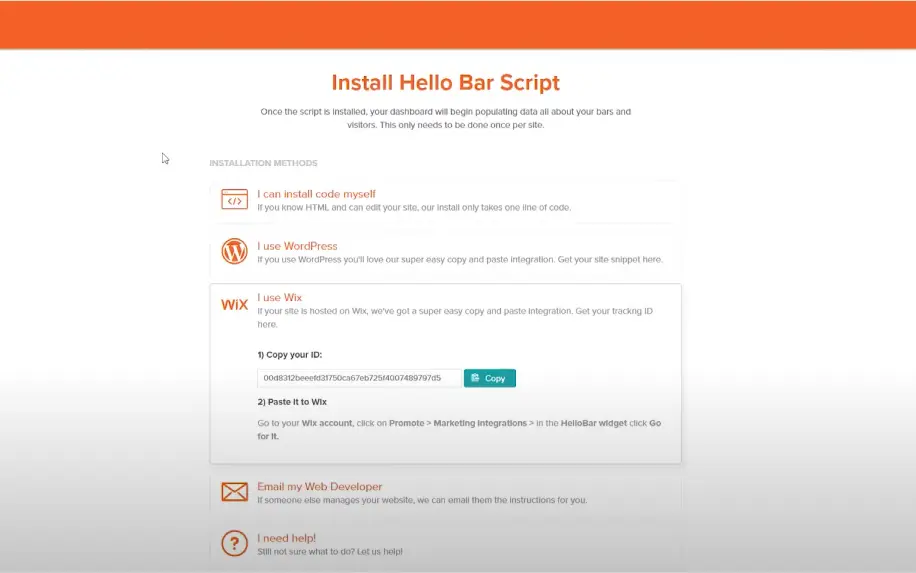 You will see that your HelloBar has been connected to your WIX. Double check by heading back to the browser and refresh. You will see that your account is connected to WIX.
Adding Privy and Other Apps to Your WIX Site
Privy is a pop-up tool, which also offers banners for email signups.
To add Privy to your WIX website, sign into your Privy account on a browser. If you don't have an account, sign-up. It's totally free to do so. Click on your user name at the top right of the tab and then business settings within the drop-down, that is shown.
A new tab will show, including many account, business, email settings as well as Integrations. Find the Privy Code option and click.
When Privy Code is clicked, you will see your ID. This is also named 'Your Account Identifier'.
Copy the code and head back to your WIX site.
Head to marketing tools, then marketing integrations on your dashboard. Find Privy when the marketing apps are shown. Instructions will be shown on how to get the code, if you haven't already.
Luckily we've got the code already. Click 'Connect Privy', paste the code and hit save. You will see that the Privy is now connected to your WIX account.
To add other apps, follow the same process of signing up to them on a browser. Find the code and then copy and paste the code into your WIX.