How to connect 3rd party marketing apps to your WIX website? After all, there are a large number of apps you can use for marketing purposes on your WIX website. Apps such as WisePops, Privy and HelloBar are just a few of the applications you can choose from.
WisePops allows you to create popups for your site, HelloBar lets you design messages for visitors and Privy allows users access to email captures and conversion tools.
Our video tutorial takes a closer look…
Adding WisePops to Your Site
Getting started with WisePops is easy, all you need to do is sign-up on their own website.  To sign-up you need to insert your name, email and add a password. Alternatively you can also sign-up using your Gmail account, if it is more handy to you. You will get a 14 day free trial as a tester.
There is then a feature when login to your WisePops account on a browser to add it to your WIX. This feature is the 'Tracking Code' in the top navigation of WisePops. Click on 'Tracking Code' and a window should appear.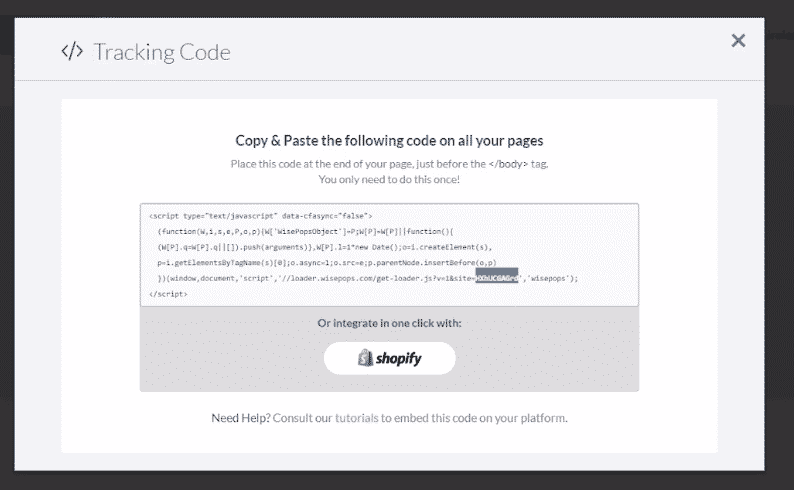 Within the window there a lot of code. All we need is a small piece, which is shown in the image above. Copy and paste this ID number into your WIX account. Head back to your WIX dashboard and navigate to the marketing tools tab within the dashboard. Then select marketing integrations.
This will then show many of the marketing tools you can add to your site. Tools such as Google Analytics, Mailchimp, Facebook Pixel and Yandex Metrica are just a few of the tools shown. Scroll down the tools and find the WisePops tool. Click the 'Go for it' button on WisePops. It will then show a new page which will show details on how to connect your WisePops to your WIX. In the top right of the page, click 'Connect WisePops', enter the code, you previously copied and pasted and then hit on save.
This will then connect your WisePops account with your WIX account.
Adding HelloBar to Your WIX Website
Again, similarly to WisePops, sign into your HelloBar account. If you don't have an account, you will need to sign-up using your email. Once logged in to your account, navigate to the summary tab in the top left of the screen. It will then show a new tab with many different options. Options include install the code yourself, WordPress and of course WIX.
Click on the 'I use WIX' and a drop-down should appear. Here you will see your ID, copy this ID. The next step is to head to your WIX marketing tools then marketing integrations. You will see all the marketing tools, you can connect to WIX. Find the HelloBar app and click, 'Go for it'. A new tab will be shown and click, 'Connect HelloBar' in the top right corner of the screen. Paste the ID/code that was copied from the browser and click save.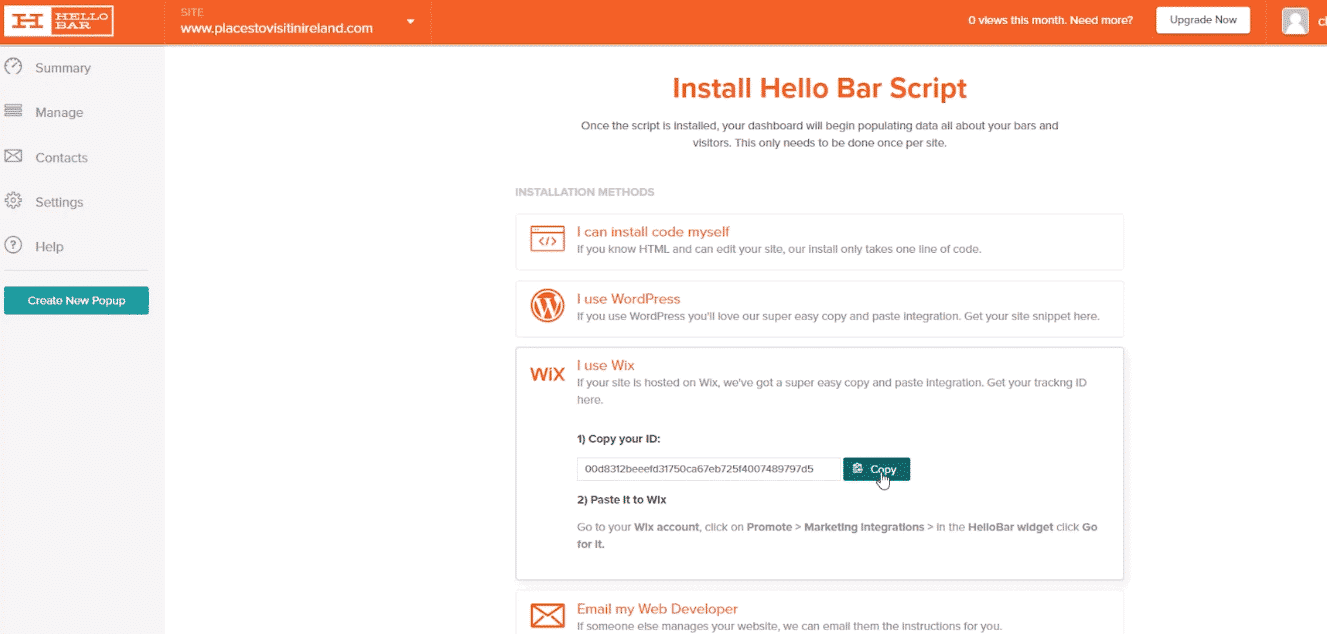 You will see that your HelloBar has been connected to your WIX. Double check by heading back to the browser and refresh. You will see that your account is connected to WIX.
Adding Privy and Other Apps to Your WIX Site
To add Privy to your WIX website, sign into your Privy account on a browser. If you don't have an account, sign-up. Its totally free to do so. Click on your user name at the top right of the tab and then business settings within the drop-down, that is shown. A new tab will show, including many account, business, email settings as well as Integrations. Find the Privy Code option and click.
When Privy Code is clicked, you will see your ID. This is also named 'Your Account Identifier'. Copy the code and head back to your WIX site. Head to marketing tools, then marketing integrations on your dashboard. Find Privy when the marketing apps are shown. Instructions will be shown on how to get the code, if you haven't already. Luckily we've got the code already. Click 'Connect Privy', paste the code and hit save. You will see that the Privy is now connected to your WIX account.
To add other apps, follow the same process of signing up to them on a browser. Find the code and then copy and paste the code into your WIX.
Want to learn more about WIX?
Access and Edit Contact List – Add Domain to your Wix Site – Automated Emails with Wix – Editing a Website With Wix