Having your video looking professional can be the difference between a viewer watching your entire video, or switching off after a few seconds. Using the likes of Adobe Premiere Pro and Sony Vegas to edit the colour correction and grading of videos can be difficult but a great way to make your video look professional and cinematic.
The video below is part two of the ProfileTree colour tutorial on Adobe Premiere Pro. To watch the first part click here.
The video is also part six of an Adobe Premiere Pro CC tutorial series.
Mask Inconsistency in Adobe Premiere Pro
When a user creates a mask in Premiere Pro, the software tries to follow the subject or object in the mask to the best of its ability. The software can become confused sometimes and it won't follow the mask correctly. But it is generally consistent.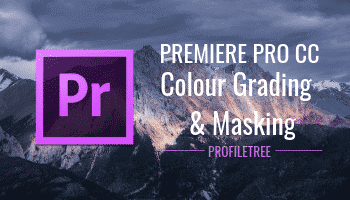 The best way to get around this is by tracking backwards. Place the mask accurately on the last key-frame of the mask and tracked the key-frames backwards.
Correcting a video on Adobe Premiere Pro
There are many ways a user can correct their video within Adobe Premiere Pro. Options include HSL colour (Hue, Saturation and Light), temperature, tint, contrast, sharpen and saturation. Beneath the HSL settings is a correction feature. This feature is a colour wheel.
This colour wheel can really change the colour of your video. It can bring out great skin tones, great environment tones and much more. With the colour wheel, it has the five options that're spoken in the paragraph previous, such as the contrast and temperature. This allows the colours of the video to feel more natural and genuine.
How to Use the Colour Balance in Adobe Premiere Pro
To get started with using colour balance, you will need to head to the effects library and search for the colour balance effect. Once you find the colour balance effect, drag and drop the effect into your workflow.
When you drag the colour balance into your workflow, the effect controls panel will show. Here you will find all the RGB colours, just like the ones that you seen at the right. You can really play with the colours of the video to suit your needs. You can also play with the highlights of the video from here. You can also add masks from here too.
Creating a Cinematic Look
One of the best ways to create a more cinematic look is by the using the effect options such as contrast and saturation. Many different types of films use different contrasts and effects. A western uses a lot of orange and yellow tones whereas an action movie such as Taken would use a lot of dark colours and tones.
Want to learn more from Adobe?
Colour Grading and Masking – Using Timeline and Workflow – Transitions, Titles and Effects – Video Editing – How to Render and Export – Audio Effects and Editing Sound – Layouts and Workflow