Premiere Pro CC is one of the most trusted pieces of video editing software in the world, alongside the likes of Sony Vegas Pro, iMovie and Final Cut Pro.
The software is used by a large number of creatives, including YouTubers and filmmakers, to create and publish their videos with ease.
The video below is part two of our Adobe Premiere Pro tutorial series.
We'll cover layout and the workflow features. The video also details how to use menus, preferences, windows, markers and labels.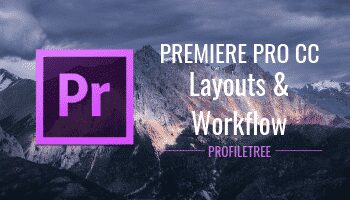 The Premiere Pro CC Menus
At the top of the screen, you will see a number of drop-down menus. These are all labelled File, Edit, Clip, Sequence, Markers, Graphics, Window and Help. If you're familiar with other types of software, such as PhotoShop, Microsoft applications such as Word and many other applications, you'll have seen similar in the past.
Within file you will find options such as 'new', which will show another drop-down to create a new project, a new bin and a new sequence among other options. You can also import and export from file, save your document and open previous projects.
Edit is another drop-down with options. Within edit, you have options to undo and redo the previous step, copy & paste, duplicate and much more. Edit is much more to do with a project.
Preferences are also within edit. With preferences, you can edit the look of your Premiere Pro as well as how the audio works, the auto-save, graphics and much more.
Labels and Markers Within Premiere Pro
Premiere Pro also offers great tools to help the users organise themselves. One way they do this is by the use of labels. Within the projects window, you can choose different files and colour code them. To do this, select the files you wish to label, right click, then head to label and choose the option you wish.
Labels are very helpful in the long run, when creating a longer project or film. For instance you can label your audio files a certain colour to your video files. Alternatively you can also label files. This means you can label clearer videos or audio.
By clicking M, when on your timeline, you can create markers. When a marker is created they go over to the projects tab within Premiere Pro. When over in this tab, you can comment why you have chosen this part of the video for a market. For example, if you don't like the scene or the video is a little over-exposed, you can comment this within the marker. These are great for directors. When you click on a market within projects, you will then be brought to that scene quickly.
You can also create markers within a certain clip, as the markers before are within the sequence. To do this, highlight the clip and click M, just like before. You can then comment on the clip as well, to help you in the future.
The Layouts Within Premiere Pro
Another great feature of Premiere Pro? Its layouts. When you first go into Premiere Pro, you will most likely be on the editor layout. Other layouts include assembly, colour, effects, audio, graphics and libraries.