How to use timeline and workplace in Adobe Premiere Pro CC? Setting up your timeline and workflow can be a challenge for new users, however our tutorial gives a simple video guide to this task.
We've also put together a series of video tutorials to help you become more familiar with Premiere Pro.
In the video below you will learn a range of Premiere Pro technique and features. The video shows you how to use two-camera editing, timeline tools, sequences, nesting, workflow, layer and track toggling.
Working with a Workflow in Adobe Premiere Pro
A workflow is used for many different things such as the use of more than one camera during the shooting of a film. Many filmmakers use more than one camera to create films and videos.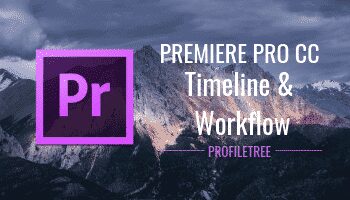 Once you already have the footage from one camera within your string-out, you can move another one into the workflow by drag and dropping the footage from the projects window. Start to sync up the footage to your liking. You can use markers here to sync up your clips.
Premiere Pro Timeline Features
Within Premiere Pro there are many timeline features. You'll find the type tool, hand tool, pen tool, slip tool, razor tool, ripple edit and the selection tool.
You can trim the footage easily and keyboard features/shortcuts are ideal for doing this. To create a cut, simply use the razor tool or click 'C' on the keyboard. Next choose the two points on your timeline where the cut starts and finishes. You can then select the cut and drag and drop it to another timeline.
Want to learn more from Adobe?
Colour Grading and Masking – Colour Grading and Correcting – Transitions, Titles and Effects – Video Editing – How to Render and Export