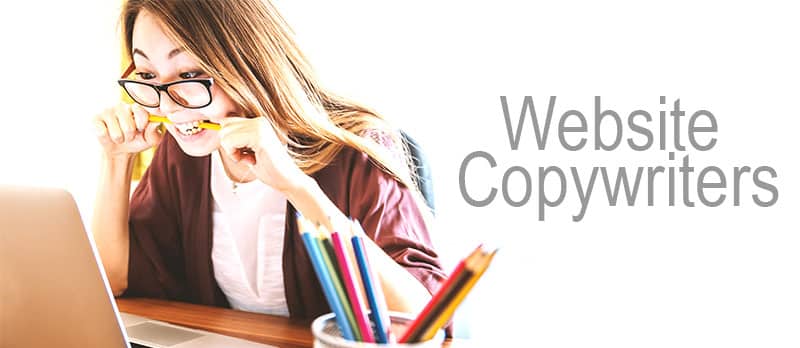 Every organisation needs a website that is engaging and interesting. The copy should be clear, concise and be able to tell your story to diverse audiences that may want to hear what you have to say. How is this accomplished? The copywriter.
The person who writes copy is usually known as the
website copywriter
or just
copywriter
. They are one and the same.
Copywriting
is the process of writing "copy" such as promotional materials, website copy, emails, advertisements, brochures, catalogues and more. Some companies also use copywriters to write speeches and letters. For the most part, a copywriter is essential to good communications. A website copywriter is an integral part of the marketing process and will work with your content strategy team to write copy that aligns with your strategic goals. They understand the industry and are able to write exactly what you need to convey to your audience. They also pay attention to nuances, grammar and style, writing in different tones for specific audiences. How is this accomplished? It all starts with a sound content strategy.
SEE ALSO: Everything You Need to Know About Content Marketing
What is a content strategy?
A
content strategy
can be compared to a strategic plan, where you plan, create, deliver and monitor the content you write. It is one of the most important elements of a marketing plan, as it will help support your initiatives and in defining your brand. A content strategy helps the marketing team identify what you have in place, what you need to move forward, and why you need this particular content. In essence, a content strategy helps you manage your content as a business asset.
What is needed to develop a sound content strategy?
There are a few things to consider when
developing the strategy
:
You must have a reason why you are developing content and assess the risks involved. Once you have these parameters defined, you will be able to get buy in from the executive team to move forward. Without management's buy-in, your strategy will not be as effective.
This is where you decide the goals of the content. What is the value you aspire to provide through the content, and how does it align with the current business model. You should conduct a content SWOT analysis to assess the strengths, weaknesses, opportunities and threats you may face onؤe the plan has been implemented.
Your website content should be focused and succinct. It should cater to a variety of audiences that will read the content and be personable enough to engage and keep them interested.
Every piece of content developed tells a story. You should have a map of engagement that will address different types of customers where they are in the buyer's journey. From start to finish, there should be content available for these audiences, as well as a rotating schedule to update and refresh content to always have something new to say.
You want to communicate messages that tell your story and set you apart from the competition. Once you begin this evolution, your content should evolve with you in what is conveyed through the content on your website. Once your strategy has been developed, execution is the next step. This is where the website copywriter becomes an essential part of ensuring your content is fresh, interesting, and meets your expectations. Your copywriter should be able to seamlessly
move your readers from the web to your social media
and other outlets so that every tactic used through content will focus on your brand. That means you must choose the right website copywriter that will deliver results.
Choosing a good website copywriter
Choosing
the right website copywriter
for your organisation takes time. You must understand your needs and make sure the writer can deliver. There are a few ways to help you make the right decision:
Most copywriters have their own website, where you can look at their presentation. You should be able to review some of their samples, and read the content on their site. Does it meet your expectations? Do you like their writing style? Writing for a website can be quite lengthy, especially if you have a number of pages that need to be written, all with different functionalities.
Every copywriter should be able to provide a reference that can attest to their work. This is where you get to ask the necessary questions – what is their work style? Are they dependable? Do they adhere to guidelines? Any questions you have, this is the time to ask them. Most people are very upfront and honest about their interactions with writers, so you should be able to get a general idea of the type of writer this person is.
Once you have started the process, it's time to talk to the writer. What do they like? Do they seem as if they would be a good fit to work with your organisation? Consider hiring a writer like hiring an employee. They should be able to deliver quality work, on time. Making a mistake and hiring the wrong person will cost time and money. If your project is on a tight schedule, you have to make the right choice the first time.
What is your budget? When searching for the right copywriter, keep in mind that the more in demand they are, the more expensive it will be. Additionally, if you are interviewing experienced writers who have the expertise you are looking for, the costs will be significantly higher than if you used someone who had no experience and was just graduating from the university.
You should be ready to spell out project, what your expectations are, and the timelines that are set. You must be thorough in the briefing process, so the website copywriter will be able to fully understand what you need. By the time you are done, they should be able to give you a few insights on the process, and whether or not your timelines are realistic for what you want done. You should always have a point person in place to provide the copywriter with information they may request. This helps them shape the content. If you are hiring a professional website copywriter, utilize their expertise to assist.
Is the website copywriter willing to sign an agreement? Professional copywriters have contractual agreements to protect their interests, and yours. The agreement should detail the scope of work, timetable, rates and payment terms. Getting your content strategy and the right copywriter on the same page should be a simple process once all the parameters have been established. A professional website copywriter knows what questions to ask to extract what they need, and they also conduct research to identify the audiences they will be writing for. When you find the right copywriter, the execution of your content marketing strategy should fall right into place. Using the right tactics to tell your story should include a variety of platforms that all lead back to your website. The object of effective content is to create a cohesive brand, with continuous conversation opportunities for your audiences. Content is critical in today's business environment. When done correctly, the rewards have great potential.