Search Engine Optimisation (SEO) is the essence of digital marketing and a critical component for any business wishing to ensure their online presence is not only visible but dominant. In Ireland, where the digital landscape is as verdant as its rolling green hills, choosing the most suitable SEO agency can be the difference between flourishing online traffic and a website that languishes in obscurity.
Whether you are a small local firm, a burgeoning start-up, or an established enterprise, understanding the prowess and service offerings of top-tier search engine optimisation experts is the first step in your journey to digital dominance.
In this article, we will explore the SEO landscape in Dublin, Ireland, and introduce some of the top SEO agencies there, shedding light on their strategies, successes, unique value propositions and expertise. From keyword wizardry and content creation to link building and user experience, we will delve into how these Irish SEO mavens stand out and how they measure the success of their campaigns.
What Are SEO Agencies?
SEO agencies are digital marketing agencies that help businesses optimise their websites for search engine visibility. By improving websites' structure, content, and relevance, SEO agencies aim to increase organic traffic from search engines like Google, Bing, and Yahoo. With their expertise in search engine optimisation strategies and algorithms, these firms help businesses rank higher in search engine results pages (SERPs).
Some components that SEO agencies typically focus on to optimise websites include keyword research, content creation and optimisation, analytics and reporting, and technical SEO.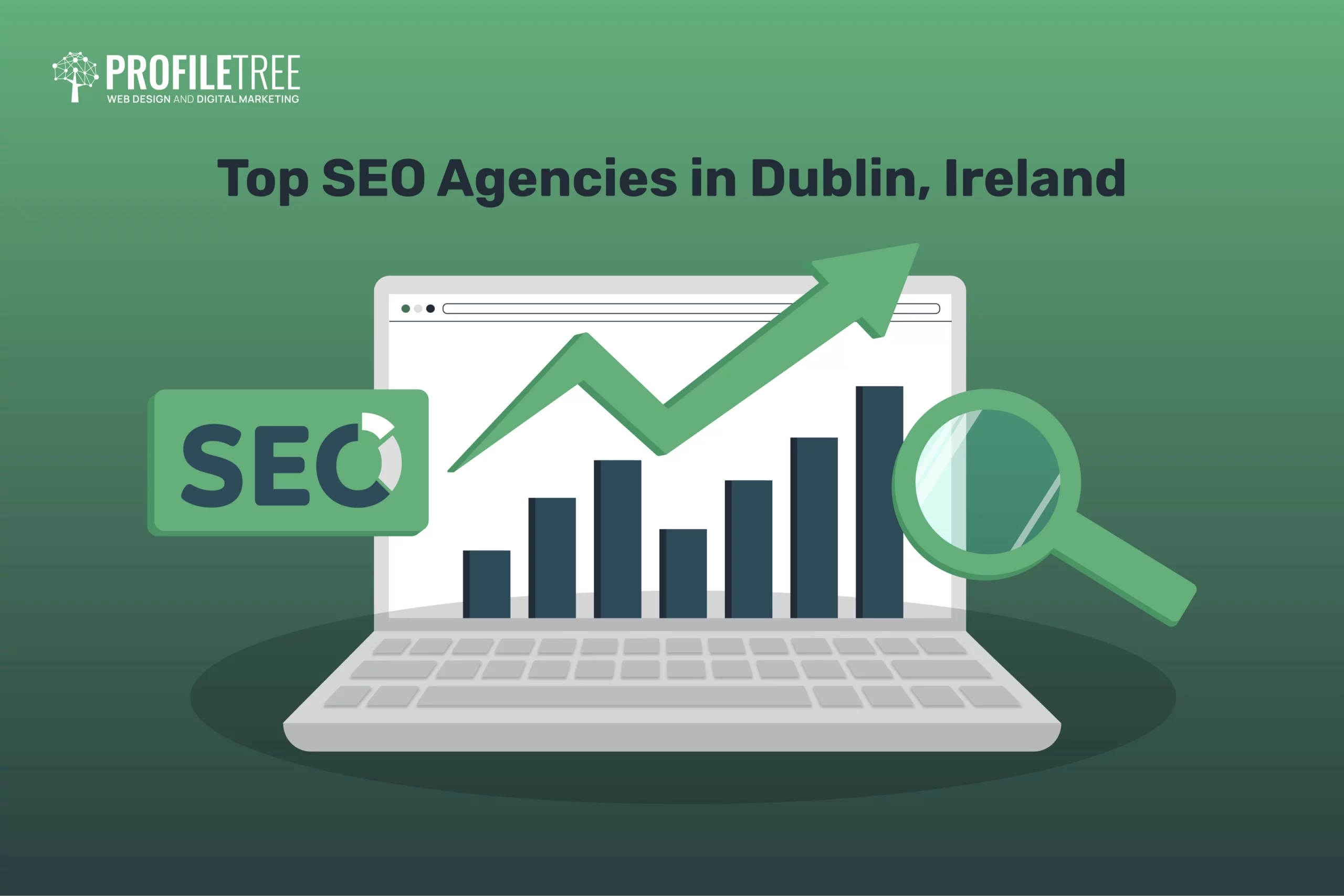 Why Is SEO Important?
Search engine optimisation plays a critical role in improving a website's visibility and driving targeted organic traffic. When optimising your website for search engines, you will be able to reach potential customers actively looking for products or services related to your business. This targeted traffic can lead to higher conversions and business growth.
Here are some of the key reasons why search engine optimisation is critical:
1. Visibility and Rankings
One of the primary functions of search engine optimisation is to increase a website's visibility, which means making it easier for prospects to find you when they search for something you offer.
Visibility is strongly related to your rank. If you do rank on a search engine result page (SERP), prospects are more likely to see you and click through to your site.
2. Web Traffic
SEO also helps businesses increase organic search traffic, which refers to traffic that comes from search engines. This is the traffic you do not have to pay for directly, unlike paid advertising traffic. By optimising search engines, you improve your chances of attracting a steady flow of visitors to your site.
3. Trust and Credibility
Websites that rank better on search engine results pages are often considered more trustworthy and credible by users. Search engine optimisation involves optimising your site to build this trust with search engines, which, in turn, translates to higher credibility among users.
4. User Experience
SEO entails optimising for a great user experience. Search engines like Google have learnt to distinguish between a favourable and unfavourable user experience, and a positive user experience has become a central element to a website's success.
5. Understanding Consumer Behaviour
Through search engine optimisation, you gain valuable insights into consumer behaviour. By analysing search patterns, keyword trends, and user interactions on your site, you can better understand what your customers want and how they search for it.
6. Cost-Effectiveness
Compared to paid advertising, search engine optimisation is relatively cost-effective. It provides a return on investment over a more extended period of time. While paid ads may drive more immediate results, the long-term gains from SEO can be substantial.
SEO Landscape in Dublin, Ireland
The SEO landscape in Dublin, Ireland, mirrors the evolution of search engine optimisation practices globally while also exhibiting unique local characteristics. Dublin, as the capital and the largest city of Ireland, hosts a vibrant mix of businesses, from tech giants to local enterprises, all vying for visibility in the digital space.
Here are some key features of the SEO landscape in Dublin:
Competitive market: Dublin is a competitive market with a high concentration of businesses in tech, finance, and other industries. This makes search engine optimisation an essential tool for companies to stand out in organic search results.
Tech-savvy environment: Dublin is known for its tech-savvy environment, with many global tech companies, such as Facebook, X, and Google, having their European headquarters in the city. This influences local businesses to adopt digital marketing practices, including search engine optimisation, to align with the digital trendsetters.
Local SEO focus: For smaller Dublin-based businesses, there is a strong emphasis on local SEO. This includes optimising location-based keywords, managing Google My Business listings, and ensuring visibility in local directories and maps.
Demand for multilingual SEO: Dublin's status as an international business hub means there's demand for multilingual SEO services to target non-English speaking audiences in Ireland and Europe.
Quality content and user experience: Dublin-based companies recognise the significance of creating high-quality content and a strong user experience as part of their search engine optimisation efforts, reflecting broader trends in Google's algorithm updates, which prioritise valuable content and mobile-first design.
Top SEO Agencies in Dublin, Ireland
The digital landscape in Dublin is both competitive and innovative, fostering a host of SEO agencies that excel in enabling businesses to improve their online presence. While the "top" companies can vary based on different metrics, such as client reviews, size, services offered, and success rates, here are a few that have been recognised for their excellence in search engine optimisation within Dublin, Ireland:
1. Wolfgang Digital
Wolfgang Digital is an award-winning digital marketing agency based in Dublin, Ireland. Known for their data-driven approach, Wolfgang Digital has built a reputation for creating and implementing campaigns that are focused on delivering measurable results. They often emphasise the importance of aligning digital marketing efforts with their clients' business objectives.
Wolfgang Digital has been recognised as one of the fastest-growing tech companies in Ireland and has won numerous awards for their work, including Best Large PPC Agency at the European Search Awards 2023 and Best Large Agency at the Global Social Media Awards 2023.
The company has a history of working with an array of clients, from small businesses to large enterprises and multinational corporations. They have helped them achieve impressive results, including increasing online revenue by an average of 32% per annum.
Among the many digital marketing services Wolfgang Digital offers are search engine optimisation, pay-per-click (PPC) advertising, content marketing, digital strategy, social media marketing, conversion rate optimisation, analytics, reporting and email marketing.
2. Dublin SEO Solutions
Dublin SEO Solutions is a leading SEO company in Dublin, Ireland, specialising in providing top-notch search engine optimisation services to businesses of every size and helping them enhance their visibility and ranking in search engine results pages (SERPs).
With a team of experienced professionals, Dublin SEO Solutions has helped numerous clients improve their search engine rankings and increase organic traffic. Their comprehensive search engine optimisation strategies are pretty much adjusted to the special needs of every client, ensuring maximum results. With a focus on providing fantastic customer service and measurable results, Dublin SEO Solutions is a top choice for businesses looking to boost their online presence.
Dublin SEO Solutions offers a wide range of SEO services, including:
Keyword research and analysis
On-page SEO
Off-page SEO
Technical SEO
Competitive analysis
Reporting and analytics
If you are looking for a reputable and experienced search engine optimisation agency in Dublin, Dublin SEO Solutions is a great option to consider. Here are some of the benefits of working with them:
Increased organic traffic
Higher ranking in SERPs
Improved brand awareness
Increased website authority
Competitive advantage
Peace of mind knowing that your SEO is in good hands
3. Ranking Rocket
Ranking Rocket is a reputable SEO agency based in Dublin, Ireland.
With their extensive experience and expertise in search engine optimisation, Ranking Rocket has helped numerous companies receive better rankings on search engine results pages. They analyse data to identify areas where they can improve their search engine optimisation. For example, they can identify keywords that should be targeted, on-page SEO issues that need to be fixed, and backlinks that need to be built.
Once Ranking Rocket has identified these areas, they provide recommendations on how to improve search engine optimisation. Companies can then use these recommendations to implement a custom SEO strategy for their websites.
Ranking Rocket is a valuable tool for businesses that want to improve their SEO and visibility online. Their comprehensive SEO packages include keyword research, on-page optimisation, link building, and content creation.
4. VROOM Digital
VROOM Digital is another well-established digital marketing agency headquartered in Dublin, Ireland.
The company is known for taking a data-driven approach, which means they rely heavily on analytics and measurable insights to formulate and adjust their marketing strategies. They track and analyse performance data to understand user behaviour and campaign effectiveness, which allows them to optimise their clients' digital marketing initiatives continually.
VROOM Digital has earned recognition and awards in the digital marketing field, which is a testament to its results-oriented approach and success in delivering positive outcomes for its clients.
As a part of their search engine optimisation services, VROOM Digital typically focuses on improving their clients' organic search rankings, driving traffic to websites, and increasing online visibility. Their PPC services often include managing Google Ads and other paid search platforms to deliver targeted advertising to potential customers.
Additionally, their social media marketing efforts are usually aimed at boosting brand presence across various social platforms and engaging with the audience to foster brand loyalty and awareness.
5. BeFound SEO
BeFound SEO is another digital marketing agency based in Dublin, Ireland, that specialises in SEO services. They have been in business since 2009, and they have a distinct team of experienced search engine optimisation experts passionate about helping their clients achieve their online marketing goals.
As a trusted partner to many businesses, BeFound SEO works closely with their clients to understand their specific needs and develop a customised SEO strategy that meets those needs. They also provide ongoing support and reporting so that clients can better track their progress and make necessary adjustments to their campaigns.
6 Factors to Consider Before Choosing an SEO Company
Choosing the right SEO company is vital for the success of your online presence and can have a remarkable impact on your business's growth. Here are a few key factors to consider when selecting an SEO partner:
1. Experience and Expertise
When choosing an SEO company, it is essential to consider their experience and expertise in the field. Look for a company with a proven track record of delivering results and staying abreast of the latest search engine optimisation trends.
An experienced SEO company must have a deep understanding of search engine algorithms and be able to develop effective strategies to improve your website's visibility.
2. Client Testimonials and Case Studies
Before selecting an SEO company, take your time to review client testimonials and case studies. This will give you insights into their past work and the results they have achieved for their clients. Look for companies with positive reviews and evidence of successful search engine optimisation campaigns.
A reputable SEO company should have a portfolio of clients and case studies that demonstrate their ability to deliver results.
3. SEO Strategies and Practices
Ensure the company uses ethical, "white hat" SEO strategies. Ask about their approach and avoid companies that use questionable methods that could potentially harm your website's reputation or result in penalties from search engines.
4. Customisation of Services
The SEO company to partner with should be ready to tailor their services to your specific business needs, as opposed to taking a one-size-fits-all approach.
5. Communication and Reporting
A good SEO company will maintain open lines of communication, provide regular updates, and be transparent about the strategies they are using. Ask how often they will report on your campaign's progress and what metrics they will use.
6. Tools and Techniques
Enquire about the tools and techniques they use for keyword research, competitor analysis, link building, and analytics. The company should use industry-standard tools to plan and track how effective your SEO campaigns are.
7. Pricing and Plans
Before choosing your SEO partner, make sure to consider the plans and pricing offered by different SEO agencies. Compare their pricing structures and services to find the best fit for your budget and needs. Keep in mind that SEO is quite a long-term investment, and it is super important to pick an agency that offers transparent pricing and delivers value for your money.
How to Improve Your Website's SEO
There are several strategies and techniques you can employ to enhance your website's search engine optimisation. In this section, we will explore some of the key aspects of search engine optimisation that you should focus on to boost your website's rankings.
1. Keyword Research and Optimisation
Keyword research is a fundamental step in optimising your website for search engines.
Start by identifying relevant phrases and potential keywords that are commonly used by your target audience when finding any products or services related to your business. Use keyword research tools to analyse search volume, competition, and user intent for each keyword.
Once you have a list of targeted keywords, optimise your website's content by incorporating these keywords naturally into your web pages, meta tags, headings, and image alt tags.
2. On-Page Optimisation Techniques
On-page optimisation involves optimising the elements that are directly present on your web pages. This includes optimising your website's title tags, meta descriptions, and headers, as well as content. Make sure that your title and meta descriptions precisely reflect the content on each page and contain relevant keywords.
Use appropriate header tags (H1, H2, H3) to break down your content and make it more readable for both users and search engines. Additionally, optimise your page content by including informative and engaging content that uses keywords strategically.
3. Link Building Strategies
Link building is a super critical aspect of off-page SEO, which can significantly impact your website's rankings. Building high-quality backlinks from reputable websites can signal to search engines that your website is quite credible and authoritative as well.
Focus on acquiring natural and relevant backlinks from industry publications, blogs, directories, and social media platforms. Additionally, consider guest blogging on reputable websites or collaborating with influencers to increase your website's exposure and attract more traffic.
Implementing effective link-building strategies can have a positive impact on your website's visibility and search engine rankings.
As the digital landscape constantly evolves at a breakneck pace, the value of skilled search engine optimisation practitioners is clearer than ever. Companies in Ireland wanting to thrive in the digital domain should consider partnering with these seasoned experts. With the guidance of Ireland's finest, the journey from obscurity to online prominence is not just a possibility but an attainable reality.
The best SEO firms in Ireland, some of which we have highlighted in this article, not only keep pace with global trends but often set them, ensuring that Irish businesses remain competitive on the world stage. By leveraging the unique blend of technical proficiency, market understanding, and relentless pursuit of excellence, these top SEO agencies offer a doorway to the vast potential of organic online engagement and conversion.