Tracking Tools on WIX
How to manage you tracking tools on WIX? Tracking tools and analytics are essential features on any successful website. After all, without analytics you won't know how, where and why to improve things like your targeting or aspects of your site.
In short: a tracking tools can analyse a website and assess to make it perform better.
Let's take a closer look…
Knowing Your Tracking Tools on WIX
To get started managing you tracking tools, your site will need to be published. If you site isn't published it will not attract traffic and therefore tracking tools wouldn't need to be used.
To start tracking analytics on WIX, you can embed third party tracking tools, such as Google Analytics, Facebook Pixel and Yandex Metrica, just to name a few. For each tool, you will need a third party unique tracking code, to start using the tool.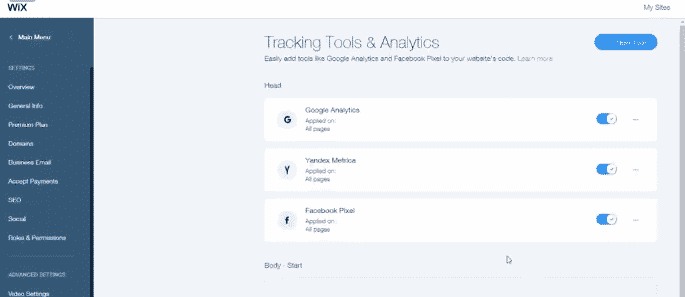 This tracking code will enable users to monitor their websites performance, how visitors interact and also monitor their online behaviour on your site. This will help you to monitor and optimise your own site by creating a new strategy based of the results shown.
How to Add a Tracking Tool to Your WIX Site
To add a tracking tool to your WIX site? Simply go to the settings tab within your WIX dashboards, then tracking and analytics and then new tool. A drop down will appear showing you five options.
These are Google Analytics, Google Tag Manager, Facebook Pixel, Yandex Mtrica and Verification code. For the likes of Google Analytics, Facebook Pixel and Yandex Metrica, the tracking and analytics on WIX automatically sends a page view event to the code manager.
To add a different third party analytics tool, that doesn't show on WIX, you will need to use the Google Tag Manager. This feature will allow a user to implement almost any other third party tracking apps to your site.
How to Manage the Tracking Tools
WIX is very simple to use. Typically, you can manage all of your tracking tools in the one place. This is the tracking and analytics setting within the WIX settings. (The same place, to add a new tracking tool). Here you will find all of your tools. You can enable, disable, edit and move your tools from here.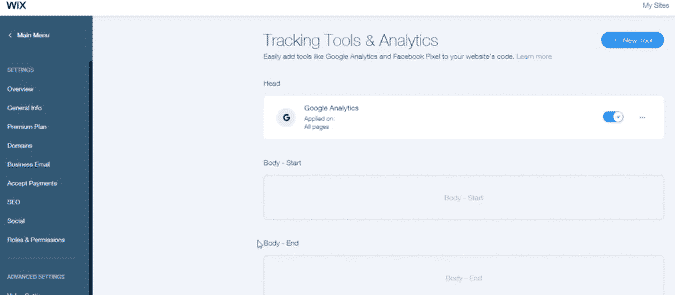 You can also easily delete any tools you don't need on your site.