To run a successful site, it's essential to know how to manage tracking tools in WIX. Tracking tools and analytics are essential features on any successful website. After all, without analytics you won't know where your traffic comes from.
Therefore, these tools are also crucial if you want to boost your traffic figures. That is, they offer insights into your traffic, which allows you to take actions to gain more leads and customers.
While there are countless different analytics suites out there, the process for installing and managing them does not vary greatly. Nor do the key insights and metrics available in each.
In short, tracking tools can analyse a website and assess to make it perform better.
Let's take a closer look.
How to Manage Tracking Tools on a WIX Website
To get started managing your tracking tools, your site will need to be published. If your site isn't published it will not attract traffic and therefore tracking tools wouldn't need to be used. Tracking tools require actual users to generate insights.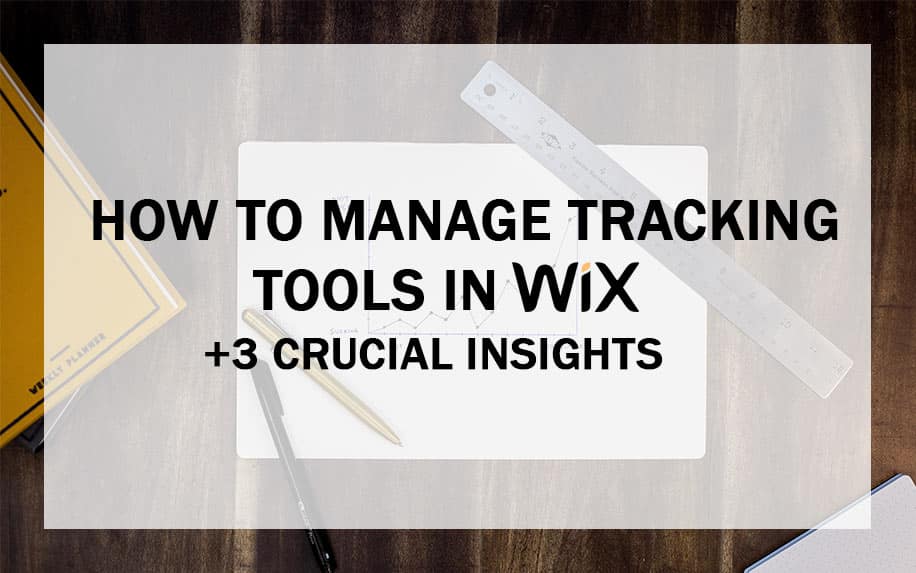 To start tracking analytics on WIX, you can embed third party tracking tools, such as Google Analytics, Facebook Pixel and Yandex Metrica, just to name a few. For each tool, you will need a third party unique tracking code, to start using the tool.
Your tool of choice will offer instructions on how to generate this unique code to add a tracking tool to WIX.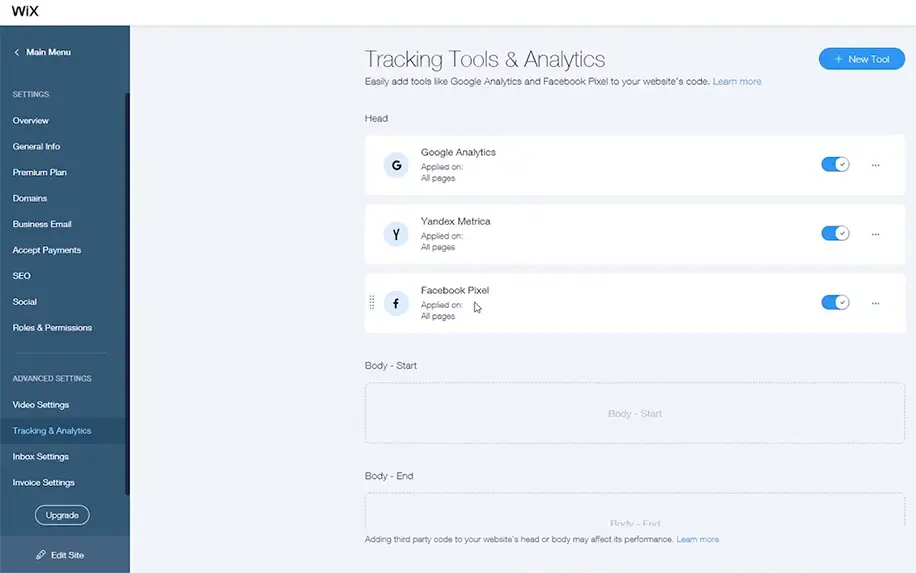 This tracking code will enable users to monitor their websites performance, how visitors interact and also monitor their online behaviour on your site. This will help you to monitor and optimise your own site by creating a new strategy based on the results shown.
How to Add a Tracking Tool to Your WIX Site
The next step is to add the tracking tool to your WIX site. Simply go to the settings tab within your WIX dashboards, then tracking and analytics and then new tool. A drop down will appear showing you five options.
These are:
Google Analytics,
Google Tag Manager,
Facebook Pixel,
Yandex Metrica,
Verification code.
For the likes of Google Analytics, Facebook Pixel and Yandex Metrica, the tracking and analytics feature in WIX automatically sends a page view event to the code manager.
To add a different third party analytics tool, that doesn't show on WIX, you will need to use the Google Tag Manager. This feature will allow a user to implement almost any other third party tracking apps to your site.
How to Manage the Tracking Tools
WIX is very simple to use. Typically, you can manage all of your tracking tools in the one place. This is the tracking and analytics setting within the WIX settings. This is the same place you add a new tracking tool.
Here you will find all of your tools. You can enable, disable, edit and move your tools from here.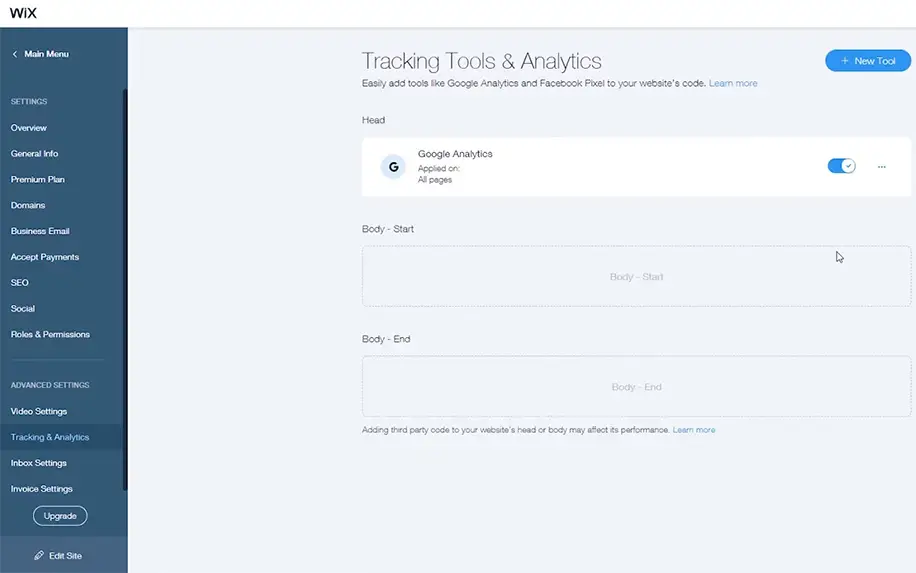 You can also easily delete any tools you don't need on your site.
Tracking and Analytics in WIX: How to Boost your Traffic
Of course, once you've installed a new tracking tool in WIX, there is still the small matter of using it. After all, the ultimate goal of using traffic analytics is to figure out ways you can improve your site's performance.
In other words, you need to know what you're looking for. With that in mind, here are the core metrics that you can analyse in your WIX tracking tool of choice.
1. Demographics
As a business, it's important to know who your customers are. If you've done even the smallest amount of market research, you should have an idea of who your ideal customers are.
Demographic information includes things like:
Age,
Sex,
Location,
Language,
Level of education,
Income,
Interests.
For one thing, this information helps you to monitor whether or not your message is reaching your ideal customer personas. Additionally, it can be helpful in identifying new markets which you can make a concerted effort to target.
2. Traffic Sources
In addition to who they are, it's vital to have a clear understanding of how your users find your site. These days, most sites have traffic coming from a number of sources, including:
Organic search,
Paid search,
Social,
Email,
Direct,
Apps,
Referral.
Directing traffic to your site through each of these is essentially its own marketing discipline. As such, it's necessary to use tracking tools in WIX to measure the success of your various marketing campaigns.
Indeed, knowing where your traffic comes from is essential for assessing the ROI of any marketing campaign. That way, you can redirect investment towards the channels which are providing you with the best value.
SEO with WIX Tracking Tools: Impressions and Clicks
SEO is basically impossible without a web traffic analysis tool. These tools are essential for determining how search engine friendly your site is, both in terms of SERP appearance, and actual site visits.
These are respectively measured using:
Impressions,
Clicks.
In other words, this is how many people see a link to your site in search engine results, and what proportion of these actually click through. Most analytics tools also give you important SEO information, like the most searched for queries for different pages.
This can then be combined with other core audience data, like demographics and behaviour.
3. On-Site Behaviour
Finally, a WIX tracking tool can be used to draw out insights on how users interact with your site. This includes metrics like:
Time on site,
Time on page,
Landing page,
Exit page,
Traffic flows.
In other words, this is all about analysing what happens to your users once they've found your site. For example, you might find that a large proportion of people leave on a certain page, while users who land on a different page are more likely to have longer sessions.
You might have a high exit-rate across all pages of your site, which indicates core UX problems, like slow load speeds or poor navigability. In any case, this allows you to identify problems, and experiment with solutions to improve the UX and CRO across your site.