How to add Hotjar tracking code to your WIX website? Hotjar is an online performance tool designed to reveal the behaviour of your site users to help you adjust or alter your digital strategy. Let's take a closer look…
Hotjar comes with features such as heatmaps, visitor recordings, form analytics and many more including feedback tools.
This is a great insight tool for your site as you will be able to figure out user trends and your most used features.
See our video for a detailed tutorial from our YouTube channel explaining how to add Hotjar to your WIX site.
About the Hotjar Tracking Code
The Hotjar tracking code is used to collect data from your website when installed into your WIX dashboard. The data collected within your website will then be directly linked to your Hotjar account. By doing this, Hotjar can show the data collected from your site in much more simpler ways, such as heatmaps.
To get access to your tracking code and to a Hotjar account, you first need to sign-up using their own website. You will need to enter your name, email, domain name and name of the company. This is so that the account can be directly linked once the code is entered to your site.
Alternatively you can use your Gmail to sign-up to Hotjar or if you already have an account, just login. To use this feature on a WIX website, you must have a connected domain and a premium website.
Adding Your Hotjar Tracking Code to WIX
When logged into your Hotjar account, you will first see the Hotjar dashboard. This dashboard features all the analytic features and feedback tools within it. Once logged in, head to the 'Tracking Inactive' button at the top right of the dashboard. Click the link and a pop-up should appear. This shows the tracking codde, the ID number you will need and some other information. For WIX we just need the Site ID number, which is at the right of the window. Copy the ID and head back to your WIX dashboard.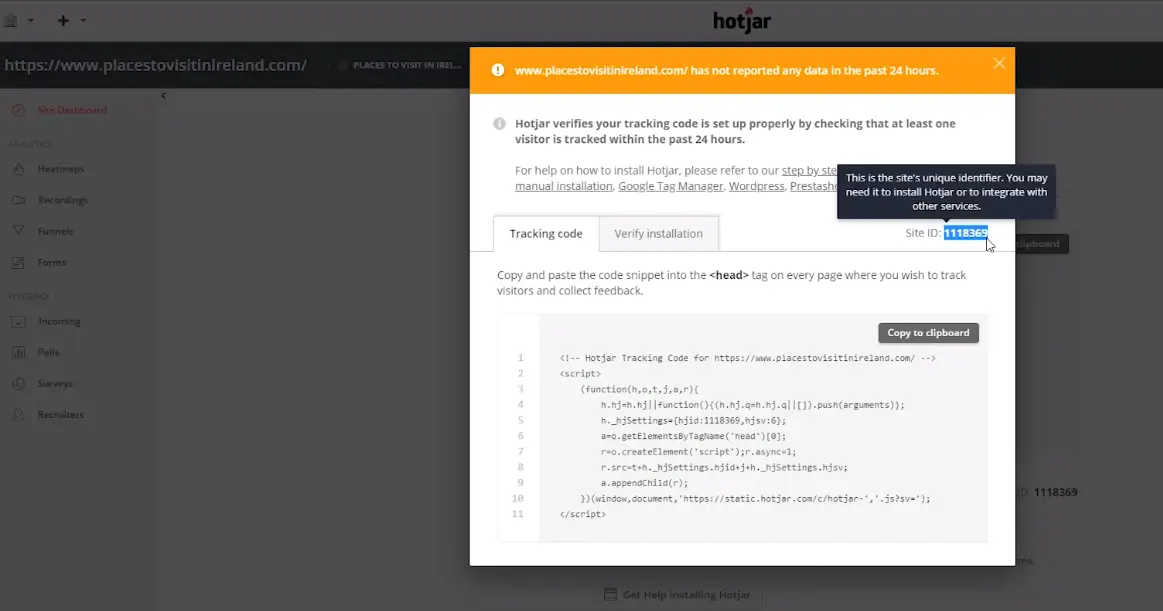 When on the WIX dashboard, navigate to the Marketing Tools feature in the left tool-bar and then to the Marketing Integrations feature. Here you can attach your site to many other marketing tools including Google Analytics, Facebook Pixel, MailChimp and Yandex Metrica to name just a few. Scroll and find Hotjar and click the 'Go for It' button.
A new window will appear with a step by step tutorial on how to receive your code, but we're already one step ahead. In the top right of the window, click on 'Connect Hotjar' and paste in the code copied from your Hotjar account. Hit on save and your WIX is now connected to your Hotjar.
More Website Builder Articles… WIX Website Tutorial | WIX and MailChimp – Contacts and Gmail