If you run an online business, you'll want to know how to add Hotjar tracking code to your WIX website. Hotjar is an online performance tool designed to reveal the behaviour of your site users to help you adjust or alter your digital strategy. Let's take a closer look.
Hotjar comes with features including heatmaps, visitor recordings, form analytics and many more including feedback tools. This is a great insight tool for your site as you will be able to figure out user trends and your most used features.
Tracking the performance of your website is crucial, as it allows you to figure out who your customers are, how they find your site, and what actions they take thereafter.
See our video for a detailed tutorial explaining how to add Hotjar to your WIX site.
About the Hotjar Tracking Code
The Hotjar tracking code is used to collect data from your website when installed into your WIX dashboard. The data collected within your website will then be directly linked to your Hotjar account.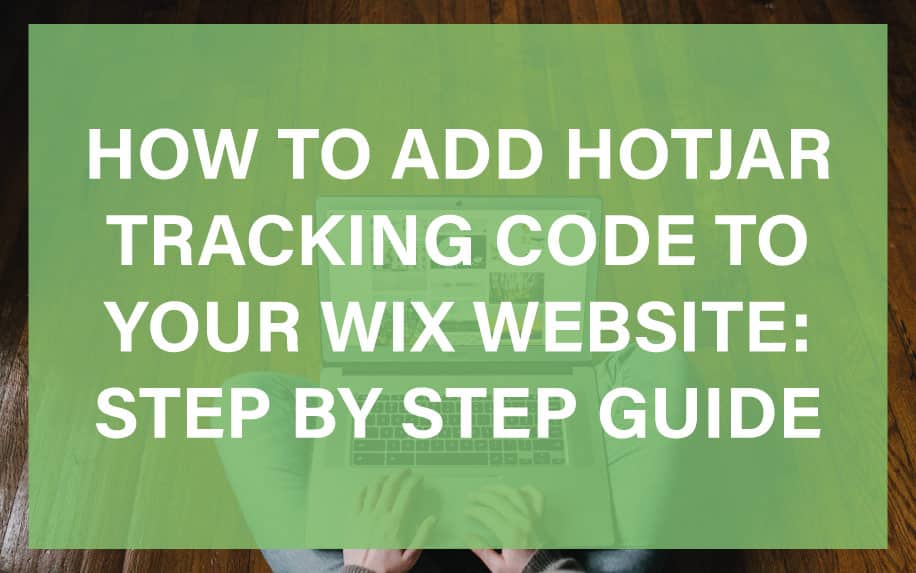 By doing this, Hotjar can show the data collected from your site in much simpler ways, such as heatmaps.
To get access to your tracking code and to your Hotjar account, you first need to sign-up using their own website. You will need to enter your name, email, domain name and name of the company.
This is so that the account can be directly linked once the code is entered to your site.
Alternatively you can use your Gmail to sign-up to Hotjar or if you already have an account, just login. To use this feature on a WIX website, you must have a connected domain and a premium website.
Why Add Hotjar to your WIX Website?
Hotjar is one of a number of WIX analytics tools on the market today. Like all web analytics tools, the goal of Hotjar is to help you view and analyse the performance of your website in terms of driving profits.
Specifically, you can view key SEO metrics, such as individual page's ranks, top search queries, and traffic figures. This allows you to assess the success of your SEO efforts, and come up with new SEO strategies to improve this.
Hotjar also allows you to assess CRO in terms of how users are attracted to your site when it appears in search engine results pages. Specifically, the ratio of clicks to impressions on SERPs is a crucial metric for assessing CRO.
You can also look out for indicators of UX issues. For example, if individual pages have a particularly high exit or bounce rates, there is a good chance that users on these pages are having a negative experience.
This could be as simple as users finding it difficult to find the information they're looking for.
Similarly, if these issues are present across your entire site, there might be more serious UX issues, such as slow load speeds or poor navigation.
Hotjar Heatmaps on your WIX Website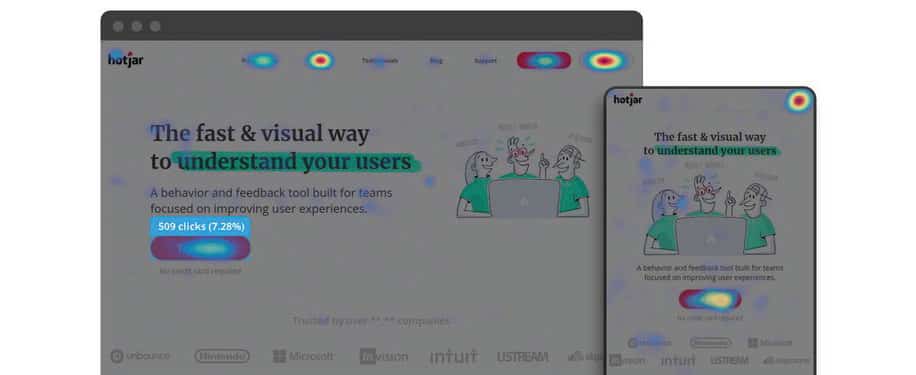 One of the main selling points of Hotjar over its competitors is the ability to easily create and view heatmaps on your site. These are helpful tools to visualise how users interact with your site.
Essentially, a heatmap is a visualisation technique which displays the areas of a given page where users direct their focus. Specifically, areas which receive the most attention are highlighted in increasingly dark shades of red.
This is incredibly helpful when UX testing elements like page titles, colours, fonts and calls to action. This lets you assess what works and what doesn't in terms of grabbing users' attention and keeping them engaged.
Specifically, you can A/B test different design elements to see which are most effective at funneling users towards taking your desired action on a page. This is invaluable for performing ongoing conversion rate optimisation on your site.
Adding Your Hotjar Tracking Code to WIX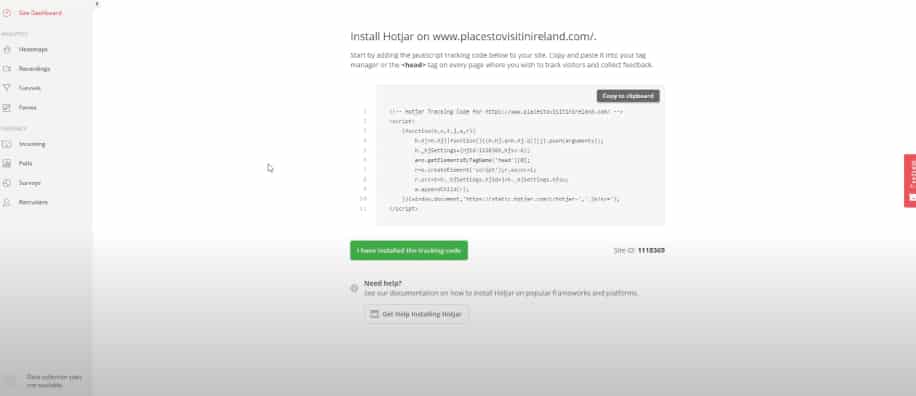 When logged into your Hotjar account, you will first see the Hotjar dashboard. This dashboard features all the analytic features and feedback tools within it. Once logged in, head to the 'Tracking Inactive' button at the top right of the dashboard.
Click the link and a pop-up should appear. This shows the tracking code, the ID number you will need and some other information. For WIX we just need the Site ID number, which is at the right of the window. Copy the ID and head back to your WIX dashboard.
When on the WIX dashboard, navigate to the Marketing Tools feature in the left tool-bar and then to the Marketing Integrations feature.
Here you can attach your site to many other marketing tools including Google Analytics, Facebook Pixel, MailChimp and Yandex Metrica to name just a few. Scroll and find Hotjar and click the 'Go for It' button.
A new window will appear with a step by step tutorial on how to receive your code, but we're already one step ahead. In the top right of the window, click on 'Connect Hotjar' and paste in the code copied from your Hotjar account.
Hit save and your WIX is now connected to your Hotjar. Now it's time to start taking advantage of the benefits of Hotjar.
How to Make the Most of your Hotjar Tracking Code in WIX
Hotjar, like all analytics tools, is all about maximising your site traffic, and the proportion of your users who take whatever action you want them to. In other words, they allow you to maximise revenue and cut the costs of customer acquisition.
The more effective your site is at converting users into customers, then the lower the traffic figure you'll need in order to make sales. With an efficient sales funnel, you can then scale your traffic to grow your online business.
The first step to achieving this is setting up your Hotjar tracking code in WIX correctly. Following the steps above, you can be sure that your tracking code is entered correctly, ensuring your analytics data is accurate, and gives you the insights you need to succeed.