To get the most out of your site, it's important to know how to set up automation in WIX. Automated emails can be vital to your website as they make it cheaper and easier to boost your engagement with the user to keep them informed and involved in your site.
Some of the different actions you can set up include sending an email, notifications within emails or even a direct message to a user's WIX chat. You can also customise the action such as setting up a specific time to send the action.
The first step is to sign into your WIX dashboard. To the left of the dashboard there are many features such as a blog and video library. There is also a feature called Contacts & CRM. Click on this feature and you will be brought to a new tab.
In the left hand side a range of new options will appear including the automations feature.
You will be brought to a new tab, where you can Create a New Automation and see all of the automations that have been created. WIX will also recommend different automations for you, based on your goals for your site.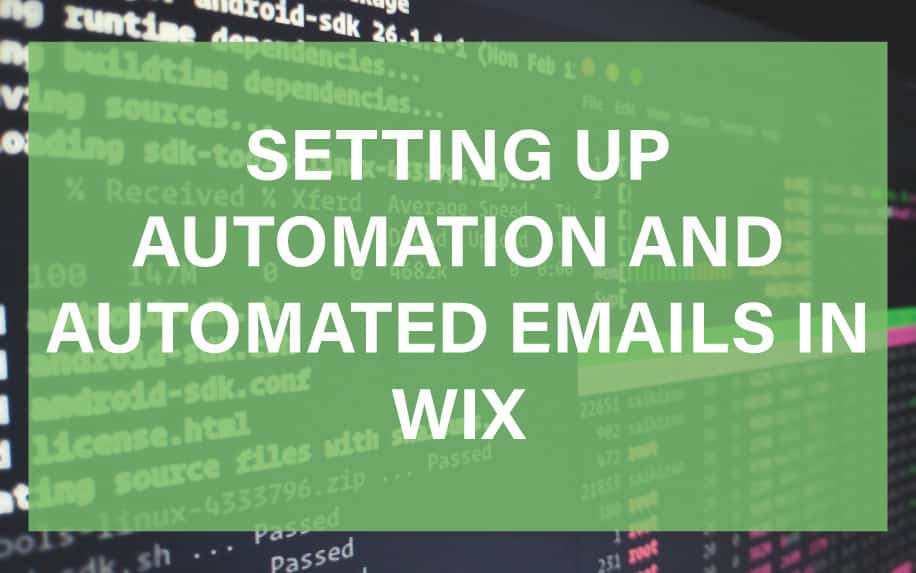 To create a new automation, click the Add New Automation button shown in the centre or top right of the tab.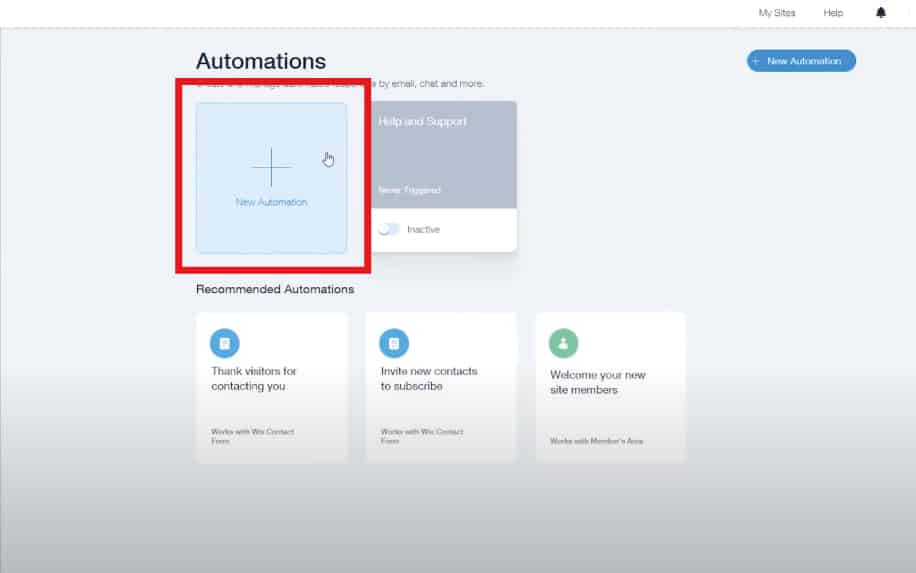 Now you can start to create a new automation. First, edit the name of the automation with the pencil setting towards the right of the automation setup. Name the automation appropriately so that you can always find it easily.
The next step is to select a trigger from the drop-down list and choose the most relevant trigger for you.
You will also need to do the same for the action and the time of the automation. The action is a response to the trigger. For example, you could set up the following automating:
Trigger – A user signs up to your mailing list,
Time – Wait 30 minutes,
Action – Send out Welcome email.
Note that the more apps on your site the more triggers there will be. For instance if you have two apps for creating forms on your site, it may show two different triggers. You'll also get additional triggers and actions for other apps and plugins that you add to your site.
.
After you choose an action you can customise it to suit you. If you choose to send an email, you can set up the email in the action section. Remember to test and preview the email.
How to Send Automated Emails Using WIX
On WIX you can set up automated email responses whenever a user completes a trigger action on your site. In the video below it will show you how to do this. This feature is perfect as it allows you to actively engage with users easily whenever setup.
To get started sending automated emails, you will first need to access your WIX automations. To do this head to the WIX dashboard, then navigate to the Contacts and CRM feature. This will open a new tab with the feature automations.
Click here and it will allow you to add automations to your WIX site. To do this, use the following steps:
Go to your WIX Dashboard,
Select Contacts & CRM,
Choose Automations,
Click Add New Automation.
To add a new email automation, click on the add new automation button on the new tab. This will take you to the tab to enter a new automation. Rename the automation appropriately using the pencil.
You should see three drop-downs, this is where to add an automation.
On the Trigger drop-down select the 'Submit a Contact Form' trigger. This means the automation will be connected to a form and when a user submits a form, they will receive this response we're setting up.
On the Action drop-down select 'Send Email to Visitors' option. Here you will be able to customise an automated email that will be sent to everyone who submits a form.
This customisation works exactly like the WIX Editor. You can also choose between sending the email once or multiple times each time the user contacts you through this form.
Next, confirm the name and the email of the sender. This should be an email that you already have connected to your account. A confirmation code will be sent to the email to confirm the setup.
Once the setup is complete, click activate in the top right corner of the screen and the automated emails should be ready to go.
Triggers and Actions: How to Use Automated Emails in WIX
Now that you understand how to set up an email automation in WIX, it's important that you understand how to use them to the full effect. Recall that there are two key components to a WIX automation.
These are:
Triggers – The action a user performs, which sets off an automation,
Actions – What happens after a user sets off the trigger.
These are the levers you can pull on to create effective automated email campaigns. We already took the example of using automations to set up a welcome email when users sign up to your mailing lists.
Other common triggers include:
Purchases,
Cart abandonments,
Returns,
Customer service interactions,
Non-transaction site visits,
Referrals,
Time periods with no user behaviour, or long gaps between site visits.
The key to achieving ROI on your email automations is learning to use each of these as an opportunity to make sales or develop your customer relationships. To do this, it's important to craft the perfect email as the corresponding action for each trigger.
One way to do this is using related products as upselling opportunities for triggers like purchases and non-transactional visits. Alternatively, it's common to offer discounts in the event of returns, cart abandonments and referrals.