Over the last year, our lives have changed dramatically. As we all know, it's been a particularly difficult period for small retailers and hospitality businesses. In fact, COVID has probably been the biggest challenge these businesses have ever faced.
Many independent retailers understand the need for restrictions, but they are still aggrieved at losing out to their larger competitors and international online giants.
Despite this, most people still prefer to shop local.
Under the strictest restrictions in both Northern Ireland and the Republic, non-essential retail can only operate on a click and collect business. Both InvestNI and Enterprise Ireland have offered lifeline funding to help small businesses get online.
However, few retail business owners are digital experts. This presents a major challenge for getting a click and collect service up and running. Most businesses are thrilled that they are allowed to do this, but they simply don't know where to start.
Today, we're going to shed some light on exactly how you can go about this. We'll start by examining the requirements for running a click and collect service, before drilling down into the practical details of creating a collection system of your own.
First though, let's start with the basics.
What is a Click and Collect Service?
You're probably familiar with click and collect retail, even from the pre-COVID era. In fact, this is something that large retailers have been utilising for years, especially companies which sell bulky goods like groceries or electrical appliances.
Essentially, this is where a customer purchases and pays for an item online, and then collects it from a physical store, rather than paying for shipping. Most ecommerce platforms, like Shopify or WooCommerce, offer the functionality to implement this.
However, under Coronavirus restrictions, there are specific requirements for how collection services can operate safely. Let's take a look at each of these.
Off-Site Payment
The first is that payments should be taken while the customer is offsite. In other words, the customer must have already paid for their items before they arrive at a physical location. They should not make a payment onsite.
This is the easy part.
Northern Ireland regulations don't even specify that payments must be made online. Retailers can set up simple collection services by taking payments over the telephone, and scheduling a pick-up slot for their customers.
However, this is not practical for every business, as customers are unable to browse products, and most shops would require several phone lines to make this profitable. As such, online payments via an ecommerce store are the ideal option.
If you already have an online shop, then you don't need to worry about new functionality in order to process payments for click and collect orders.
Appointment-Based Collections
In order to minimise contact between people from different households, retailers offering click and collect services in Northern Ireland are required to provide customers with appointments to collect their purchases.
This also makes running a collection service much easier to operate. Indeed, running a click and collect service without specified collection slots is difficult, as you have no way of knowing when a customer will arrive for their items.
Knowing when each customer will arrive allows you to gather and sort their items, and have them ready to go when they arrive.
Curbside Collections
Finally, under the strictest COVID restrictions, click and collect customers in Northern Ireland are not allowed to enter your premises. Instead, curbside or shopfront collections should be used.
Again, this is to minimise the risks associated with personal contact.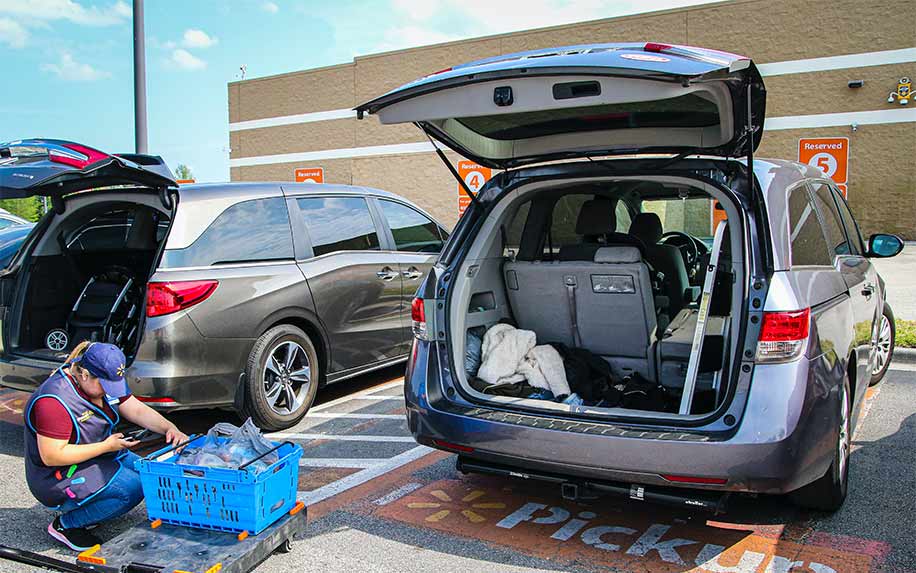 How to Create a Click and Collect Service
Now that you understand what's required of a click and collect service, it's time to look at how you can implement one of your own. If your business already has an online store, this is a relatively simple process.
If you do not yet sell online, the process is a little bit more involved. However, this is still a worthwhile investment, given the increased popularity of online shopping over recent years.
Adding Click and Collect to an Existing Ecommerce Site in 3 Steps
As noted, businesses which already have an online presence have a big head start when it comes to setting up a click and collect service. For one thing, your stock should already be online for customers to view.
For another, you already have the facility to process online payments.
As such, only minor modifications are needed to meet the requirements of click and collect services under COVID restrictions. In this section, we'll cover exactly how you can go about this.
However, it's worth noting that there are a large number of different ecommerce platforms out there. All of these offer the same basic functionality, but may vary slightly in terms of how they are configured.
We're going to use the popular platform and WordPress plug-in, WooCommerce as our example. If your site is built using a different platform, like Shopify, the basic procedure is the same, but the exact steps will be slightly different.
Offering Click and Collect as a Delivery Option
Even the most basic ecommerce platform allows you to configure different delivery options on your site, including in-store collection. In WooCommerce, this can be accessed by going to the Shipping menu, under Settings. Here, you can add different options to different Shipping Zones.
If you're a small business, you may only have one zone. If you have different shipping zones for Northern Ireland, the Republic, or Great Britain, you should only add local collection to the regions where you actually have a physical store.
On the relevant region, you'll see a plus symbol, where you can add new shipping options: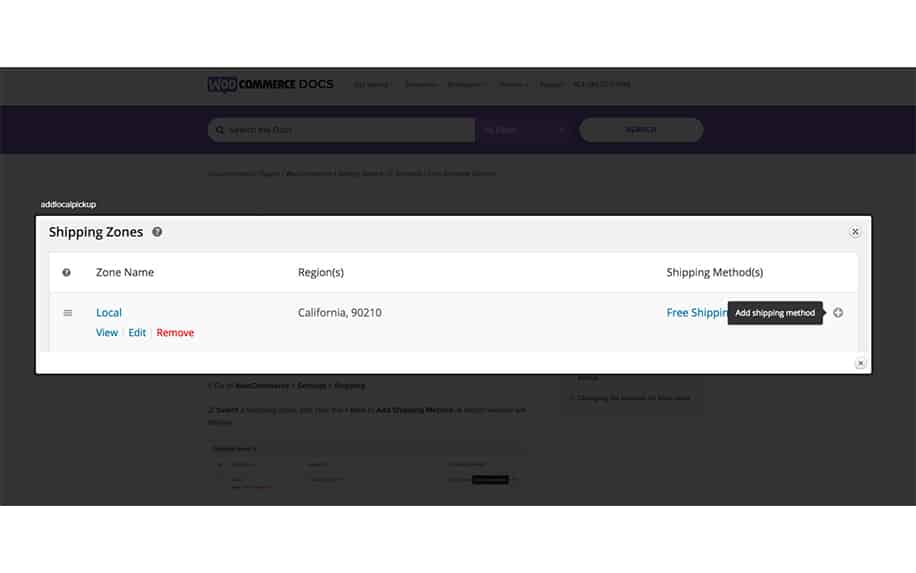 Next, you'll be presented with a dropdown menu. All you need to do is select Local Pickup, and you're good to go.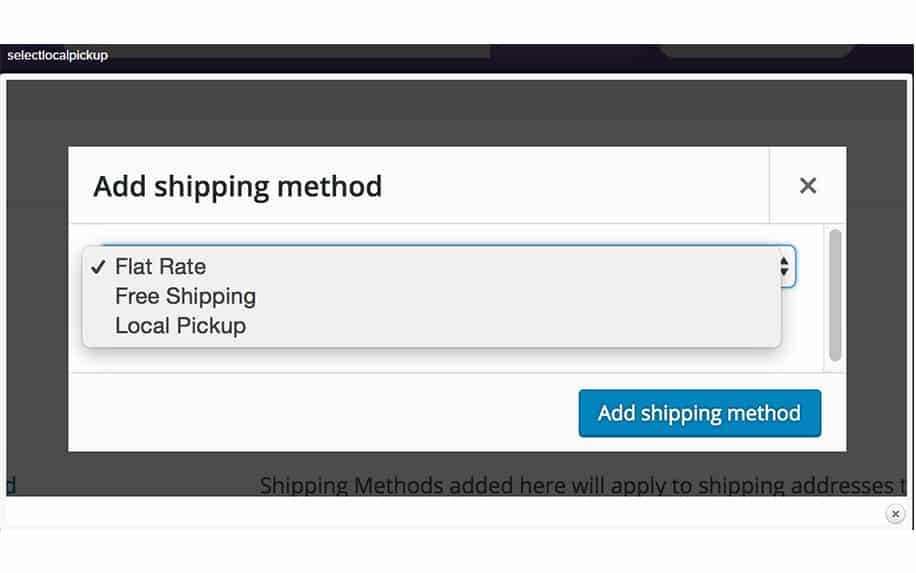 2. Booking a Collection Appointment
The next step is to allow customers to choose a collection slot while they check out. This is a little bit trickier, as most ecommerce platforms don't include this function natively. As such, you'll need to use a third-party plug-in.
For example, Shopify users can use Store Pickup + Delivery.
For our WooCommerce example, we're going to use a plug-in called Local Pickup Plus. This allows your customers to book their collection slot while they check out. You can also set certain rules to make this process smoother.
For example, you can set it that customers can only book a delivery slot with 24 hours notice, so that you have time to sort their order. Simply head over to the Pickup Appointments menu within Local Pickup Plus, where you can insert the dates and times when you are open for collections: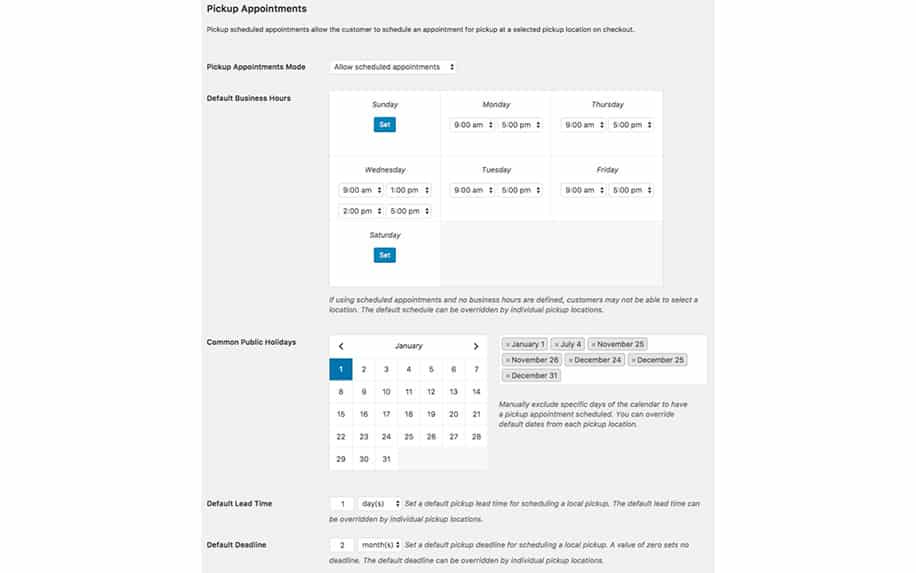 3. Communicating Key Information to Customers
Finally, in order to ensure that your click and collect service sticks to the rules, you must inform customers of key information regarding how and where they can collect their orders. Remember, they are not allowed in store.
As such, you should configure your order confirmation emails to inform customers of the process for collecting an order, including where to go, and what information they need to bring with them.
Your goal is to minimise personal contact, so it's important to make the click and collect process as quick and smooth as humanly possible.
Starting From Scratch with Click and Collect
It's a little bit more difficult to create a click and collect service if you don't already have an online store. However, in some ways, it's even more worthwhile doing so if this is the case. That is, there has never been a better time to move your business online.
There are ecommerce solutions out there which suit every budget. Additionally, ecommerce selling offers much higher profit margins than brick and mortar retail: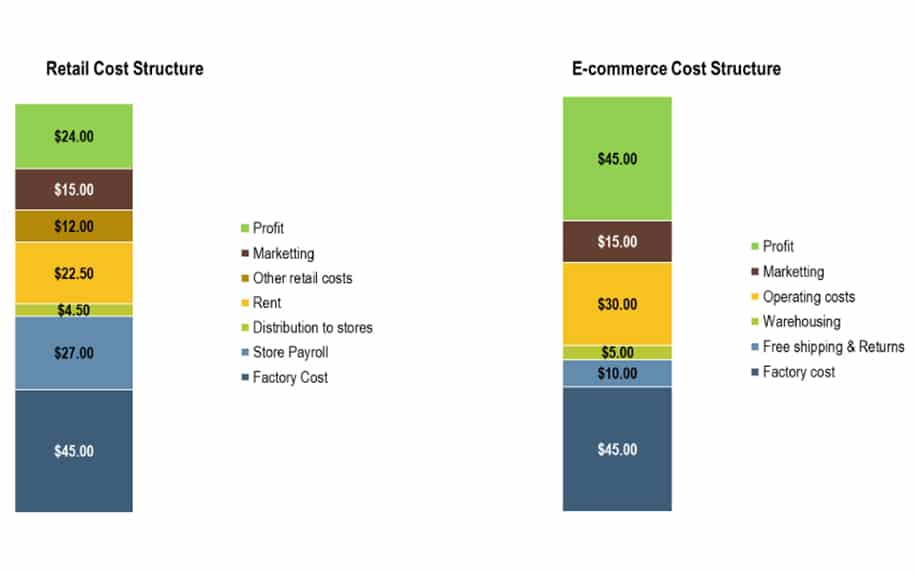 However, setting up an ecommerce site to create a click and collect service quickly poses new challenges. For one thing, the process of uploading product information to your site takes quite a long time.
Therefore, if you want to quickly create a collection service for your retail business, you'll need to prioritise the items which offer the best revenue figures, and then add more products as time goes by.
Using Your Click and Collect Service as a Marketing Opportunity
One of the biggest challenges for independent retailers during the COVID crisis has been competing with large competitors and web giants. Even at the best of times, this can feel like an uneven playing field. COVID restrictions have typically made this even more difficult.
However, there are also a number of strategies you can use to market your business during COVID.
Generally, the best way for local businesses to compete is to emphasise their personal touch and exceptional customer services. Indeed, local businesses are at the heart of any community.
This means that most people prefer to shop local when they can. The key to using your new click and collect service as a marketing opportunity is ensuring that your customers know about it.
As such, promoting your collection service on your digital channels, including social media and email is a powerful way to attract business to your retail business.
Setting Up a Click and Collect Service for Retailers
Click and collect services are not difficult to implement, and can offer tremendous return on investment for just about every kind of retail business. On the one hand, this is an excellent way to remain competitive throughout the COVID crisis.
For another, consumers are doing more and more of their shopping online. In this context, click and collect services allow local businesses to combine the convenience of online shopping with the customer service of brick and mortar retail.
To discuss the practical side of setting up a click and collect service, or any other element of bringing your retail business online, don't hesitate to speak to ProfileTree today.