The world as we know it is becoming more digital-minded.
When you think of the catering industry – what once relied on phone calls to make table bookings, pen and paper to record reservations and even simple cash-in-hand to pay for meals – has all become digitised.
Neil Bradley, former chef and founder of Food Safe System, has found another way to make the lives of those working in the catering industry that little bit easier.
In this week's ProfileTree TV Business Leaders interview, host Ciaran Connolly unearths the evolution of the catering industry, and how digital solutions like Food Safe System have helped it take this important leap.
Check out the full interview or read on to learn more.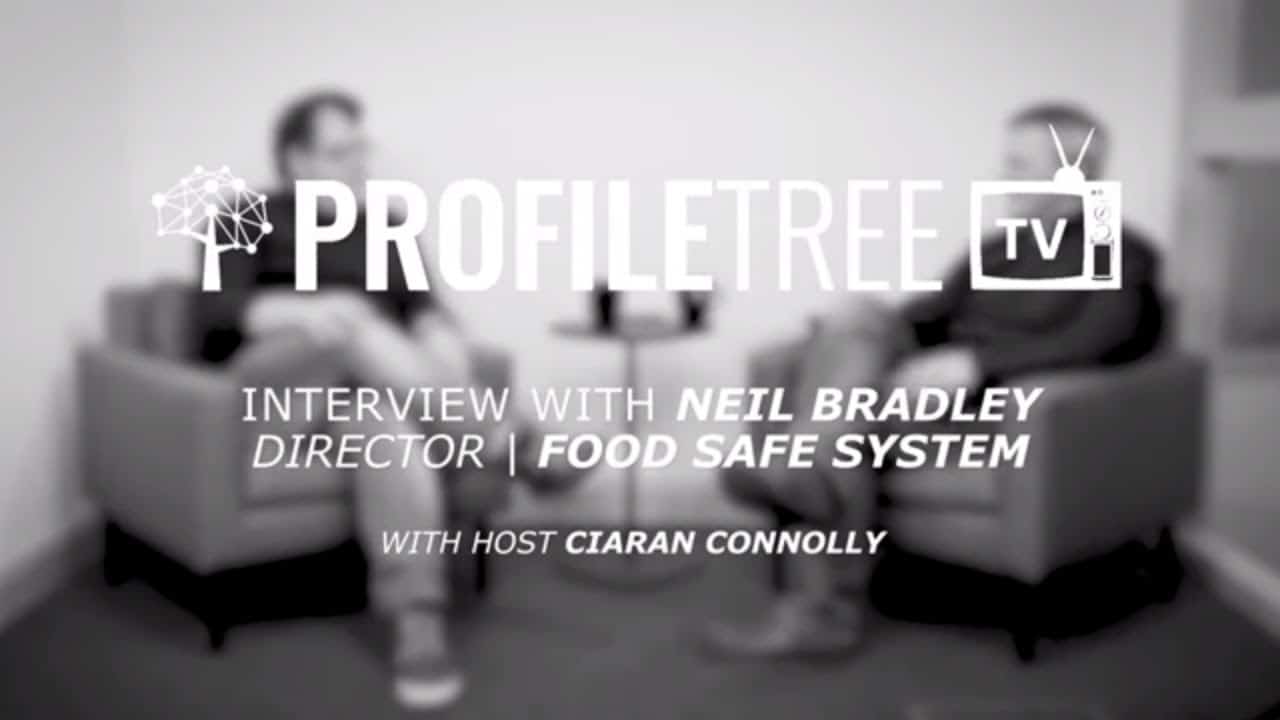 From Cooking Meals to Creating an App: Neil's Journey
Neil's speciality is not in the digital world – but instead the food industry. Working as a restaurant owner and a chef for 25 years – his long-standing career led him to identifying a problem he faced regularly.
"Working in a kitchen for 25 years, that led to the Food Safe System which is our digital food safety compliance app.
"So while running the restaurant as head chef, kitchen manager and owner – it is a very stressful business – so I was looking for a solution to help me run my business a bit better.
"I couldn't find anything, so that's how Food Safe System was born."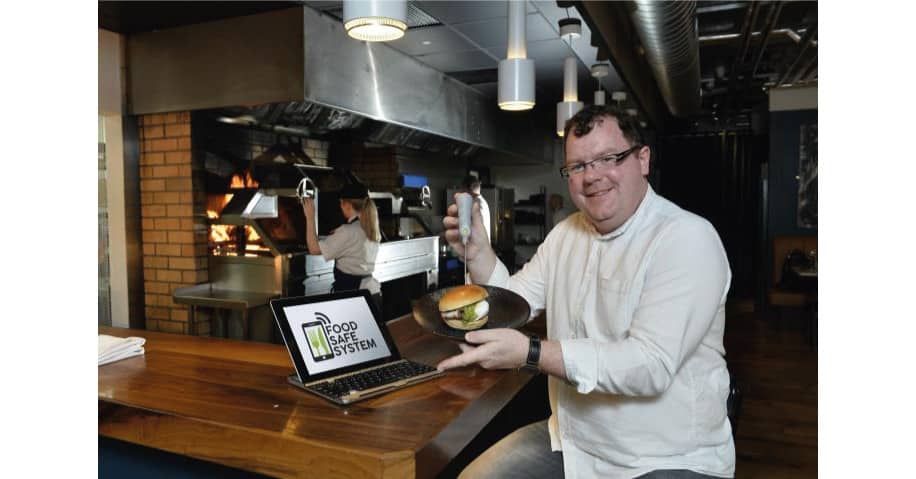 What Does Food Safe System Help With?
As a one-of-its-kind solution, Food Safe System helps restaurant owners keep track of their food hygiene standard, as well as many other elements, as Neil explains:
"It is a food safety compliance app. No chefs are hired to do paperwork. Legislation and regulations mean that there has to be a lot of checks done and documented. Chefs don't often have the time to do it, so that's what we do – we replace the paperwork with an easy to use app.
The app offers technology that is unrivalled in the industry, to help better record the safety standards restaurants work in.
"We automate parts of it using wireless temperature sensors and bluetooth probes, then we send the data through a cloud network so it is received quicker and saves the chefs time rather than filling out paperwork.
"Then managers, owners, food safety consultants can all login and see everything is good – or conversely identify an issue before it becomes a problem. It just makes everyone's life a little bit easier."
The temperature elements are used to record a restaurant's cooling and hot hold units. These are then stored in the app and calculate the standard in which food is kept throughout the day.
The app is also designed not only to save time, but reduce costs.
Staffing needs to carry out these tasks instead of the app cost a significant amount. However, the app is proven to reduce wage bills by 2.5%.
The app also focuses on reducing the need of physical audits, and therefore the estimated £1,300 per annum cost. Additionally, if a food safety incident occurred – this could easily cost a restaurant its entire reputation and livelihood. With Food Safe System, this is continuously monitored, helping owners manage the standard of their outlet and continue trading.
As Neil emphasises: "It all boils down to that sticker on the door – the one to five rating, the 'scores on doors' – that's what's important in the catering industry."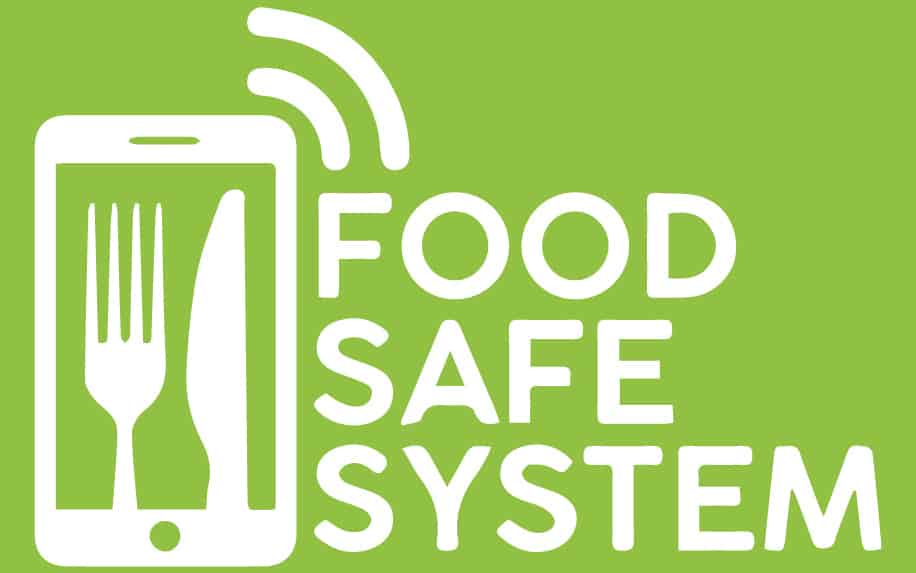 The Digital Takeover
Although we know digital is the way forward for most businesses and industries, Neil reflects on how new innovations always have the catering customer in mind – rather than the catering worker.
"Digital is very much coming into the restaurants with POS systems and becoming more tablet-based. All the restaurant tech seems to be customer-focused, revolving around getting more people in, out and paying quicker.
"But there was very little getting past the kitchen doors. That's what we're focused on – usable and effective solutions within kitchens.
"This is the first product in that arena. But we have plans for more to come in the future."
He added that the Food Safe System can help catering professionals at a particularly difficult time for the industry, not least due to Brexit uncertainty.
"There are a lot of challenges within the restaurant industry, it's traditionally a very low margin business. Getting staff is becoming a massive, massive issue and that's before we even mention the 'B' word.
"The guys are under huge pressure so there needs to be a better solution."
While digital integration may be reducing staffing needs, it increases productivity in the industry. By creating a convenience for not just chefs and owners, but also admin staff and inspectors, this means they can focus on more pressing tasks.
"With inspections maybe not being carried out as often as they should be, digital helps with that. Instead of having to do physical inspections – you do online audits – and that's where our system comes in too."
As Neil points out, where digital helps in a lot of ways, it does not solve every problem that caterers face each day.
"There are more pressures, lack of staff, rise in food costs, more regulations. Digital is a way to solve these problems. Innovations have always been around replacing the old, but the workload hasn't changed. I think what is important is easing this workload.
"I think the catering business is so tough. I have so much respect for people who make a success of it. I know how much work goes into it. That's why I am so invested in making the lives of these people easier to give them time back.
"When I first started, I was working maybe 80 to 100 hours a week. And that was the norm. Nowadays, this generation don't want to do that – and nor should they. This is why we do what we do."
To find out more about what Ciaran and Neil discussed, check out the rest of our Business Leaders interview.
To keep up to date on Neil's latest technological endeavours – visit Food Safe System.
Become a Part of Our Business Leaders Series
Interested in featuring on our Business Leaders series? In our acclaimed series, we share amazing advice, tips and stories from business owners, managers and senior leaders.
From growing your business to looking after your staff, new industry insights and innovative ideas – we cover everything to inspire professionals across all sectors. If you want to become a part of it, simply drop us a message.