The latest changes around the world bring us a wide range of services for fun internet. So let's check out a bunch of exciting things to do through the internet without leaving your coach.
The COVID-19 pandemic has changed our mindset for good. We discovered new ways to have fun. Yes, hang-outs, parties, and get-togethers are always the best when we want to unplug after long days.
Take a walk around the block or ride a bike; get your blood flowing again. Exercise helps reduce stress and gives you an extra energy boost throughout the day. In addition, doing something active can help increase motivation and improve your overall mood.
But what if we lose the passion and energy to do any activities?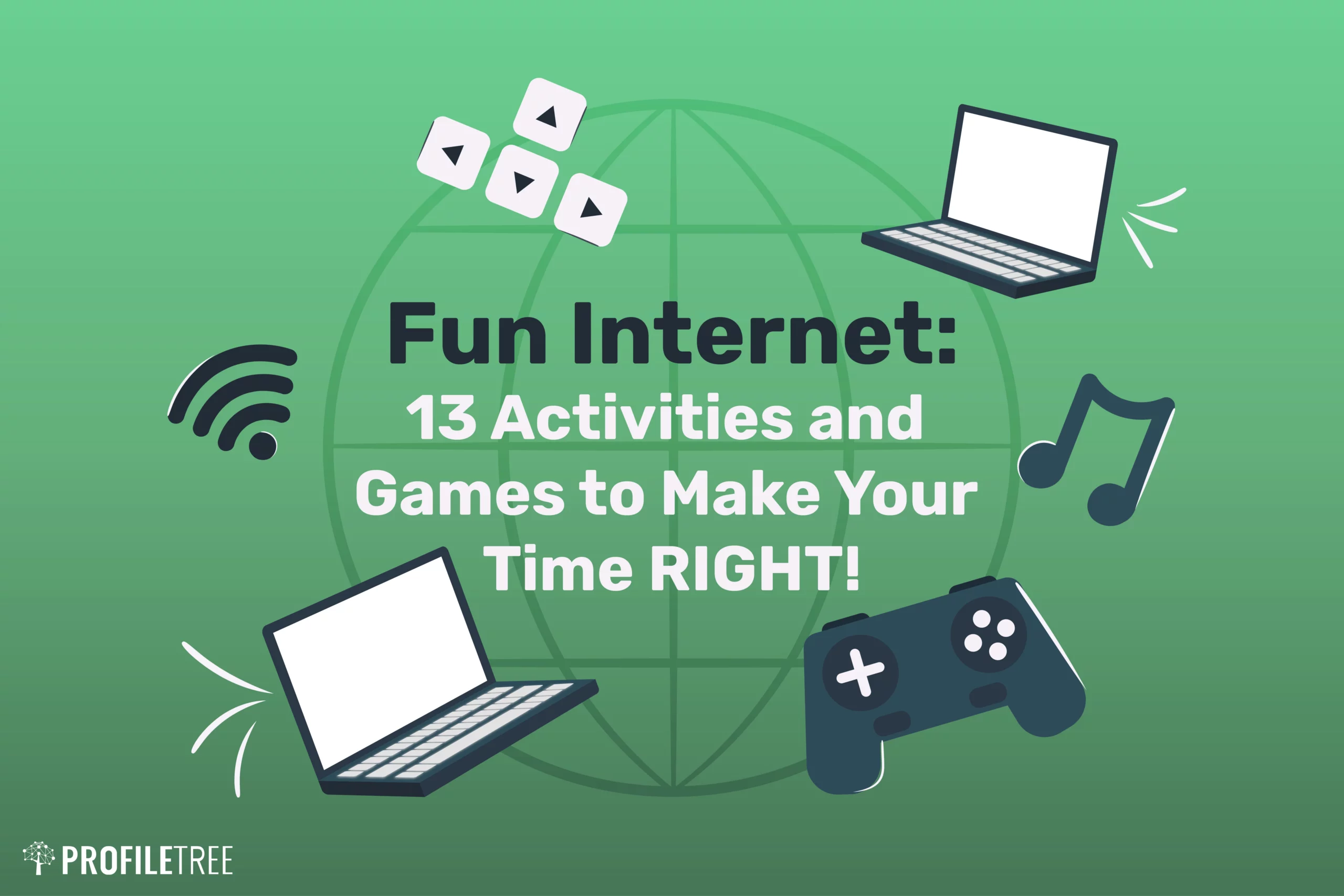 We can connect, laugh, play, bond, and experience joy with such amazing things through 100% virtual.
Let's see how we make fun internet and enjoy ourselves!
Fun Internet: 13 Ways to Enjoy Your Time
Meaningful and deep pursuits, such as learning a new skill or establishing a home workout routine, are excellent components and ideas of a healthy lifestyle. Yes, we need to get stuck with our life's purposes to keep going and make good things for our beloved people and us.
But there's also nothing wrong with enjoying our time by doing nothing but clearing our heads from stress. We can also have lighthearted fun online in many ways— tracking sharks, doing something quick or creative, or exploring the stars without getting out.
There's no limit to what anyone can do on the internet.
With this in mind, we practically come up with different online activities that you can try when you need a break or want to turn to distraction.
Or you might need something that makes you smile.
Also, don't forget to share with us which ones you enjoy most. We'd love to hear from you!
Bring Your Popcorn: It's a Movie Time
The internet has created a new of entertainment for makers and viewers. You can enjoy short and experimental movies along with typical movies and TV shows.
It created a nice direction for all producers to find an audience.
The most popular way to watch anything about anything worldwide is to go to Google's YouTube.
Anyone can upload any content creating vast amounts of videos that will surely keep you captivated. Also, if you have time and simple skills to produce and edit a video, please do! Upload any video as long as you follow the platform guidelines.
Also, you can enjoy some inspirational talks on TED Talks which includes short lectures about different topics ranging from education, technology, and science, and are almost always enchanting, offering a new perspective you never realise.
Additionally, a part of the fun internet, you can always enjoy watching great movies and shows on Hulu or Netflix. They are a subscription-based streaming service with TV series and films. Additionally, Hulu provides audiences with live and on-demand movies and TV.
Discover Your Talent
When it comes to picking up new artistry skills, YouTube is the best— it should be your bosom buddy.
Want to sketch something? Find tutorials from different excellent channels, such as Schaefer Art, The Drawing Database, and Emmy Kalia.
In the case of painting is more up your alley; watch and learn creative works from real artists like Daria Callie, Kelogsloops, Acrylic Painting Techniques, and The Art Sherpa.
Or you can learn how to capture a killing shot using drone photography to post on your social media accounts.
Also, try to pick up crocheting or embroidery— yes, why not!
Create Wierd Visuals and Voices With Patatap
One of the best websites if you're searching for fun internet. Patatap as matching visuals to complement the sounds. You can type any key on your keyboard or mobile to create your musical note with animated shapes.
Jam out with your friends and use this website for a guaranteed good time.
Let's Explore Our Beautiful Universe
Sometimes, when we feel everything else in life is going wrong, we just need some broader perspective to understand that our bad day is not the end of the world.
Fortunately, there is always a way out— no better way to find perspective than going out from this whole planet across the galaxy to see how small we are and how big it is.
100,000 Stars is one of the most beautiful interactive websites for fun internet that catalogues the known stars in our universe under the "stellar neighbourhood" category.
It's a mesmerising journey through the depths of outer space, where users can explore our Milky Way galaxy to discover the infinite wonders of our universe.
This ambitious project captures the beauty and vastness of our night sky with stunning visuals and fascinating commentary from NASA scientists.
Visitors can observe planets, star clusters and galaxies up close in all their glory. Just zoom in or out on any area of the heavens. You can also dive deeper into each celestial location to uncover unique facts about each one.
Also, you can click on individual stars through this aesthetic work to see how they appear up close.
Plus, you can collect information on these stars, including their colours, naming conventions, size, distance to Earth, temperature, and age.
100,000 Stars is an awe-inspiring experience for anyone who has ever wondered what lies beyond Earth. With its unbelievable visuals and intriguing details about deep space destinations, this site promises to take you on a voyage filled with unending possibilities!
Find Free Games to Play
Whether you want to play in a group or alone, there's no shortage of free games out there. The best thing about these online games is that you even don't have to download anything, which is great to start playing right away without a multi-step process for insulation.
Here are our favourite picks:
Addicting Games is designed for addictive gamers, specialising in different kinds of games, ranging from puzzles to adventure, sports games, and much more.
Flash By Night is home to more than 45 free games you can play alone to kill time in your web browser when you want to refresh your energy.
If you like the board game Risk, you should try Warzone, another browser-based world domination online game with two options; single- and multi-player.
If you have a Facebook account, why not try thousands of Facebook Games, home to plenty of free amazing games, including Uno, Farmville, and Words with Friends? You can share your scores with your friends and invite them to this challenge for more quality time.
Just visit Google and find what it has stored for you. Search for Quick Draw, Soccer, Pacman, Cricket, Hip Hop, Champion Island, Garden Gnomes, and Rockmore to instantly play games on the same Google search page.
Listen to Podcasts
Listening to podcasts can be a great way to pass the time for fun internet if you're looking for something to do when you're bored.
Podcasts are audio shows or episodes that are released on a regular basis and cover a variety of topics from sports, politics, comedy and more.
It's a great source of entertainment. In addition, self-education is one of whys podcasts growing in popularity. It conveys a personal perspective from influential people.
Not only is listening to podcasts entertaining, but it can also help boost your creativity and productivity. I also listen to podcasts when cooking, exercising, or walking. They help me for sparking personal growth.
Podcasts are great for grasping information within different scopes, such as money management, time management for more productivity, etc.
Confession: I learn how to get out of debt from a relevant podcast about how to deal with personal finance.
For starters, here are some tips on how to make the most out of your podcast experience:
The first step is deciding what type of podcast you want to listen to.
There are so many different types of podcasts available, so take some time exploring different genres and topics until you find one that speaks to you. We invite you to check out the mystery podcasts like true-story or true crime, as these are some of the greatest genres, and you will get so much fun.
Once you have narrowed down your selection, make sure that the podcast has good ratings and reviews before committing too much time to it.
What's more, most podcast apps can download the audio for offline listening to enjoy those episodes wherever you go. It's a productive thing to do if you're bored waiting for an appointment, on long commutes, while doing chores, or even to the point of lying down doing nothing.
Check out the "Let's Rock the Lockdown" Group on Facebook
Let's Rock the Lockdown is a nice Facebook group created to unite people during the pandemic lockdown. However, it still works now, and many people never stop posting amazing videos there.
With nearly 16,000 people of all ages joining this group to enjoy one another's individual musical party with minor capabilities, this group comes all talented together at expressing themselves loudly.
The group also hosts online open mic nights to enable everyone to sing and play musical instruments or both.
If you'd like to perform your music, you have to send a message to the group admin; then, they will organise a time slot. And be ready to blow members' minds with your wonderful music.
Otherwise, you can just sit back and relax to enjoy other music.
It's one of our ways for fun internet secrets. So, come on and join us!
Listen to Online Classic and Current Radios
Call me a nerd or whatever! I still enjoy listening to the radio, and when searching for fun internet, I search for nice radio stations. I love BBC Radio and National Public Radio.
I frequently check out Public Radio International, which offers many of its past programs online.
Not just that, you can search for any site's features to browse for stories you might miss. For example, some radio shows have websites where you find more lovely stories to listen such as 7 Sara Cox, Car Talk, and This American Life. Or check something ultimately classic such as The Archers.
Prepare Mouthwatering Meal
Fun internet means rustling up exotic ingredients to make a delicious dinner.
There's no better time than this moment to level your cooking skills, thanks to beautiful channels such as Amazing Food & Drink, where you can find many recipes for local celebrations with easy instructions for all cookers' levels for more online tutorials.
Also, you can check out other chefs, such as Rachael Ray, Massimo Bottura, and Great British Chefs channels.
Need more?
Then you can find more inspiration in Binging With Babish for recipe ideas. Or, if you're looking for an online cooking school, nothing is better than Milk Street. Keep your eye on their events and schedule to get in once they announce something similar.
Even if you don't end up lifting a finger and have no time to invite your friends to make a dinner party, you can do it for yourself. Or host your friends online and let them join you while preparing this incredible recipe and see who can make it better.
Learn with Coursera
I know it's the last thing you want to hear from me, especially if you're a student and get tired of studying. But have a misconception about Coursera. You can find more than just digital marketing writing courses or technical classes. Coursera is a comprehensive library for any kind of knowledge you're searching for, such as social psychology, management skills, and managing your emotions.
Learn from literally tons of options, a lot of which will cost you nothing.
Whether you want to brush up on your skills with a certification course or deepen your understanding through a specialised degree program, plenty of opportunities are available. Plus, many of these courses provide students with valuable feedback from experienced educators who help guide their learning experience.
You know, knowledge is power, especially unnecessary knowledge— this kind you don't need for career promotion but for your personality development.
Find Your Happy Places on the Internet: Looking at Something
Looking for a website that will bat on your back, telling you everything will be okay?
Looking at Something is a cool website for fun internet searchers who want a soothing background screen with a dead-simple webpage. Unfortunately, look at the screen, and it will start raining.
Also, you can change the time of day and control the direction and intensity by moving the cursor around the page.
For no reason, I always see this website as a soothing place that helps you relax after a long day.
Explore How the Internet Was Used to Look Like
Want to find out what the internet looked like before? Or maybe you wish to search for some free books, software, movies, or music? You may be looking forward to playing arcade games in your browser!
To check out the internet archive, you will pay nothing with endless activities to explore. It's an entirely entertaining world!
Head over to Archive.org to check it out, or head right to these incredibly cool sections of the site:
Read Comics and Interesting EBooks
Do you love comics? Good for you because the internet is a huge source to read comics for free. Many serval ways you can use to make this done. And we are not talking about only amateur webcomics made freely available on social media; you can even find comics from Marvel, DC and Vertigo for no charge.
Also, reading ebooks is another way for fun internet to entertain yourself. There are a handful of wonderful sites to download for free ebooks, ranging from classical antiquity to modern fiction.
The internet is a great place to find fun things to do even when you are alone on your sofa. From playing online games, streaming movies and TV shows, exploring virtual worlds, or joining an online community, you will find something appealing. Pin this post or save it on your bookmarks! You will need it shortly.