Founded in 2010, Instagram is a photo and video sharing and networking platform with millions of users. So, who has the most-followers on Instagram?
Instagram is used my millions of people everyday in order to share pictures and videos of their life with their followers and to connect with people all over the world. Instagram is an influencer's paradise as it is one of the most popular social media platforms for influencer marketing. Let's have a look at the top 10 most-followed people on Instagram in 2022.
Most-Followers on Instagram in 2022
1. Cristiano Ronaldo-531M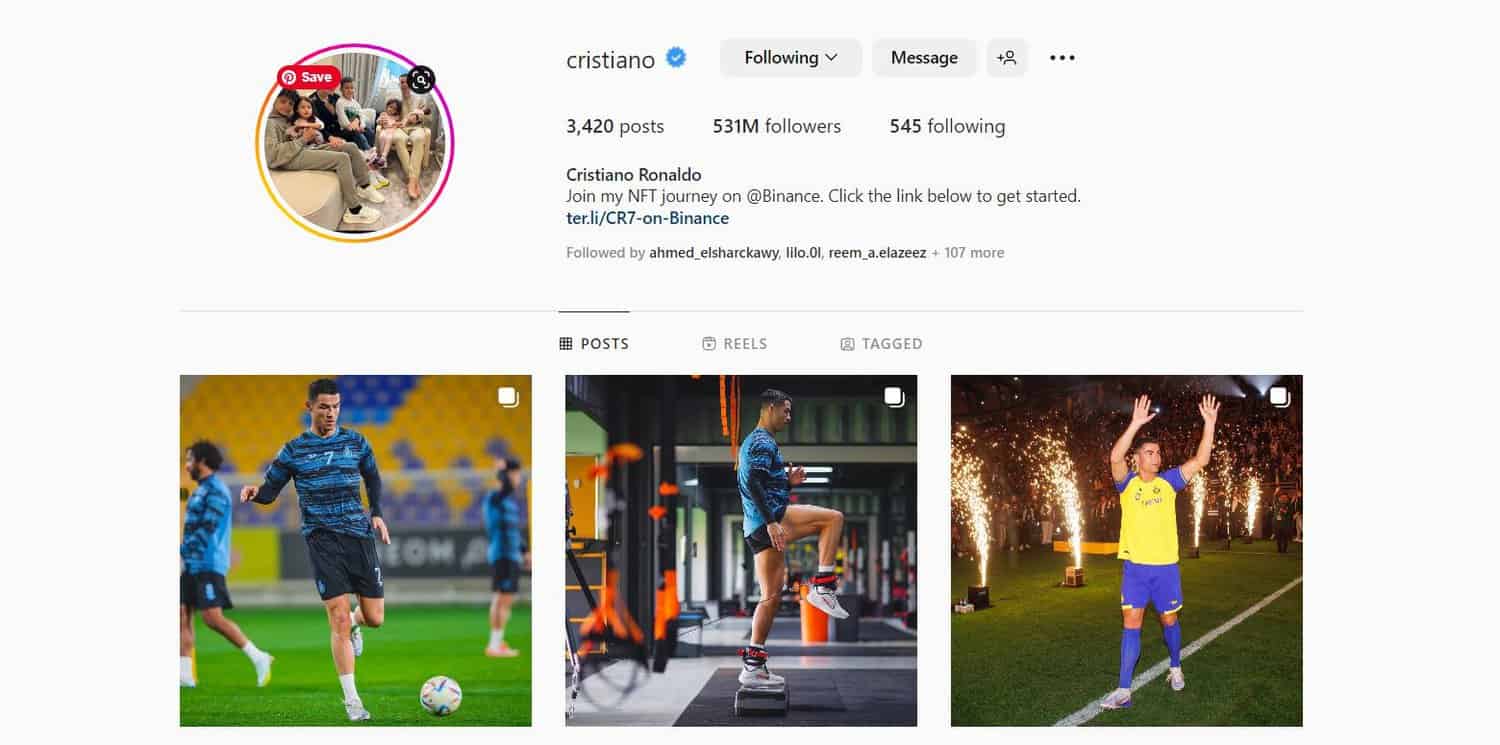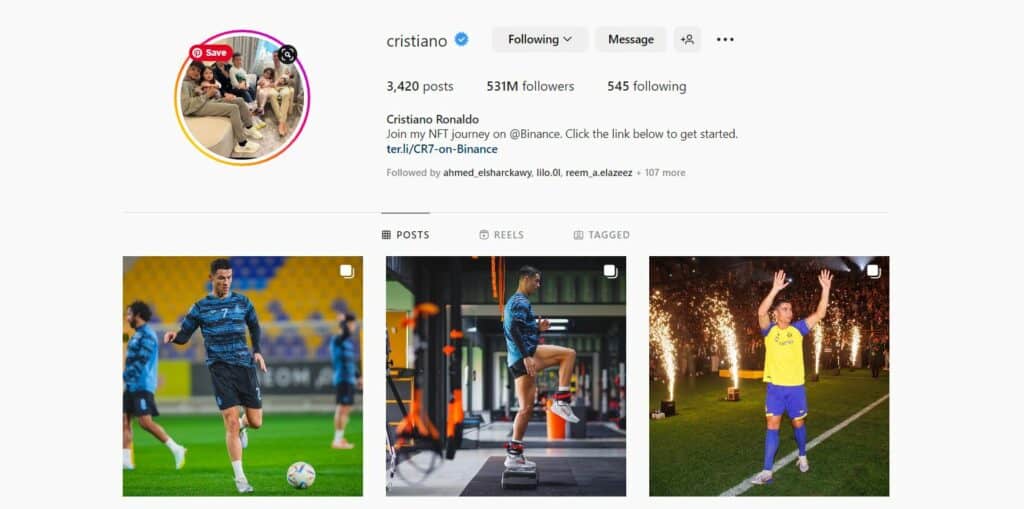 Cristiano Ronaldo takes the number one spot for the most-followers on Instagram. The Portuguese professional football player is also the most-followed person on Facebook. Ronaldo shares pictures and videos of his family and football with his impressive 531 million followers. The 37-year-old has been playing football for nearly 20 years and has had a very successful career, being named the third highest-paid athlete by Forbes in 2022.
2. Leo Messi- 417M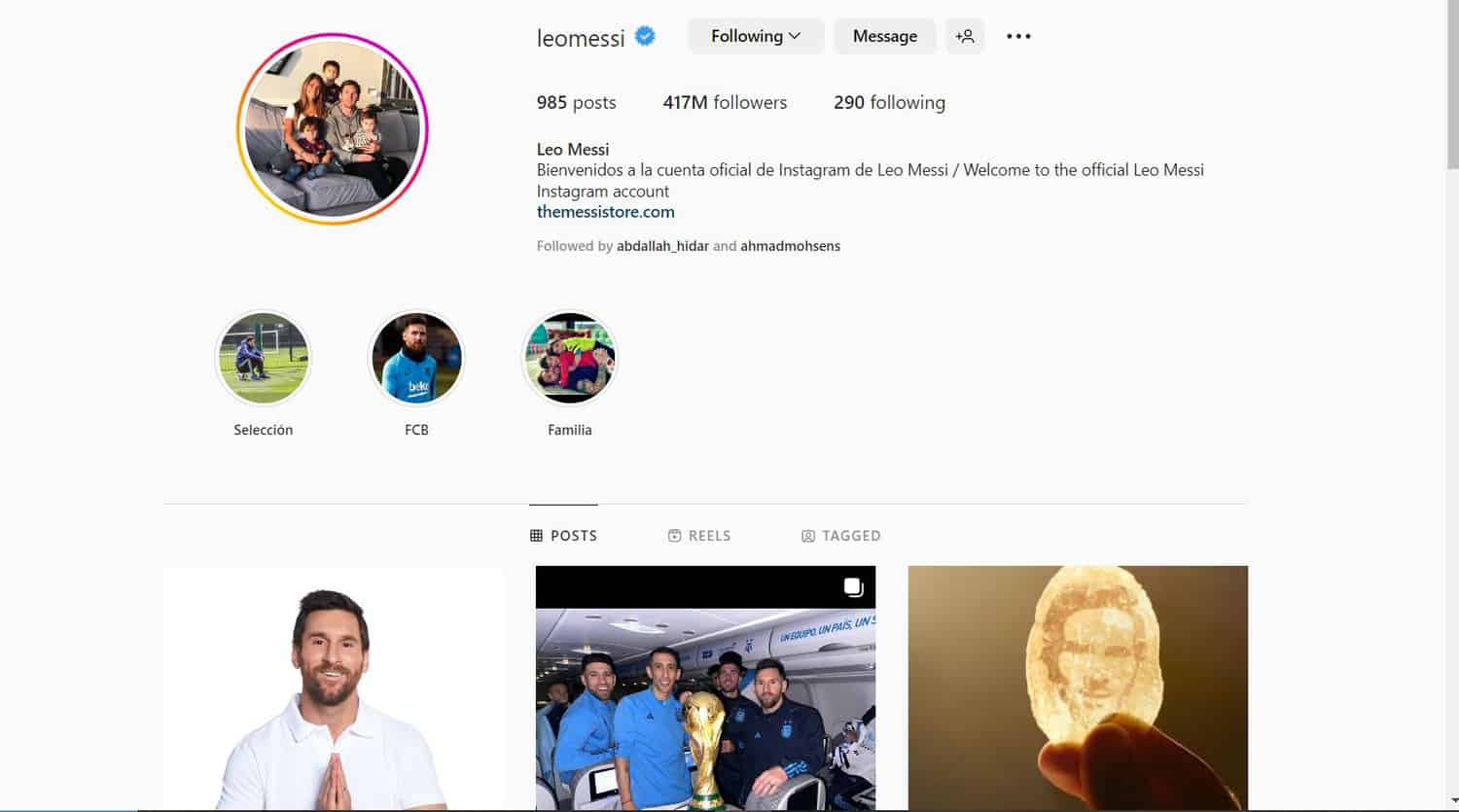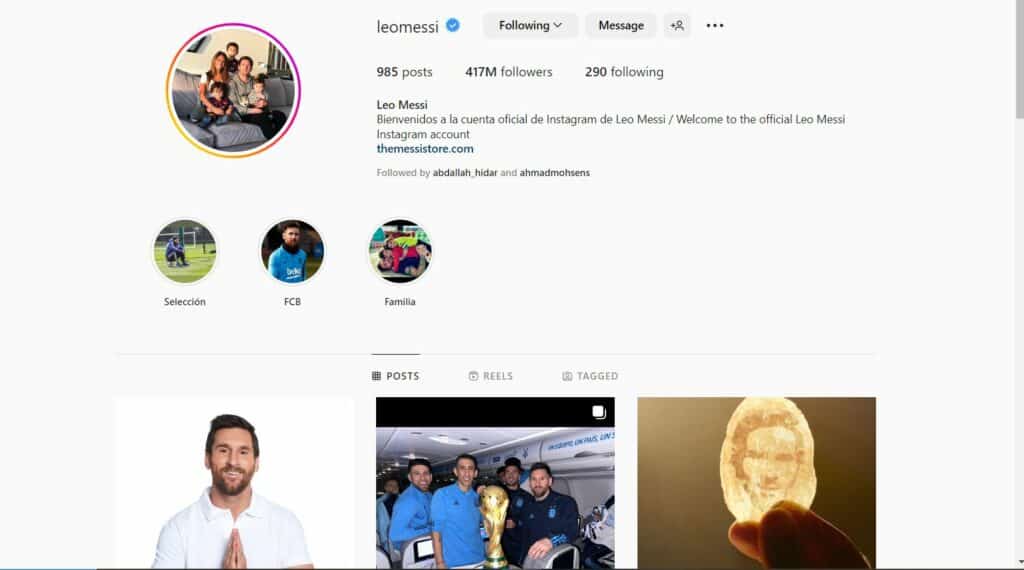 Leo Messi is a world-renowned Argentine professional footballer and is the second most-followed football star on Instagram. Messi played with Spanish club Barcelona for 17 years, and in 2021, he made a move to Ligue 1 club Paris Saint-Germain, which left many fans shocked. In 2020, Leo Messi became the first footballer and player involved in a team sport ever to win the Laureus World Sports Award for Sportsman of the Year. After winning the Qatar World Cup, Messi's Instagram following count has significantly increased.
3. Kylie Jenner- 377M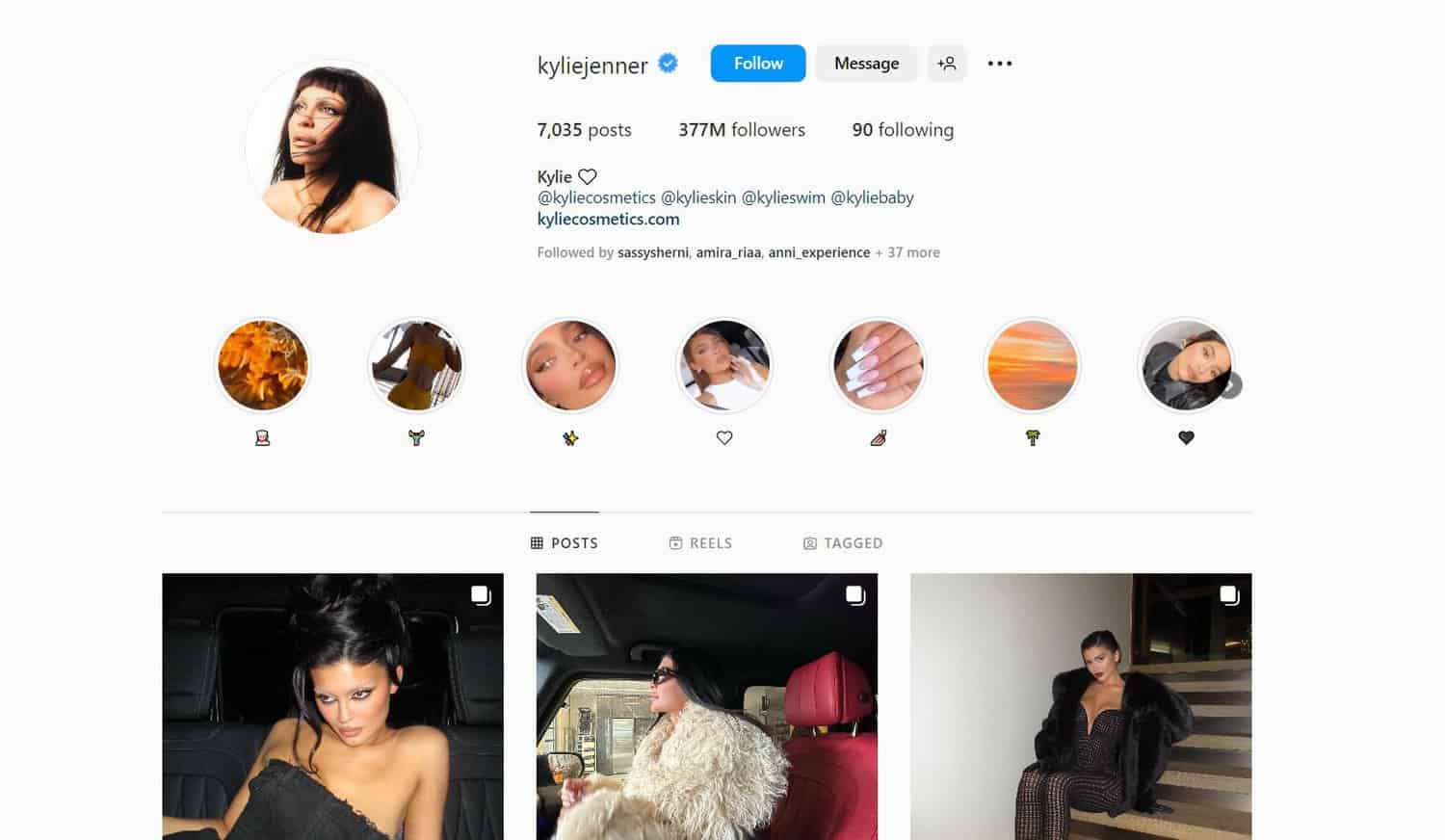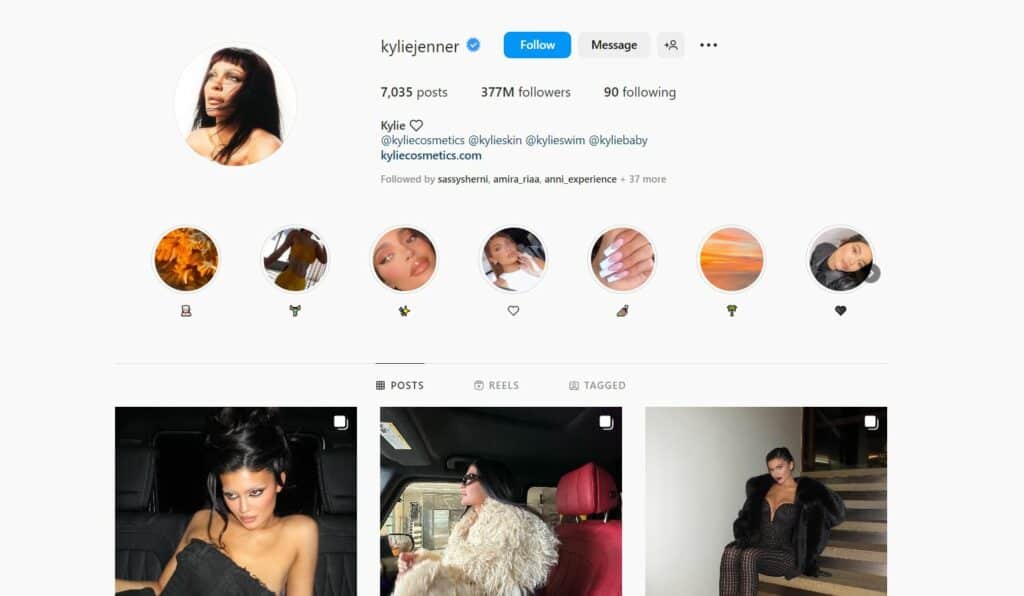 Kylie Jenner is the most-followed woman on Instagram and has the second most-followers in the world. The tv personality, socialite and entrepreneur has 377 million followers on the social media platform. The youngest of the Kardashian-Jenner family posts regularly on the social media platform and shares photos and videos of her family and friends, her many fashion looks and her makeup brand, KylieCosmetics with includes Kylie Skin and Kylie Baby.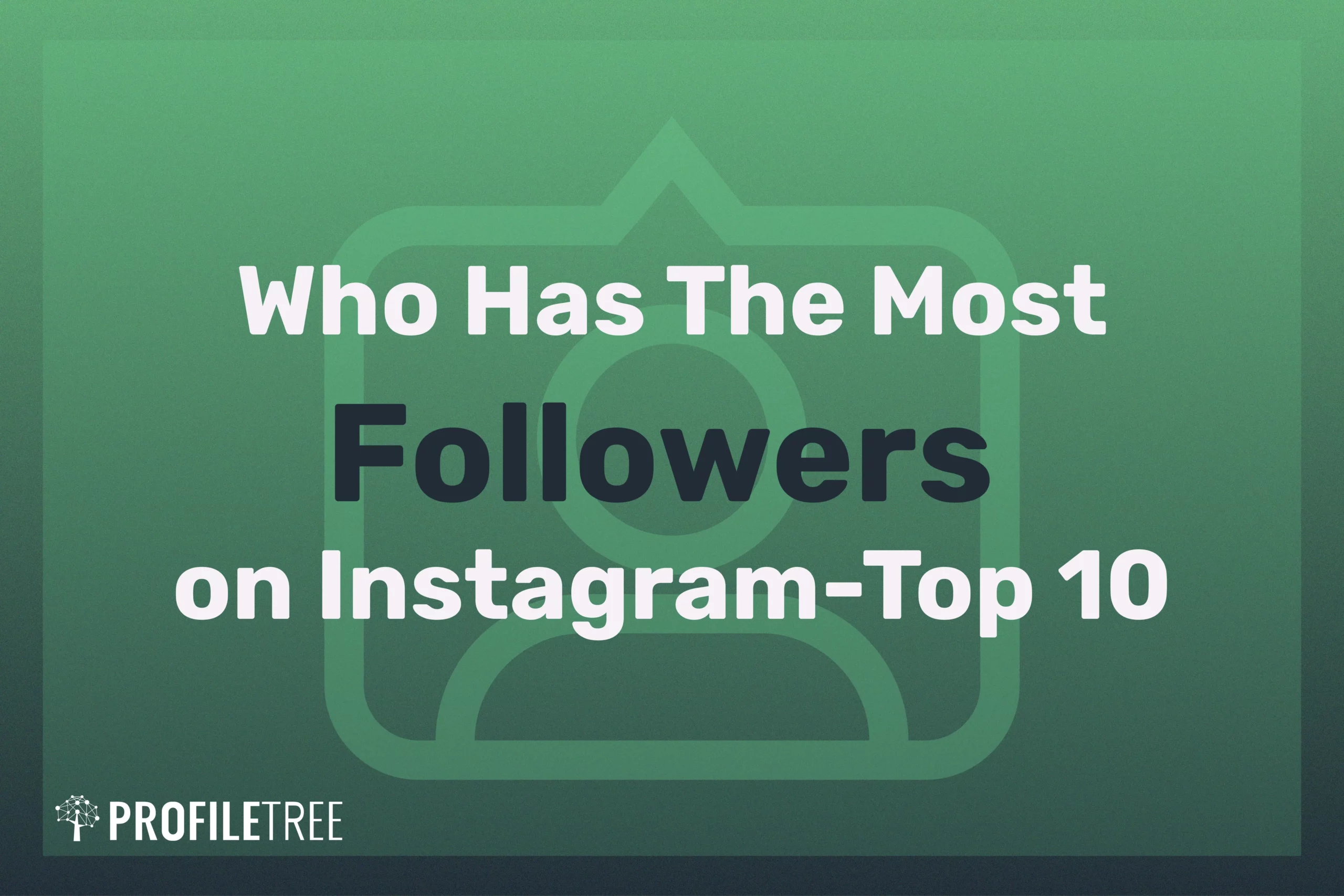 4. Selena Gomez- 369M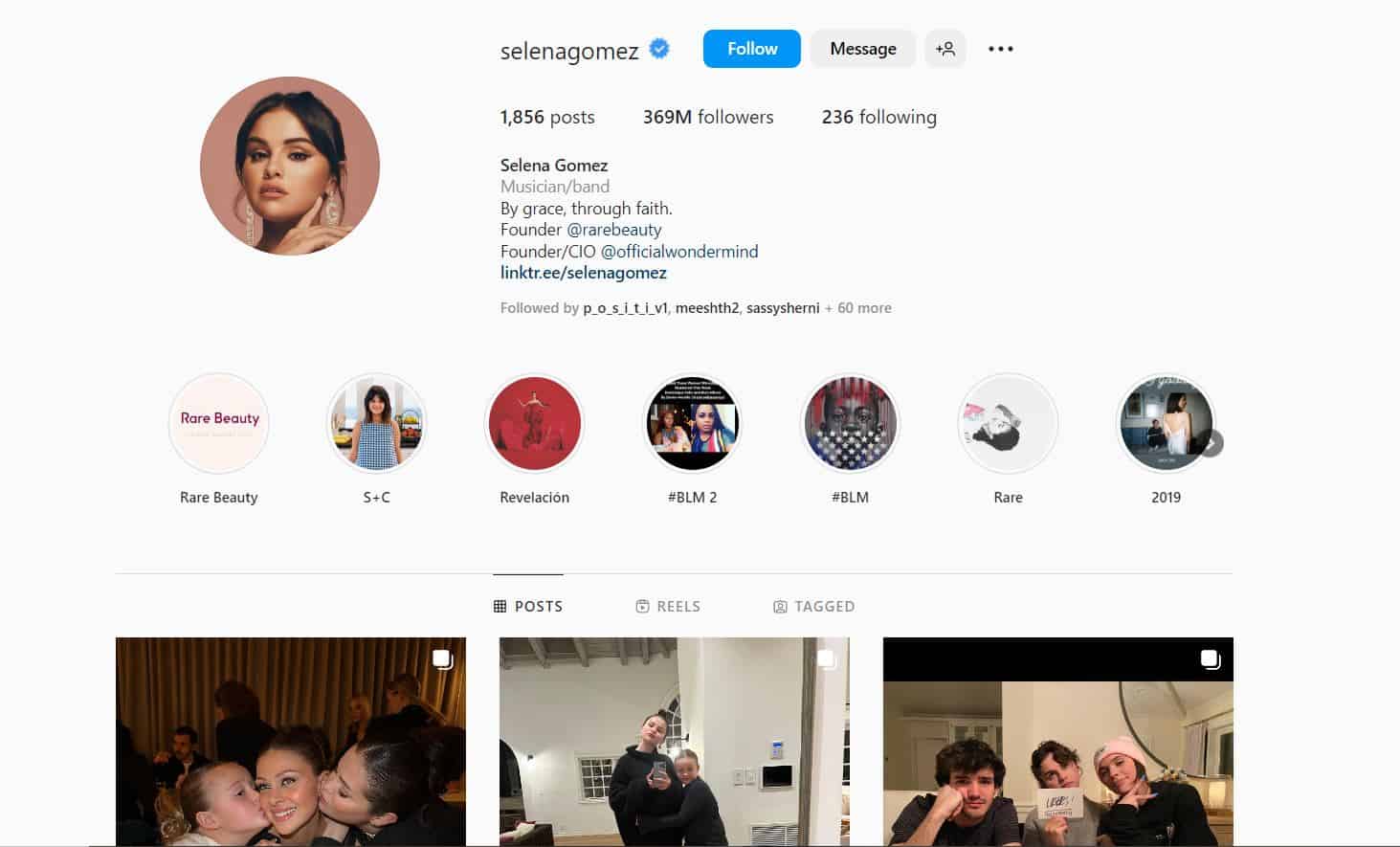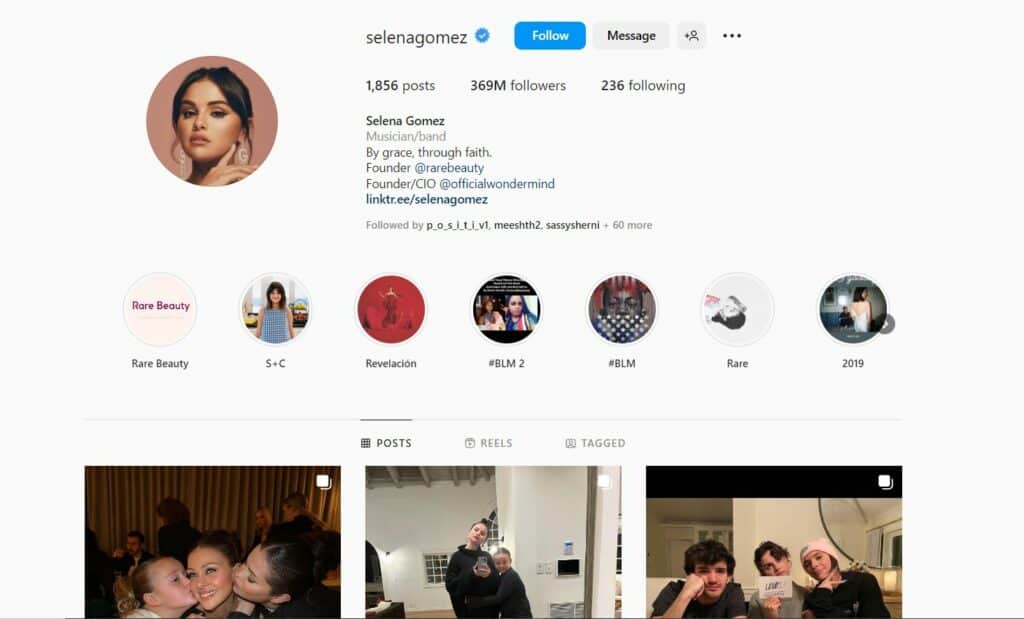 Selena Gomez is the most-followed actress and musician on Instagram and once held the title of most-followers on Instagram. The American singer, songwriter, and actress shares photos of her friends and life with her 369 million followers. She also uses the influencing platform to promote her music and acting career, often sharing clips of upcoming music videos and trailers of her movies and shows. The 30 year also talks very openly about mental health with her followers and is the co-founder of Wondermind, a community which has a mission to destigmatize mental health.
5. The Rock- 357M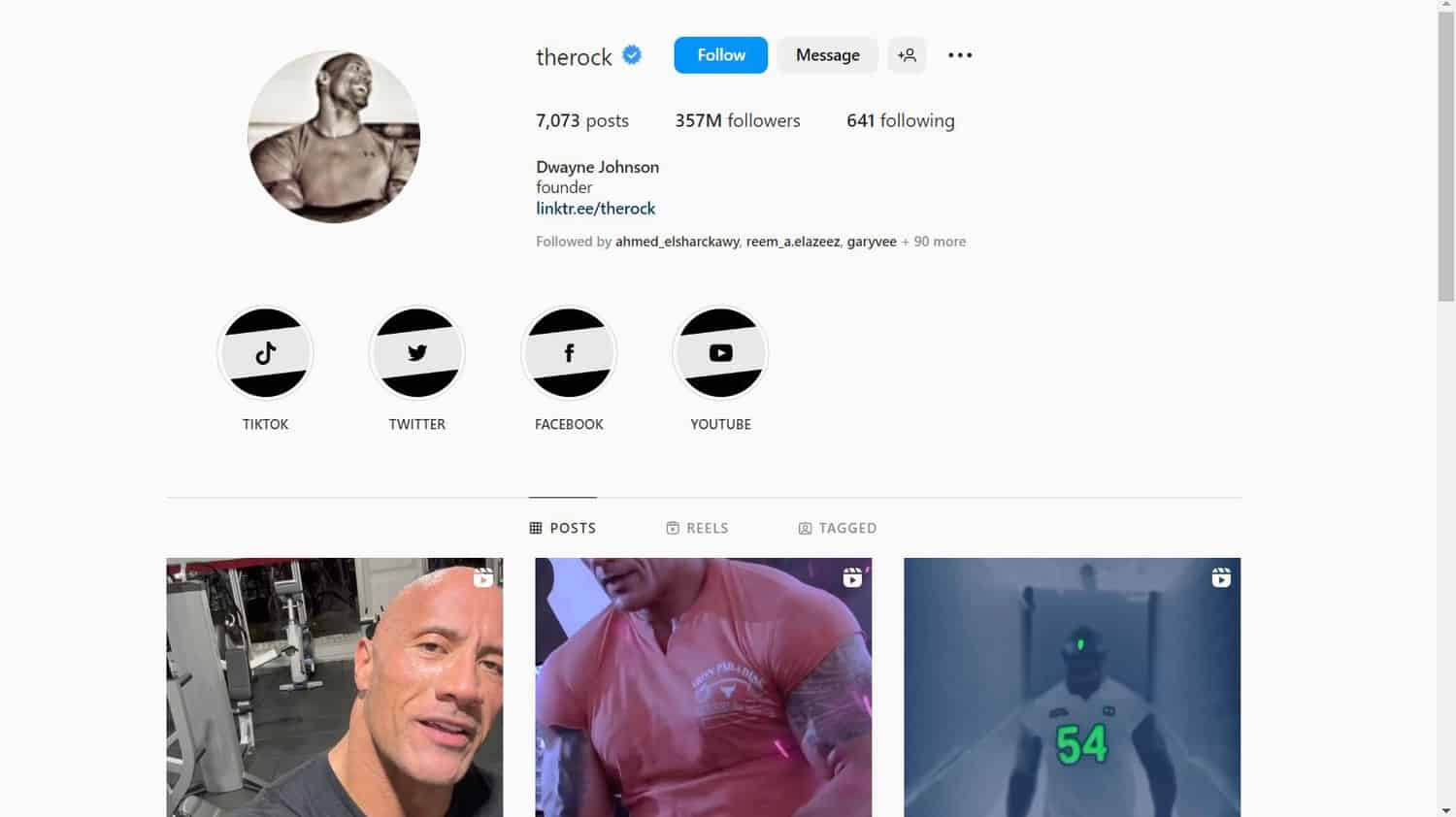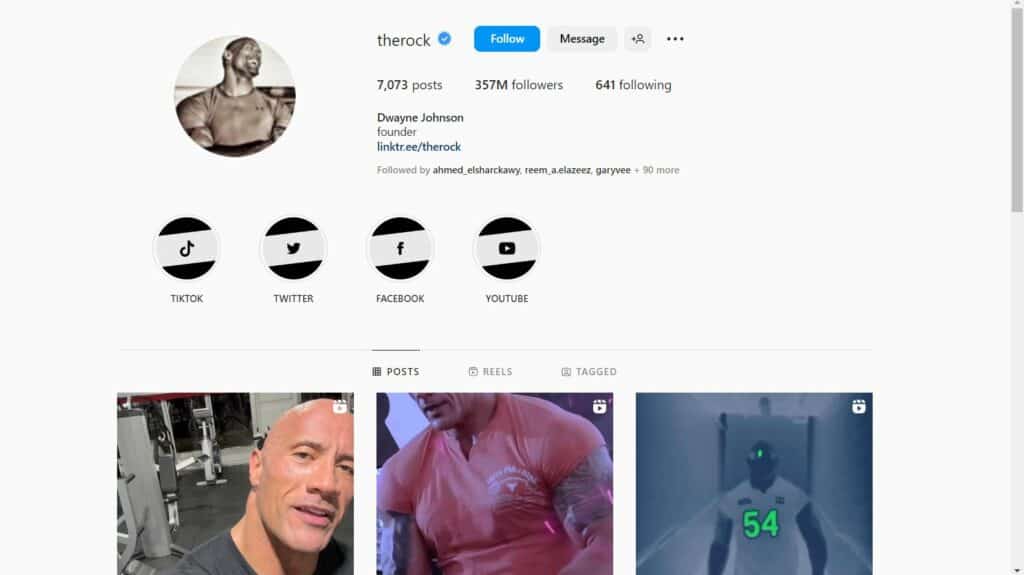 Dwayne Johnson, famously known as "The Rock" makes the top 5 list of most-followers on Instagram and is the most-followed actor on the social media platform. The American actor, businessman, and former professional wrestler promotes his upcoming projects on his Instagram and also shares videos of his life with his 357 million fans. The 50 year old Californian made a very successful career in professional wrestling as a 10-time world WWE champion and after went on to star in a range of film genres, such as, action, comedy and family films. A few films that Johnson has starred in are Jumanji: Welcome to the Jungle, Moana and Baywatch. Forbes named the Rock the fourth highest paid entertainer in 2022.
6. Ariana Grande- 349M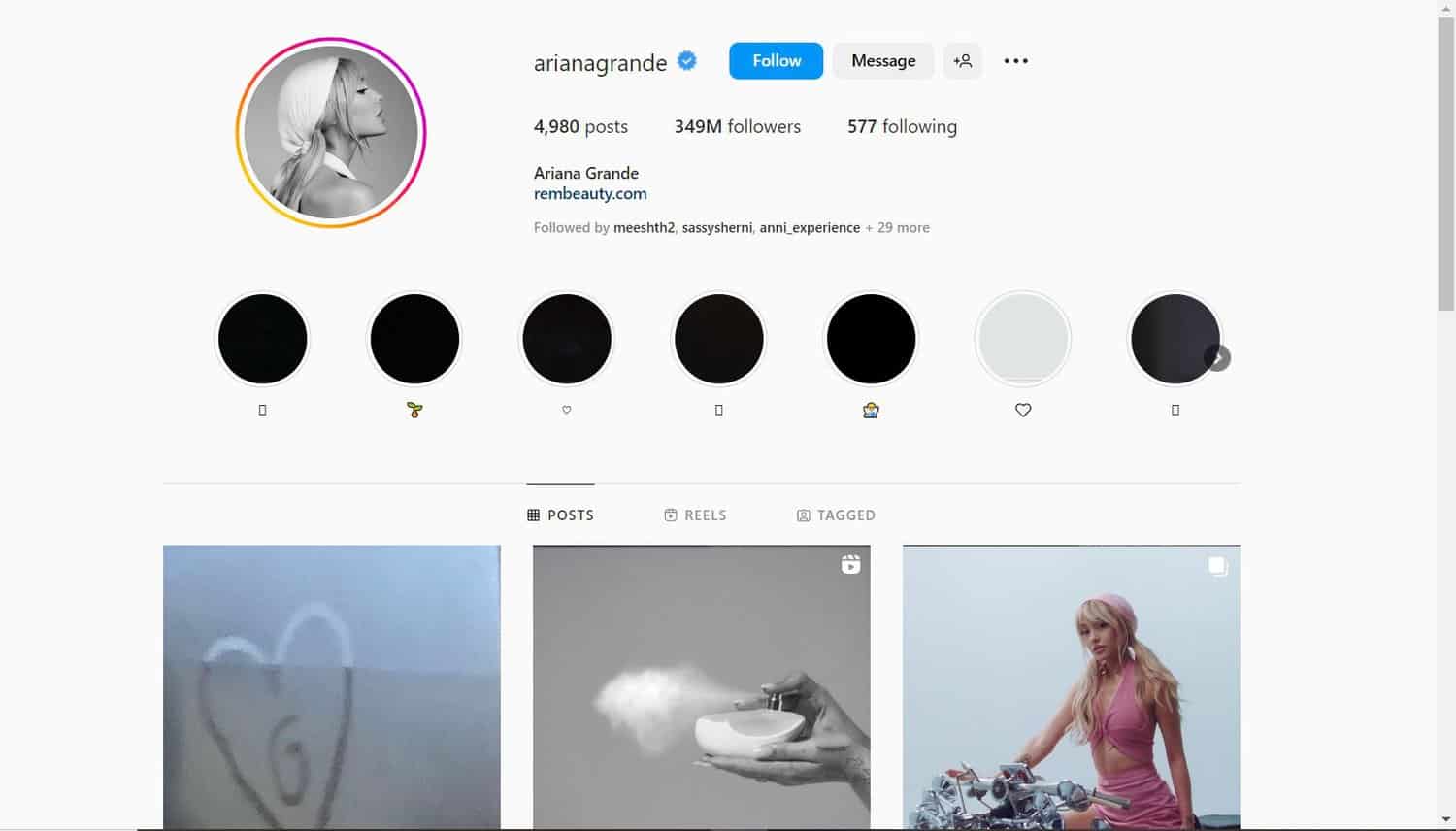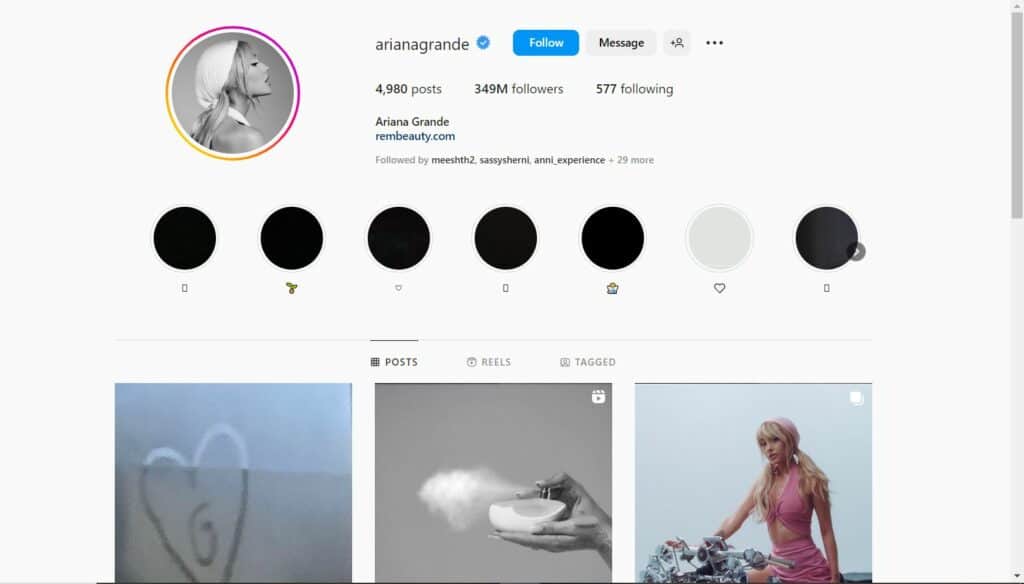 Ariana Grande is an American singer, songwriter and actress who rose to fame on the Nickelodeon show "Victorious", playing Cat Valentine. She promotes her music career and makeup line, REM Beauty on her Instagram to her 328 million followers. The beautiful singer has broken 20 Guinness World Records as of 2022 including, breaking the record for most songs to debut at number one on the Billboard Hot 100, with 5 No.1 debuts. Ariana Grande is set to star in the biggest film of her acting career as Glinda in the movie adaptation of the musical Wicked.
7. Kim Kardashian- 340M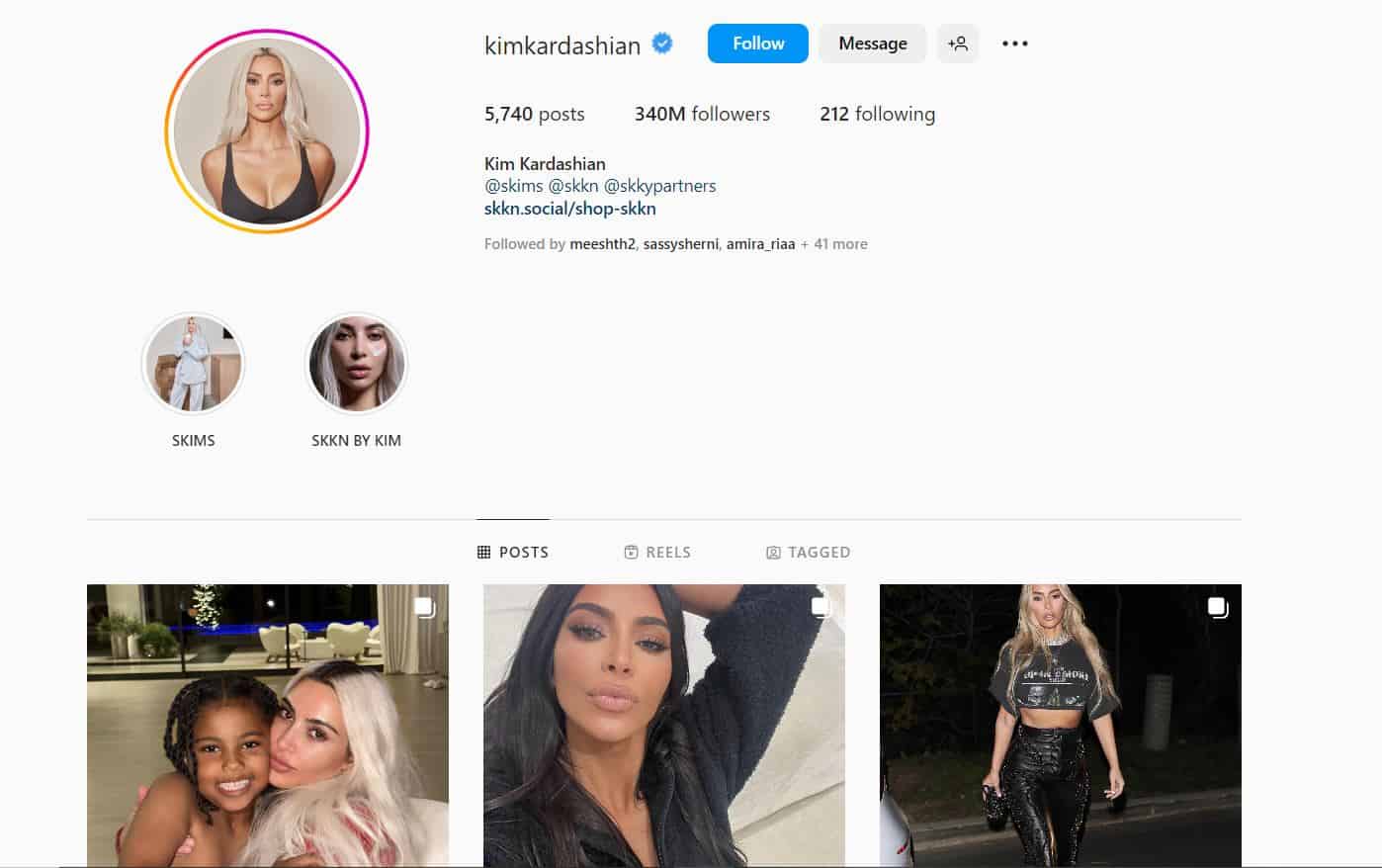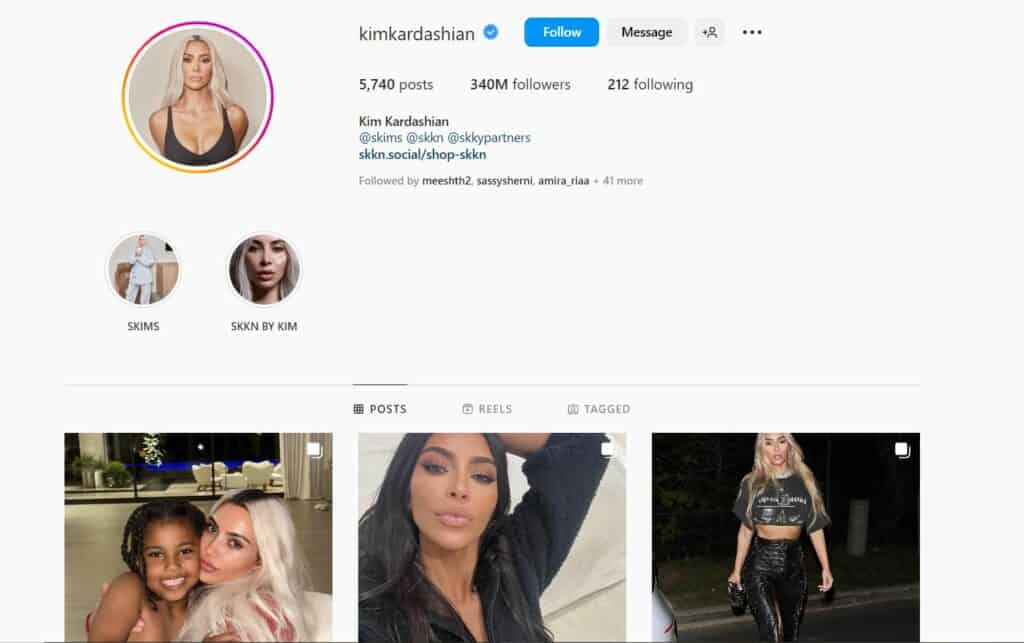 Kim Kardashian is the second Kardashian to make it into the top 10 list of most-followers on Instagram. The American tv personality and businesswoman shares photos and videos of her fashion looks, family and her life with her 340 million followers. She also promotes her clothing range, SKIMS and her skincare range, SKKN and her mobile game, Kim Kardashian: Hollywood on her social media platform. Kim first become famous as Paris Hilton's friend and stylist but since then her and her family have rose to extreme fame from their reality tv show "Keeping up with the Kardashians".
8. Beyoncé- 290M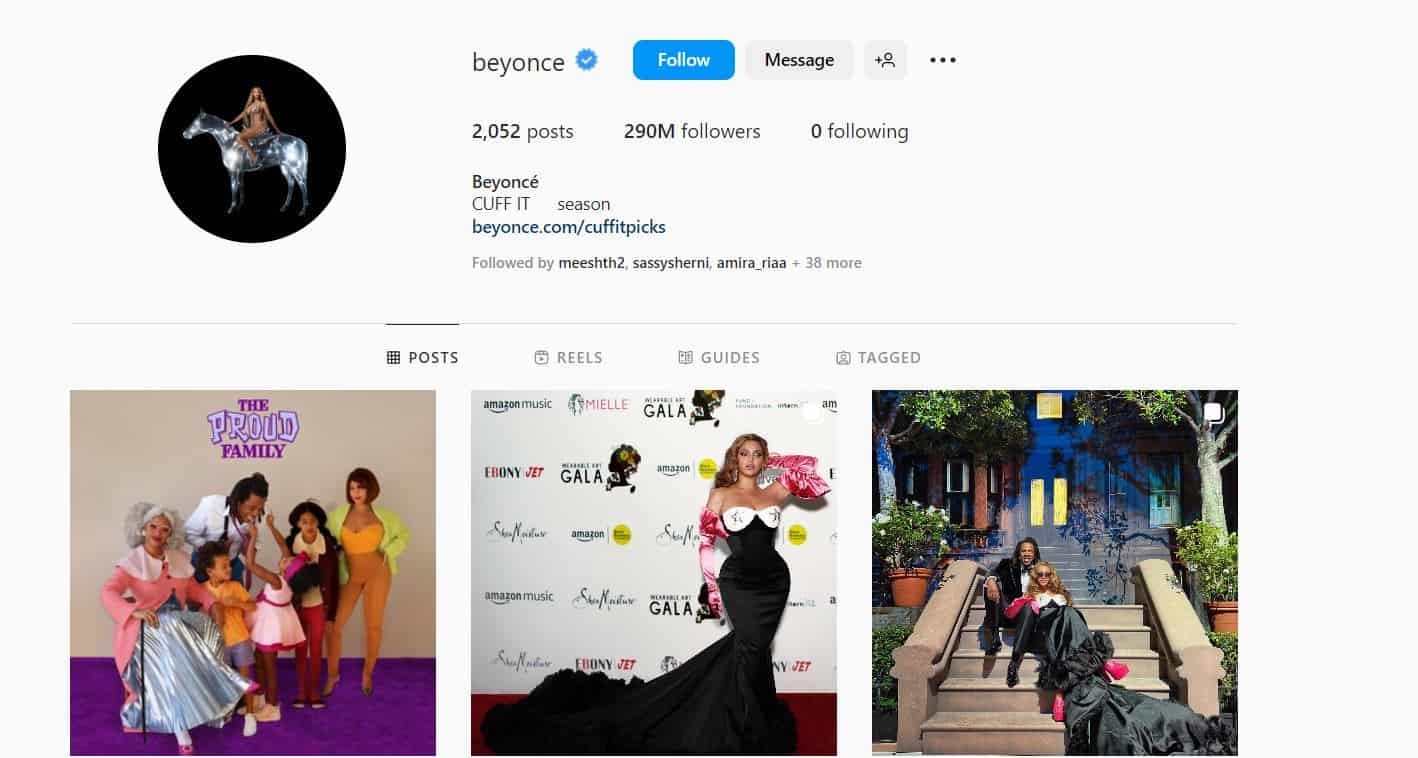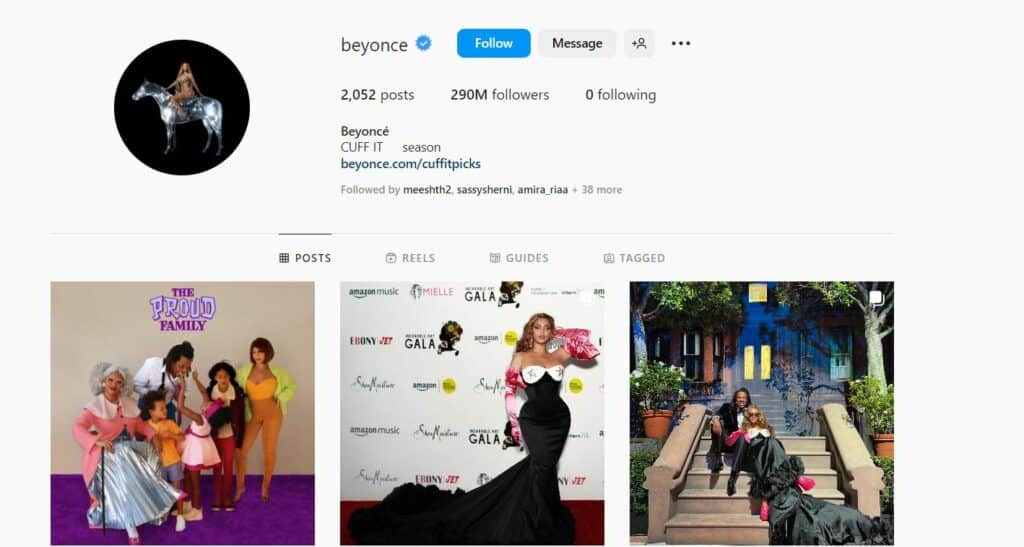 Beyoncé is one of the world's best selling recording artists and is the third singer in the top 10 list of most-followers on Instagram. Beyoncé has an impressive career as a singer, dancer, actor, producer and businesswoman. She shares photos and videos of her fashion looks and music career with her 290 million followers. Beyoncé began her career as the lead singer of one of the most famous girl bands in the world, Destiny's Child and later went on to become a very successful solo artist and actress. Beyoncé has starred in many films such as Dreamgirls and The Lion King and in 2021 she won her 28th Grammy, making her the most honoured female artist at the Grammys.
9. Khloe Kardashian- 288M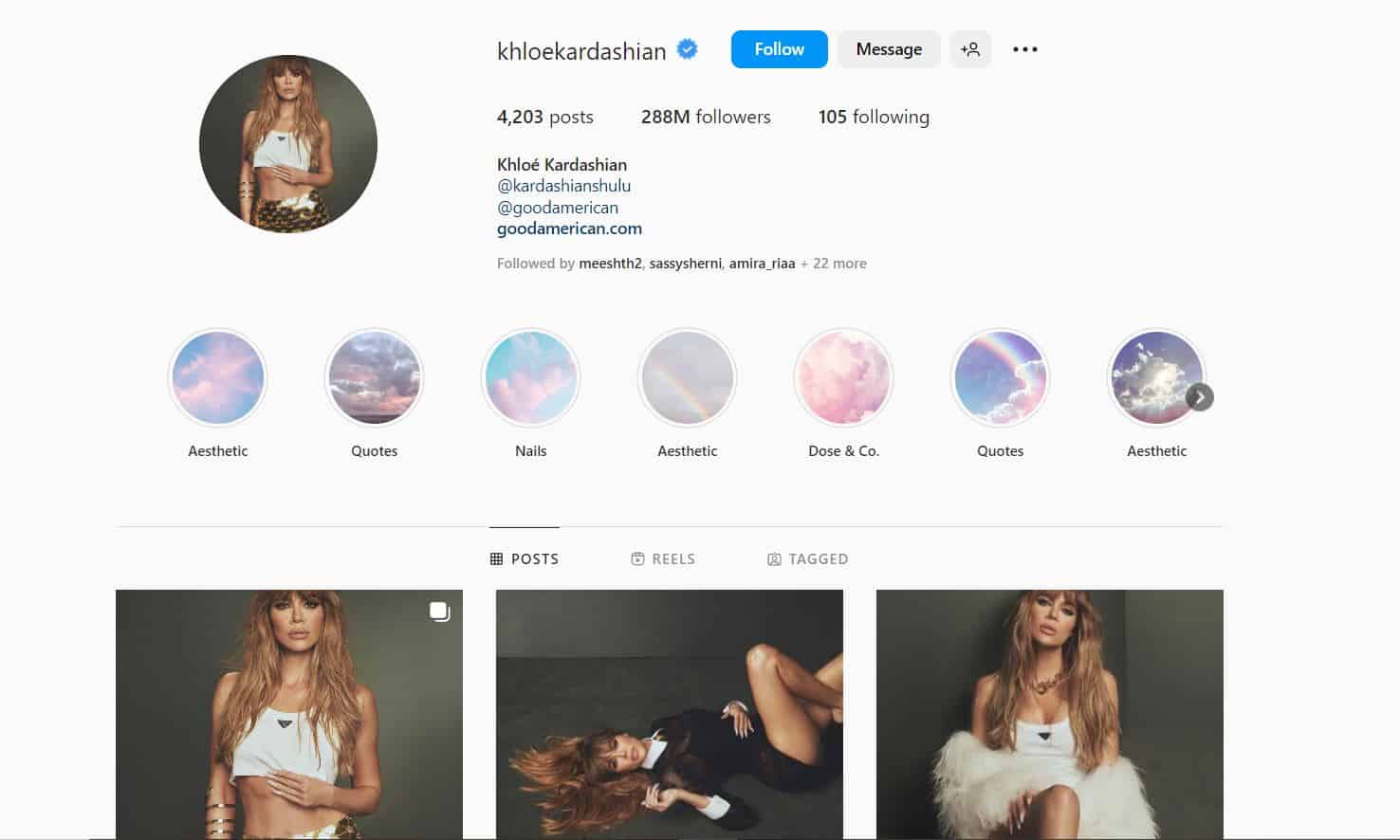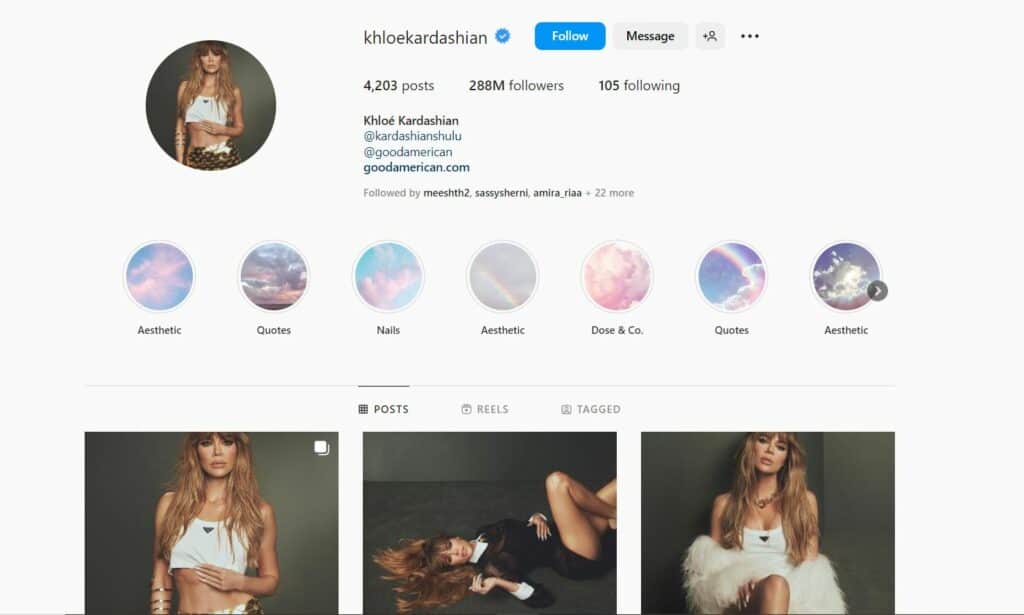 Khloe Kardashian is the third Kardashian to make the top 10 list of most-followers on Instagram. Khloe shares pictures and videos of her fashion looks, life and family, especially of her daughter True, on the social media platform. The American tv personality and entrepreneur promotes her clothing brand, Good American and her reality tv show of her family, "Kardashians" with her 288 million followers. She has starred in many reality tv show spin-offs with her sisters but has also starred and produced in her own shows, such as, "Revenge Body".
10. Virat Kohli – 231M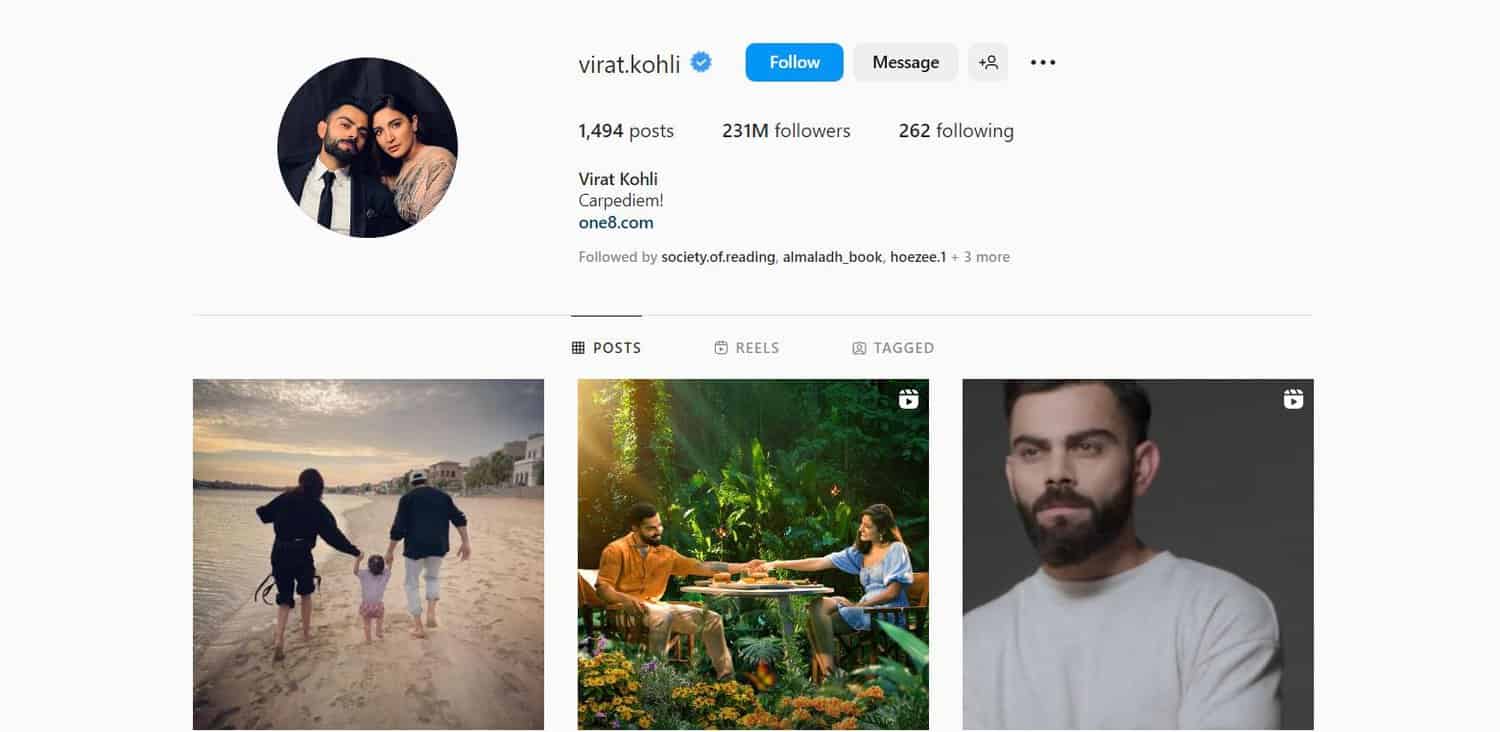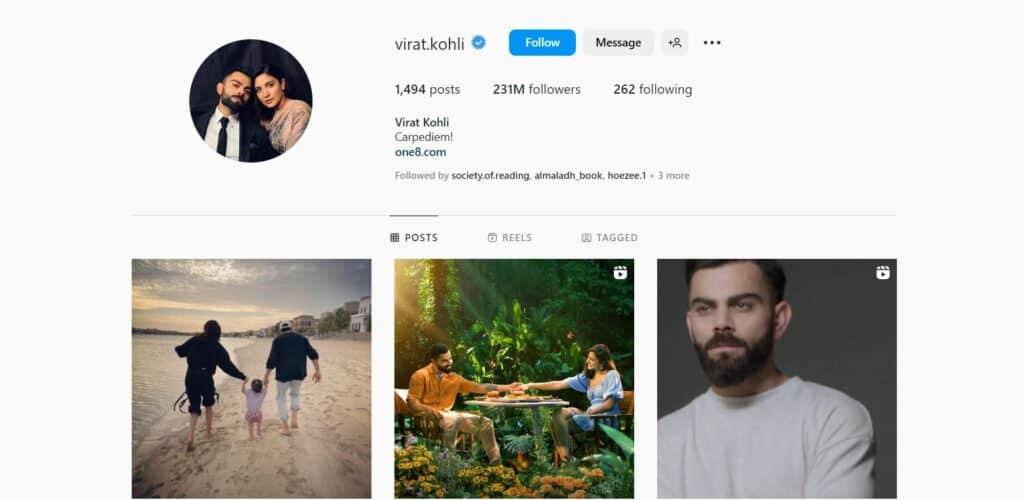 The former Indian cricket player is the most followed Asian public figure on Instagram. With a lot of fan Instagram accounts using his name, which also gains a large following, Kohli attracts thousands of followers every day, inspiring them with his motivational stories that always go viral. Kohli mobilised his huge audience with his outstanding, fun, and light style, positing videos and pictures with his wide Anushka Sharma and other fellow cricketers.
Most-Followers on Instagram in UK- Top 10
Our list of the top-10 most-followers on Instagram is made mostly up of Americans and it may be surprising that out of all the famous people from the UK, Northern Ireland and Ireland not one of them made the top 10 list. Since no person from these countries made the top 10 list of the most-followers on Instagram let's see who are the most-followed people in their respective countries.
1. Dua Lipa- 87.6M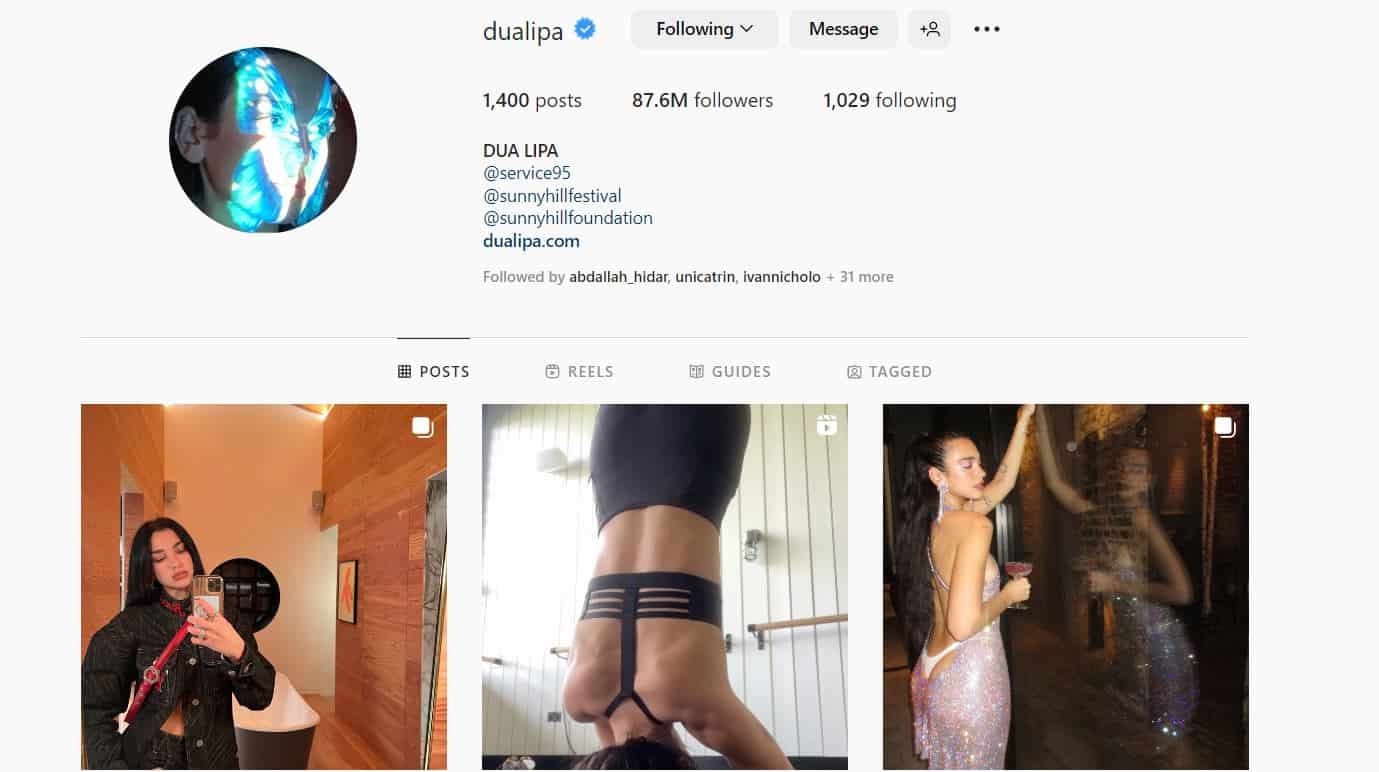 Dua Lipa is an English singer and songwriter who uses her Instagram to post pictures and videos of her life and fashion looks and promotes her music and brand partnerships, such as with Yves Saint Laurent, with her +87 million followers. In recent years Dua Lipa has rose to fame from her very successful music career, winning awards at the Brit Awards, Grammy Awards and Billboard Music Awards. Not only has Dua Lipa made a name for herself in the music industry, but she has become a recognised figure in the fashion industry. Walking at Versace's Spring/Summer 2022 show at Milan Fashion Week and at Balenciaga's 51st haute couture show is only the beginning for this star.
2. David Beckham-76.9M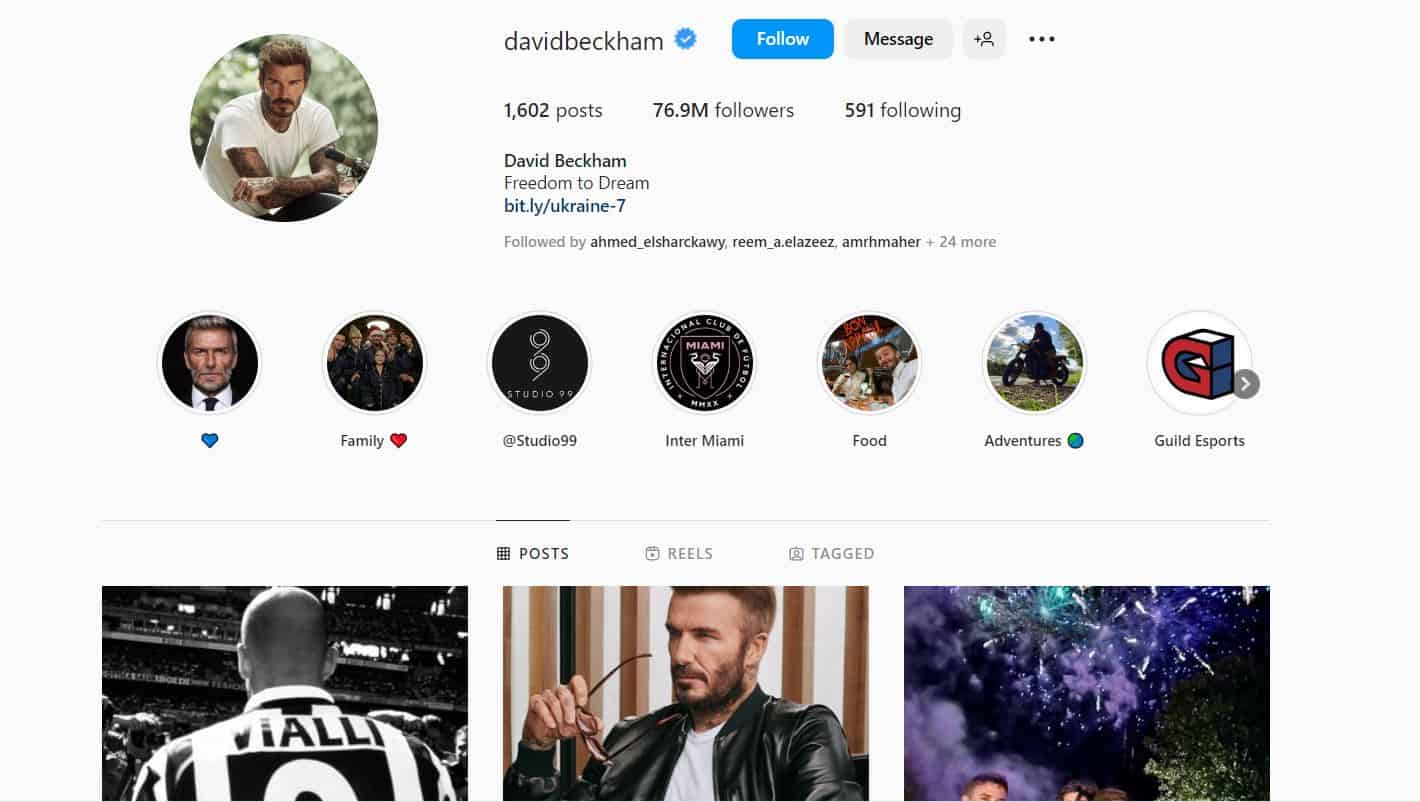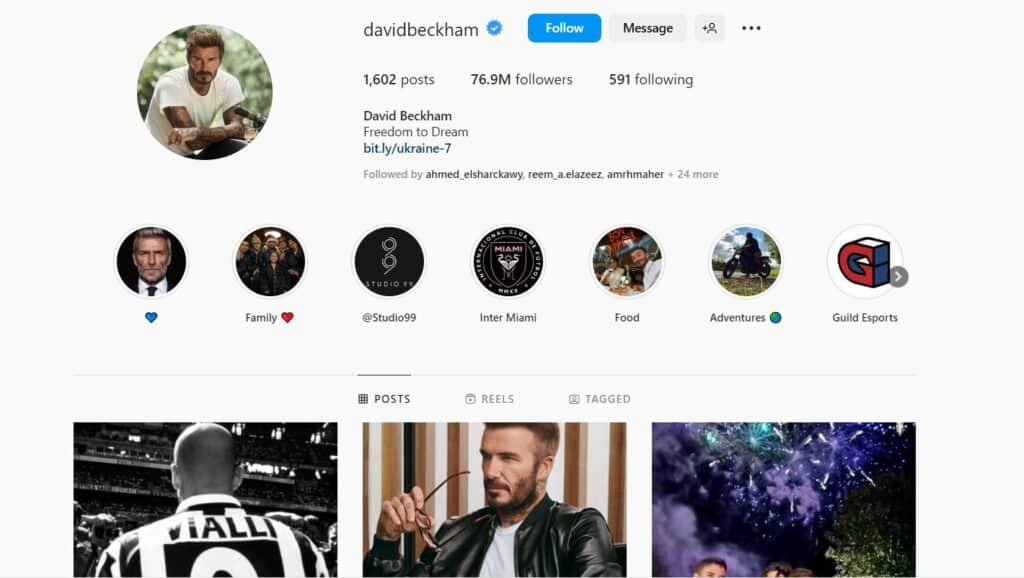 David Beckham OBE is a former professional footballer with a career spanning over 20 years. The English footballer made his debut at Manchester United and went on to play with Real Madrid, La Galaxy and AC Milan throughout his career while also captaining the English national team. Beckham gives his nearly 78 million followers a look at his life with many posts of his friends and family on his Instagram and also shows his support for his team Inter Milan CF. Outside of his football career, David Beckham has also been a Goodwill Ambassador for UNICEF since 2005.
3. Emma Watson- 69M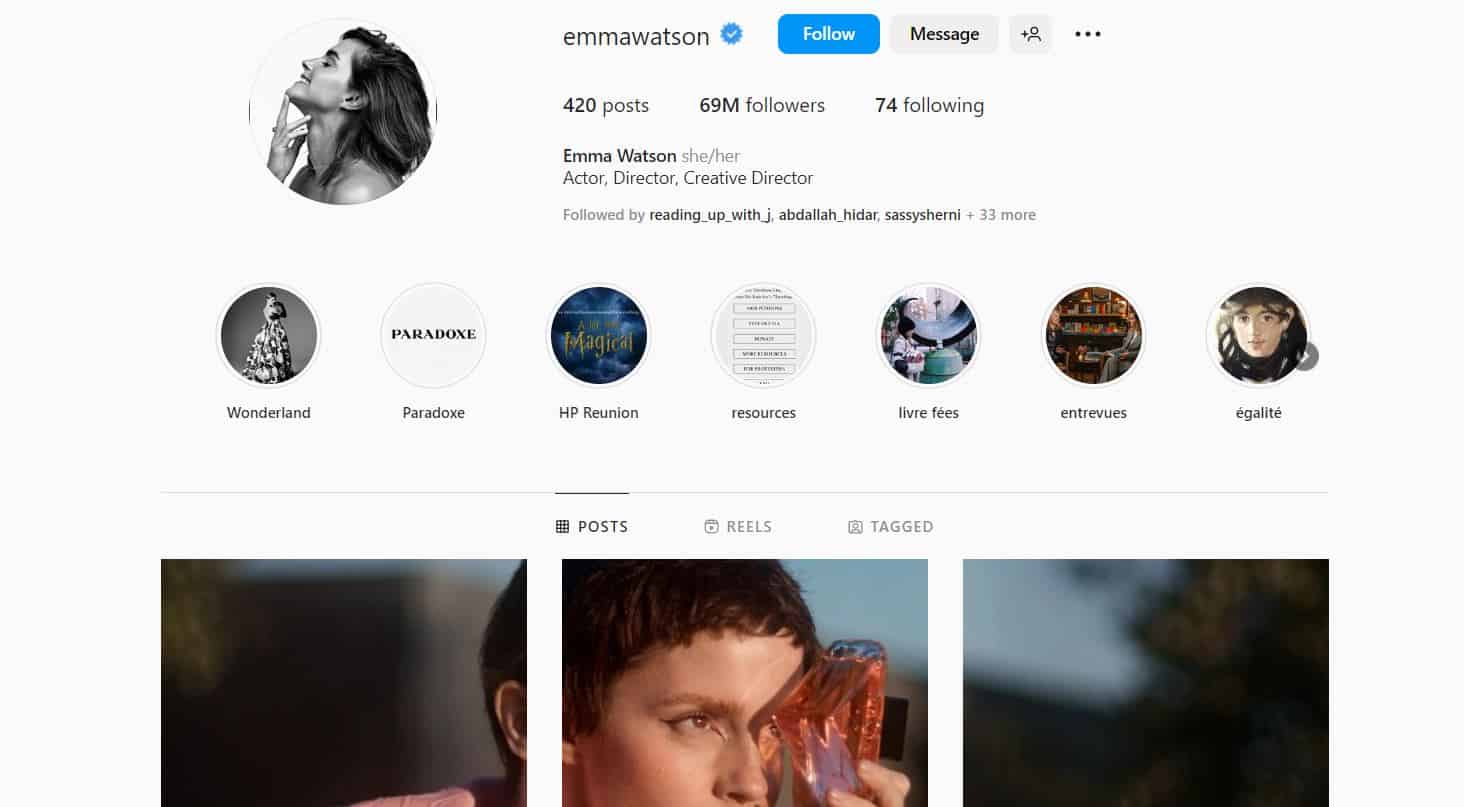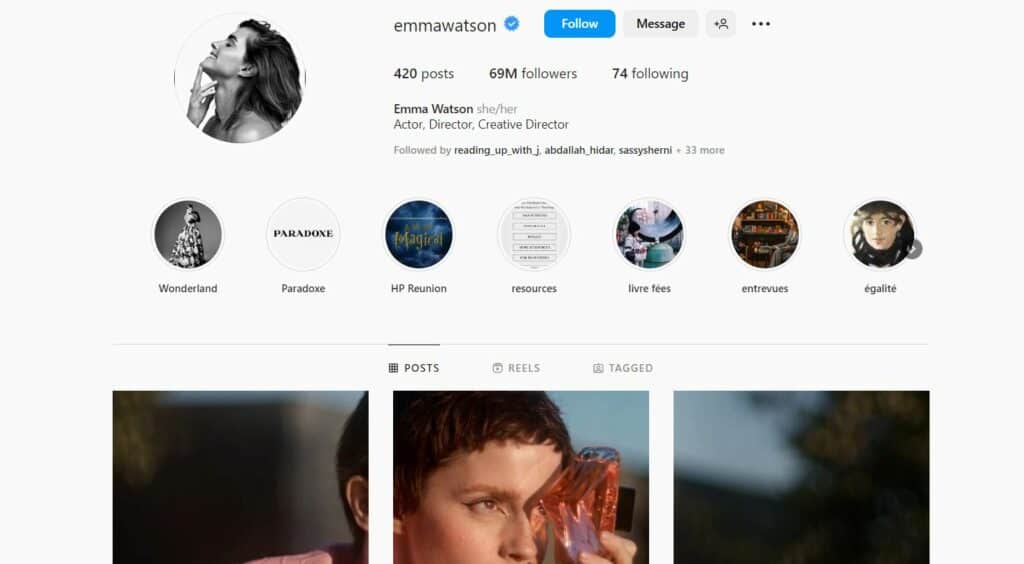 Emma Watson is an actress and activist best known for her role as Hermione Granger in the Harry Potter film series. The English actress uses her instagram to raise awareness around climate change, woman's rights and equality to her 69 million followers. She also posts pictures and videos of brands she works with and quotes. Emma has balanced her activism and acting career throughout the years. She has starred in many films including, the live-action version of "Beauty and the Beast" in which she played the lead role, Belle, and also played Meg March in "Little Woman". Emma Watson has be UN Women Goodwill Ambassador since 2014 and acts as an advocate for HeForShe campaign, promotion gender equality.
4. Tom Holland-67.6M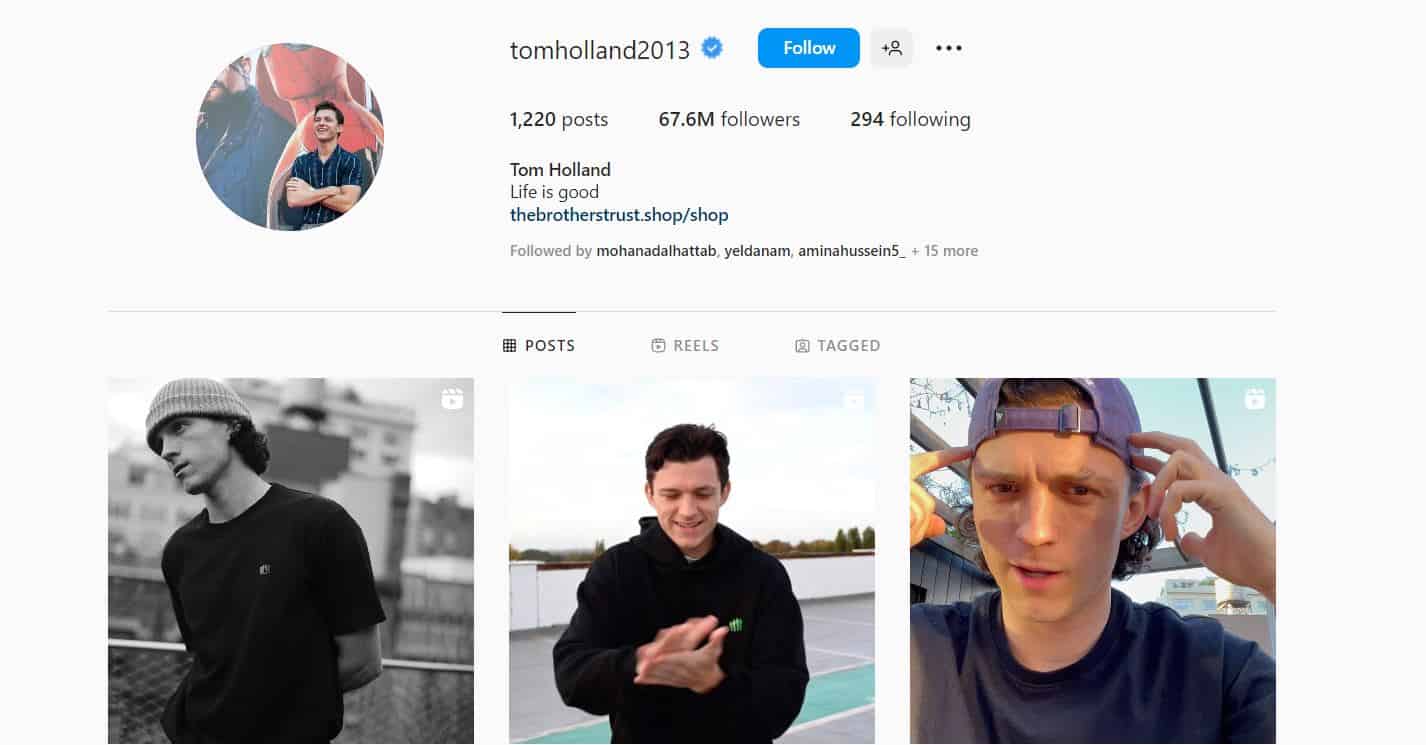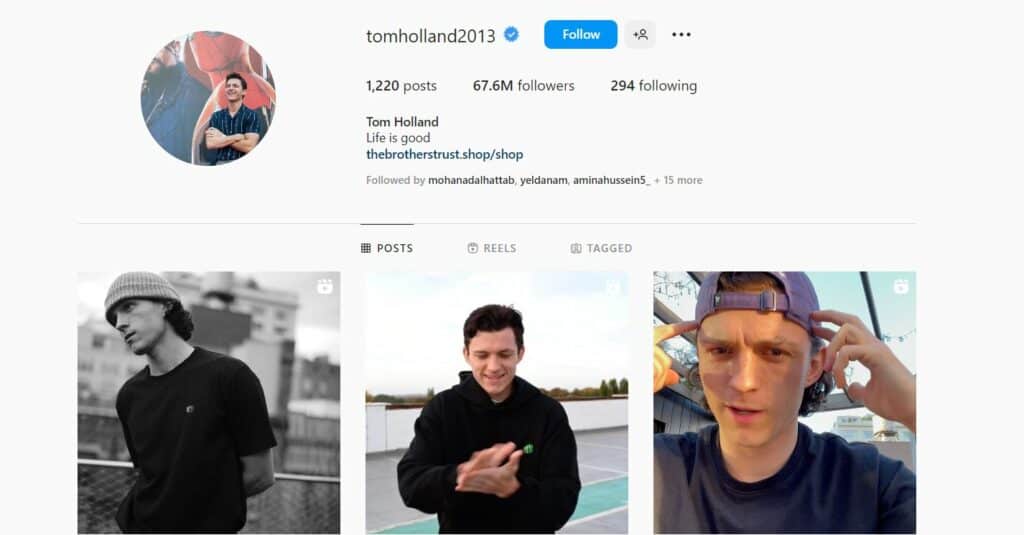 Tom Holland is the most-followed actor on Instagram in the UK. Although the 26 year old doesn't post very regularly on the social media platform he has 67.6 million devoted followers. Tom Holland uses his Instagram page to predominantly promote his upcoming movies and brand deals, however he does give fan san inside look into his life with occasional photos and videos of friends, family and of his actress and model girlfriend, Zendaya. Tom has appeared in many films but his lead role as Spiderman shot him to international stardom. The London born actor also set up his own organisation "The Brothers Trust" which gives struggling charities a voice.
5. Millie Bobby Brown- 61.1M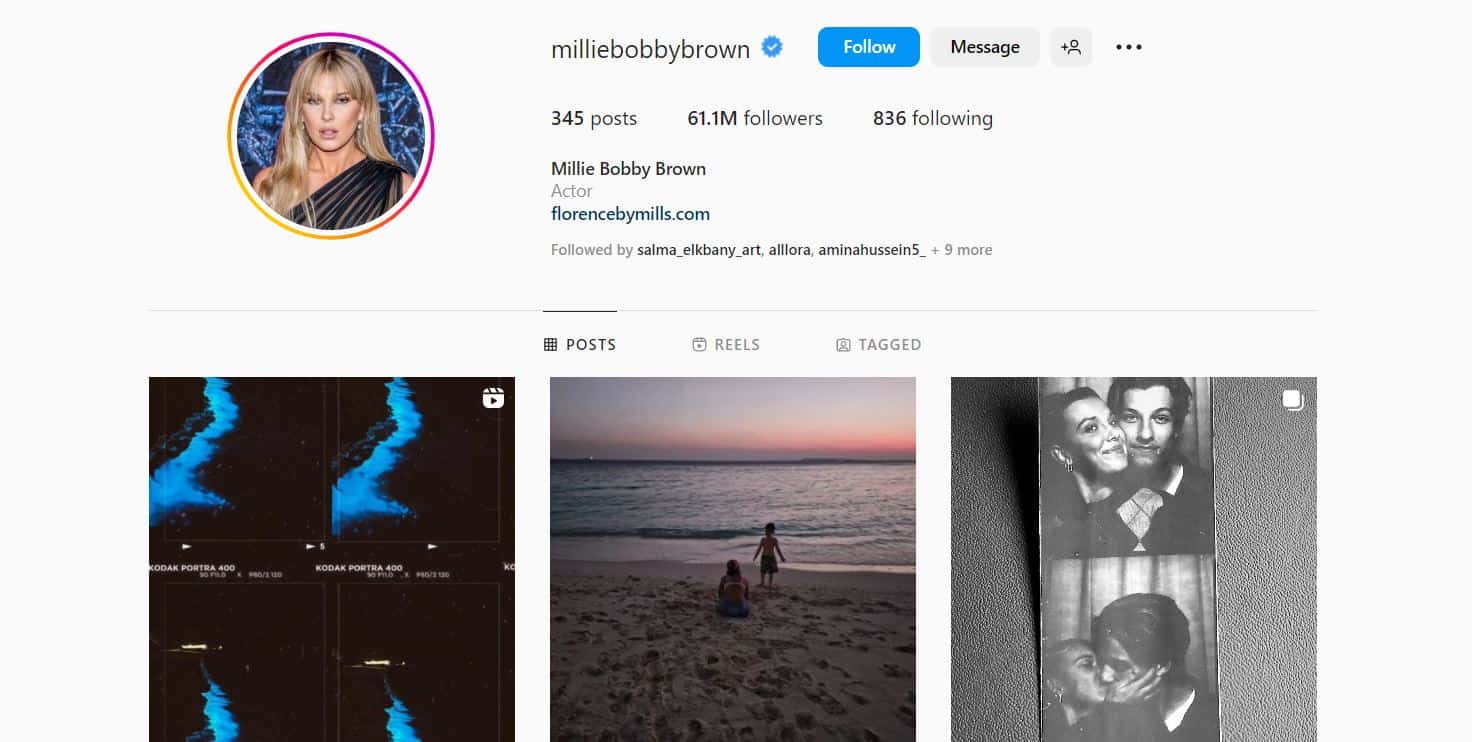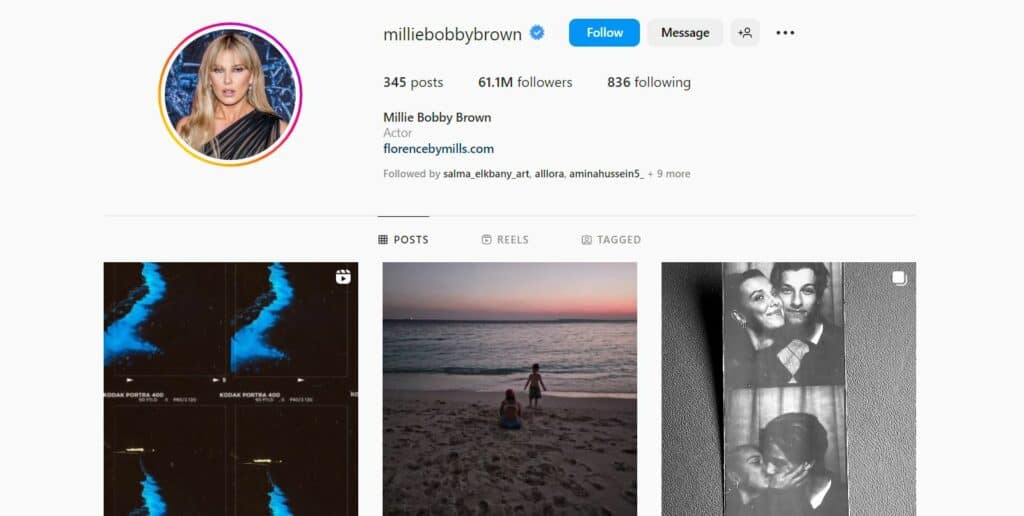 Millie Bobby Brown is an actress, model and also owns her own beauty brand, Florence by Mills. The British actress rose to fame at the age of 12 from playing Eleven in the hit Netflix series "Stranger Things". She went on to appear in many films since such as, "Enola Holmes" and "Godzilla: KIng of the Monsters" The actress shares photos and videos of her life with her 61.1 million followers and shares behind the scenes pictures from her past projects. The 18 year old also uses the social media platform to promote her beauty brand and give a voice to children as UNICEF Goodwill Ambassador.
6. Adele-51.2M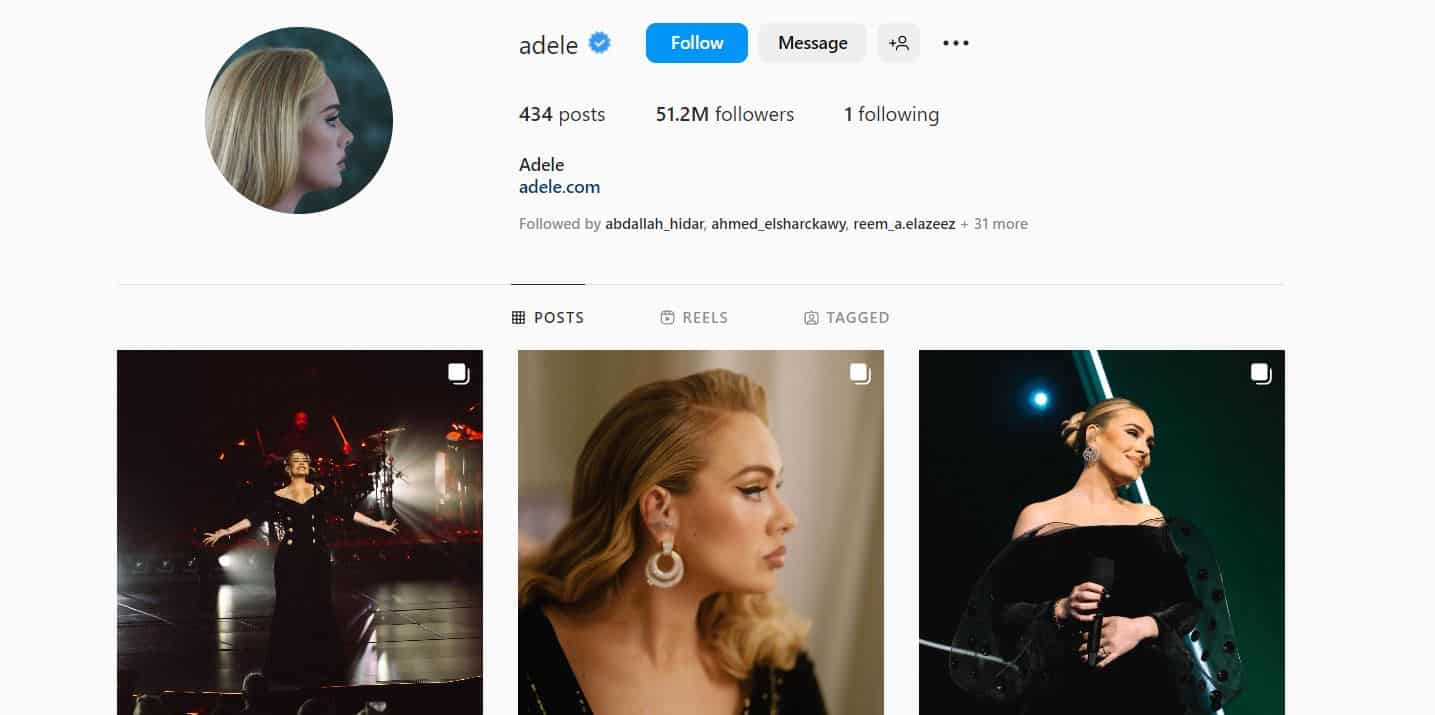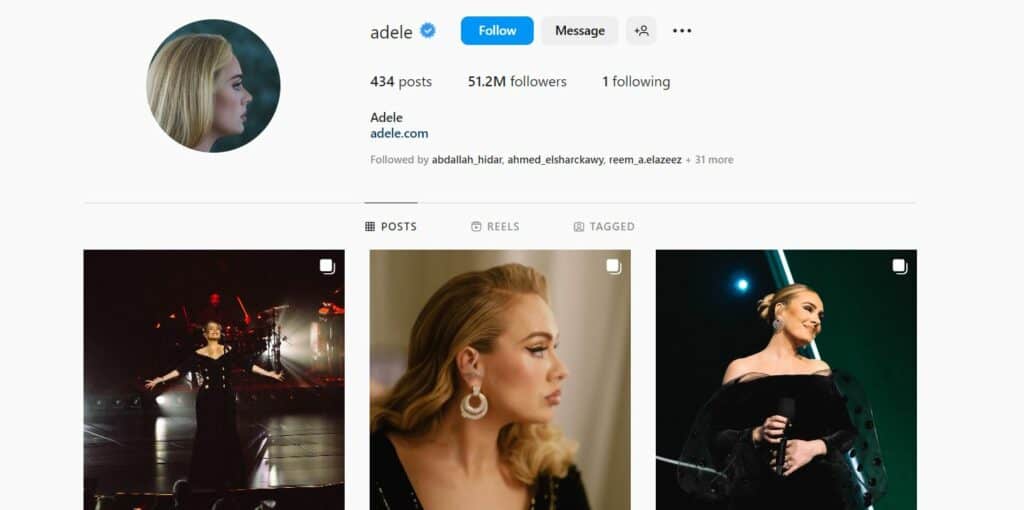 Adele Adkins MBE is an English singer and songwriter who rose to stardom in 2008 for her album, 19. Adele's second album, 21 and third album, 25 were even more successful winning her many awards and her hit "Skyfall" for the James Bond movie of the same name won her the Academy Award for best original song. Throughout her career, Adele has received many accolades for her record-breaking music, including her newest album, 30, which was released in 2021 and won her Album of the year, Artist of the Year and Song of the year at the 2022 Brit Awards. Adele uses her Instagram to share posts of her music career, photoshoots and personal life with her 50.8 million followers.
7. Gareth Bale- 49.4M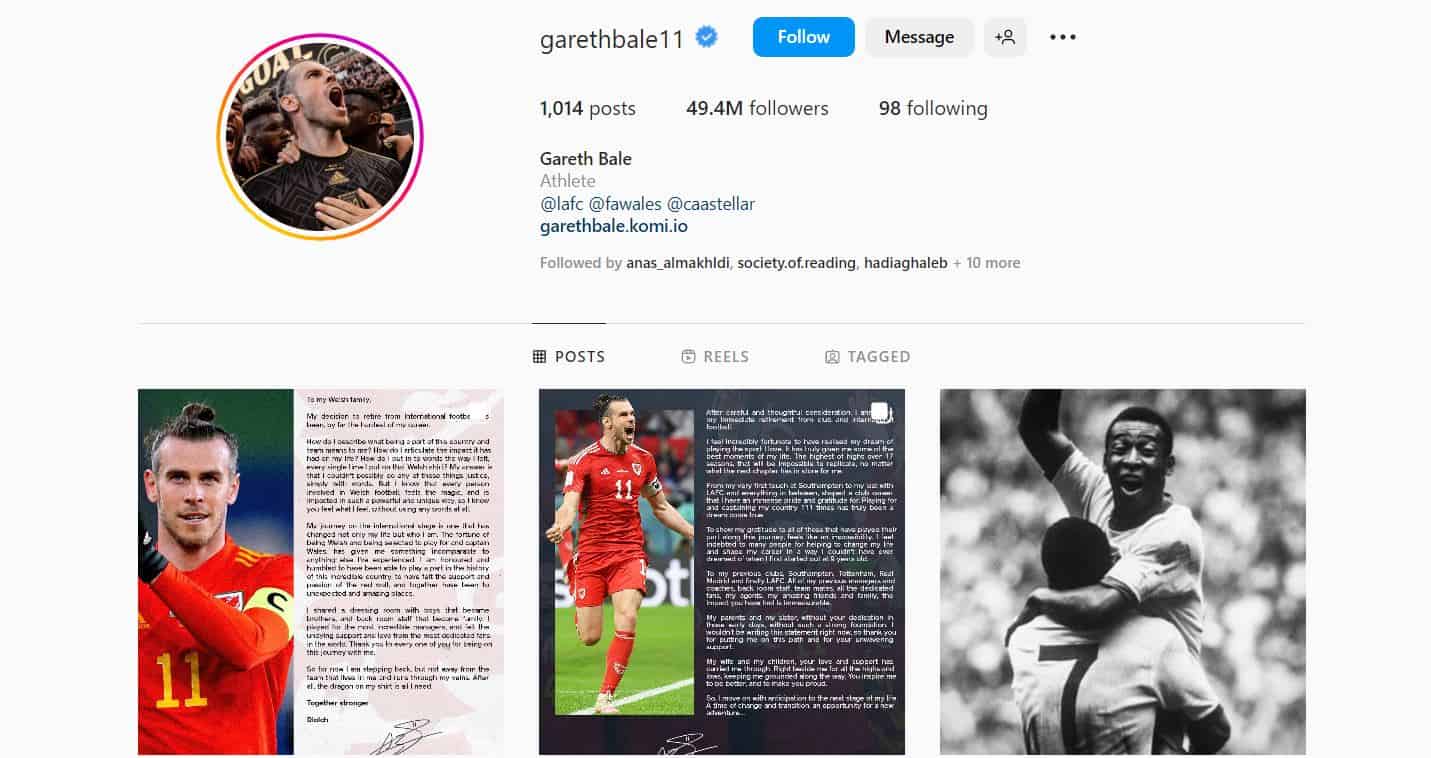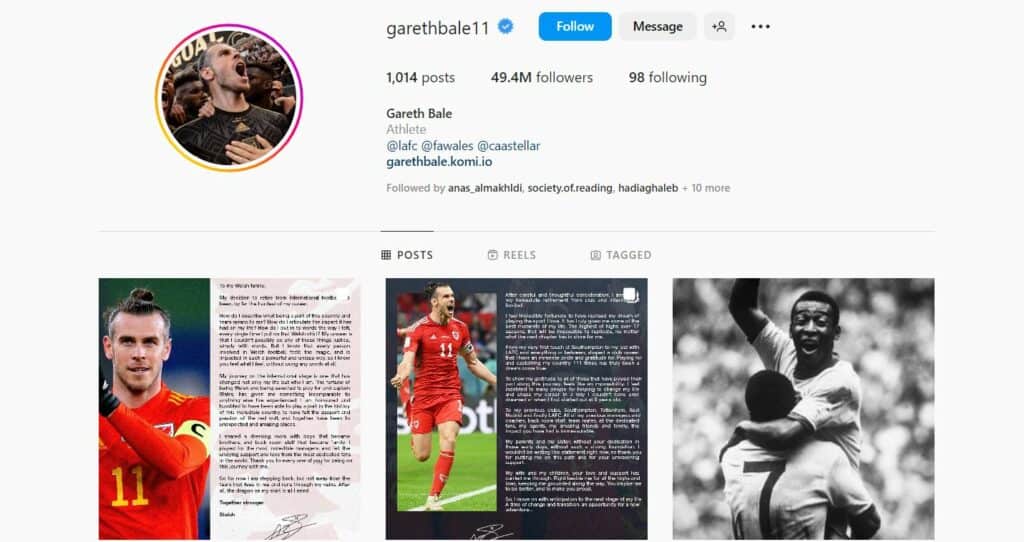 Gareth Bale MBE is a Welsh professional footballer and is the second most-followed footballer from the UK on Instagram. The 33 year old has played with Southampton, Tottenham Hotspur and Real Madrid during his football career and is currently playing with Los Angeles FC. He also captains the Welsh national football team. Gareth Bale uses his Instagram page to share sports related pictures and videos to his over 49 million followers. Although famous for his football career, Gareth Bale also has a love for Golf which led him to set up Gareth Bale Festival of Sport Championship , a 54 holes golf-course competition in which 84 amateur golfers who are under 16 years of age compete.
8. Harry Styles- 47.9M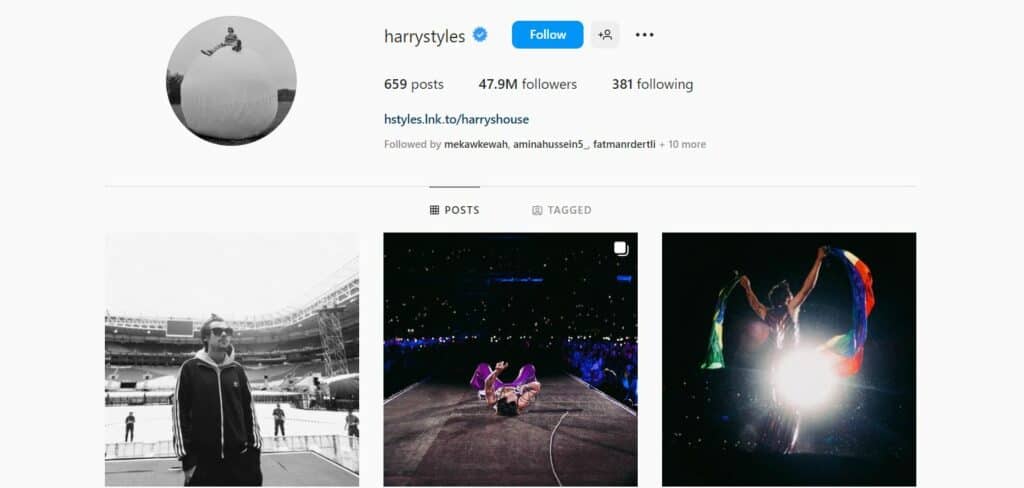 Known as a member of the One Direction band, Harry Edward Styles is an English pop singer and actor. Born in 1994, the singer made his debut with his band White Eskimo. Then in 20210, Styles performed as a solo artist for The X Factor, the British television series. He became interested in signing at an early age, participating in many talent shows, and signing at weddings and competitions. Styles also performed commercial blockbuster albums, along with his bandmates Louis Tomlinson, Niall Horan, Zayn Malik, and Liam Payne. He launched various worldwide tours and won multiple awards, including four MTV Video Music Awards and two BRIT Awards. The brilliant signer is quickly amassing an Instagram following and now ranks in the top ten of the United Kingdom's most followed accounts.
9. Zayn Malik- 47.7M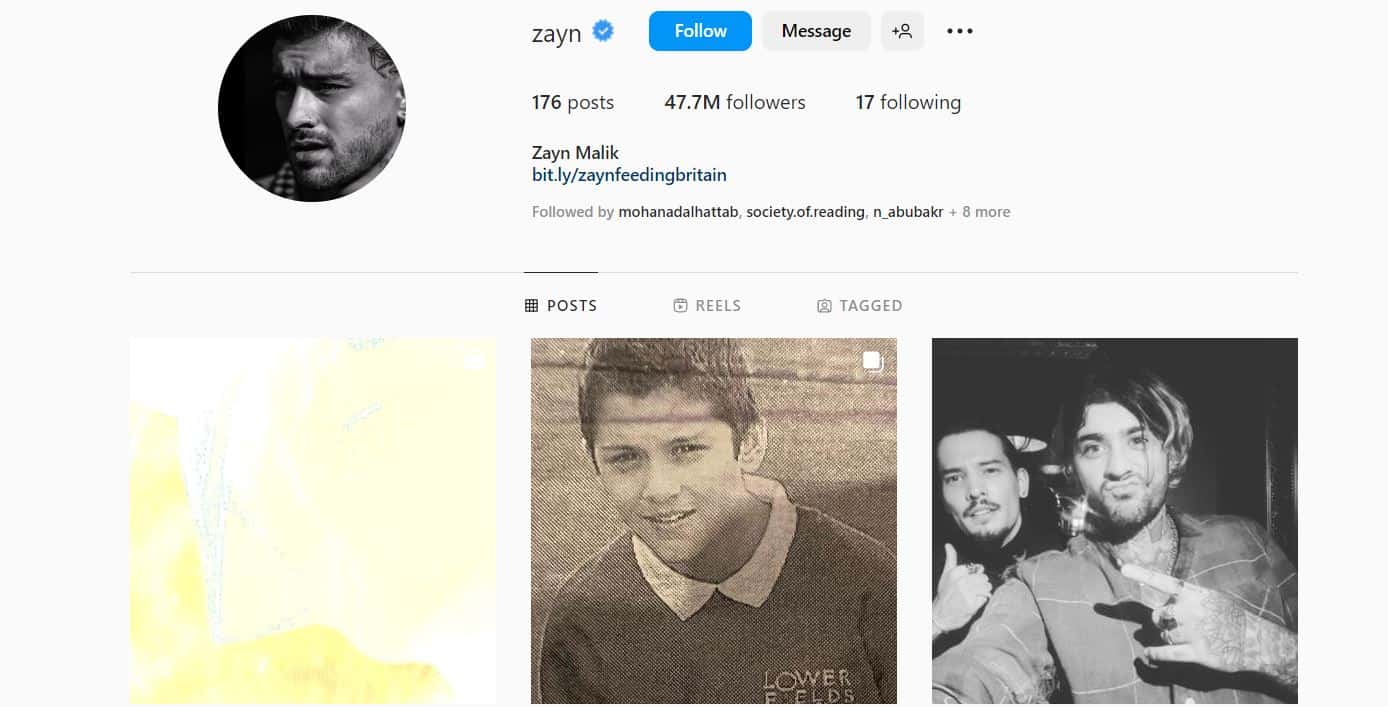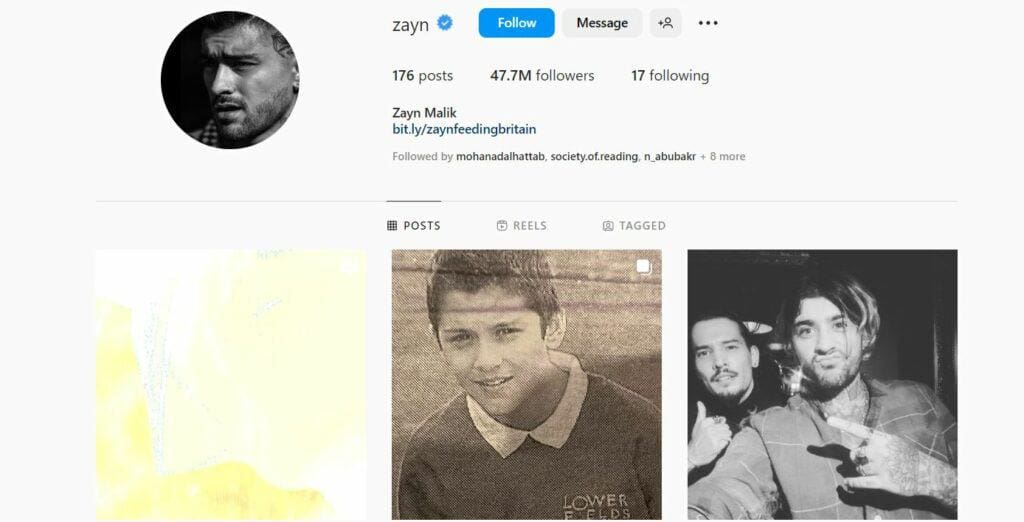 Zayn Malik is a British singer who found fame on the X-Factor when he was put into a boyband which became known as One Direction. Zayn had a very successful music career while in the band and this success carried through when he left the group and became a solo artist. The 29 year old has released many singles that have done very well world-wide, including "Pillowtalk" and "Dusk Till Dawn". The singer famously dated model Gigi Hadid with whom he has a child with. Zayn mostly posts pictures of himself and promotes his partnership with the sunglasses brand Arnette to his +47 million followers.
10. Cara Delevingne- 42.6 M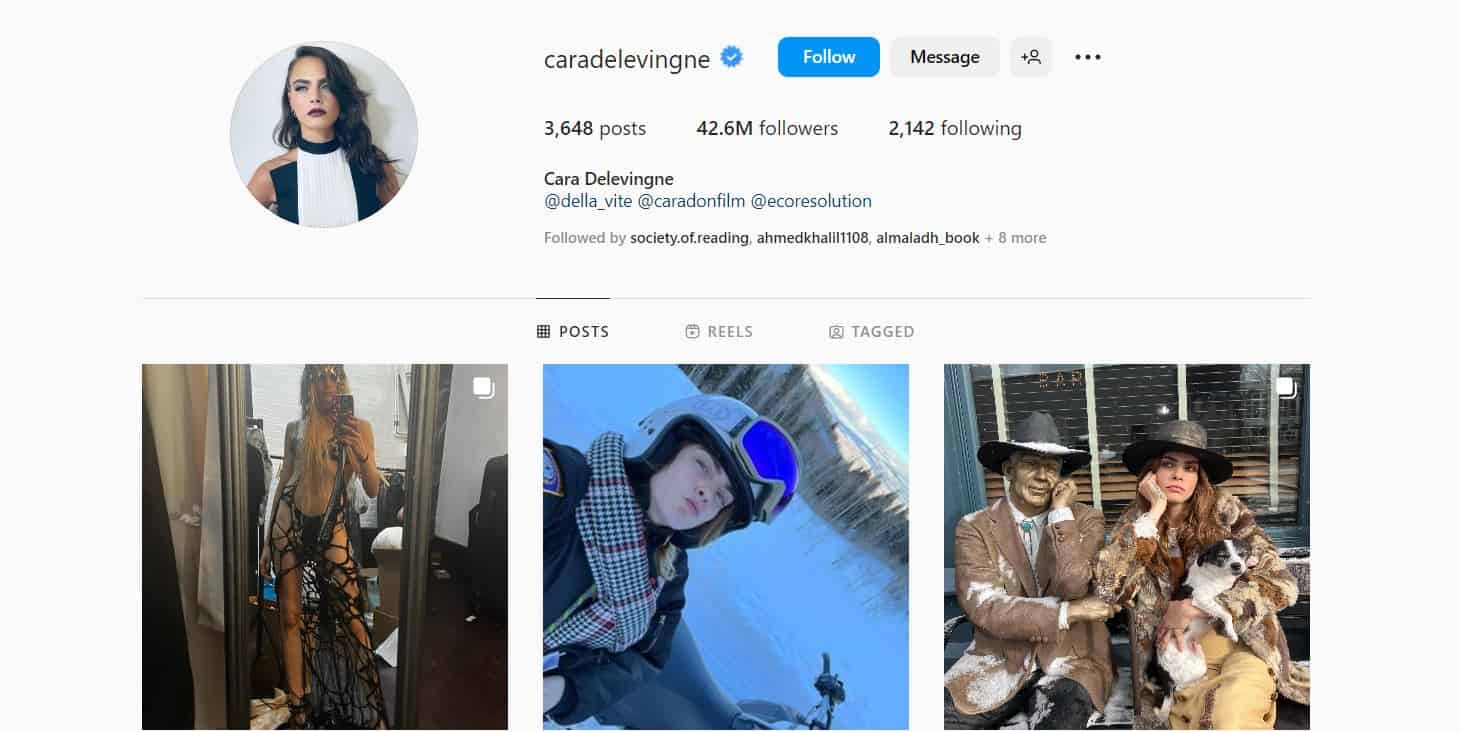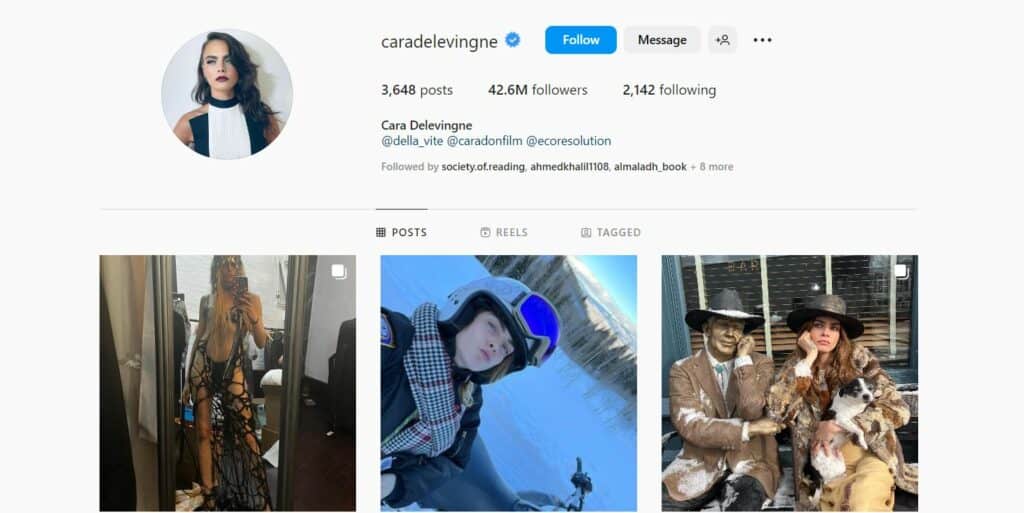 Cara Delevingne is a highly recognised English model, however she is also a musician and an actress, appearing in films such as "Suicide Squad" and "Paper Towns". Not only has Cara starred in films but tv programmes too, playing the role of Vignette Stonemoss in "Carnival Row" and more recently joining the cast of "Only Murders in the Building". Cara has walked the catwalk for many fashion houses throughout her career including Moschino, Fendi, Stella McCartney, Chanel and walked in the Victoria Secrets Fashion Show. The Londoner shares photos of her fashion looks, behind the scene videos of her photoshoots and pictures of her life and promotes her charities, for example, Initiative Earth to her +42 million followers.
Most-Followers on Instagram in Northern Ireland- Top 5
Jamie Dornan- 3.1M


Jamie Dornan is probably best known for playing the role of Christian Grey in the blockbuster film series "Fifty Shades of Grey". Dornan rose to fame from his roles in the tv series "Once Upon a Time" and "The Fall", for which he won an IFTA for his performance as a serial killer Paul Spector. Not only has Jamie Dornan starred in successful tv programmes but he also received nominations for his roles in films such, "The Siege of Jadotville" and "Belfast". He posts pictures of his family ,career and funny pictures of himself on his Instagram for his 3.1 million followers to see.
Rory Mcilroy-2.4M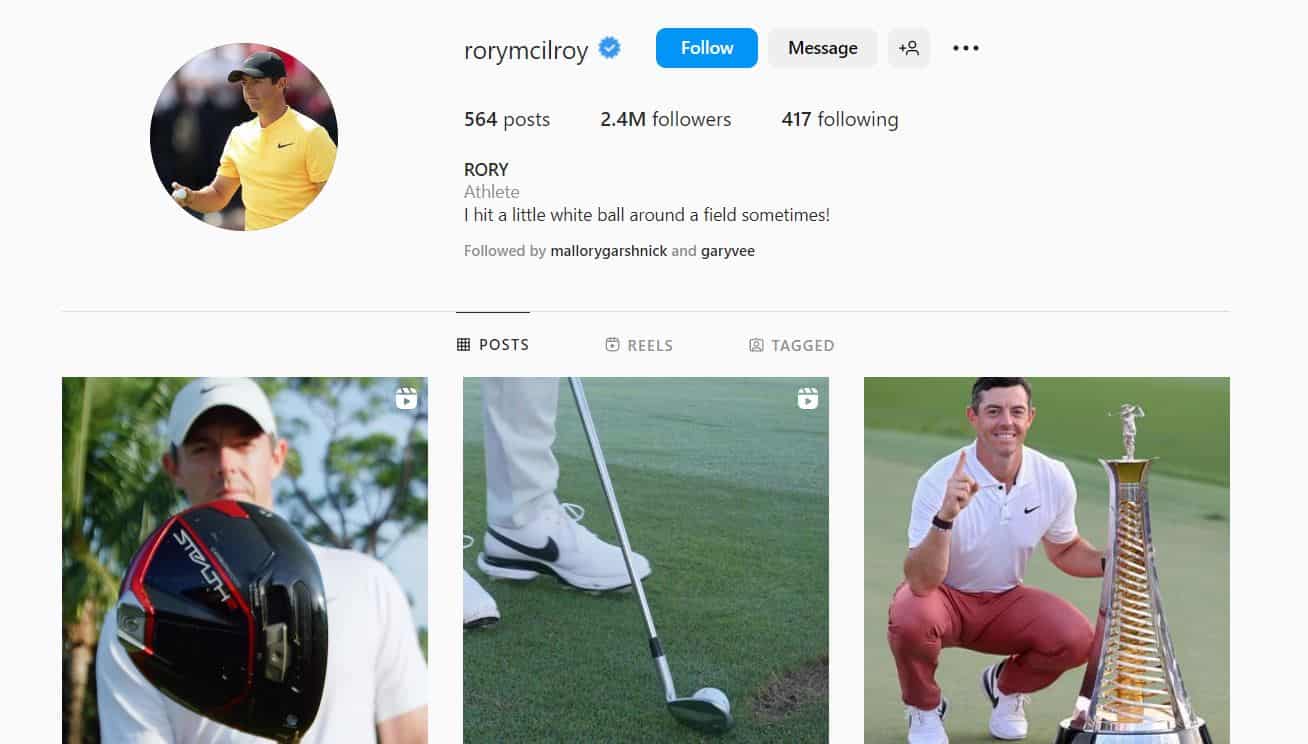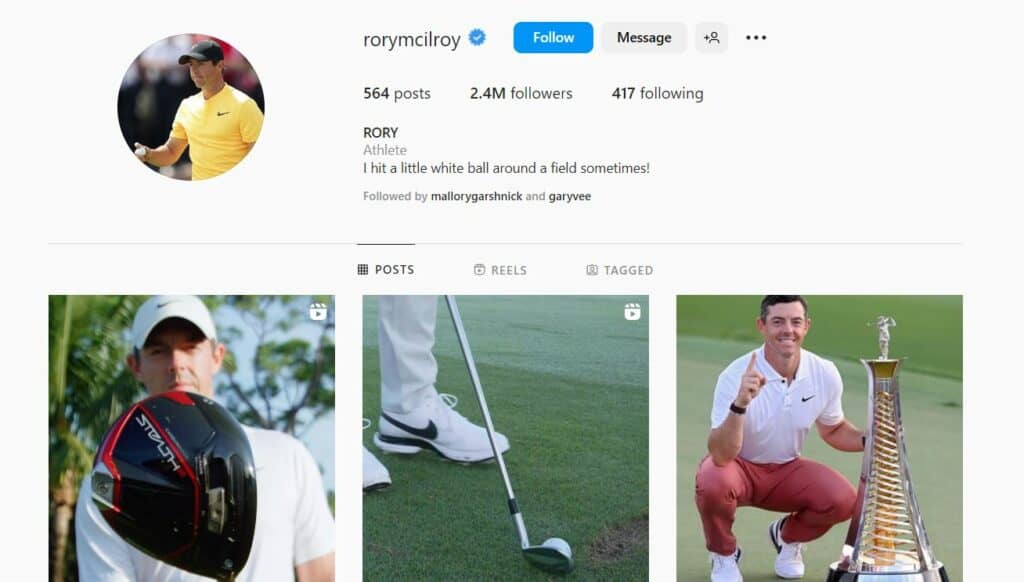 The only sports star on our list of most-followers on Instagram in Northern Ireland, Rory Mcilroy is a professional golfer from Belfast. Mcilroy has had an impressive career, including winning his first US Open in 2011 at the age of 22, his first Irish Open in 2016 and he played a huge part in leading Europe to a one point victory against America in the 2012 Ryder Cup. The 33 year old shares all things golf on his Instagram page and often posts pictures from his personal life with his 2.4 million followers. He also uses the social media platform to promote brands that he is partnered with such as Nike and Omega.
Eamonn Holmes- 756K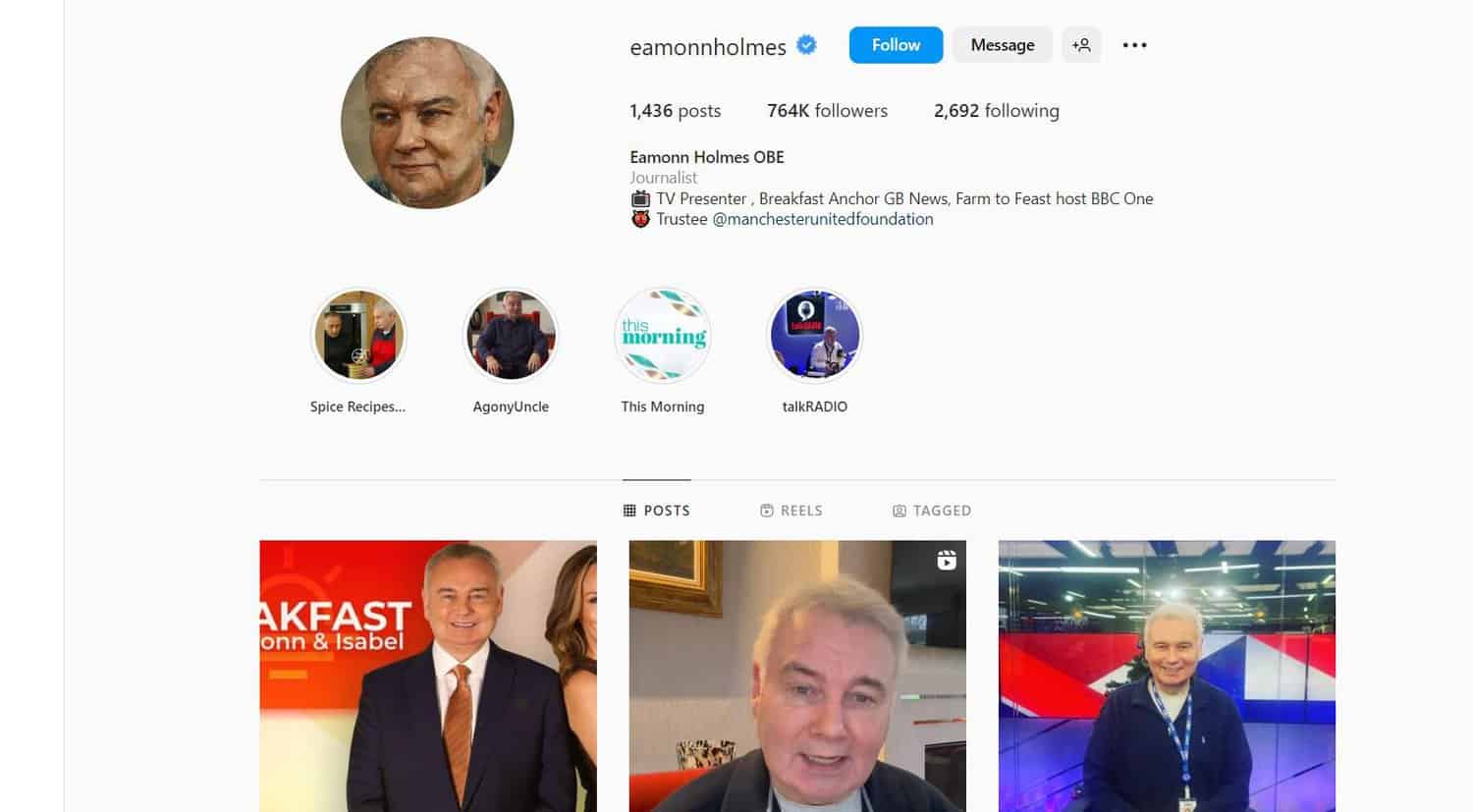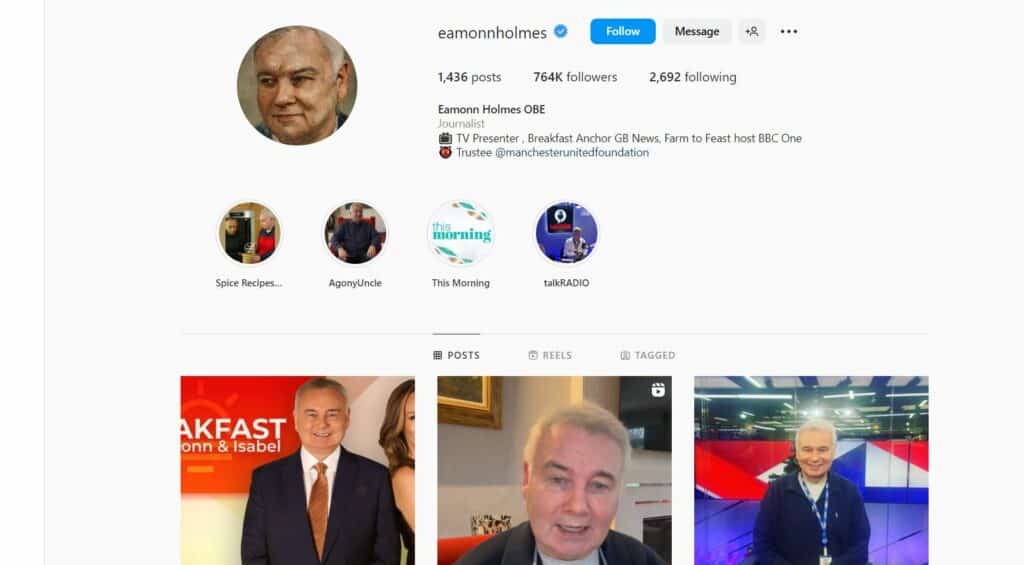 Eamonn Holmes OBE is a Northern Irish TV presenter and broadcaster, probably best known for hosting "This Morning" breakfast show alongside his wife Ruth Langsford. He began his career co-hosting GMTV and after that hosted Sky News Sunrise and also has hosted many radio shows throughout his career. Eamonn and Ruth have gone on to appear in many tv shows together for example, "How The Other Half Lives" and "Celebrity Gogglebox". Eamonn posts pictures of his family, friends and often posts throwback pictures for his 756 thousand followers to see and also promotes his upcoming projects on Instagram too.
Olivia Neill- 751K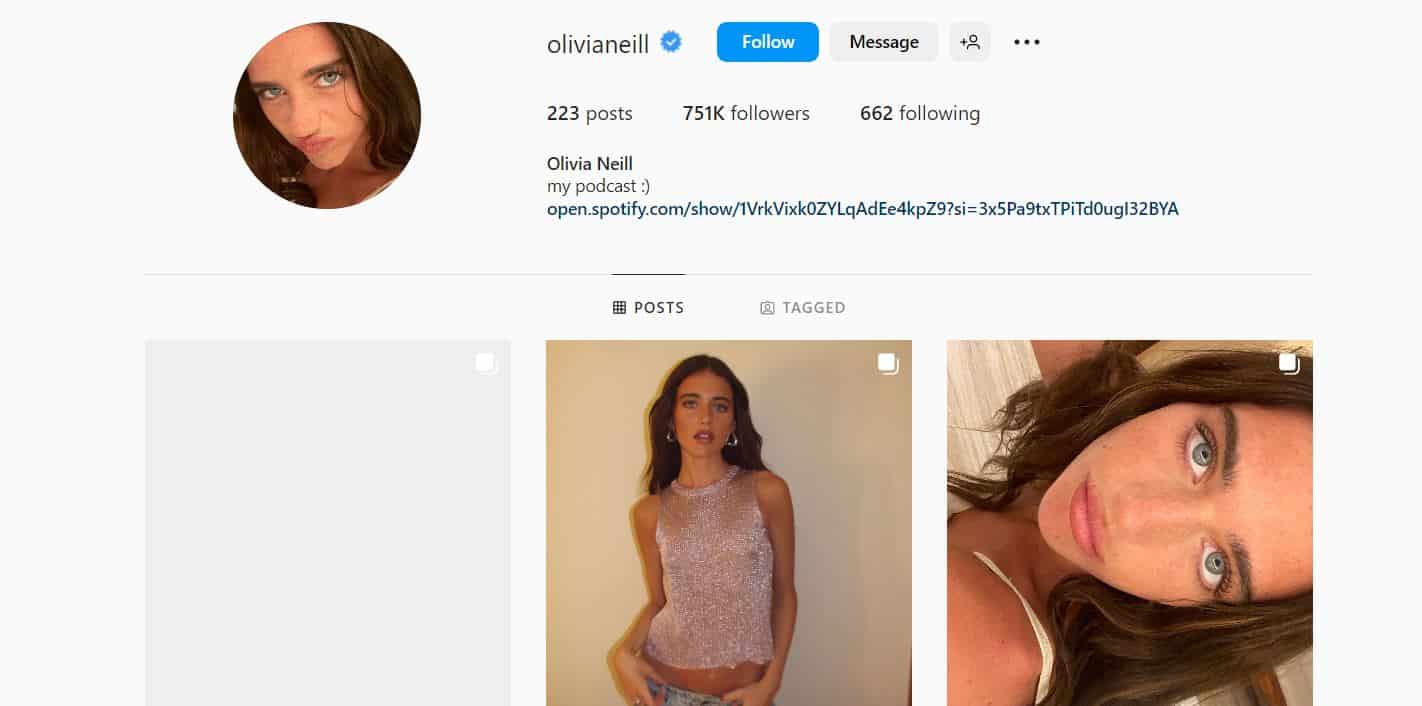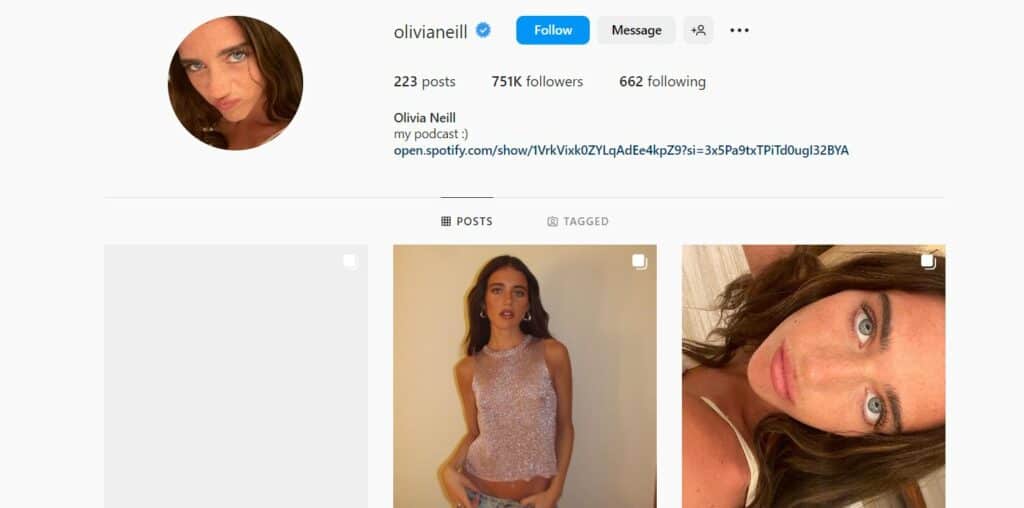 Social media influencer and youtuber Olivia Neill makes the list of most-followers on Instagram in Northern Ireland. The Belfast native uses her Instagram to shares posts of her fashion looks and promote her podcast, "Inner Monologue with Olivia Neill". The 20 year old also made the top 5 Northern Ireland list of most followers on Tiktok, in which she shares videos of herself dancing and shows fashion content. The young influencer, who is currently living in London, has brand partnerships with Rimmel and Quay and has a clothing collection with Motel Rocks.
Joel Mawhinney- 602K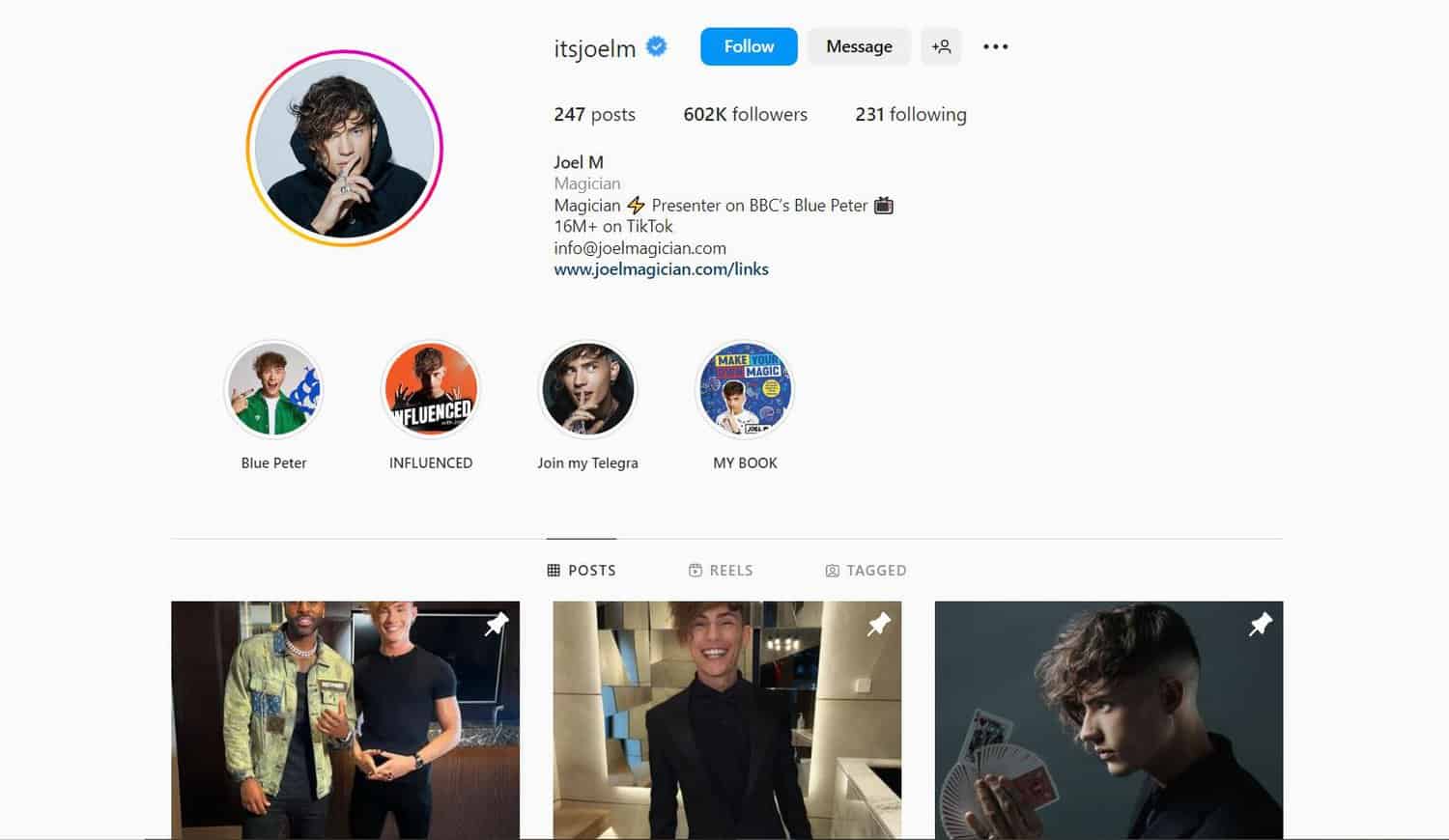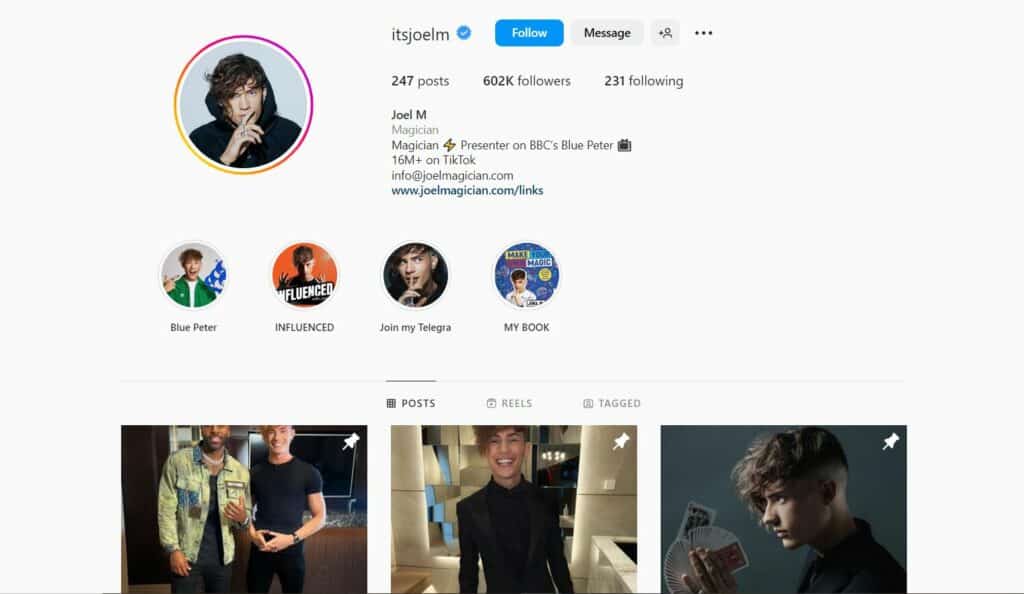 Joel is another Northern Irish star who has made it on both the most-followers on Instagram list and the most-followers on TikTok list. The magician mostly uses his Instagram to share videos of his magic tricks to his 602 thousands followers but also shares posts of himself, his friends and family, in particular pictures with his girlfriend, Eden McAllister, who is Miss Great Britain 2021/2022. The 24 year old has appeared on Good Morning Britain and has brought out his own book "Make Your Own Magic", in which he reveals some of his tips and tricks in making magic.
Most-Followers on Instagram in Ireland- Top 10
Conor McGregor- 45.9M


Conor McGregor is an Irish professional mixed martial artist and UFC lightweight and featherweight champion and has the most-followers on Instagram in Ireland. He holds the title of the most-followers on Instagram in Ireland. On his Instagram he posts pictures and videos of his family, personal life and career and promotes his whiskey brand, Proper 12 and his healing spray, Tidlsport to his 45.9 million followers. The 34 year old Dublin native isn't shy about flaunting his wealth to his followers, often showing off his designer brands and luxurious cars and yachts. McGregor, who is also known as "The Notorious", is known for his outspoken character and was named in Times "100 Most Influential People" in 2017.
Niall Horan- 31M


Niall Horan is an Irish musician who rose to fame when he appeared on the X-factor in 2010 and joined the hugely successful boyband One Direction. In 2016, the world famous band decided to go their separate ways and Niall went on to become a solo artist. As a solo singer Horan has released hit singles, "Slow Hands", "This Town" and "Nice to Meet Ya". The 28 year old shares pictures and videos of his life and music career with his 30.4 million followers. The Mullingar native also has a love for golf and made his debut in JP McManus Pro-Am in 2022 alongside professional golfers and famous stars. He is the musician with the most-followers on Instagram in Ireland.
Seán McLoughlin-7.9M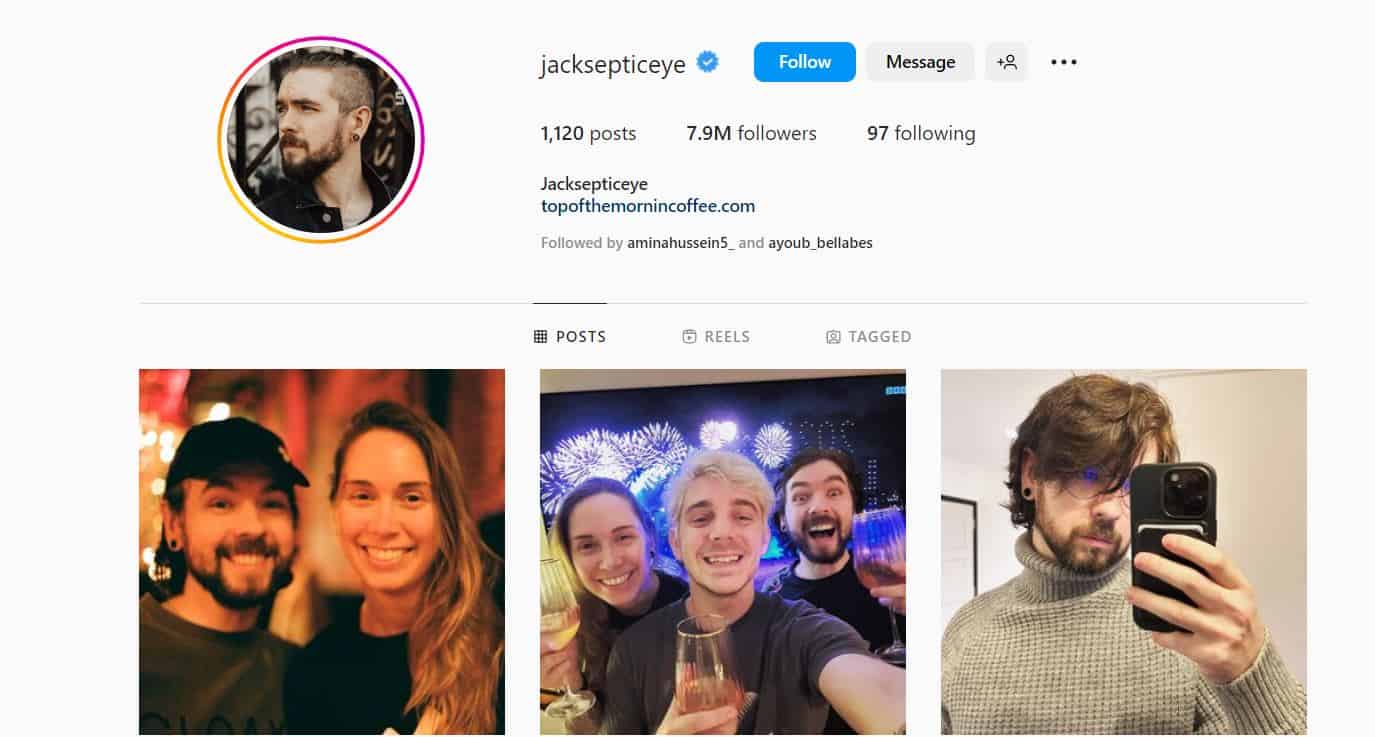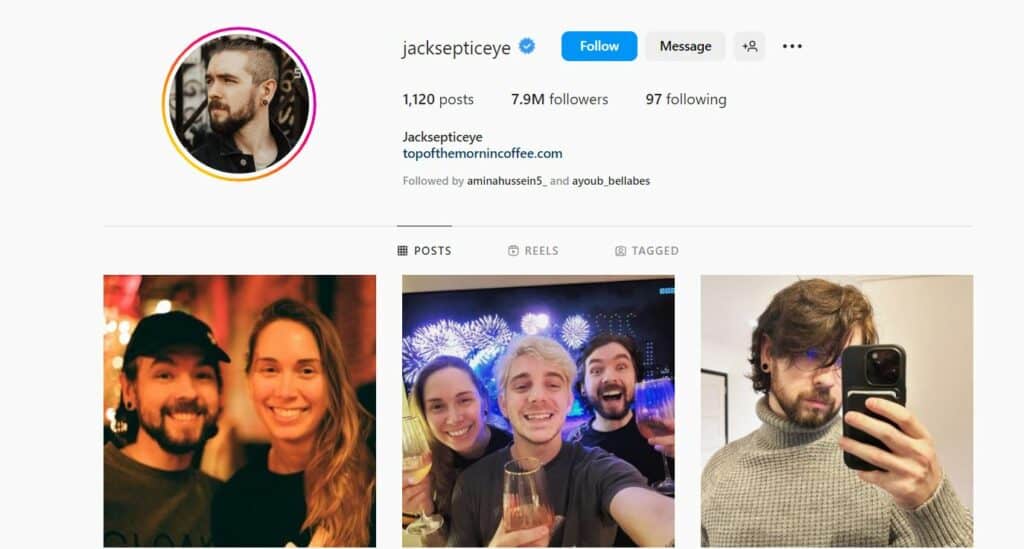 Sean McLoughlin is an Irish Youtuber who is better known as Jacksepticeye to his followers. At the time of writing this article, Sean's Youtube page has 28.7 million subscribers and 15.5 billion views, making it the most-subscribed Irish Youtube channel. Jacksepticeye made videos of him playing video games which became very popular, allowing him to make a full-time job out of his Youtube Channel. He has also made videos with other famous YouTube and has interviewed many famous actors and actresses. The Offaly native mostly posts pictures and videos of himself and his career on his Instagram to his 7.9 million followers.
Maura Higgins- 3.6M


Maura Higgins is the most-followed woman on our list and takes third place for the most-followers on Instagram in Ireland. The Irish tv personality, presenter and model has made quite the name for herself since first appearing on Love Island, with her going on to take part in "Dancing on Ice"and "Cooking with the Stars". The Longford native has also hosted the Irish version of the tv series "Glow Up" and did an Agony Aunt segment on "This Morning" for some time and has also launched a makeup collection with Inglot. The 31 year old uses her Instagram to post her many fashion looks and also to promote her brand partnerships with Bellamianta and Ann Summers.
Robert Sheehan- 2.8M


Robert Sheehan is an Irish actor who is best known for his roles in tv series "Misfits" and "Love/Hate". The actor from Portlaoise has also appeared in many films such as " The Mortal Instruments: City of Bones" and "Geostorm". Robert uses his Instagram to share pictures and videos of his life, promotes his upcoming projects and also his novel, "Disappearing Act: A Host of Other Characters in 16 Short Stories" and also raises awareness on climate change with his 2.8 million followers. Robert Sheehan is currently starring in the hugely popular Netflix show "The Umbrella Academy" in which he has gained international recognition from. He is the actor with the most-followers on Instagram in Ireland.
Nicola Coughlan- 2.3M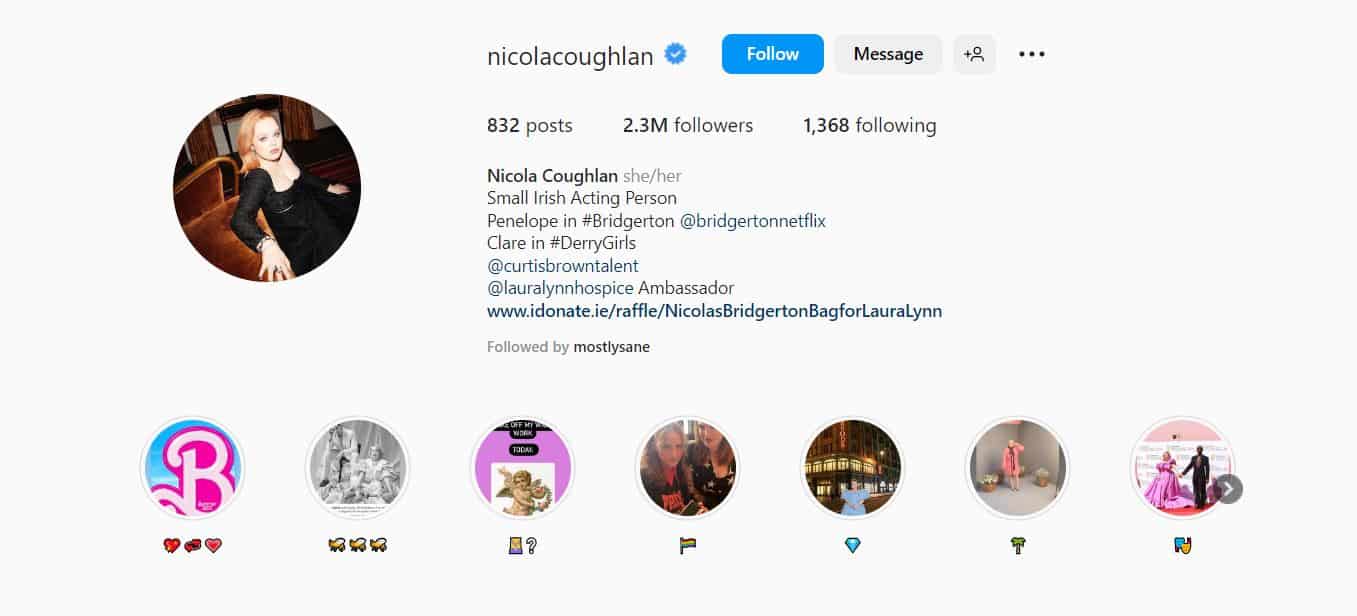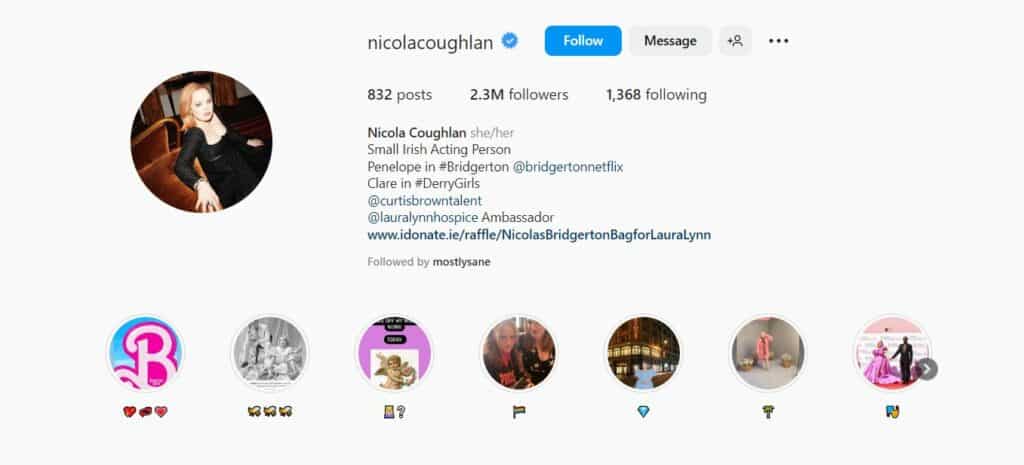 Nicola Coughlan has become a rising star in the past few year. Starring in the hugely popular Northern Irish tv series, "Derry Girls", however, it was her role as Penelope Featherington aka Lady Whistledown in the Netflix series "Bridgerton" which shot Nicola into the spotlight. This recognition has opened many doors for Nicola with her being a guest judge on "RuPaul's Drag Race UK" and she was also invited to the highly prestigious fashion event "The Met Gala" in 2022. The Galway native is an ambassador for Lauralynn Hospice and has raised vital funds for the charity. Nicola uses her Instagram to post behind the scene pictures of her tv programmes and fashion content.
Hozier- 1.9M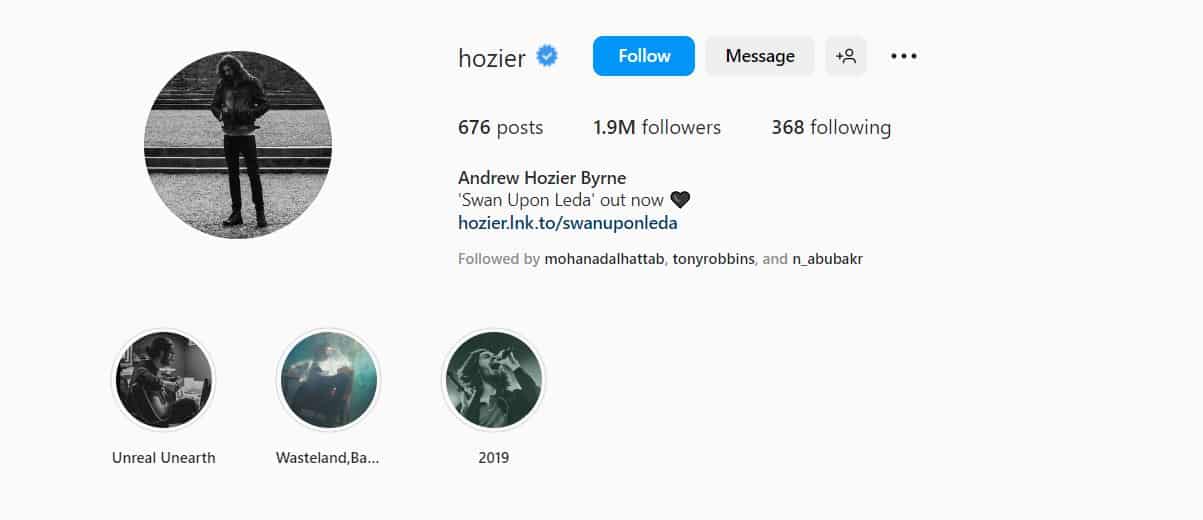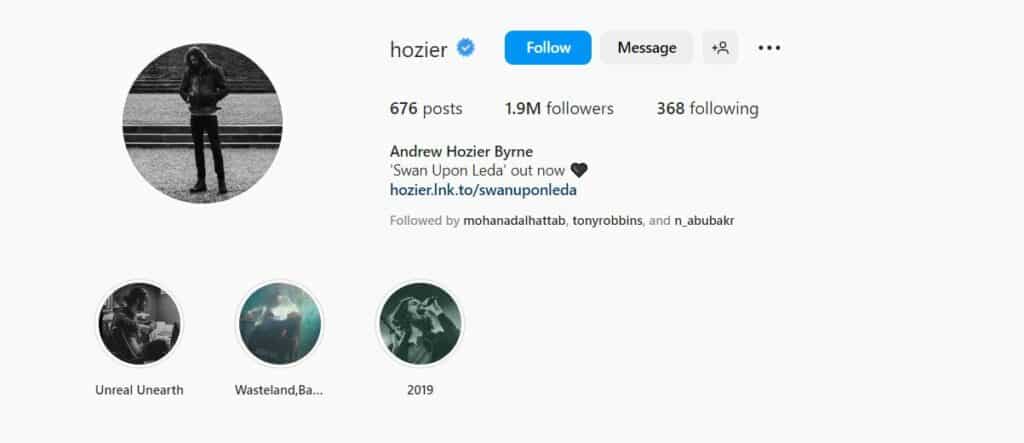 Andrew Hozier Byrne, who goes by the stage name, Hozier, is a singer-songwriter from Bray in County Wicklow. Hozier rose to fame and became internally recognised when he released his first single, "Take Me to Church", which went on to be Grammy nominated. and won Best Rock Song at the Billboard Music Awards in 2015. The 32 year old has performed at festivals like Glastonbury, Electric Picnic and Lollapalooza. The folk and soul singer uses his Instagram to promote his upcoming projects and charities to his 1.9 million followers and also shares information on the stand up for Ukraine campaign which he is heavily involved in.
Vogue Williams- 1M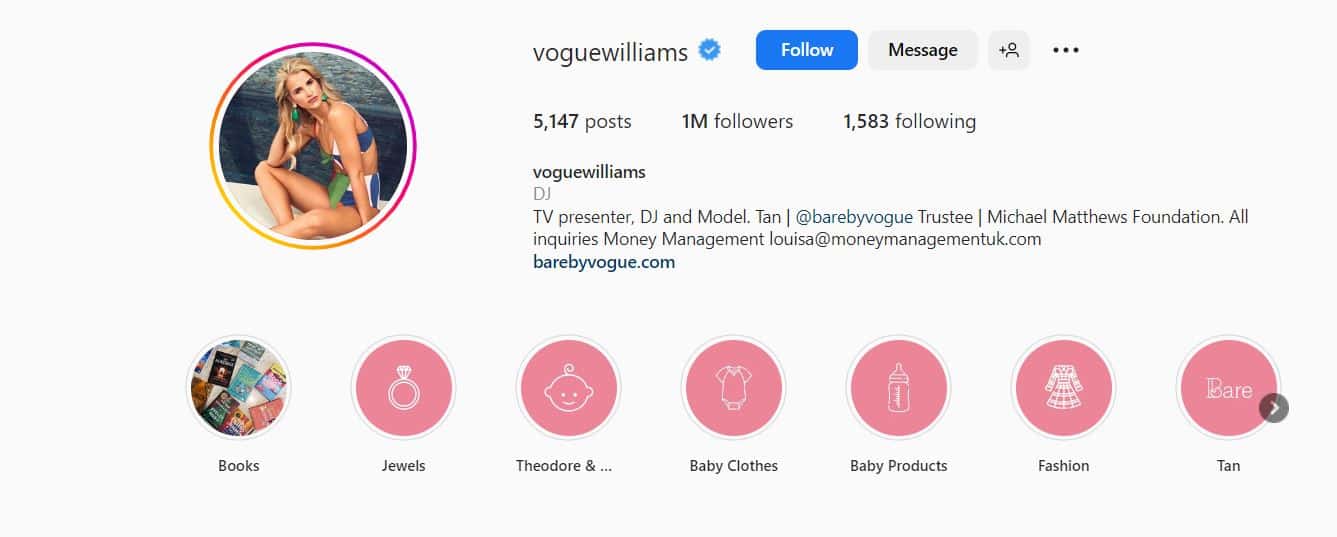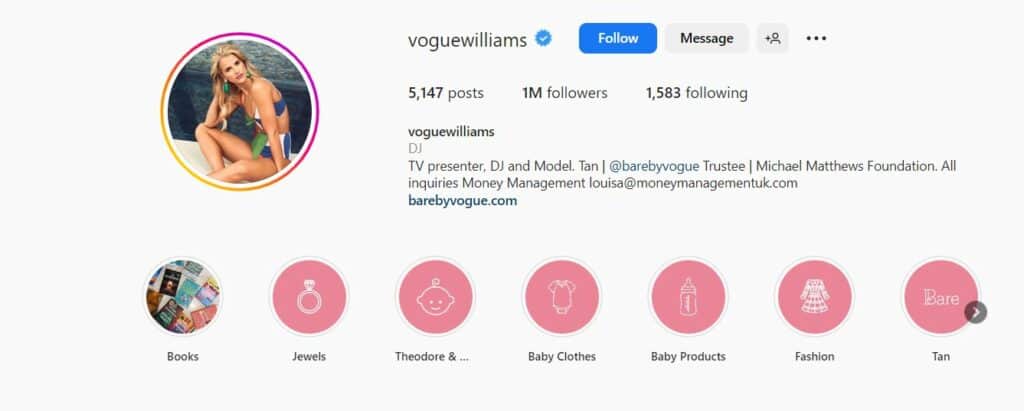 Vogue Williams in an Irish tv presenter, DJ and model from Dublin. Williams has appeared in many reality tv shows and even went on to win the reality tv series "Bear Grylls: Mission Survive". The Irish star does a weekly podcast with comedian Joanne McNally titled "My Therapist Ghosted Me" which is one of the most popular podcasts in Ireland and also does a podcast with her husband Spencer Matthews, titled "Spencer & Vogue". Vogue Williams posts regular on her Instagram and shares posts of her family, fitness, beauty and fashion content for her 1 million followers to see. She also uses her page to promote her fake tan brand, Bare By Vogue and her upcoming tv programmes.
Cian Twomey-867K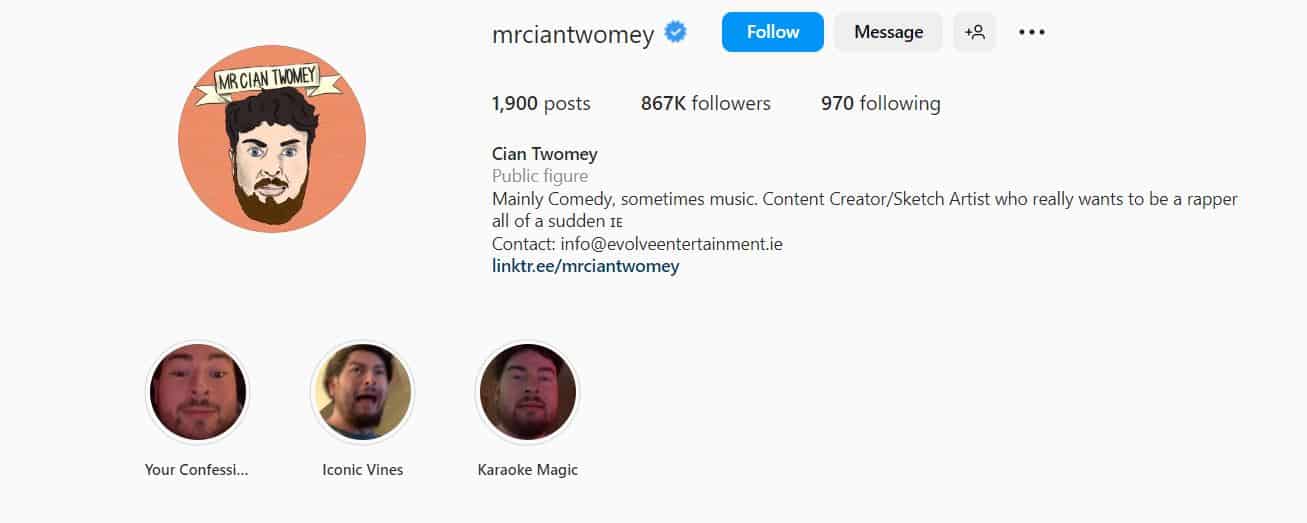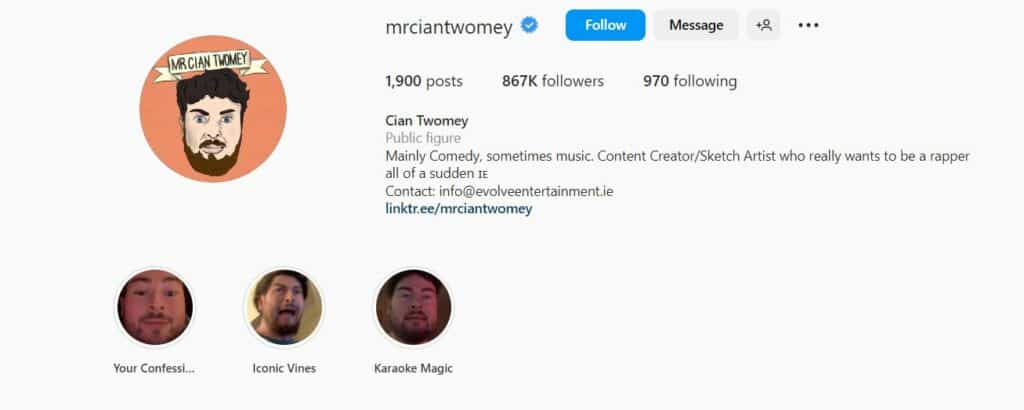 Cian Twomey is an Irish comedy content creator who is known for his hilarious sketches that he regularly posts on his Instagram and Youtube channel. If you are looking for a laugh then Cian Twomeys Instagram page is just the place for it. You will spend hours scrolling through his Instagram page which is full of different comedic sketches about makeup hacks, tinder and Irish mammies and he also posts many funny reaction videos. If something is trending you can be sure Cian Twomey will put his own comedic spin on it. For this reason the Cork native is the only comedian to make the top 10 list of most-followers on Instagram in Ireland.
Nicole O'Brien- 770K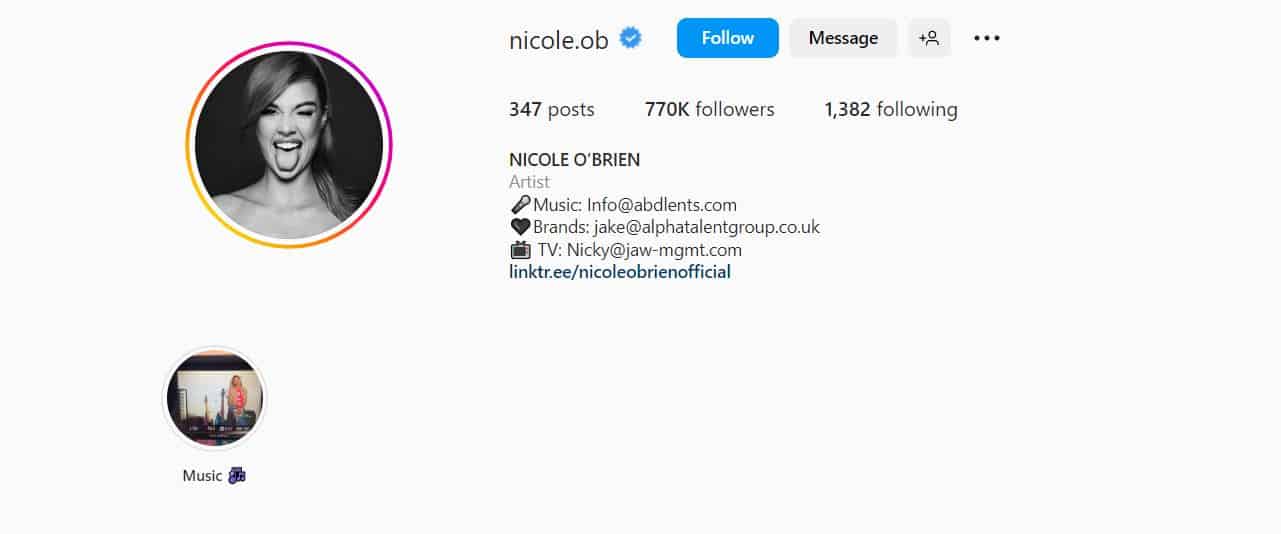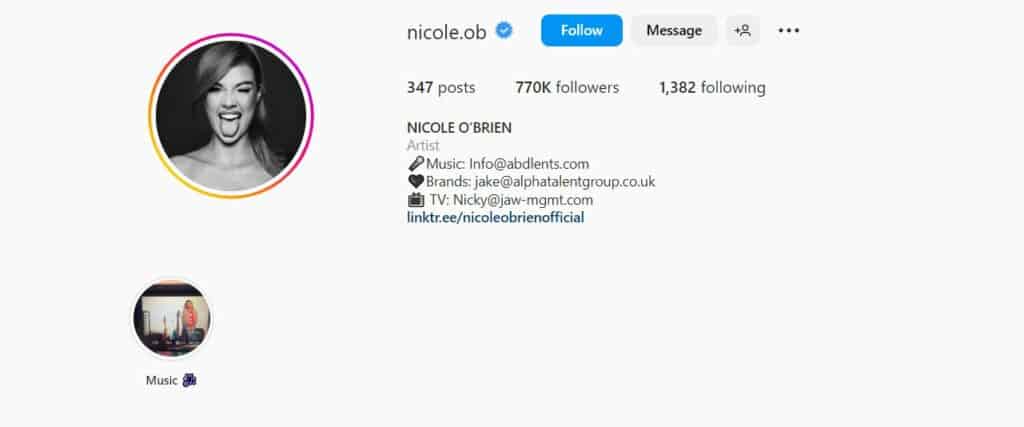 Our second reality tv star to make the list of most-followers on Instagram in Ireland is Nicole O'Brien. Nicole came into the spotlight after appearing on the reality tv show "Too Hot to Handle". After the show ended, the social media influencer used her platform to launch her music career. She has gone on to release singles such as " Call it Love" and her newly released single "C'est La Vie". The Cork native uses her Instagram to post fashion content and pictures with her friends. She also often posts videos of herself singing for her 770 thousand followers to view.
Most-Followed Page on Instagram in 2022- Top 5
Not only do people love to follow their favourite celebrities but also their favourite football club, brand or tv programme. Let's have a look at which page on the social media platform has the most-followers.
Instagram- 594M
It is probably no surprise that the most followed page on Instagram is Instagram itself, with 594 million followers. Instagram, through platforms like Buzzvoice, posts the newest trends and gives a platform to different voices such as political, influential, and creative voices that may not get noticed otherwise. It posts a variety of content to meet everyone's interests. The Instagram page creates its own challenges using hashtags for people to follow and take part in, for example it does #WeeklyFluff in which it reposts different animal pages.
Nike- 263M
Nike is the only brand to to take a spot in the top 5 pages with the most-followers on Instagram. The American footwear, apparel and athletic equipment post regularly for their 263 million followers. The brand posts pictures of many athletes and celebrities wearing the brand on its page and it promotes its newest clothing and footwear designs. Many of Nike's posts are of their brand ambassadors and they include inspirational quotes alongside them. Nike is one of the most recognised brands in the world so it is no surprise that it is one of the most-followed pages on Instagram.
National Geographic- 256M
The National Geographic page takes second place in the top 5 pages with the most-followers on Instagram. National Geographic posts exquisite photographs from around the world by their photographers. Attached to every photo on their feed is a story behind the photo explaining its significance. With the current state of the climate crisis, the National Geographic Instagram page is a great resource for people to use in order to be more informed about what is happening to the environment and the change that has to happen. Anyone with an interest in nature and what is happening in the environment should definitely follow this page.
Real Madrid CF- 131M
The Spanish football club posts pictures of training sessions and clips from matches. The football club which has won 14 European Championships keeps its 131 million followers updated on its Instagram of everything that is happening with the club. Real Madrid CF Instagram page also posts regular pictures of its football stars, including Luka Modric, Thibaut Courtois and Karim Benzema. It also dedicates posts to football stars who retire or leave the club and give recognition for everything they contributed to the club, for example they recently dedicated a number of posts to Brazilian player Casemiro, who left the club this year to join Manchester United.
FC Barcelona- 161M
FC Barcelona is the second football club that has made it into the top 5 pages with the most-followers on Instagram. Similar to Real Madrid CF's Instagram page, FC Barcelona post pictures and videos of their players training and playing matches. They post pictures of their football players such as Robert Lewandowski and Gavi. The FC Barcelona Instagram page also gives followers a link to buy their newest football kits and keeps them up-to-date on what is happening in the club.
Check out this article for more interesting Instagram facts.