In the latest instalment of ProfileTree's Amazing Food & Drink series, we sat down with Colm Connolly, founder and director of Rucksnacks. The snacking entrepreneur talks us through the story of his biltong and beef jerky business, highlighting the remarkable journey his product makes from Monaghan farms to the European. Check it out!

Colm's interview with Amazing Food & Drink joins a highly popular series, and has been recognised as one of the most popular sub-brands of ProfileTree, a leading content marketing agency based in Belfast. The Rucksnacks founder now takes his place amongst some of the most dynamic food businesses on the island of Ireland, with the series now featuring insights from top names including Stock Kitchen's Danny Millar, Wolf & Woodsman sweet potato crisps and Being Born Maverick vegan foods. The entire series can be accessed here.

Like many entrepreneurs, Colm Connolly never intended on pursuing a life of business. As a fifth-generation beef farmer, Colm's roots are firmly rooted in his rural home community of Co. Monaghan along the border of the Irish Republic. "My father farmed this farm from the age of 14, and I was out helping him as soon as I was able to get a pair of wellies on. His father before him did the same thing. At that age I enjoyed it, but I decided to study and work in the UK when I left school," he shares. However, like many young people raised in the countryside, Colm felt a pull back to his rural beginnings.

Before returning to Ireland to set himself up on the farm and settle down, Colm and his partner decided that they were going to experience more of the world they lived in. The couple went travelling throughout the Americas and across Canada, moving on towards Australia, New Zealand and southern Asia. "I'd recommend this for anyone – especially anyone who needs to get that travel bug out of their system". Travelling was an inspiration, and taught Colm a lot about the popularity of beef products across the world.

Returning to Ireland, Colm went back to farming with a fresh perspective. A tough industry with little room for niches, he knew he had his work cut out for him. "We wanted to do something different with the farm, to make it sustainable not only for us, but for the next generation and the next generation after that. We wanted to think outside of the box, and that's what brought us to our current business, Rucksnacks".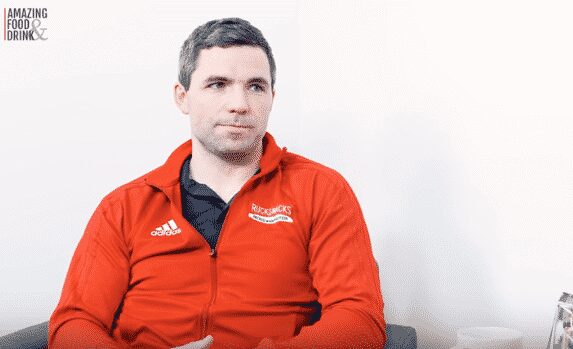 So, what are Rucksnacks? With the assistance of food scientist and wife Genna, Colm started experimenting with various beef products in his kitchen at home. This was a case of trial and error, and the couple encountered a series of problems in these initial stages before arriving at a product that was both tasty and producible en-masse. The finished products were brought along to football practice for a local team, and the feedback was immense. "There's no-one like a sports team to give you honest feedback on something, and that's when we created our first dried meat snack. Rucksnacks came next – an air-dried beef snack with just a little bit of spice," says Colm. We were lucky to try the Original and Fiery Red Chilli biltong packets, and we loved them.

According to Colm, changes in his own life encouraged him to jump into developing his air-dried beef products. Already-health conscious and on-the-move, Colm and his partner had the desire to eat healthily but rarely had the time to devote to shopping meal prep. These challenges only increased with the arrival of their baby daughter. "It was hard to find a snack in the market that satisfied us. We wanted something to pick up on the go that wasn't unhealthy – everything out then is just laiden with things like sugar and salt, which just aren't good for you. This opens the door to a big customer base of people who want a healthy, tasty snack but might not have the time to prepare it."

It's not just football players and athletes who have become big fans of Rucksnacks. Colm highlights that his product has become highly popular with people on the road, including long-distance hauliers, lorry drivers and delivery personnel. "Biltong is ambient and has a long shelf-life, so people like taxi drivers, for example, like just being able to reach for their glove box. Grab and go is a perfect area for us to be in," he adds.

Rucksnacks are currently approaching independent stores and convenience stores, adn the brand has seen real success in areas with a lot of footfall. Colm puts this down to the fact that customers are being given a choice which they'd never had. Gradual and sustainable growth is a core objective of the company. "We are always telling the people we work with that we aren't Usain Bolt. This isn't a sprint – this is a marathon, and we're in this for the long haul."

Whilst Colm progresses further and further along his entrepreneurial journey, the Rucksnacks founder is ever-aware of his own background and the industry that has supported his family for generations. He argues that farmers are more than just agricultural producers, dismissing any notions of simplicity in the trade. "Farmers in Ireland believe in quality, and I really believe that. Beyond that, these people are gatekeepers to the land around them, getting it in good condition and ensuring that it remains in good condition for the generation coming. It's a brilliant occupation to be in."
We'd like to send a massive thanks to Colm for taking the time out of his busy schedule to share the story of Rucksnacks with us. Have you got a snack, food or drink business based in Ireland? Contact our team to tell your story, and don't forget to like, subscribe and share!