How to render and export using Adobe Premiere Pro CC? Once you have finished editing your video or film, you will now need to export the edited video from Adobe Premiere Pro. This will allow you to upload your video to the likes of YouTube or Vimeo.
The video below is the last part of the ProfileTree Adobe Premiere Pro CC tutorials. Within the tutorial, you will learn how to render, why you use the media encoder, the different file format settings and more sequence settings.
Exporting and Rendering Specific Parts of the Video
When exporting on Premiere Pro, there are many ways to export. This includes exporting specific parts of the video. To export a certain part of the video, you will need to set in and out points, which was completed previously in a different part of the video series. You can then set the video between these points to render. This is ideal for making small preview clips.
You may notice some lag within your video, usually this happens if you've used a lot of effects within your video editing process. At the top of your workflow, you will see a bar. This bar shows a traffic light system of the quality of the render and if certain part of the video is not rendering properly. Red means it hasn't rendered out properly and may go slow, yellow meaning it has rendered okay, but should work fine and green means that the video will work with no problems.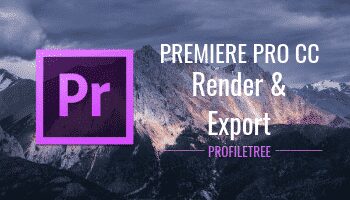 How to Export on Adobe Premiere Pro CC
To start the exporting process, you will need to go to File, then head to export then media. You can also use the short-cut, CTRL + M to get started. The export settings window will appear. You can change the format and presets. Within the presets, there're many different options, such as the fps, different phone and other handheld device options and HD. The handheld devices options are ideal for creating videos quickly and previews to show others quickly. Using HD options is the best options for high quality videos.
File → Export → Media or CTRL + M
Once you choose the right format, there're many other options to choose. These include video, audio, multiplexer, captions and then publish. Most of the time, all the options won't need to be changed.
You can also queue the video, which will then allow users to render on a different program. This allows the user to continue to edit the video using Premiere Pro to edit. This other program is the Adobe Media Encoder. The media encoder is handy as you can add many clips to the queue and you can render many clips over night.
You can also export from Premiere Pro itself by clicking on export instead of queue.
Want to learn more from Adobe?
Colour Grading and Masking – Using Timeline and Workflow – Transitions, Titles and Effects – Video Editing – Colour Grading and Correcting