Giving a PowerPoint presentation has grown to be an essential skill in professional and academic life. Students, employees, trainers and speakers use PowerPoint for countless different purposes.
Think about all those times you had to sit down and listen to someone give a presentation. Admit it, you spent most of this time staring at the ceiling or thinking about what you're going to have for lunch.
It is not so easy to make someone listen to you. So, what does it take to make a killer PowerPoint Presentation?
For newbies who are trying to figure out how to make a PowerPoint presentation, and for those looking for tips and tricks for making an outstanding presentation, for a graduation project or an important business meeting, this is the right place.
What is a PowerPoint Presentation?
Microsoft PowerPoint, or simply PowerPoint is a virtual presentation program that aims to present a topic to an audience.
Throughout time, we developed several ways to tell all kinds of stories. Using "slides," instead of paper, PowerPoint presentations became the most popular and easiest way to tell a story in the digital age.
A PowerPoint presentation helps the presenter make a statement when addressing an audience with an idea, a plan, or a strategy. It makes the information appealing, clear and easier to digest with the help of great visual effects.
A Short History of PowerPoint
PowerPoint was created in 1987 under the name Presenter. Later, that name was changed to PowerPoint to refer to the goal of the program to "empower" individual presenters.
Although it is known now as Microsoft PowerPoint, PowerPoint was initially released for Macintosh computers only. Microsoft acquired the program three months after its release. Today PowerPoint is a huge success occupying 95% of presentation software's market share.
What Does a PowerPoint Presentation Offer?
PowerPoint was originally designed to provide visuals for group presentations within business organizations, but has expanded to cover many other situations, both in business and beyond.
Practically, PowerPoint is used to create a file containing a sequence of pages called slides.
These slides usually have a consistent style. You can include text, bullet lists, tables, charts, drawn shapes, images, audio clips, video clips, animations of elements, and animated transitions between slides, plus attached notes for each slide.
If a group of people are collaborating on one project, they can add the presentation to One Drive so they can share it and make changes immediately. PowerPoint also offers a mobile app to continue working anywhere.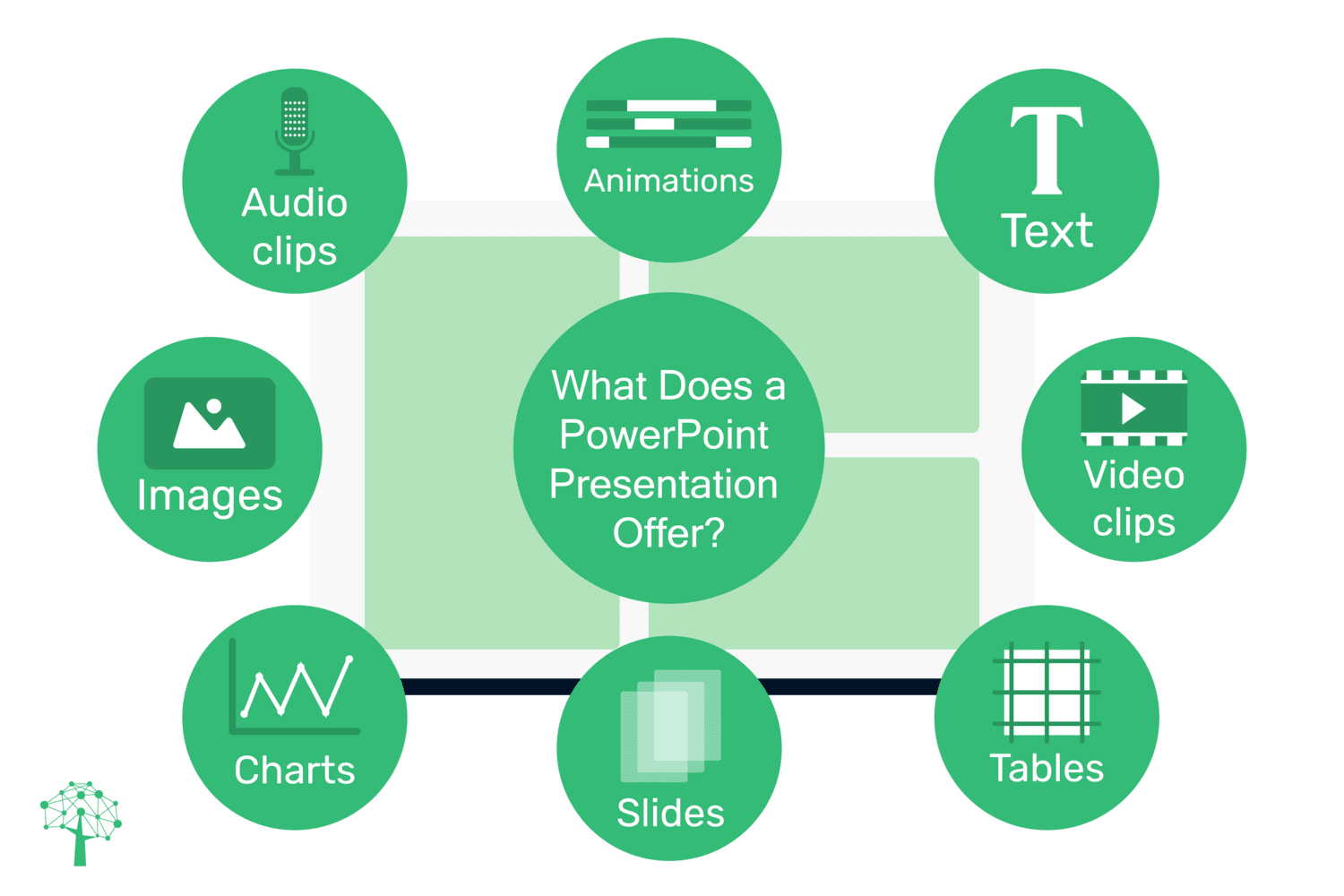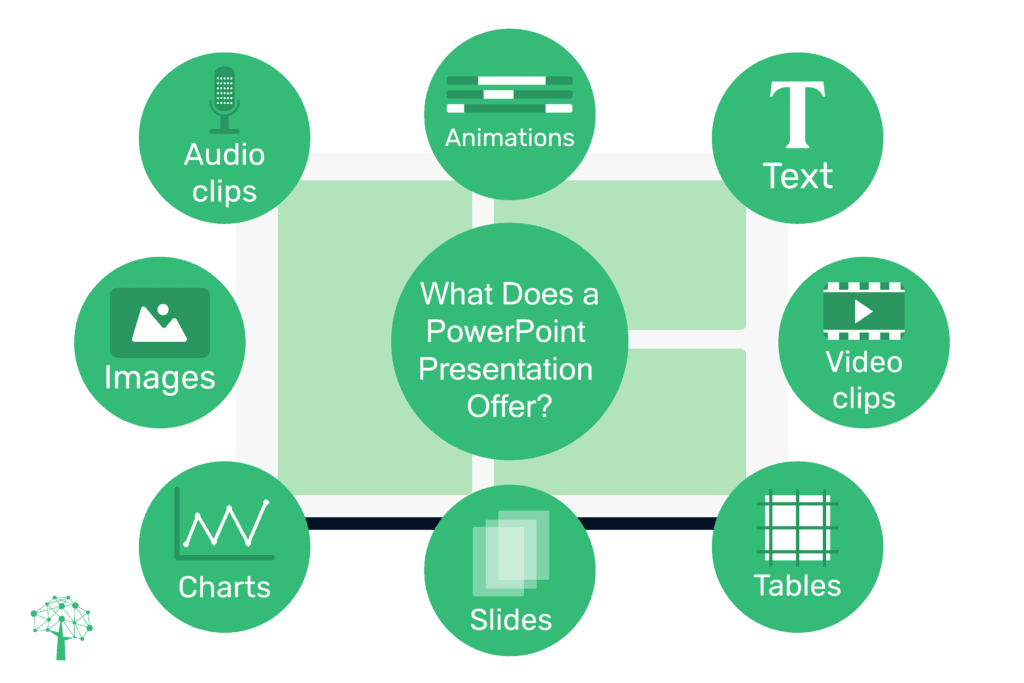 Who Should Use a PowerPoint Presentation?
The uses for PowerPoint have become endless. Although it originally targeted business groups, it is now used for other purposes as well:
Students are among the top users of PowerPoint presentations. In many different occasions, students must give presentations and demonstrate their thoughts to an audience. The audience could be esteemed professors, trainers, supervisors, or sometimes their colleagues during extracurricular activities. A PowerPoint presentation is of great use in any of these situations: a graduation research, a master's thesis, dissertation, a student event, etc.
Teachers, professors, and trainers usually need to prepare more than one, typically long, PowerPoint presentation based on the material of the course or the training. It is essential for educational PowerPoint presentations to be dynamic and attractive to the audience.
In finance, PowerPoint templates are valuable. They display reports, numbers, charts, and statistics in a visually appealing manner. Giving a presentation with lots of numbers can be confusing to the presenter and the audience. Therefore, a PowerPoint presentation is particularly appreciated.
Freelancers and agencies often have to win their client's trust by delivering a great proposal through an outstanding PowerPoint presentation. It takes a lot to persuade decision makers with your product or service. If they do not impress, someone else would sign the deal.
Video advertising is the latest fad in the marketing business today, especially on social media channels. Many Start-ups feel like they cannot break through that area of advertising without high-budget video ads, PowerPoint shortens that gap. Using PowerPoint, you can create basic, yet presentable, video ads which you can use to market your business online.
What Makes a Great PowerPoint Slide?
Making PowerPoint slides has three dimensions: structure, content, and art. The three comprise the outcome of PowerPoint slides.
Structure
Structure is like the architecture of your PowerPoint slides. It should define:
The purpose of the presentation: status update, presenting a recommendation, sales presentation, educational, etc.
Its main sections and the best way to represent each concept: text, images, audio, video, or charts.
The order of the slides and how the slides will move from one point to another.
Structure is the basis that you should build on the other two dimensions. It allows you to focus solely on the functionality of the presentation, without being disturbed by the creative process or design.
Content
Content is a trickiest dimension component of your PowerPoint slides. You should handle this with care. The golden rule here is simple. If the audience is reading the slides, then nobody is listening to the speaker.
Hence, the real investment and valuable content should come from the presenter's notes. Speaker notes are prompts that you can refer to keep on track, but your audience can't see.
The displayed content on the slides should be minimal and brief. It should support what the speaker is saying, without causing distraction. Moreover, while developing content, keep things simple, short, and comprehensible.
Do not baffle the listeners with complex technical terms or drown them in unorganized data.
Finally, keep in mind that content should be tailored around your audience as much as the topic itself. So, the more you customize the content based on who your listeners are, the more successful it'll be.
Art
Content is all about communication. This means telling a story, conveying a message, sharing your knowledge and offering a solution. Art, or design, should be inspired by the structure and content created previously.
Of course, design must have that "wow factor," however, it should stay relevant to delivering the message. In fact, design speaks the most powerful language, the visual language. By our nature, we are all much influenced by visuals.
For that reason, watch out not to let design have the loudest voice in the room.
Again, a presentation's center is the speaker, all the other elements should support, not distract. There are tons of great PowerPoint templates on different websites. You can also check Canva for awesome styles and inspiration.
Tips to Make Your PowerPoint Presentation Alive
So much about the theory. What concrete steps can you take to make your PowerPoint more effective.
Create Custom Bullets
Paragraphs are not PowerPoint-friendly. By contrast, bullet points provide information in a succinct, easy-to-understand format. For that reason, presenters find bullet points the best way to display text.
However, in order not to look monotonous or dull, make sure you use them wisely.
The six by six rule is a good one to follow. It suggests that a slide should not contain more than 6 bullets, with every bullet containing no more than 6 words. Moreover, PowerPoint has a collection of different characters to use as bullets.
Apart from the typical rounded or square bullets, you can also add your own artwork to use as bullets.
Use the company's logo, a mascot, or a picture of a product as bullet points. To add your own artwork, open the bullets and numbering dialog box, click "import," then select the image.
Make Your PowerPoint Slides Dynamic
SmartArt is a great tool to help your slides stand out. Although bullet points are great for organization and clarity, sometimes they are overused. Overusing bullet points can bore the audience to death.
Make your slides "hip" by breaking that bullet point pattern. With SmartArt, you can quickly turn lists, or text, into a nice looking graphic. Simply, mark your text and select "convert to SmartArt" from the home tab.
There are multiple graphics that you can choose from. Some of them also allow you to add pictures to your graphic.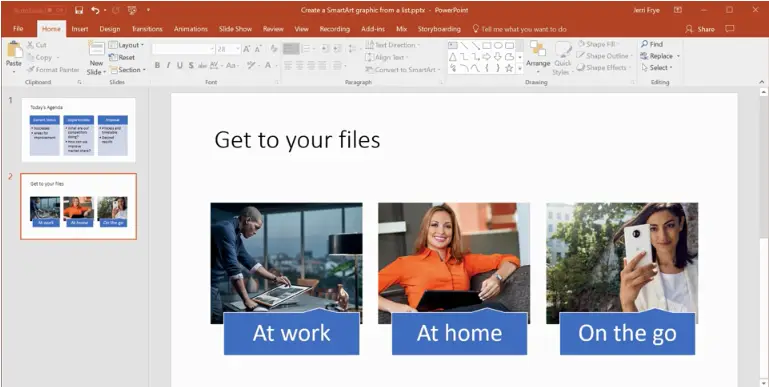 SmartArt gives lists a stylish look, and also makes the points more memorable while associating them with pictures.
Make It Easy for the Audience
Your slides should NOT include all the information your speech will deliver. It leaves no room for you to add something. This equation is not an easy one to achieve, yet the best advice is to make it easy for the audience.
Include subjects that support what you are saying, information that people would be eager to read. You need to include convincing material such as:
Data and facts,
Quotes from experts,
Relevant personal experience,
Vivid descriptions.
Make your PowerPoint presentation diverse by including different types of credible data.
The 10/20/30 Rule
Another way to make it easier for the audience to remain engaged is to follow the 10/20/30 rule. This means that the best presentation should not exceed 10 slides, lasts 20 minutes, and has a font of size 30.
A clear font and a reasonable time frame makes it easy for the presenter to deliver and for the listeners to focus.
Interestingly, using a font of size 30, while committing to 10 slides, forces you to omit any unnecessary details. The 10/20/30 rule ensures that the presenter is the one to do the talking, not the PowerPoint presentation.
Embrace Your Inner Artist
We have learned that through our receptive senses, we learn about the world. The input of all the information we perceive are visual, auditory, olfactory, gustatory, or tactile.
This is also supported by the 7 known learning styles: visual, auditory, verbal, physical, logical, social, and self-learning. To suit the biggest number of learners, the presenter must use multiple learning styles.
Speaker's Notes
Speaker's notes should be given as much attention as that given to the slides. Although the audience wouldn't see them, they provide guidance to the presenter. We will later explain how to divide the content of your speech between memory and notes.
PowerPoint gives you the option to prepare notes beside each slide that would be invisible to the audience, but visible to you. It is less distracting that using real paper because it keeps you focused on one source.
Under each slide, you can select "Notes" and add the notes relevant to each slide. In the presenter's view, your notes should appear on the right side and the slide on the left. Presenter view also displays the following slide above the notes to keep the presenter's thoughts organized.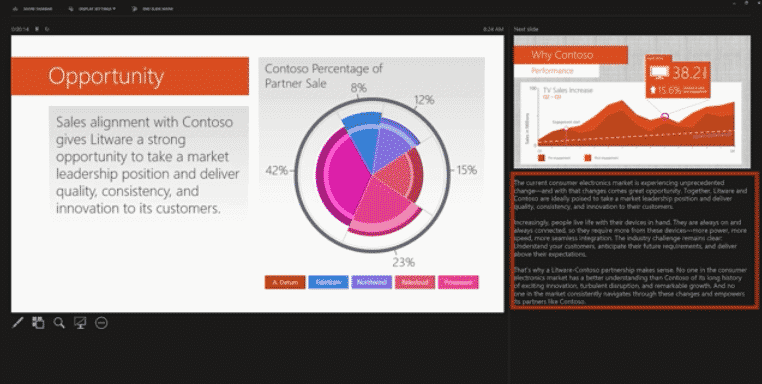 How to Prepare for a PowerPoint Presentation?
"If you start by opening PowerPoint and typing bullet points haphazardly, you're off to a rough start," says Adam Sigel.
Good preparation is an important part of creating a unique presentation. Like any other project or task, a PowerPoint needs a strategy or a plan to be a success. Here are some points that should be covered in the strategy:
Analyze Your Audience
Those who work with marketing know how the target audience is the center of the creative process. The nature of the audience is what affects content, language, design, and every other aspect.
Even when the topic remains unchanged, a PowerPoint presentation should be different when it is presented to a different audience. Create a persona for your audience that clarifies their age, values, level of expertise, interests, and background culture.
This will make it easier for you to determine what your PowerPoint presentation should and should not include.
For example, when talking to people who are already experts at the topic, it may be insulting to include basics in your PowerPoint presentation. Meanwhile, if you are addressing beginners, it would be inconsiderate to jump straight to complicated concepts.
Studying your audience will also help you keep them engaged in the correct way while presenting. We will go through presentation skills later in the article.
Define the Objective of the Presentation
Just like adding a destination on Google Maps, you can't get directions if you don't know where you'd like to go. Most presentations are either informative –trying to educate the audience – or persuasive – trying to convince the audience to take an action.
The goal of your PowerPoint presentation should be detailed and precise. Start with identifying key messages and headlines, then prepare a detailed outline for sub-ideas that you want to cover.
Before developing the actual content, you should have a clear vision of all the ideas your PowerPoint presentation will tackle.
Develop Memorable Content
To be practically honest, your audience will never remember everything you said during a PowerPoint presentation. They have probably listened to hundreds of presentations before, so what makes yours memorable?
Therefore, you need to make your key messages clear and memorable. Key messages are what you want your audience to remember long after the presentation is over.
The more memorable your content is, the easier it will be to educate them about a topic or persuade them to take action. Make sure you mention the central ideas more than once and develop all the content around those central key messages.
Research
Confusion is your worst enemy in a presentation. Overwhelming the audience with disorganized information shows a lack of solid understanding of the topic. Your audience wouldn't listen if they can't trust you.
People will wonder, why are you giving this presentation if you are not well-informed about the subject. It is always a must to research what you're going to talk about, even if you are aware of the subject.
Organize
However, it is not enough to have lots of information. What matters most is the organization and delivery of that information. Sometimes, during research, the presenter finds tons of chaotic information. It gets out of control.
For people to consider you an authoritative source of information, your PowerPoint presentation needs to be organized. Therefore, a good presenter should find a way to put this data in order to make sense of this data
They should build the presentation up towards a specific direction in order not to confuse the listener and look like they have not researched the subject properly.
Introduction and Conclusion
Aristotle, the great philosopher and speaker, has a great tip when it comes to how often you should repeat the key messages in a presentation. He states that the best technique is to:
Tell the audience what you are going to tell them, tell them, then tell them what you told them. This is what we later developed into: introduction, body, and conclusion. Introductions and conclusions are important to make a memorable presentation.
An introduction is the powerful start that grabs the attention of the audience. From the very start, the audience will make their decision whether to continue listening or think about life on Mars instead.
A conclusion is the last thing that will stay on the listener's mind.
As such, it is always important to make it sharp and enthusiastic, instead of predictive and boring. While preparing for a presentation, give some time to create a well-crafted introduction and a memorable conclusion.
Handouts
Preparing handouts is also a part of a successful PowerPoint presentation. Speaking of memorable, having written notes of the presentation's highlights gives the audience the chance to re-read what they have heard from you.
Many people fail to take notes while focusing on what the presenter is saying. By giving out a brief summary of the presentation, you are also making it easier for the audience. This is particularly useful in case of training and educational presentations.
In business contexts, it is a better idea to give out business cards after the presentation, or include the company's contact information in the material.
Think Outside the Slide!
We see "presentation skills" quite often in job announcements, but what does it really mean? What we refer to by "presentation skills" is the fact that it is not about what is said, it is about how it is said.
Having a great PowerPoint presentation would not substitute a poor staging. Let's say that a successful presentation is based on two factors.
The presentation,
The presenter.
Your slides will not be able to save you, your presentation skills will.
We all need to persuade and sell our ideas to listeners everywhere, even outside the business or the academic context. Therefore, hundreds of books give advice on how you can become a truly influential speaker.
Here are the most valuable secrets that every great speaker must have:
Authority and Passion
These two are what really gets the audience to listen. The only reason why people choose to go to International forums or watch TED talks is authority. Organizations, such as TED, have gained trust by choosing the best speakers in the field of discussion.
People listen to those they trust, especially when seeking advice or looking to learn something. A book written by Steve Jobs, or any other industry leader, gets high sales because the author is a figure of authority.
How Can You Show that You Are a Figure of Authority?
So, does that mean that nobody will listen to your presentation unless you are a professor, or a celebrity?
Of course not.
It is all about showing confidence and being knowledgeable. People can see through what is beyond your words. Tone of voice, body language, and eye contact form an invincible trio that forces everyone in a room to trust you.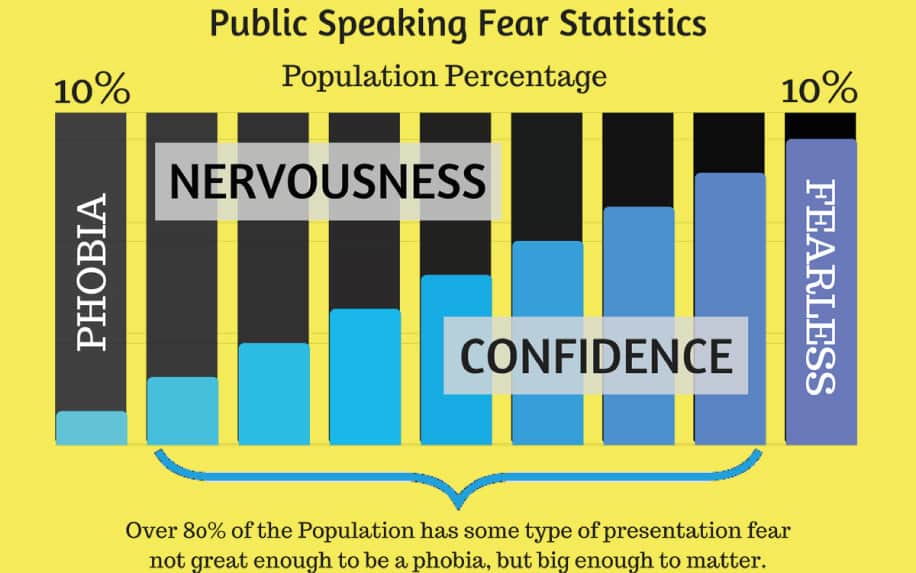 Tone of Voice
Do you sound shaky, hesitant, stuttering?
The audience would imagine that you lack knowledge and experience, and therefore, not a figure of authority, and not worthy of their trust. It doesn't really matter what kind of title you have; your tone of voice will be the one to determine who you are.
A confident tone of voice is one that has stability, clarity, and emphasis.
Stability means you are well-prepared and not confused.
Clarity is the way you articulate every word to ensure understanding on the part of the audience.
Emphasis is changing the tone of your voice to draw focus to a specific word or title.
Typically, emphasis indicates higher importance or shock. It catches the attention of your listeners.
Pace, tone, and pauses are also crucial to the presenter's image.
Your pace should not be too fast that people can't keep up, nor too slow that people would fall asleep. The same applies to your volume, neither too high, nor too low. Keep things balanced.
Your tone should accurately match what you are saying. Exceptional speakers are masters at this one specifically. You cannot express indignation using a soft tone, or express enthusiasm through an indifferent tone.
Pauses are always forgotten. Despite them having a huge impact on how focused your audience will be. Give the audience time to absorb an idea, to predict the next point, or to ask a question.
Body Language
Body language is another aspect of non-verbal communication that influences a presentation.
Being in the center of a room with all eyes on you is a situation that many people do not prefer. If that's the case, it usually shows in the presenter's body language. Positive body language allows you to look credible, express your emotions, and connect with the listeners.
The presenter's emotional investment is what gives life to the presentation.
Stance and gestures convey messages just as much as your words do.
A balanced stance with your weight divided equally on both feet is a sign of confidence.
Leaning slightly forward with your upper body shows that you care.
Gestures make all the difference and are particularly confusing when presenting to people from different cultures.
Some cultures are known for using gestures excessively, they consider it a sign of friendliness. Meanwhile, others consider it distracting, or rude.
Use your hands wisely. They don't belong on your hips or in your pockets or folded across your chest either or held behind your back.
Keep your gestures balanced and meaningful. Use them to support what you are trying to deliver verbally.
Eye Contact
Eye contact sits on the throne of facial expressions. It is hard to conceal what our eyes express. Making eye contact with the individuals makes them feel involved. It also shows the presenter's sincerity and confidence.
Among a small audience, make sure you share eye contact with all the members of the audience. In larger groups, you can shift your focus between different areas of the room. Remember to do that calmly so as not to look nervous.
Find Your Passion
Imagine if someone is asked to give a PowerPoint presentation about "the best food in the world." Wouldn't that be a mouth-watering presentation? Why is that? Because it is something almost everyone is passionate about!
The presenter would be speaking passionately, and the listeners would be enjoying a colorful buffet of food in the slides. Sadly, PowerPoint presentations aren't always about delicious dishes. However, passion is a must-have ingredient in every presentation.
Passion is the underlying current fuelling your idea. While preparing, ask yourself:
Why do I care about this concept?
What is the message I am trying to share?
Is this message important to the audience? Does it affect their lives in any way possible?
Passion flows when you figure out that what you are saying has a positive effect in the real world.
See also: Eight Public Speaking Tips
A PowerPoint Presentation Is a Dialogue
The best PowerPoint presentation is the one that becomes a two-way conversation. Presenters sometimes forget that a presentation is not the same as a sermon. On the contrary, it is a lot more active and has space for questions, conversation, and engagement.
You need to keep your audience involved or watch them as they zone out. Discussion deepens the learning process and awakens the audience.
Break the ice right away, start by asking if they can hear and see you clearly.
Give a warm greeting instead of a quick "good evening."
Throughout your speech, ask rhetorical questions; like "So, what does this prove?"
If the time allows, prepare a relevant question that your audience can express their opinions about.
You can also give a question that you know everyone can answer then pause for a collective reply.
Ask for a show of hands every now and again.
At the end of the presentation, ask if anyone has questions, comments, or feedback.
How to Use Notes Properly
Make your notes look like a mind-map. This is the best approach because it puts the central idea in the centre of the map, and relates all the sub-ideas to the main one. Your notes should be brief and readable.
Therefore, they should not be formed of paragraphs as they give you a tendency to read instead of present. Listing the points in bullet-points also works, and are easier to execute than mind maps.
However, your presentation should not be dependent on notes, memory should be the basis of your line of thoughts.
That's why practicing is one of the main duties for preparing a PowerPoint presentation. Find a way to balance between all three: slides, memory, and notes. Whether you use memory, notes, or slides, remember you are presenting, not citing or reading!
Practice Makes Perfect
The best boost of confidence a speaker can have is knowing exactly what to do. The only way to do that is through practice. A presentation is never an improvisation, so the audience is less tolerant towards mistakes or hesitation.
Instead of feeling pressured by this, turn the tables and use the time you have prior to the presentation to practice.
Even the best speakers need to practice their speech.
Go through all the points you want to cover.
Use a recorder to listen to your tone of voice and judge it as a listener.
Experiment different tones and different lines and scenarios till you reach the best one.
If possible, use a video recorder or a mirror to watch your body movements, facial expressions and how you look while presenting.
While practicing, remember the accordance of the slides with what you are saying.
Do not make your first encounter with an audience the time you are on stage.
Practice in front of a group of friends, or strangers, it'll give you confidence.
Ask for their feedback, and do not be worried about negative remarks. Use them to improve the whole experience.
If you think you've had enough practice, practice just one final time!
Break the Norm
All these guidelines and instructions should not scare you away from breaking the norm. Guidelines are great as a starting point, but do not make them hinder you from stepping outside the box.
Surely, doing something unexpected throughout the presentation makes it memorable. A PowerPoint presentation is an individual contribution, so use your individuality to tell a story. For example, if humour is what you're good at, utilize it.
Do you like games? Use a quick game as an ice-breaker, if the context allows. Into music? Add a unique piece of music to associate with your presentation, it makes you stand out. Do not be intimidated by being yourself or doing something nontraditional.