Why ProfileTree? Well, we're a different type of digital agency because we work in a unique way.
Ultimately, we built our own company on great content – including video and copywriting – combined with cutting edge SEO knowledge.
But the ProfileTree difference doesn't stop there….

Working With ProfileTree
We haven't just grown ProfileTree using a completely new approach, we're out to make working with us a breath of fresh air for clients too.
How?
WHO we are: We're a small, rapidly-growing Northern Ireland business with clients across Europe and beyond. We aren't a call-centre and we aren't a high-rise corporate. We're a hard-working small business, with a family-run customer service and ethos, for companies who think big.
HOW we work: We believe in no fuss, results-driven expertise with no meetings about meetings and no convoluted pricing. Our clients are returning customers because we make things happen for the right reasons at the price we promised.
Results as standard: We don't 'bolt-on' the latest vanity fad, we'll look at your entire online world to connect your message, your customer journeys and your business goals.
Your Big Picture: We use tried-and-tested methods we've proven for ourselves. And we'll apply the very latest developments in digital marketing to keep our clients one step ahead of change…while their competitors play catch-up.
Essential reading from ProfileTree… VERY Blunt Copywriting Tips | How Not To Choose A Digital Agency | SEO Explained…in Minutes | What Can Irish Whiskey Teach About Your Brand?!
ProfileTree: Our Story
Founded by Michelle and Ciaran Connolly in 2010, we're an award-winning digital marketing agency specialising in digital growth and content marketing.
We've brought together a talented team of marketers, writers, developers, videographers and more to deliver organic growth for our clients.
Our services include video production & marketing, content marketing and 
Search Engine Optimisation plus web design and development, AI and personal branding. We'll also use 'big picture' digital strategy and professional digital training to equip your business to find the right ROI from the ever-changing digital environment.
ProfileTree: What We Do
We've been promoting businesses online for almost 20 years and have been successful in taking new brands from launch to 10 million annual website visitors.
Our global clients come to ProfileTree – from sectors including tourism, education and local enterprise – for the latest, working knowledge built around the targets their business needs to achieve.
Clients such as:
Eldron Property Buyers, Dublin: We helped Eldron increase brand awareness and website leads. How? Using a website design and build, digital strategy, marketing message development, social media and SEO.
The results? A huge traffic increase, 208%+ additional keywords and more.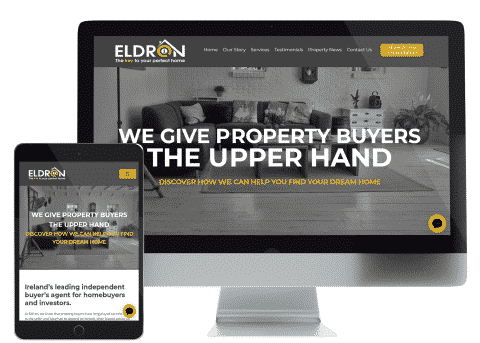 Dream Spanish Homes, Spain: ProfileTree developed professional video and written content, using our professional in-house specialists, along with social media support to help promote this successful property business.
The results? Project ongoing…with our client's online presence re-energised thanks to professional, head-turning content.
AIM Inclusive Play, Department of Children and Youth Affairs, Dublin: ProfileTree produced and edited 32 training videos – with a website and printed learning resources – for schools across Ireland.
The results? Delivery to 6,300 preschool teachers, education staff and parents.
National Trust, Northern Ireland: We produced and edited a professional video, with social media content, featuring interviews and promotion coverage of a major National Trust event.
The result? Promotional video now used in support of next year's event.
Smarter Surfaces NI, Northern Ireland: Our strategy, content and delivery for the Smarter Surfaces NI LinkedIn account during Summer 2018 delivered revived engagement and developed new relationships for the brand locally.
The results? An increase in conversational engagement for this local brand (ProfileTree-managed likes and comments shown in green).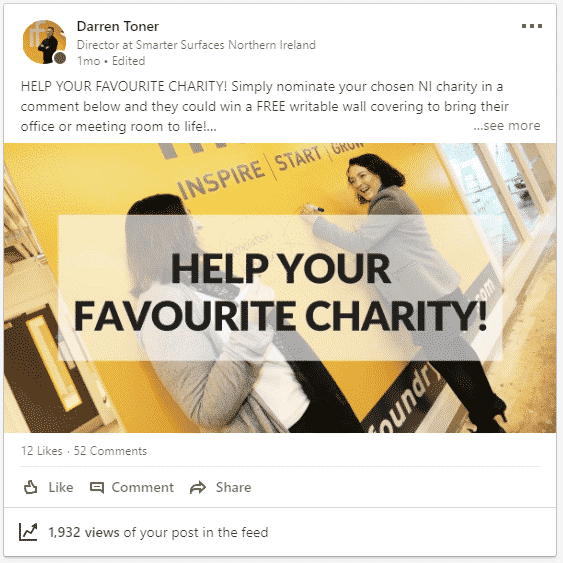 ProfileTree: Our Key Services
Video production & marketing: Stunning video content to tell the story of your brand
Content marketing: Content for talking WITH – not AT – your potential customers
Search Engine Optimisation: Helping your brand be seen by the right audience
Web design & development: Professional websites built around results
Artificial intelligence: Voice search expertise and much more
Digital strategy: Building your online world to meet your business goals
Digital training: Professionalising your brand for results
Personal branding: Packages to increase online profile
Why ProfileTree?
Most of all: we specialize in getting you found online with engaging, conversational content and SEO expertise. We offer all the traditional services of any digital agency, but with a very clear goal from the start.
How? build your brand online so customers will find you in the right places, for the right keywords and can begin the right journey through amazing content.
Ready to grow? Let's talk results
Our ProfileTree knowledge archive… Company Brand | Digital Marketing Career | How to be a Successful YouTuber | SEO Explained | Must- Have Digital Tools | Digital Marketing Guide | Yoast Academy- Learn SEO | Password Security Tips | Benefits of Blogging | Business Strategy | Top Social Media Sites | Social Media Guide | Readability | Ultimate Digital FAQ Part 1 & Part 2 | Understanding Google