Instagram Reels is a new feature used to create short, snappy, engaging videos. It's the hottest upgrade to come out of 2020, having been in the works for over a year.
After being trialled and tested in Brazil and India before the rest of the world – users and downloads increased significantly since the introduction of Reels. With this promising start, plenty of businesses will surely be jumping on the Reels hype.
What's more is that where companies normally invest a lot of time, money and effort into video – Instagram makes this quick, easy and cost-effective. While they are a form of fast content, they open up the opportunity for users to engage with you, without the confinements of pushy advertising techniques. 
But before we get too excited – it's worth doing research before diving straight in. Once you find out what you're working with, you can then start creating with confidence. 
That's why we've made this easy, handy step-by-step guide to show you how to create Instagram Reels, and make your ideas come to life.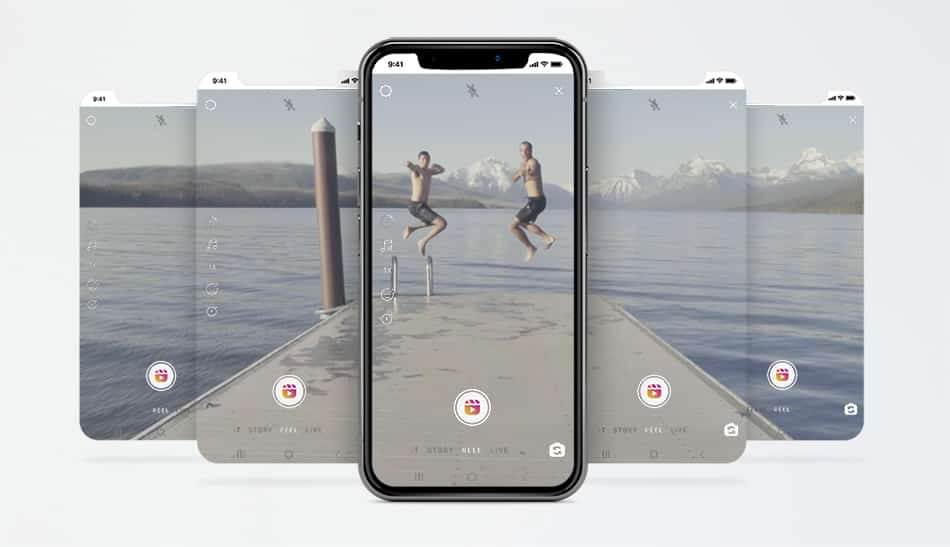 How to Create Instagram Reels: A Step-by-Step Guide
Creating Reels on Instagram is easy, convenient and accessible. You can do this through many different ways: the Instagram home screen, the Reels tab, or the Stories camera. 
Although it all works the same – it is worth experimenting with to find your favourite option. In this guide, we will start off by showing you where you can access the Reels camera.
Step One: Access Reels Camera
The Reels camera can be accessed through the homescreen, dedicated Reels tab or Stories. 
To access through the Reels tab, simply locate this section of the app – it will look similar to the Instagram logo, with a play button inside. Instantly you will see videos playing. In the top right corner, tap the camera. Here you will be able to record your video.
Through the Instagram home screen, tap the '+' on the top right corner and scroll to the Reels tab at the bottom of the screen.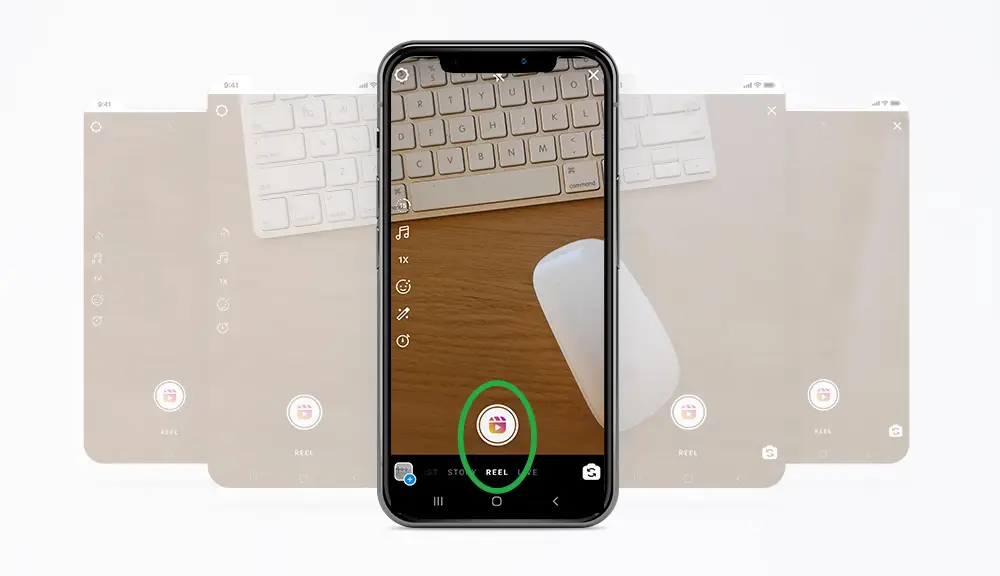 To use the camera through Instagram Stories, find the Reels icon at the bottom of the screen, where you would normally select either 'Story' or 'Live' formats. From here, you will be able to select your editing modes such as audio, speed, effects and timer.
Top tip: Take time to try each pathway. You will probably find that you have a favourite depending on what you reach for more e.g. through Stories or grid posts.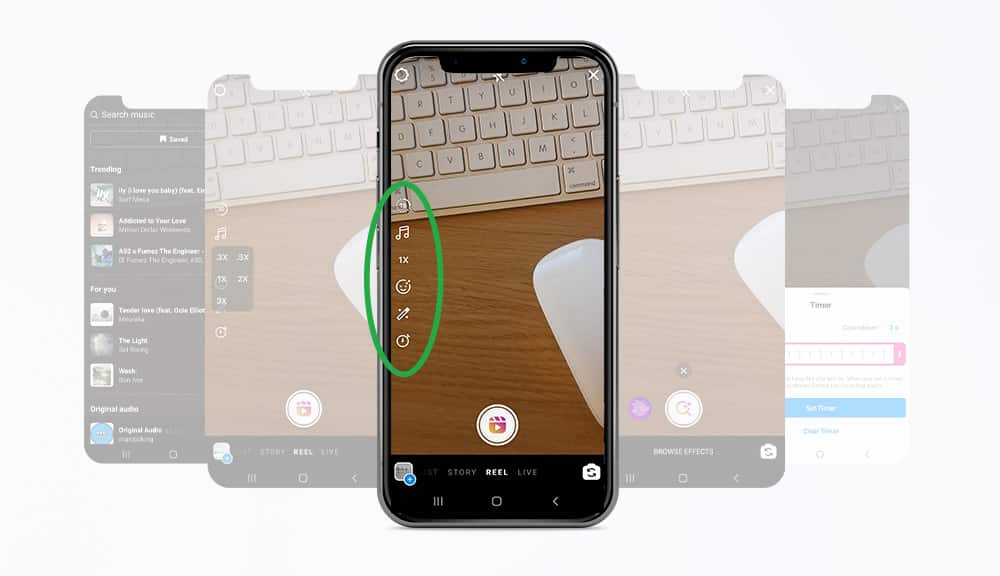 Step Two: Experiment With Editing Tools
In this stage of creating your Reel, you'll need to know how each of the editing tools can help you make the best version of your content. Albeit an 'edit', these are usually applied pre-recording.
While it seems like a lot to choose from – they each have simple yet effective functions. You don't have to apply all, or any of them – but they are an easy way to make your content look so much more professional.
With audio, this is where you can search the Instagram music library. You can also use your own original audio, which will be attributed to you, and available for others to use if you have a public account.
Speed controls exactly what it says. It either slows down, or speeds up part of the video or audio you have selected. This tool is particularly useful if you want to create a time lapse, or make a slow-motion video.
Effects houses many special effects to choose from in a one-stop gallery. These are made by both Instagram and creators from all over the world. You can even record multiple clips with different effects if you desire.
You can also set the timer to countdown before recording to give yourself a head start. It's worthwhile practising with this feature to ensure you get your timings right. This is also where you'll choose the length of your content, especially if you have a capped timeframe in mind.
Top tip: Try out each editing tool with drafted clips and save them to your camera roll. These will help you trial run what features you like and don't like. Plus, you can store them as handy reminders to plan your future content.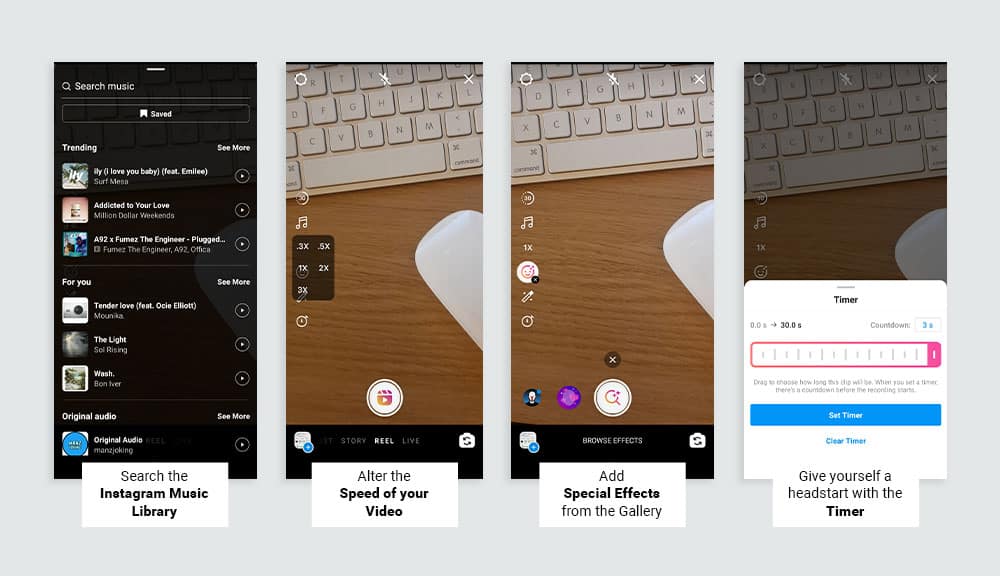 Step Three: Ready to Record
Once you have planned your Reel and chosen your desired effects, you can finally get to the fun part!
To capture footage, either hold down the record button, use hands-free, or upload from your camera roll. You can also do different takes by tapping the record button to end a clip, then start a new clip. 
Top tips:
Make the most of the timer! A countdown will give you a headstart and save you lots of editing time. 
Position your phone on a sturdy stand if you are doing hands-free. If you don't have a tripod – fear not! You can simply get creative. For example: prop your phone on a windowsill so you can make the most of good lighting.
Again, if you're doing hands-free and you want to create seamless transitions, mark a reference point for where the transition should carry on from. This could be anything from a prop to counting how many steps you take from the camera. Ultimately, this will avoid constantly readjusting what you're filming!
Step Four: The Finishing Touches
If you've created your first Reel and think it looks like a mess – never worry!
Not only does the saying 'practice makes perfect' apply here – but you will still have essential finishing touches to make.
Align is a handy tool that appears once you've recorded. This will allow you to line up objects from the previous clip, which helps when trying to achieve seamless transitions. You'll have probably seen this before with outfit changes, or adding new items to a shot. This can be very handy for businesses showcasing different variations of their products.
If you want to trim or delete any of the clips you've filmed, select the individual clip you want to edit, then either tap the scissors to trim, or the trash to delete.
Once you're happy with the result, you can also draw or add text and stickers to personalise your Reel even more! 
All that's left to do now is choose your all-important cover photo. 
This cover photo will be the first thing people see when they come across your Reel, plus it will feature on your grid. If aesthetics are important to you, this is something worth thinking about. You can either add a thumbnail straight from your video, or pick a static image from your camera roll. 
Top tips: 
For inspiration, browse the Reels tab and make use of Instagram's 'Save' feature. It looks like a small bookmark, and essentially keeps your favourite content all in the one handy place. This way, you can easily refer back to content you've seen before, to help you plan and personalise your own when it comes to filming and editing.  
Choose your music before you edit. Things like the beat could be a key helper in when to transition your clips, and make for more effective content!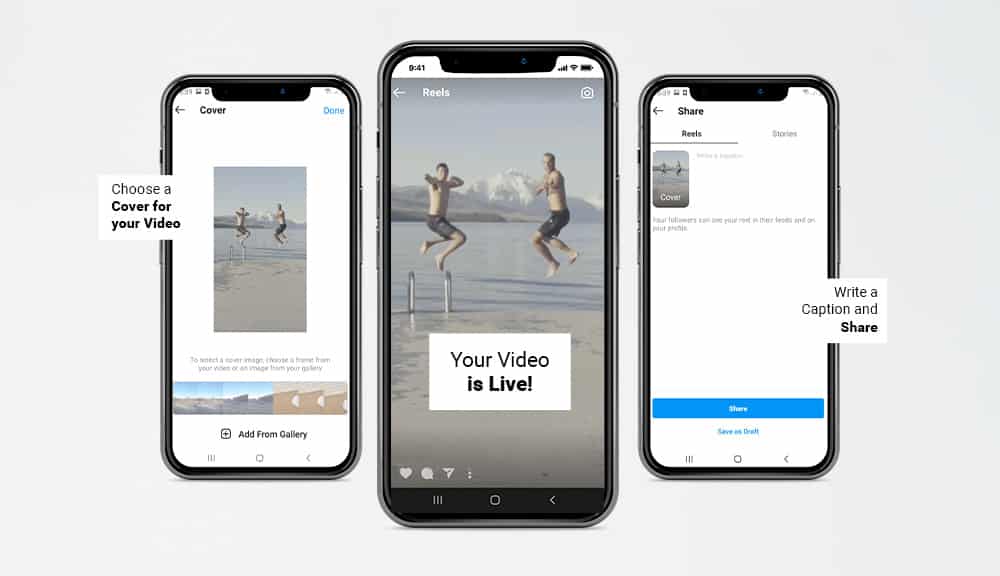 Step Five: Share Your Masterpiece
You've made it! You're now ready to share your masterpiece to the world. 
This is the easiest part. All you have to do now is add a caption like you would for any other Instagram post. 
However, if you're not ready to share your Reel just yet – that is okay too. Instead of publishing straight away, you can save it for a better time as a draft that you can return to. 
Alternatively, you can hit the share button and you're done! 
You can find your Reel on your Instagram profile by tapping the Reel icon just underneath your bio. This is where your drafts will be stored too. Your followers will be able to see your Reel on your grid, their feed and maybe even in Explore!
Top tip: Let people know about your Reel by also posting it on your Story. Often people will use Stories as a preview method, by using 'New Post' stickers partially covering the content to entice viewers to watch the full Reel on their profile.
By learning how to use Reels on Instagram, you can reach brand new audiences. This is so important for businesses who want to use Instagram effectively to maximise their online presence. In light of the app's new update, Reels content is especially favoured, which will help you achieve even more exposure than the likes of creating videos for Stories or IGTV. 
Investing time and research into Reels is extremely worthwhile. If you are stuck for inspiration, we've got a handy round-up of our top Reel content ideas to help you start strategising. 
If you're wondering how to view Instagram Reels that are specific to you, try Instagram's new Search and Explore feature, where you can search for particular keywords and hashtags.
Now that we've shown you how to create Instagram Reels, you will be a pro in no time! For more content ideas or social media advice, simply drop us a message.