In the world of business, it's all-too-easy to get wrapped up in day-to-day operations, focusing on things like productivity, meetings and output. However, many of our rights as humans and as workers were won by the struggles of campaigning women, and we owe much to feminist ideas in modern times. In a new Business Leaders interview, with catch up with The Feminist Shop's Virginia Mendez & Chris McEldowney about the importance of feminism in business. Check out the full interview at the top of this article, and don't forget to like, subscribe and share!
As we open up our discussion, Virginia Mendez takes us on a quick walkthrough of her own professional background, and how she ended up establishing a company with feminism at the core of its business model. "I started out with quite a corporate background, studying both law and business before working with DeLoitte. It wasn't for me, and I came to Belfast with Chris to work with PwC," shares Virginia, recalling the days before the opening of The Feminist Shop. "That job wasn't for me, either!" she laughs.
Fighting Gender Stereotypes
The roots of Virginia's business idea came when she was pregnant with her first child. Before the gender of her son was revealed, the expecting mother wrote a bilingual book against gender stereotypes. Virginia published the book – the first step in her life which gave her that taste of entrepreneurship. "After you get this taste, it's very hard to go back to what you were doing – especially when you are so passionate about it," she remembers. "So, I quit my job and decided to give it a proper go."
The idea for The Feminist Shop came next, and since it was set up, its been taking up all of the spare time of the couple. Chris McEldowney's extensive experience in eCommerce had a major role to play in establishing the online business. "My digital career started off in France, where I operated a portfolio of dating websites. I then set up my own social network for music, but that never made me the millions I thought it would," he laughs. "I wanted another salary job, and that's what made us look towards Northern Ireland again. I do quite a bit of eCommerce consultancy – now we are practicing what we preach!"
Viriginia describes The Feminist Shop as an online destination and an umbrella covering different aspects of feminism. "We know that feminism is experiencing a lot of stigma at the moment. We wanted to be that place where people could come to learn, whether they are unapologetically feminist – or angry feminist – that's me!" she jokes. "We wanted to create that community and that understanding that feminism is about quality."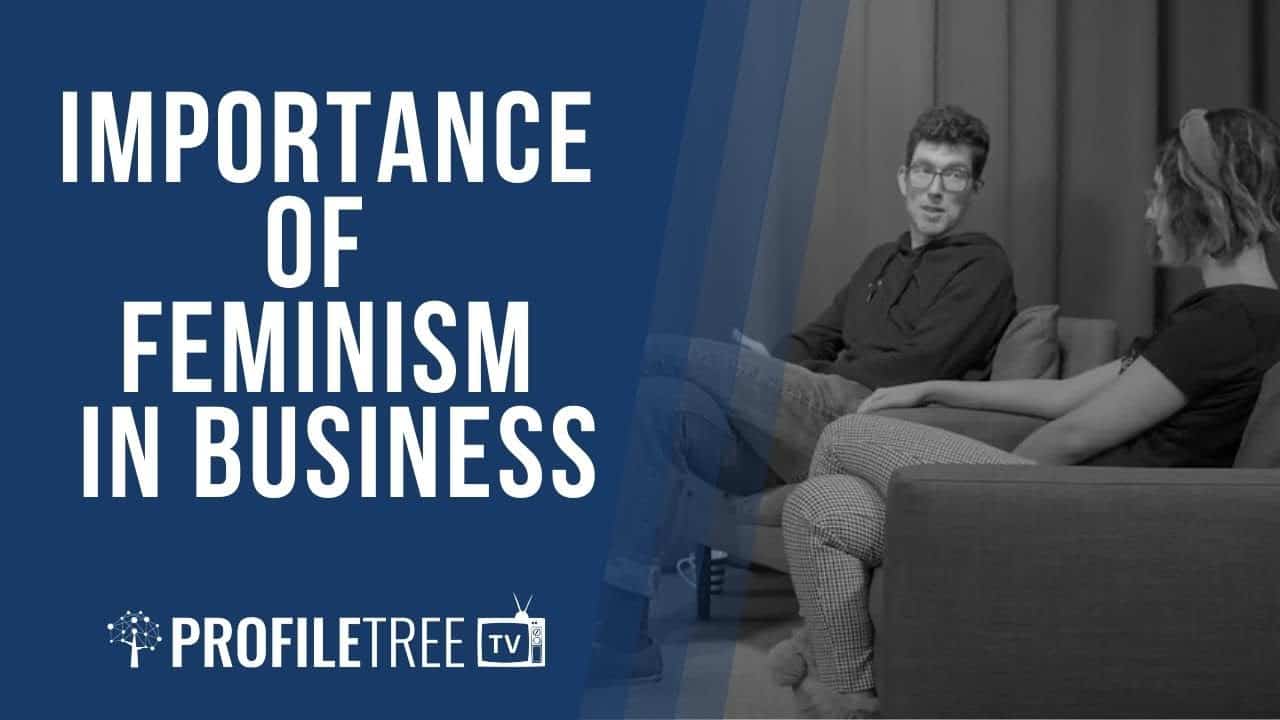 According to the couple, digital content forms a significant part of their website's offering. "There's so much amazing material out there, and we couldn't possibly create all of that ourselves. We also have associations and partnerships, giving them 10 percent of our gross profits – but we do like to let people know they exist", explains Virginia. "You can't explain feminism without books and reading and content. We want to start conversations and we want people to wear our products as a statement maker. Feminism is something to be proud of and not apologised for."
Ethics From Start to Finish
The Feminist Shop is all about progressive ideas, and it doesn't start and end with feminism. Virginia highlights that the company works through a factory run on renewable energy, with garments made fairway organic cotton. "There's a lot of ethics involved in our business, and we wanted to make sure we were ticking all the right boxes from the very beginning," Virginia explains.
Encouraging consumer responsibility is a significant driver behind The Feminist Shop and the work that Virginia does for the company day-to-day. "People should ask businesses where their materials and other things come from – and each and everyone of us should have this individual responsibility. It's what we believe in, and good or bad, we're bringing it with us."
"It's an exciting time to be alive," claims Virginia. "There's been a lot of backlash to feminist ideas, and people are beginning to realise that the status quo is being challenged. You have people like Trump and Brazilian President Bolsonaro who are directly fighting those advancements. But we're so connected now, and you can't unsee things. People feel their responsibility to create a better world to live in. I genuinely believe that people are much more concerned with the positivity that they can bring to the world."
However, there's still a way to go, warns Chris. "Attacking that head-on with content and understanding is the goal, starting conversations with clothing. Our kids will be the leaders of tomorrow, and we need them to be an important part of that change. As parents, we need to sit down and think about how we can overcome those messages."
*Those wishing to learn more about The Feminist Shop, its ethos and its garments can visit the official website, as well as visiting their official Facebook, Twitter, Instagram and LinkedIn pages. Be sure to check them out!*
Our interview with Viriginia Mendez & Chris McEldowney joins ProfileTree's award-winning Business Leader series, recently recognised with the Best Content Marketing Award for a Video Series at the inaugural Irish Content Marketing Awards. To take part in the series or to discover how digital marketing can transform your online business, get in touch with our expert team today.