As an administrator, it's vital that you know how to create and edit a member on a WIX website. Our video guides explain how to create members on your site, how to edit these members, block users, and how to create member-only pages on WIX.
Using site membership can mean offering premium content or having more personalised content for individual users. You might also add other members-only features, such as unique special offers.
Let's explore how to access these functions of your WIX site.
How to Create and Manage a Member Role on WIX
When you're in the WIX dashboard, to add a member page, click on 'Edit Site' in the bottom left. You can also head to Site Actions to edit your site. This will open your WIX editor. Setting a page as members only is easy.
Go to the menu feature and open the settings on each page you will want to restrict to members only. Head to the permissions settings and change the viewers of the page from everyone to members only.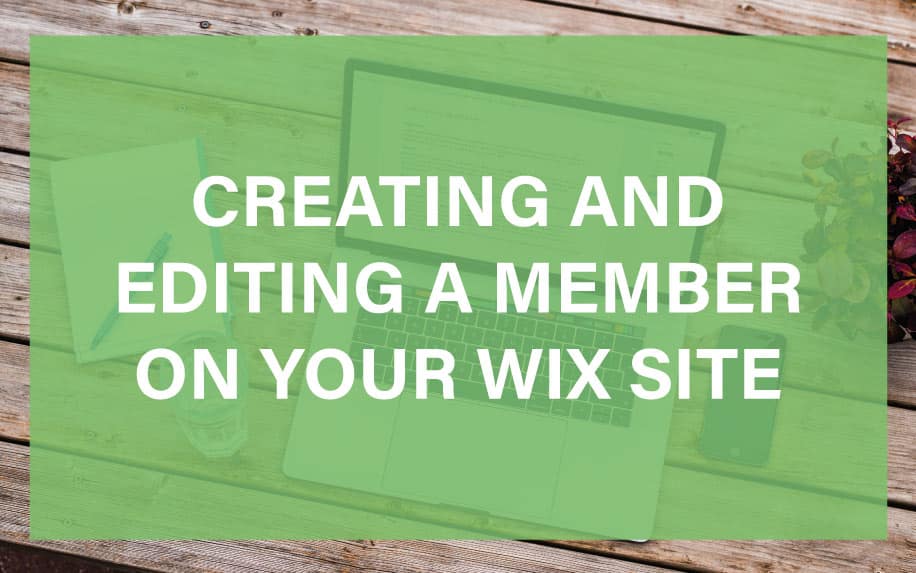 This will set a page to members only.
You will then need to create a member role as no one can access that page as yet. Here you can then set members to access the restricted pages. To start the process of setting a role, go back to the WIX dashboard.
Click on the 'Members & CRM' tab and navigate to the member permissions setting.
In the top right of the page you will see two buttons, we need to click on the 'New Role' button. Fill out the role details and save. It is important to set the colour of the role as this is how to determine the different roles. This means different members can access different pages.
Head over to members settings and add the right members to the right role.
Once you've created a new role and have added the correct people to the role, go back to the Member Permissions tab. Click on the Set Permissions button. Here you can set each page up with the right members.
For instance you may want all staff to be able to access a certain page, but don't want client members to see this page. This is the place to set that up.
Approving a New Member on Your WIX Site
Once a members' area has been set up on your WIX website, users can then sign-up to the website. All members will need to be approved to become a member as many sites that offer membership offer special features and content access when signed up.
Once a member has been approved, the newly appointed member will receive an email notification that they've been approved as a member.
When a visitor signs up to the site, in the WIX dashboard the bell notifications will show a notification. If you refresh the page, you will see that the member will be in the members list.
This indicates that users have been allowed to become a member once they have signed up. To change to manually approve, navigate to the Manage Members drop down and select sign up settings.
Next, select Change to Manually Approve. This means no unwanted visitors can access you premium content and pages. Instead, you'll need to approve every membership request manually.
This will show member requests on the backend of your WIX site, instead of a new user becoming a full member as soon as they sign up.
Blocking Member on Your WIX Site
If you have a member on your site that shouldn't be allowed to access your premium content, you will need to block them. Deleting a member will not stop them from seeing the member pages.
When on the members list, click on the Show More icon, to the right of the members list. This will show three settings, view, block and delete members. Click on the most appropriate setting for you.
Editing Member Sign-Up Settings on WIX
Sign-up settings are always important when you have member only pages on your site. This is because different members should only have access to certain parts of the website.
To get started editing the sign-up settings, head to the editor and navigate to the 'Menus and Pages' feature. Hover over the relevant page you would like to edit and select the show more button. This will bring you to the settings of the page.
Head to the permission settings of the page and head to the 'Manage sign-up settings' at the bottom of the permissions.
A new tab should open, showing general, social and policies of the sign-up process for members. In the general tab you can set who can be members of your site. Either everyone or people I approve.
Within the Social and Community tab, you can allow users to sign-up using their Google or Facebook account. This makes it easier and quicker for people to sign-up meaning they just need to approve signing up using that certain account.
There is also an option to show a link to the terms of use or privacy policy of your site within the sign up page/window. We suggest you show these.
How to Create Member Pages on Your WIX Website
When having a signup to your website for members, there should always be member pages. For instance these pages could be tutorials for staff all in one place or they could be premium content that only members can see.
You can also choose between the options in the sign-up window and which shows first. These are either sign-up or login.
To create a member only page on WIX? It is very easy. First of all remember you will need a members area on your site. This is similar to all the other member features.
Head to 'Edit Site' when you're in your dashboard, then navigate to the 'Menus and Pages' feature at the left side of the tab.
Hover over the relevant pages and head to the show more button. This button is the three dots and will bring you to the settings of that certain page. When on the settings navigate to the permissions of the page and choose the Members only feature. The page should already be set to Everyone.
Other permissions include the likes of setting the page to only certain members, such as only staff. If you need to set the page to only certain members, select 'Only selected members or paying customers'.
This will show a drop-down and you can choose which members have access to that certain page. Repeat this process if you need to set other pages to members only.