Picking the most suitable web design agency is a critical decision which can have far-reaching implications for your business's online presence and success. In a market saturated with talent, the best web design agency for your business is one that not only promises innovation but also delivers a user-centric design, robust functionality, and strategic thinking that drives growth and engages your audience.
In the UK, a hub for some of the world's most innovative digital talents, the search for the 'best' feels like looking for a needle in a digital haystack. Yet, with the proper guidance on what key factors to consider when evaluating a web design agency, finding a firm that best aligns with your business needs will no longer be a demanding job.
This article aims at unravelling the complexities of choosing your digital design partner in the UK, ensuring your decision is informed, strategic, and poised for online triumph. So, let's hop into it.
Understanding Web Design Agencies
Web design agencies are companies that specialise in creating and designing websites for businesses and individuals. They offer an array of services, such as website design, development, maintenance, and website optimisation. These agencies work with clients to create websites that are visually appealing, user-friendly, and optimised for search engines.
Web design agencies hire a team of professionals who work together to create websites that meet the exact needs and goals of their clients.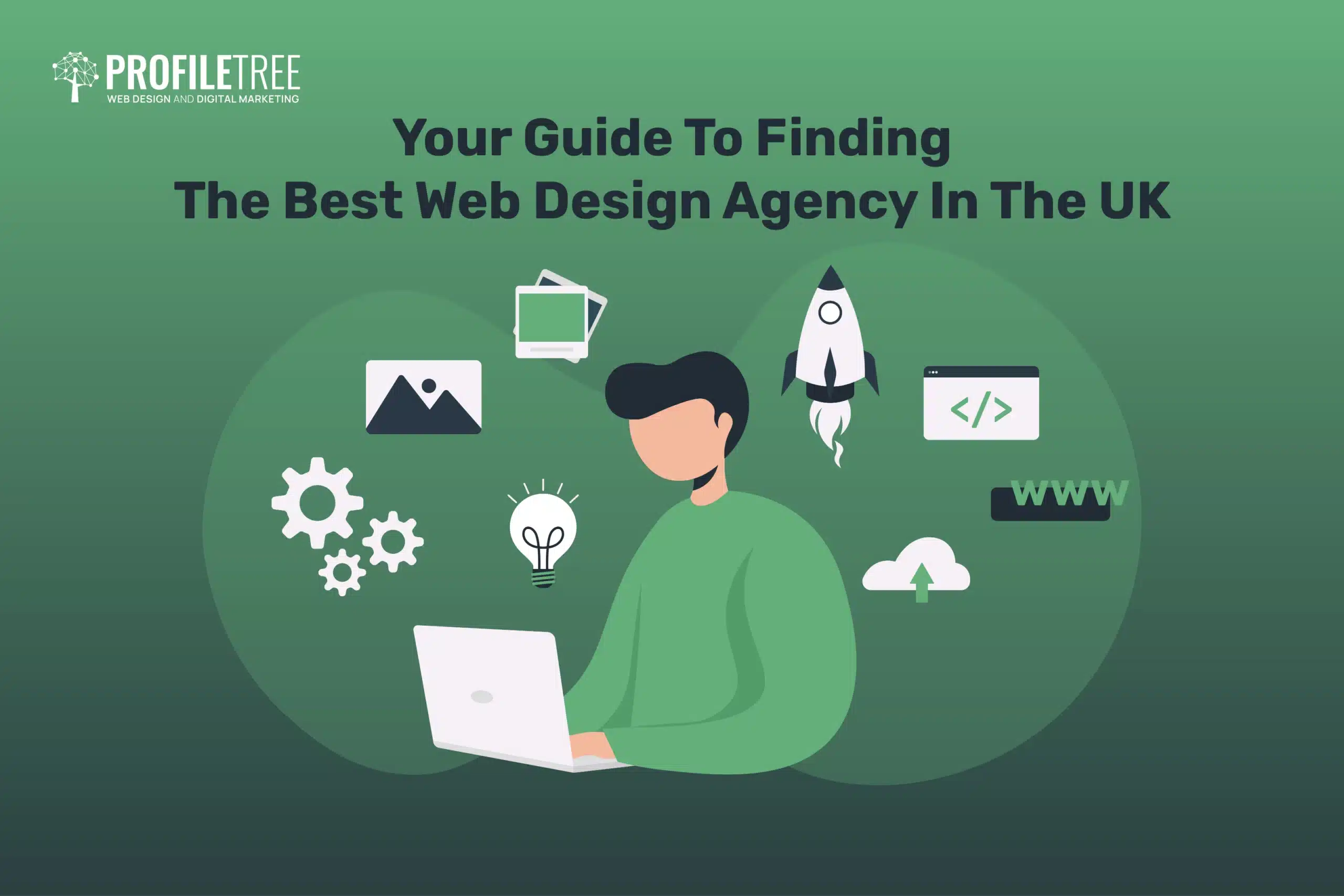 Roles of a Web Design Agency
The roles of a web design agency may vary based on the needs of each client. However, some typical roles include:
Designers: Web designers are in charge of designing the visual components of the website, including the layout, colour scheme, and typography. They work closely with clients to ensure that the design meets their brand guidelines and target audience.
Developers: Web developers are responsible for building the website using different coding languages such as HTML, CSS, and JavaScript. They ensure that the website is responsive, functional, and optimised for search engines.
Project Managers: Project managers oversee the entire website development process, starting from the initial planning to the final launch. They guarantee the project is completed on time, within budget, and is satisfactory for the client.
Factors to Consider When Searching for a Web Design Agency
When it comes to choosing the right UK-based web design agency for your business, there are a few key factors to consider. Here are some of the most important things to keep in mind:
Portfolio and Previous Work
One of the best ways to evaluate a web design agency is to take a look at their portfolio and previous work. This will give you a good sense of their design style, technical capabilities, and overall approach to web design.
Be sure to look for examples of work that are similar to what you need so you can get a sense of how the agency might approach your project.
Client Reviews and Testimonials
Client reviews and testimonials are another essential factor to consider. Find reviews on the agency's website, besides those on third-party review sites such as Google, Clutch, and Yelp.
Pay attention to what clients have to say about the agency's communication, responsiveness, and overall quality of work. This potentially contributes to your decision-making process.
Agency's Expertise and Specialisation
Finally, it is crucial to consider the agency's expertise and specialisation. Some agencies specialise in specific industries or types of websites, while others have a more general focus. Look for an agency that has experience working with businesses like yours, and that has a full understanding of your industry and target audience.
How to Search for Web Design Agencies
When looking for a web design agency in the UK, there are several ways to go about it. In this section, we will discuss two of the most common methods: online search and referrals.
Online Search
One of the easiest ways to find a web design agency is through an online search. Using search engines like Google will help you find a list of web design agencies in the UK. You can tailor your search by using specific keywords related to your industry or the type of website you want to create.
Once you have a list of potential agencies, you can check their websites for more details about their services, portfolio, and pricing. You can also read reviews from previous clients to get an idea of their experience working with the agency.
Referrals and Recommendations
Another way to find a reliable web design agency is through referrals and recommendations. You can check with your friends, acquaintances or business partners if they did work with a web design agency in the past and if they would recommend them.
You should also join online communities related to web design or your industry and ask for recommendations there. LinkedIn is such a great platform to connect with other professionals and get referrals.
When you get a referral, make sure to do your own research on the agency before hiring them. Look at their portfolio, read reviews, and ask for references.
Evaluating the Agency's Website
When looking for the best web design agency in the UK, it is important to evaluate the agency's own website. This can give you a good idea of their design skills, attention to detail, and overall approach to web design.
Here are some things to look for when evaluating an agency's website:
Design: Does the website look visually appealing and professional? Is the layout easy to navigate? Are the colours and typography consistent and complementary? A good web design agency should be able to showcase their design skills on their own website.
Functionality: Is the website easy to use and navigate? Are there any broken links or errors? Good web design agencies should ensure that their own website is fully functional and user-friendly.
Content: Is the website's content well-written and informative? Does it accurately reflect the agency's services and approach to web design? This is another essential thing when it comes to evaluating a web design agency. They should be able to communicate their expertise and experience through their own website's content.
Portfolio: Does the website include a portfolio of the agency's previous work? Are there case studies or examples of successful projects? Unless they have a portfolio they are proud to showcase and can demonstrate their ability to deliver high-quality work, then they are not what you are looking for.
Testimonials: Are there any client testimonials or reviews on the website? Do they provide evidence of the agency's professionalism and expertise? Clients who provide positive feedback about an agency prove that it is worth cooperating with.
Initiating Contact With the Agency
When you have narrowed down your list of potential web design agencies in the UK, it is time to initiate contact with them. This is an important step in the process as it will help you decide if the agency is a good fit for your needs.
Initial Consultation
The first step in initiating contact is to schedule an initial consultation with the agency. This consultation can take place over the phone, via email, or in person. During this consultation, you should be prepared to discuss your project and ask the agency any questions you may have.
It is essential to use this consultation to get a feel for the agency's communication style and approach to web design. You should also use this opportunity to learn more about the agency's experience, expertise, and portfolio. This makes it easier to determine if the agency best fits your project.
Discussing Your Needs and Expectations
During this stage, you should be prepared to discuss your needs and expectations with the agency. This includes discussing your project goals, target audience, and any certain features or functionality you require.
It is important to be clear and specific about your needs and expectations. This will help the agency understand your project requirements and provide you with an accurate quote. You should also be prepared to discuss your budget and timeline for the project.
Understanding the Agency's Proposal
When evaluating a web design agency, it is important to understand their proposal. A good proposal should clearly outline the agency's approach to your project, including timelines, deliverables, and costs. Here are some key factors to consider when reviewing a web design proposal:
1. Timeline
One of the most important factors to consider is the proposed timeline. You want to make sure that the agency is able to complete the project within your desired timeframe. A good proposal should include a detailed timeline that outlines the key milestones and deadlines.
2. Deliverables
Another important factor is the proposed deliverables. You want to make sure that the agency is clear on what you expect from the project. A good proposal should include a detailed list of deliverables, such as wireframes, design mockups, and a final website build.
3. Cost
Cost is always a consideration when choosing a web design agency. Proposals should clearly outline the costs associated with the project, including any additional fees for revisions or changes to the scope of work.
4. Approach
Finally, you want to make sure that the agency's approach aligns with your goals and objectives. A good proposal should include a detailed overview of the agency's approach, including its design process, communication plan, and project management methodology.
Negotiating the Contract
When you have found a web design agency you want to work with, it is important to negotiate the contract to ensure that both parties are clear on what is expected. Here are some important things to consider:
Terms and Conditions
Make sure you carefully read and understand all the terms and conditions of the contract. This includes things like the scope of the project, the timeline for completion, and the responsibilities of both parties. Ensure that any changes to the project are agreed upon in writing and that you have a clear understanding of what happens if the project is delayed or cancelled.
Pricing and Payment Structure
Pricing is an important consideration when negotiating a contract with a web design agency. Make sure you have a clear understanding of the pricing structure, including any additional fees or charges. It is also important to agree on a payment schedule that works for both parties. This could include a deposit upfront and then payments at certain milestones throughout the project.
Consider requesting a detailed breakdown of costs so you can see exactly what you're paying for. This can help you avoid any surprises down the line. Additionally, make sure you understand what happens if you need to make changes to the project that may affect the price.
Starting the Project
When initiating a web design project, it is necessary to establish clear goals and expectations. This process typically begins with a kick-off meeting, where you and the web design agency officials discuss the project scope, timeline, and budget. This meeting is an opportunity for both parties to get to know each other and ensure they are on the same page before officially starting the project.
Setting Milestones
Once the kick-off meeting is complete, you will begin setting milestones for the project. Milestones are vital points in the project timeline that help us measure progress and ensure that both of you are on track to meet our goals.
Projects are typically broken down into smaller, more manageable phases, with each phase culminating in a milestone. For example, the first milestone might be the completion of the project's wireframes, while the second milestone might be the launch of the website.
By setting clear milestones, you can check whether or not the project is on track and ensure that everybody involved knows what is expected from them. It also helps point out likely issues early on and make adjustments as needed to keep the project moving forward.
Reviewing and Evaluating the Final Product
Once the web design agency delivers the final product, it is essential to review and evaluate it to ensure that it meets your expectations. Here are some tips on how to review and evaluate the final product:
Check the Website's Functionality
The first thing you need to do is to check the website's functionality. Make sure that all the links work correctly and the pages load quickly. Check the website's responsiveness on devices like desktops, laptops, tablets, and smartphones. Also, ensure that the website is compatible with different browsers and operating systems.
Evaluate the Website's Design
The website's design is crucial to its success. Evaluate the website's design by checking if it is consistent with your brand's identity, easy to navigate, and visually appealing. Check if the website's design is user-friendly and the content is easy to read. Ensure that the website's design is accessible to people with disabilities.
Test the Website's Performance
The website's performance is another factor that contributes to the success of your website. Test the website's performance by checking its loading speed, uptime, and security. Ensure that the website's performance meets your expectations and is secure from cyber threats.
Get Feedback from Users
Getting feedback from users is an excellent way to evaluate the final product. You can ask users to test the website and provide you with feedback on its functionality, design, and performance. Use this feedback to make improvements to the website and ensure that it meets your users' needs.
Finding the best web design agency in the UK can be a bit of an intimidating task, yet it is essential for the success of your website. Remember to take your time researching potential agencies while considering the factors outlined in this article.
Also, do not be afraid to ask questions. Make sure to understand the agency's process clearly before signing any contracts. Be open to their suggestions and feedback, but also make sure that your vision is being realised. With the right agency, you will be able to build a website that is visually stunning and functional as well, helping you to achieve your business goals.
FAQs
1. What are some top website design companies in the UK?
There are many top website design companies in the UK, such as The Brand Tailor, Studio Graphene, and Huxo. Such companies do have a proven track record of designing beautiful and functional websites for a range of clients. However, there are many other great web design agencies in the UK, so it is important to do your research before deciding which one to work with.
2. How can I find a creditable web design agency in the UK?
To find a creditable web design agency in the UK, you should start by looking at their portfolio and client reviews. You may also try to get recommendations from friends, family, or colleagues who have had experience with web design agencies. Use online search for web design agencies in your area and read reviews from previous clients.
3. What should I look for when choosing a web design agency in the UK?
When choosing a web design agency in the UK, you should look for a company that has experience in your industry and can provide examples of successful projects they have completed. You also need to consider their communication skills, pricing, and the quality of their work. It is important to choose a web design agency that you feel comfortable working with and trust to deliver high-quality results.
4. How many web design agencies are there in the UK?
It is difficult to say exactly how many web design agencies there are in the UK, as new agencies are constantly popping up. That said, a quick online search shows that there surely are hundreds of web design agencies in the UK, ranging from small boutique firms to large, established companies.
With so many options available, it is important to do your research and choose a web design agency that meets your specific needs and budget.