Over the years, Google has continuously adapted its search algorithm to satisfy user needs. As the world's leading search engine, Google needs to ensure that users receive the best content when they perform a Google search. Businesses and content creators are always releasing material for the public. Since not all online sources are reliable, Google has developed algorithms that filter web pages to display the best ones on top. One of the more recent algorithm updates, the E-A-T update, holds high expectations for Your Money or Your Life (YMYL) pages to rank high. This demands that businesses create higher quality content.
What Is E-A-T?
The acronym E-A-T stands for
expertise
,
authoritativeness
, and
trustworthiness
. These properties gauge how reliable and valuable webpages are to users. On August 1 of 2018, Google released a broad core algorithm update, known informally as the E-A-T update. It affected search engine optimisation (SEO) for business, especially for businesses in YMYL category. That's a lot of acronyms, let's first dive into what E-A-T is.
Expertise
The first letter of E-A-T stands for expertise, or how knowledgeable the people running a webpage are. Having expertise means the content supplier is an expert in the topic. They will have credentials that prove their knowledge. Google's decision on who has expertise is not concrete. Their Search Quality Evaluator Guidelines (SQEG) highlights everything related to search quality. Their section 4.5 describes that "the standard for expertise depends on the topic of the page". This means that people that frequent restaurants can have "everyday expertise" for writing restaurant reviews online, for example. Note that everyday expertise does not apply to YMYL pages. Having expertise is generally advised for SEO of any content; it typically means the content creator is a primary source of information.
Authoritativeness
Authoritativeness means a business is recognised and has authority. It is similar to expertise but in terms of the website as a whole. In fact, authoritativeness works in tandem with expertise since reputable companies must have reputable content creators. Proving company knowledge in a certain industry can build authority. Companies gain authority through posting blogs consistently, social media promotions, practicing
link building
, etc.
Trustworthiness
A trustworthy content provider is reliable, and clients trust that the information is accurate. The E-A-T update heavily demanded more trustworthy sources. Google wanted more original, up-to-date content, meaning high ranking pages had to provide consistently valid information. This especially matters when dealing with YMYL pages which are pages that pertain to health, finance, happiness, and safety of users. These three components of E-A-T are used to rate the value of webpages and help evaluate their rank on Google's result page.
The E-A-T Update
Since this August 2018 update heavily affected visibility of YMYL pages, articles surrounding YMYL and E-A-T spread quickly. This led many to believe that these principles arose from that update. In reality, E-A-T was introduced in the SQEG from 2014. Since then, algorithm updates seem to increasingly raise the bar for YMYL pages, making E-A-T an essential component when it comes to ranking. Unlike
past algorithm updates
like the Panda or Penguin update, Google did not offer much information on the E-A-T update. It's intention was ambiguous, but many medical and financial sites suffered in rank.
The Medic Update
The
Medic update
along with the E-A-T update are just monikers for the August 1, 2018 broad core update. It was unofficially titled the Medic update for its abnormally large effects on health, medical, lifestyle, and financial content. Google claims YMYL content was not targeted, but those pages saw the largest shift in rank. As a result, some referred to this update as the E-A-T update for the heightened demand for E-A-T in web pages.
Similar Updates
In 2020, three core updates were released that seem to similarly raise the standards of E-A-T. Especially with the May and December 2020 core updates, many websites dropped in organic visibility on Google's result page.
Understanding Google's Quality Evaluator Guidelines
The SQEG is a reference for Google employees that rate pages. However, the document is public for businesses to reference as well. Keep in mind that these guidelines are really just guidelines; they do not offer absolute solutions for creating quality content. Just as the algorithm updates often, the SQEG updates roughly every year. It introduced a concept in 2018 where pages must have a beneficial purpose. We will take a look at this later.
How To Prepare for Future E-A-T Updates
Google's core update of June 2019 also touched on beneficial purposes. Like the Medic update, content creators were not told how to 'fix' their website in terms of SEO. It's suspected that Google wants overall better content; disclosing what the update covered might lead people to just 'fit the algorithm'. With that in mind, it is difficult to predict what needs to be focused on. Instead, businesses can focus on the general content they are creating. For example, finance websites should provide relevant information to financial topics supplemented with appropriate E-A-T principles.
How E-A-T Affects Google Search Algorithm
Technically, E-A-T is not an update or algorithm on its own. It is more of a principle and does not influence the system.
Your Money or Your Life
YMYL pages need high E-A-T to rank high since they can directly influence users' lives. Some YMYL pages that need high E-A-T include:
Medical and financial advice
High-stakes matters like parenting
Current events and news
Science and scientific findings
Google Core Algorithm Updates
The core updates of 2020 dramatically impacted YMYL sites. Evidently, for many YMYL pages, rank demotions occurred right after these core updates. This forced businesses to rethink their SEO and improve E-A-T practices.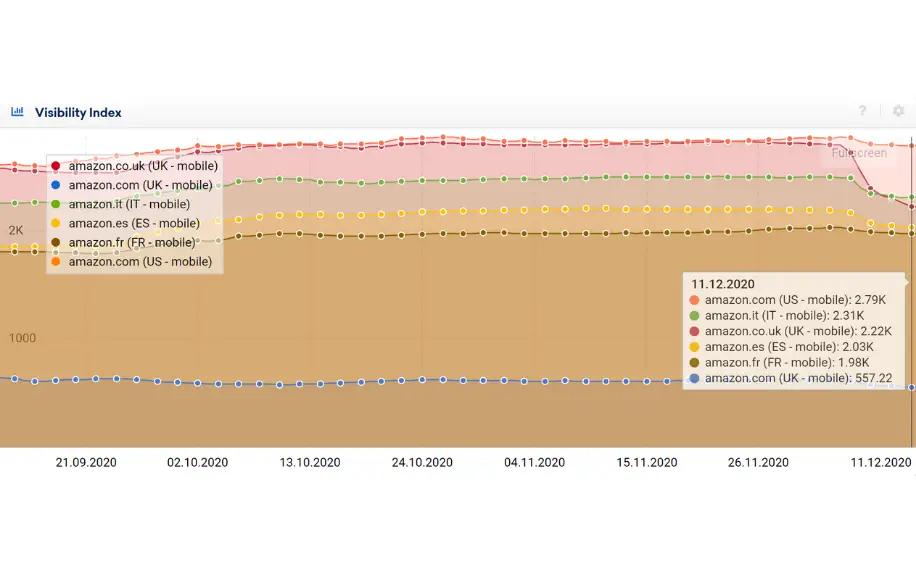 Here, we can see on the right that Amazon mobile pages dropped in visibility after the December core update. Similarly, the same behavior occurred in the May core update for finance sites.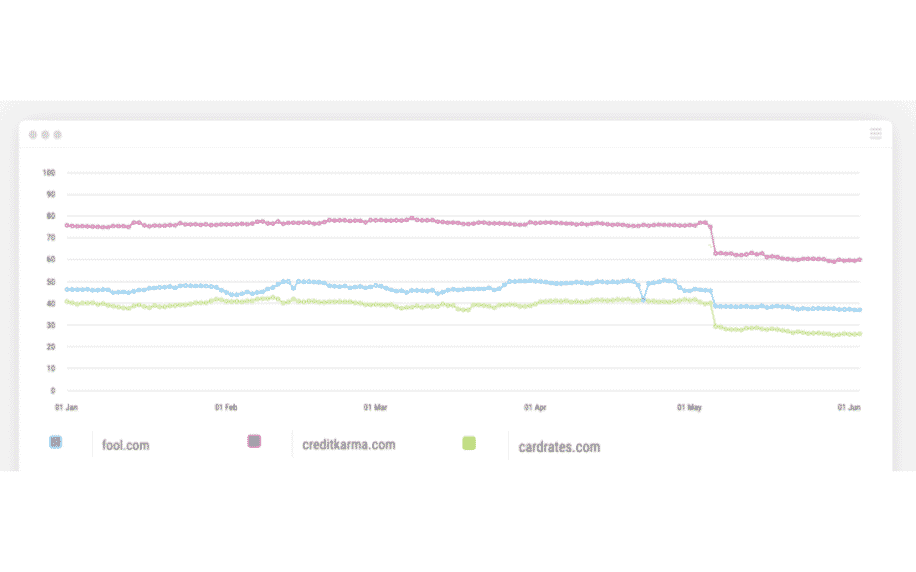 Ranking Factors
It is commonly asked if E-A-T is a ranking factor. E-A-T is not something that can be measured and does not directly affect ranking anyway. It is Google's algorithm that ranks pages; E-A-T is purely human assessment.
Actual ranking factors
like page speed or keywords are measurable and impact page rank. Instead, E-A-T helps Google evaluators determine page quality.
Search Quality Guidelines
E-A-T and YMYL were introduced to search algorithms from the 175-paged SQEG. E-A-T was mentioned at least 137 times in the latest version, demonstrating it as a predominant topic in rating page quality. The SQEG is essentially Google's attempt to push away low-quality content that may negatively impact readers.
Google Evaluators
There are roughly 10,000 'Quality Raters' that work for Google. They rate pages using E-A-T guidelines and follow the SQEG. As previously mentioned, these ratings do not directly impact ranking; it serves to evaluate the accuracy of Google's search algorithm.
Page Quality
The purpose of the SQEG is ensuring quality content is prioritized to searchers. But what constitutes as quality content? High quality pages have high E-A-T, maintain a good reputation, and have a beneficial purpose. Pages that are accessible and give users what they came for are valued the most.
SQEG Update
Shortly before the E-A-T update, a July 2018 SQEG update required evaluators to rate content creators on E-A-T as well as web pages. This may have led to the commotion that ensued in the Medic update. More recently, the latest SQEG update of October 14, 2020 added seven pages of content pertaining to page quality, user needs, and user intent/query.
Optimising Your Content For Success
Three aspects to consider when optimising your content for ranking are beneficial purpose, E-A-T, and YMYL. All are detailed in the SQEG.
How to Receive High E-A-T
With the information thus far, you may have some understanding of what will earn high E-A-T. After the E-A-T update, here are some ways to boost your YMYL pages:
Back medical, financial, and lifestyle claims with reliable sources
Study competitors' keywords and implement those that boost pages
Offer about pages, contact pages, company bio, etc. that support your legitimacy
Have content created by subject matter experts/authoritative figures, or receive information directly from them
Create quality, original, fresh content to build recognition and authority
Ensure each page has a purpose
Host a secure web domain
Properties That Penalise Your E-A-T
Some practices will hinder your ranking because it's purpose is not to help the user, or makes for terrible user experience. Here is what you should avoid:
Page focused on money, not helping users
Accumulating bad reviews and neglecting them
Intrusive ads
Too little main content
"Sneaky redirects," or embedded links to affiliate programs
Keyword stuffing
Copying content
Abandoning webpages
Not being mobile-friendly
Key Performance Indicators
Abbreviated as KPIs, these help you know if your page is successful. Some KPIs that indicate your SEO and E-A-T are in good standing:
Low bounce rate
Positive reviews
Mentioned on authoritative websites/news
Takeaways
The E-A-T update of 2018 left the content creating world with an elevated need for higher quality content. Businesses can refer to Google's Search Quality Evaluator Guidelines to get a sense of what quality content might look like. You can boost your E-A-T and page quality by sourcing reliable and fresh information, providing contact and about sections, and ensuring each page has a purpose. To avoid penalties in page quality, avoid keyword stuffing, make your pages more accessible, and do not focus on irrelevant strategies like including ads or sneaky redirects. All in all, Google is taking user needs more seriously by setting higher standards for YMYL content. While the SQEG does not provide absolute solutions, it is a great start for optimising your content for ranking. Do note that Google's algorithm can update sporadically. As seen by the Medic update, many businesses can be caught off guard.
Connect with an SEO specialist
to work toward boosting your page rank.