Reeling from a year that is still learning how to cope with the effects of the pandemic, people are looking forward to the events that have been postponed to bring them some sense of normalcy. With this in mind, creating a web presence for events is strategically important. We have developed a guide to help you use SEO for events to your advantage. Using SEO for events ensures that you reach a wider audience, both
local
and international, and employing it correctly will help you rise in search rankings. Optimising your event website won't just boost traffic to the site itself but could encourage prospects to convert, driving ticket sales and even bringing more foot traffic if your event is in person. Google even offers research engine results features for events based searches – events carousel and events pack. These offer some great options for those trying to be featured on search results pages. Some websites even offer
apps
to help sell your events.
Google's Event Carousel
When optimising your event's pages, you'll want to keep the event carousel in mind. This space sits above the organic search results and can display up to 16 results above the fold on a desktop and four on a mobile device – prime positioning. When you click on a result on the event carousel, it will direct you to an event page that has already been crawled and indexed by Google.
Google's Events Pack
The search engine results page feature that shows all the events in an area you have searched for is known as the events pack. Similarly to the l
ocal pack
, it will take three top results and place them above organic search results. This gives events chances to rank in a place called 'position zero'. This position offers a business a high-click through rate than ranking number one on traditional organic search. Due to this being above the fold, position zero is the first thing a visitor sees – making it important that you get into this position. Events packs can be created in a multitude of ways from concerts and festivals to shows and parties, and even tickets. Google offers plenty of opportunities to qualify as an event.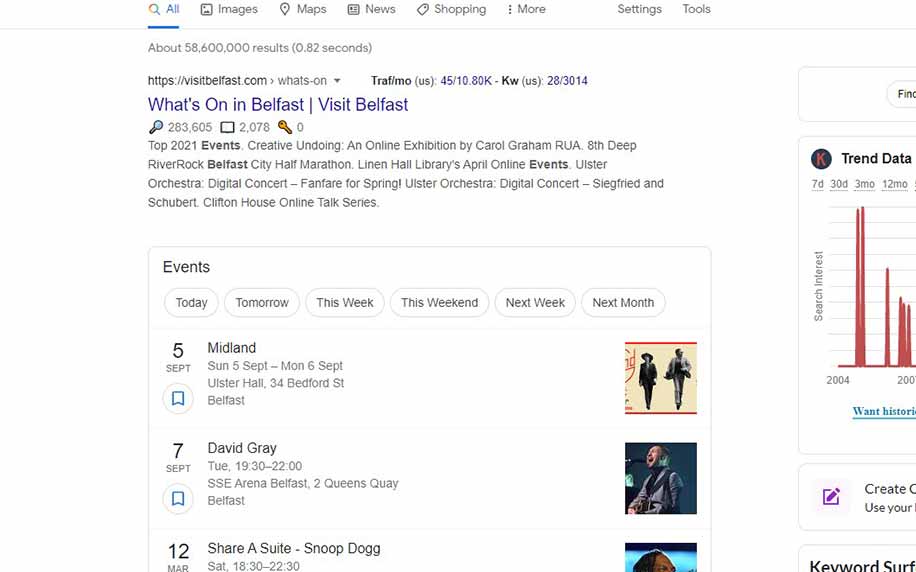 Using Knowledge Panels
Another great way to feature an event where you want to highlight the venue or the performer is using a knowledge panel. When people Google a performer they want to see, as we have below with Dermot Kennedy, you will be able to see events linked beside them. Similarly to an events carousel, when you click on it, it will send you to a separate results page. If you are interacting with a knowledge panel on a mobile device, clicking on an event will send you to purchase tickets to the event in question.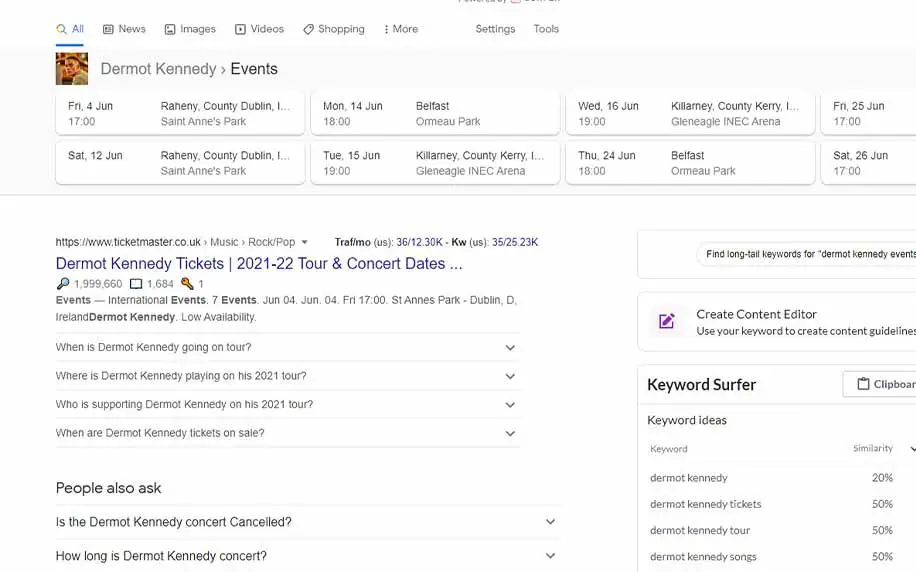 How to Use SEO for Events
When promoting an event, it is important to take certain steps to
improve SEO and develop your online presence
. We've put together some of our best practices to help your event stand out against the competition.
Use Keywords in Your Event Names
You may already know how to get Google to trigger an event carousel or what you have to write in order to get Google to recognise your event as an event but it is also important that you optimise your event to get as much traffic to your website as possible. Keyword research can be done on terms that will trigger an event pack and help you focus on what phrases and words perform better when they're put through search engines. We've Googled 'beer festival' and already Google has pulled up beer festivals that are close to my location. Whoever is hosting this festival has very specifically named it with 'beer festival' in the name. This is a key term so, if you're holding a beer festival, it is crucial that you include that in your name. If you are hosting a festival in a particular city, try to include that within the name as well.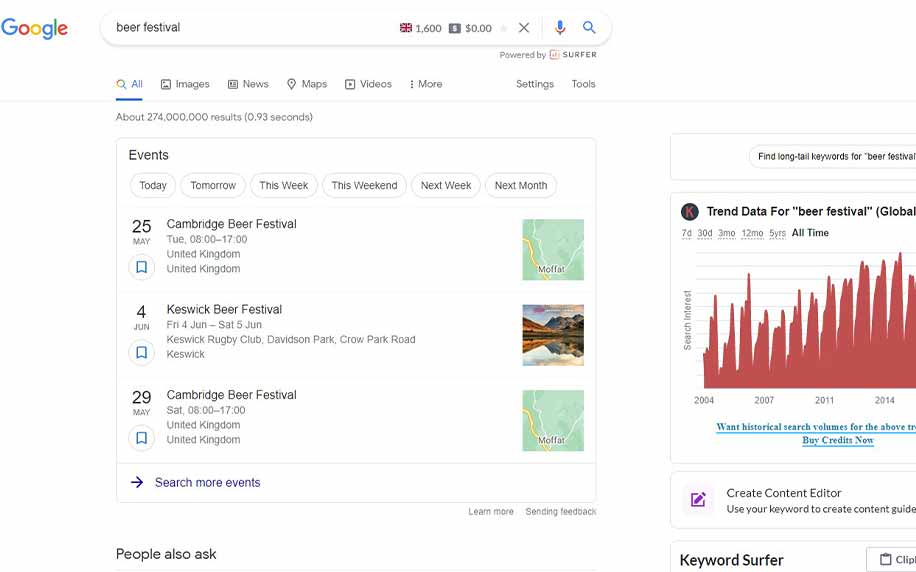 2. Select Dates and Times Carefully
One thing that Google loves is specifics. When you are planning an event, you want to ensure that you are using schema to alert Google when events are happening. One way that this can aid you in ticket sales is that Google can help you rank for key phrases like 'events today' or 'events tomorrow' A thing to note is that if you have events happening on non-consecutive days, you will have to create an event page for each day available and then you can get marked up with an event schema. This also ensures that people don't attempt to attend an event that isn't happening. Google recommends to mark up multi-day events by specifying the start and end times of every event and adding separate event elements for every performance.
3. Use Event Schema
Arguably the most important part for SEO events, doing event schema is integral to ensure that organic search results push your event. Using things like rich snippets, the event pack and carousel, and even the knowledge panel all help in getting your event recognised. Some of the important areas that Google advises you to markup to ensure you get great organic traffic and results are:
Start and end date
The venue and the venue's address and name
The event name and description
Offers
Who is performing
Imagery
When you include all of these, Google rewards you with being found easily in search. It allows for the event pack and carousel to be triggered by exact event name searches as well. Using this schema also adds rich snippets to organic search results which gives a searcher the means to click directly into the event page from the search results – something that creates convenience for prospective customers.
4. Create Good Content and Links
Google shows transactional and editorial pages when someone types in particular keywords. This allows a user to either garner more information or directly make their purchase. Google rewards sites it believes have domain authority and create trustworthy experiences for their users. One way of doing this is displaying as much information as possible about the event you are going to run. Creating content around your event can help you gain traffic and potential conversions from those who click the links that direct them to tickets from the editorial content. It helps you build links which helps Google find your events faster and give them more reason to rank your event higher than other events that might be offering a similar experience.
5. Use Ticket Marketplaces and Sites
One way to ensure that your event gets good exposure is to use ticket sellers. This can help you increase profits from people using reputed sites. Google is strict on who it lets sell tickets and does use event ticket seller certification. Some of the sites that it will let customers purchase tickets off are as follows:
StubHub
Eventbrite
Songkick
VividSeats
TicketFly
These sites all offer you a platform to promote your event to an even wider audience and also let you link back to your domain, creating greater domain authority and visibility.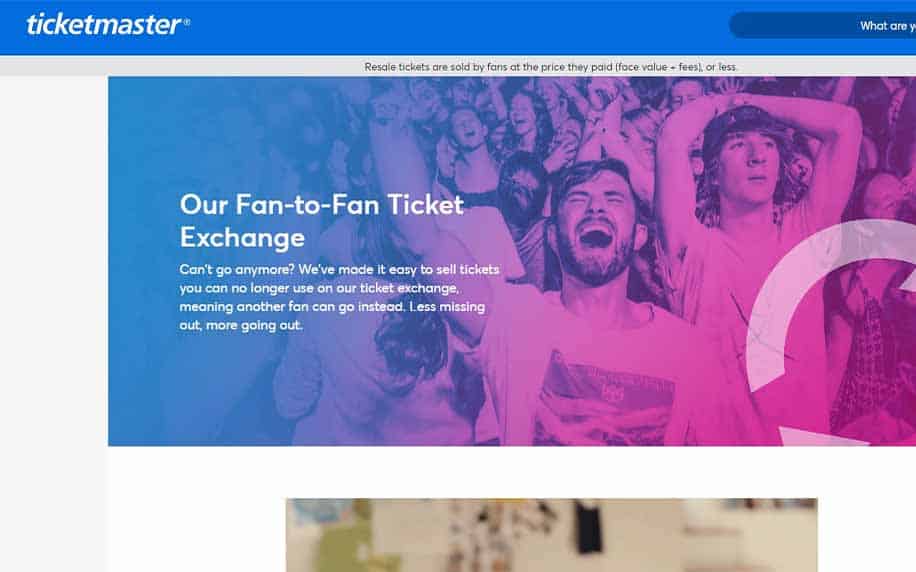 Market Your Events
Search results change daily so utilising SEO for events can help your event stand out from similar offerings and allow you to make more sales. Build awareness and gain a following with clever techniques like schema and keywords to help your event to be found quickly. Want to know more about SEO and unsure of where to start?
Contact ProfileTree today
to talk to one of our
SEO experts
and see how we can help your business grow and your events to be found online.