Navigating the digital landscape can be a daunting task. From website design to SEO, social media marketing to content creation, each element plays a pivotal role in carving out your business's online identity. But there's one aspect that often gets overlooked, yet it's fundamental to your online success: Cloud Hosting. This powerful service is more than just a tech buzzword; it can be a game-changer for your business operations.
In this article, we'll delve into the nuts and bolts of Cloud Hosting, exploring its benefits, implementation strategies, and how it can bolster your digital growth. Whether you're a budding start-up or an established brand, understanding the potential of Cloud Hosting can give you a competitive edge in today's fast-paced digital world. So, let's unravel the power of Cloud Hosting together.
What is Cloud Hosting?
Cloud hosting is an advanced hosting solution that stores your website across multiple servers. This unique approach allows you to access resources from various locations, making it an incredibly scalable, reliable, and flexible option for your hosting needs. It is especially beneficial for websites that experience fluctuations in traffic and performance. Embrace the power of cloud hosting and ensure seamless operations for your website.
What is The Difference Between Cloud Hosting and Shared Hosting?
Cloud hosting and shared hosting are two different types of hosting services. Shared hosting is the more commonly used and affordable option. Multiple websites share the resources of a single physical server in shared hosting, while each website or application is assigned a specific amount of resources.
On the other hand, cloud hosting offers more power and control. With cloud hosting, you get an entire server to yourself without sharing resources with anyone else. You have the freedom to create and manage your hosting accounts and make server configurations as needed.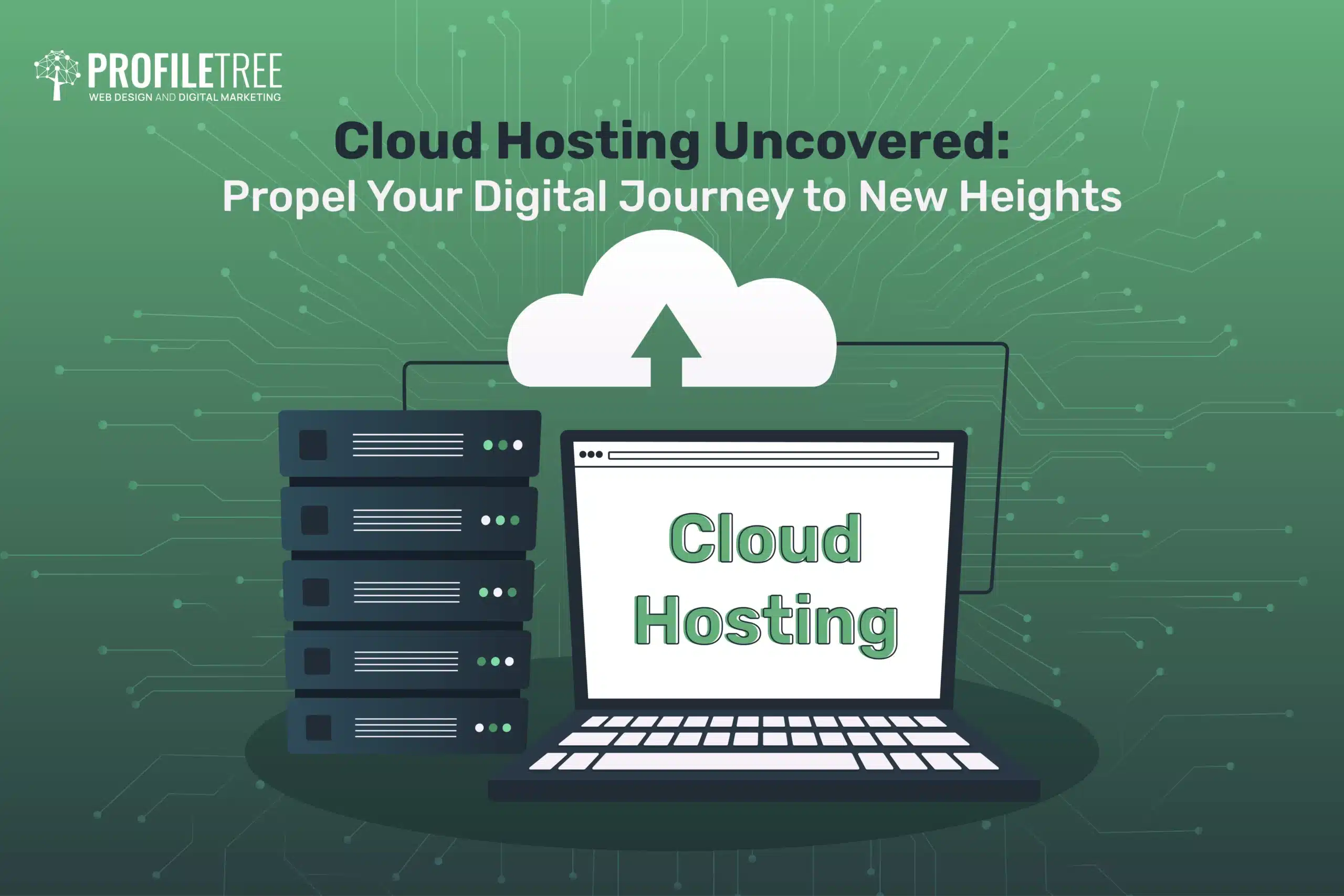 Cloud hosting is an excellent choice if you require a more robust hosting solution than shared hosting. It offers flexibility and scalability, allowing you to add more resources to accommodate increased traffic or scale back when needed.
In contrast, dedicated server hosting involves businesses leasing dedicated servers from hosting providers. This allows customization and configuration of the server to meet specific requirements. Dedicated servers are advantageous for supporting online operations with precise levels of web traffic.
Overall, cloud hosting provides a powerful and versatile hosting solution for websites that demand exceptional performance and control.
Should You Choose Cloud Hosting over Dedicated Servers?
When it comes to server options for your website, you have two main choices: dedicated servers and cloud hosting. Both have their advantages and it's important to understand which is the best fit for your specific needs.
Let's start with dedicated servers. With a dedicated server, you have complete control over the server, meaning it's exclusively for you and your websites. This level of customization is perfect for companies that handle a lot of traffic and run complex applications. While the cost of dedicated servers may be higher, having a server configured to your exact needs is invaluable.
On the other hand, cloud hosting offers scalability and flexibility. With cloud hosting, you can easily scale back or increase the amount of resources you're using. This is particularly helpful if you have fluctuating website traffic and performance needs. Additionally, cloud hosting is managed by your host, meaning you don't have to worry about aspects like security patches or operating systems.
Now, let's look at some key differences between the two options. With dedicated servers, you're responsible for all aspects of server management, including web security and operating systems. This can be both a pro and a con, as it gives you full control but also requires more technical expertise. On the other hand, cloud hosting is a more hands-off approach, with your host taking care of server management and updates.
Leasing a remote dedicated server can often come with a higher price tag compared to locally purchasing and managing hardware. However, it's worth considering the benefits of a data centre's fibre optic network speed and the reliable support, technical assistance, and debugging services offered by web hosting companies. These factors are crucial for seamless business website operations, as they minimize the risk of unexpected costs or server downtime that can disrupt your online presence.
Cloud hosting, on the other hand, focuses on individual business needs. While it may be slightly more expensive than shared hosting, cloud hosting offers scalability options that rival the capabilities of dedicated server hardware.
As previously mentioned, shared hosting is a cost-effective and widely used hosting service. With shared hosting, multiple websites reside on a single physical server, sharing its resources. In contrast, cloud hosting provides you with dedicated server capabilities, empowering your website with more power and flexibility. With shared hosting, if your website starts to exceed its allocated resources (for example, during a sale or a product launch), you may experience time-out issues and downtime. This can lead to missed business opportunities and dissatisfied visitors.
However, with cloud hosting, such resource limitations are less likely to occur. You have the entire server at your disposal, ensuring a smooth and uninterrupted user experience even during traffic spikes. This translates into continuous customer satisfaction, repeat visits, and ultimately, increased conversions.
In order to ensure optimal speed and performance for your website over time, it is crucial to understand the potential traffic it could receive. Based on this knowledge, you can make an informed decision between a shared hosting plan and a cloud hosting plan. Opting for a cloud hosting plan allows the server to handle higher volumes of traffic and allocate sufficient resources to support your website's performance needs.
With a cloud hosting setup, multiple servers work together seamlessly to ensure your website remains operational even if one server fails. This eliminates any downtime, providing uninterrupted service to your visitors. The main advantages of cloud hosting lie in its exceptional performance and on-demand scalability, making it ideal for websites experiencing fluctuations in traffic.
When selecting a cloud hosting provider, you will come across numerous options, each offering different plans. To help you navigate this choice, we have compiled a list of the top cloud hosting providers in the market.
HostGator
HostGator is one of the leading web hosting providers in the industry, with over 10 million domains hosted on their platform. It offers a range of features and benefits that make it a popular choice for hosting your website.
One of the key advantages of choosing HostGator is its reliability. It has a 99.9% uptime guarantee, ensuring that your website stays online and accessible to visitors. Additionally, they provide 24/7 support to assist you with any technical issues or questions you may have.
Another great feature of HostGator is its one-click WordPress installation. If you're planning to create a WordPress site, choosing a plan with HostGator makes the process seamless and hassle-free. You simply need to purchase the plan and click on the Install WordPress button, and HostGator takes care of the rest.
HostGator also offers free domain names and SSL, giving you added value and security for your website. They even provide free business email addresses, depending on the plan you select.
When it comes to deciding on a web hosting provider, flexibility is essential. HostGator offers a 45-day money-back guarantee, allowing you to try out their services risk-free. You can sign up for a plan, test it out for a whole month, and determine if it meets your needs. If you're not satisfied or have different requirements, you can explore other options without any financial loss.
It's important to note that HostGator's pricing starts at $4.95 per month, but that's their introductory offer. The actual price may vary depending on the plan you choose. While their monthly pricing may be higher after the introductory phase, it's crucial to select a plan that aligns with your website's specific requirements. By doing so, you ensure that you're only paying for the features and functionalities you truly need.
If you're starting with a cloud website, HostGator's basic plan offers excellent value at an introductory price of $4.95 per month. This plan includes a single domain, 2 GB of memory, and two core CPUs.
Your website's speed depends on the memory and CPU power you have. 2GB of memory is a substantial amount for cloud hosting, but it's important to consider the size of your site. Additionally, all of HostGator's plans come with a free SSL certificate for added security and a free domain for an entire year. If you don't already have a domain, you can purchase one through Cloud HostGator and get it for free for at least a year.
Moving up to the baby cloud or business cloud plans, you'll enjoy unlimited domains, allowing you to have multiple websites under one hosting plan. The main differences between these plans and the basic plan are the amount of memory and CPU speeds. These factors directly affect the speed and performance of your website. Consider the size of your site and the content you have, such as high-quality images or videos, when choosing the right plan.
The business cloud plan offers everything that the baby cloud plan does but with some additional features. Keep in mind that the CPU speed is essential for larger sites or those with many processes running in the background. However, for some websites, the Hatchling Cloud plan might be perfectly sufficient.
With Hostgator's Business Cloud hosting plan, you not only gain access to robust features but also receive complimentary SEO tools and a dedicated IP address. While this can be advantageous, it may also have its drawbacks. For instance, if you are already familiar with popular SEO tools like RankMath or Yoast, you might find the inclusion of HostGator's SEO tools unnecessary.
To make an informed decision, consider your specific needs and budget. Evaluate how many domains you intend to host and the nature of your website. E-commerce sites, for example, demand higher performance and greater resources. In such cases, the Business Cloud plan likely proves to be the most cost-effective option. Even if your website has limited traffic at the moment, the inherent nature of e-commerce sites often requires more processing power than a basic blog or brochure-style website.
Remember, Hostgator offers a 45-day money-back guarantee. This means that if you initially choose a plan that doesn't fully meet your requirements, you can easily upgrade, downgrade, or even switch to a different hosting platform within that period.
Hostgator also offers a remarkable uptime guarantee of 99.9%, ensuring your website stays up and running smoothly. And if you encounter any downtime below that, they will credit your account for one month. This commitment shows how seriously they take downtime issues. Moreover, HostGator provides flexible billing options, including monthly, weekly, and yearly plans. By opting for longer billing cycles, you can enjoy greater discounts on your chosen plan.
Another standout feature of HostGator is its free migration service. If your website is already hosted with another provider, HostGator will handle the migration process for you at no additional cost. Their team will transfer your website within the first 30 days of signing up. This is particularly beneficial for those who are not technically inclined or prefer expert assistance.
Granted, the monthly pricing may appear higher compared to annual plans, so you can lower the cost by choosing an annual option. Additionally, Hostgator offers a money-back guarantee. If you're not satisfied or decide to switch to another platform, you can receive a full refund.

When it comes to choosing a hosting provider, excellent customer service is crucial. Hostgator stands out in the industry for its exceptional support team, available 24/7 via phone, live chat, and email. They offer ticket-based email support, ensuring prompt assistance for any technical hosting issues you may encounter. In contrast, some hosting providers have limited ticket submission times, delaying help if you reach out outside those hours. Therefore, selecting a provider with round-the-clock support is essential, particularly if you prefer professional guidance.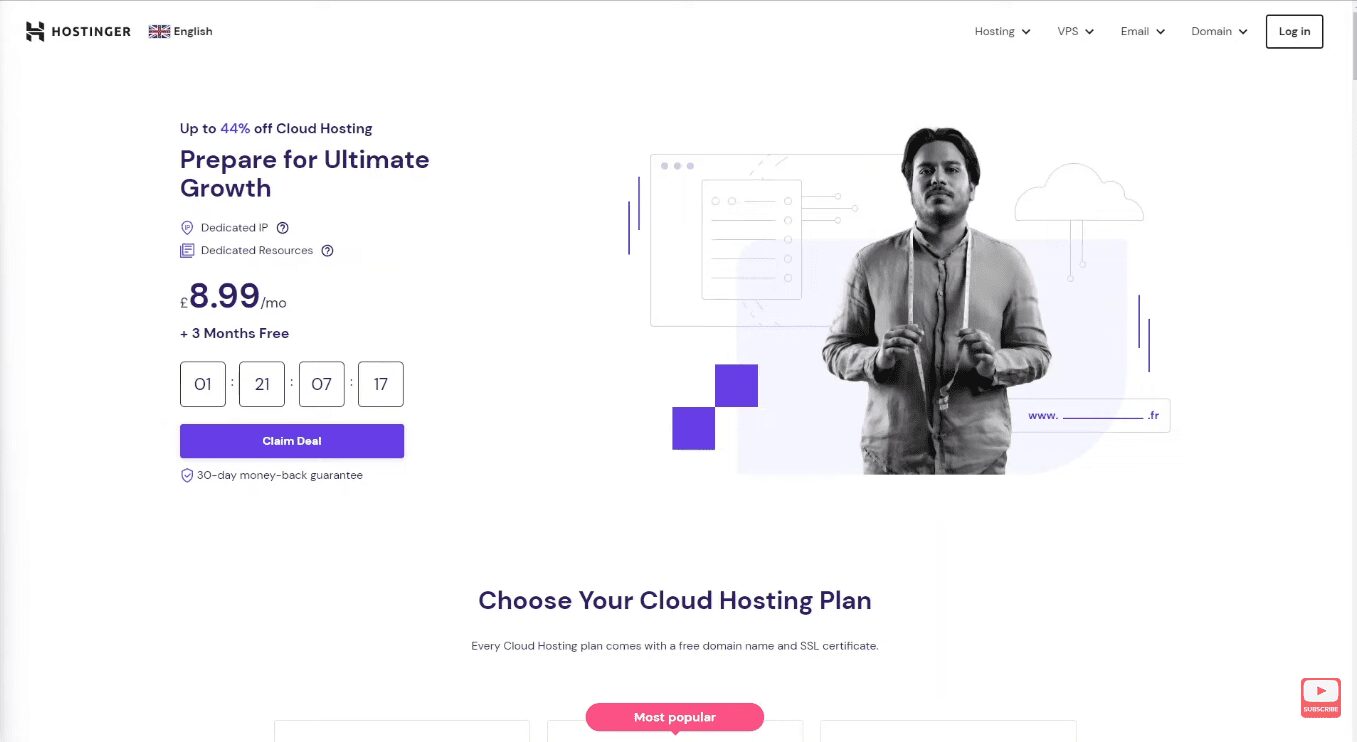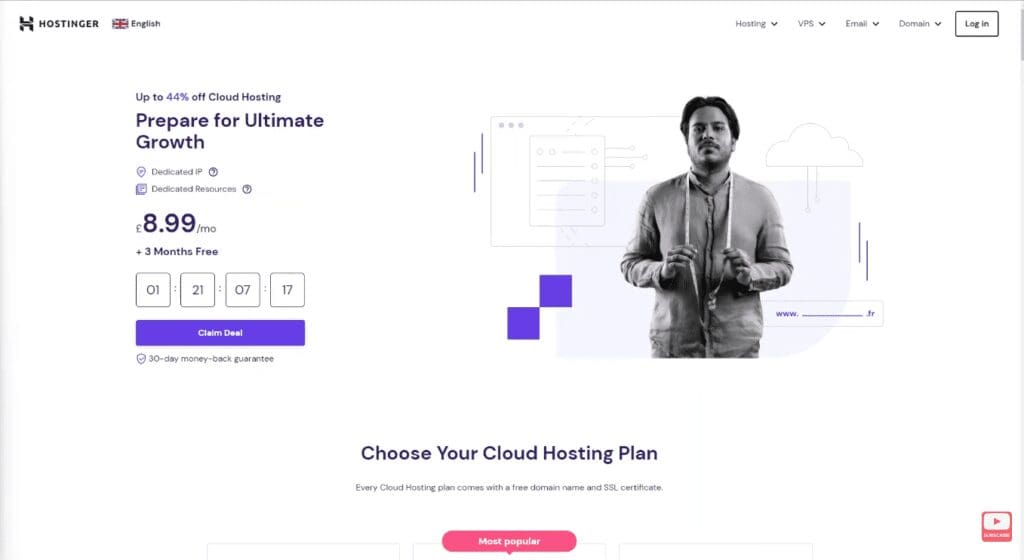 It's also worth considering the communication options provided by the hosting provider. If being able to talk to someone directly is important to you, ensure the company you choose offers phone support as part of their customer service. Hostgator always receives positive feedback from satisfied customers, and you can check out reviews on Trustpilot and their website to learn more about their excellent support system.
Hostinger
Hostinger is an exceptional hosting provider that offers reliable and top-notch cloud hosting solutions. With its powerful and user-friendly web hosting services, you can rest assured that your online presence is in good hands. The best part is that Hostinger's dedicated support team takes care of the technical aspects, leaving you with a hassle-free experience.
This impressive provider's cloud hosting packages combine the best features of shared hosting and VPS, making it incredibly easy to use. Plus, the team behind Hostinger have developed their own custom HVAC panel, which is a modified version of the popular control panel, CPanel. This makes managing your website a breeze and ensures a user-friendly and customer-centric approach.
One of the standout features of Hostinger's cloud hosting is its seamless upgrade from shared hosting. If you're already on the shared hosting plan, transitioning to the cloud hosting couldn't be easier. With dedicated resources and easy scalability, you'll have the power and flexibility you need to grow your online presence.
Hostinger also goes the extra mile to provide additional bonuses with their hosting plans. This includes dedicated IPs for all plans, live upgrades between cloud packages (from startup to enterprise), and free lifetime SSL certificates. Moreover, they prioritize the security of your website by offering daily backups and snapshots. This means that even if something goes wrong, you won't lose more than a day's worth of work. If you ever need to revert to a previous version, you can easily do so, thanks to their reliable backup system.
To ensure optimal performance and stability, Hostinger offers a fully managed and monitored service. Their dedicated system engineers work round the clock to monitor their servers, ensuring your website runs smoothly at all times.
Hostinger's cloud hosting services are an excellent choice for anyone seeking high-speed performance and reliable support. With their dedicated system engineers handling the back end, you don't need to worry about technical aspects or running a VPS. This means you can focus on your website without any hassle. Plus, Hostinger offers seamless deployment from GitHub or other repositories, making it even easier to get started.
One of the standout features of Hostinger's cloud hosting is its superior speed. With up to three times faster hosting, your site will load lightning-fast, keeping your customers and visitors happy. Not to mention, their cloud hosting is scalable, ensuring your website can respond promptly to all server requests.
When it comes to upgrades, Hostinger makes it seamless. You can enjoy daily backups by default, eliminating the fear of data loss. And if you ever need to move or restore your cloud packet, the process is hassle-free. Furthermore, all their plans include a dedicated IP address and isolated resources, ensuring your website remains secure and free from disruptions.
If you decide to go for any of Hostinger's cloud hosting plans for more than 12 months, you'll also receive a free lifetime SSL certificate and one domain. This way, you can easily secure your website and have everything you need in one package. And with their available 24/7 customer service, you can rest assured knowing that support is just a call or message away.
Hostinger's cloud hosting plans are not only feature-rich but are also priced affordably. While the introductory offer begins at $8.99, the regular price starts at $15.99. It's a cost-effective option that beats the competition, such as HostGator and Blue Host, making it one of the most affordable cloud hosting services on the market.
Hostinger offers several key advantages for VPS hosting, all while minimizing your workload. One standout feature is their customized H panel, which is essentially a personalized version of the C panel. With this pre-installed, you can focus on what truly matters to you while they handle all the backend maintenance. Think of it as shared hosting with significantly more power.
Another notable aspect of Hostinger is its multiple data centres. With a choice of seven centres spread across the USA, Europe, Asia, and South America, they provide geolocation-specific hosting. This means you can expect exceptional performance speeds when opting for a shared hosting plan. With over 24 million users and around 15,000 daily sign-ups, Hostinger is rapidly establishing itself as a leading web hosting company. Their performance tests and stress tests consistently yield impressive results.
Alongside these features, impeccable customer support is crucial when selecting a hosting plan. Although Hostinger does not offer phone support, their 24/7 live chat customer service is always available. For some, the absence of phone support may be a drawback. If you aren't particularly tech-savvy or prefer speaking to a real person, it may be beneficial to consider a hosting provider that offers phone support. However, rest assured that Hostinger's highly trained technical support team is always on hand to assist you, regardless of the time.
Hostinger's customer service team provides support in English to their global clientele. If you purchased your hosting via one of their local websites, you even have the option to receive customer support in your native language. Customers consistently praise the responsive nature of Hostinger's support team, with quick response times and positive overall experiences.
Besides the live chat option, Hostinger offers an extensive knowledge base comprising detailed step-by-step tutorials, guides, videos, and articles. This robust resource is designed to address the most frequently asked customer queries. Now, let's delve into the pros and cons of choosing Hostinger as your hosting provider.
On the positive side, Hostinger boasts excellent performance and impressive speed, especially considering its competitive pricing. Furthermore, their price plans are among the most affordable in the realm of cloud hosting. Additionally, Hostinger provides exceptional customer support, although it primarily operates through a ticket-based system. It's important to note that if you prefer phone support, this might not be the right fit for you. Make sure to consider this aspect before finalizing your decision.
Moving on to the downsides, Hostinger does not offer daily backups unless you opt for their shared hosting plan. This might be a critical factor to consider, especially if regular backups are crucial for your website. Moreover, if you prioritize phone support, Hostinger might not meet your expectations in that regard.
Ultimately, the choice of hosting provider is a personal decision that depends on your specific needs and preferences. Hostinger does offer reliable and affordable hosting solutions, making it a viable option to consider.
SiteGround
SiteGround is a well-known cloud hosting provider that specializes in WordPress hosting. They have earned a strong reputation in the industry and are recognized as an official WordPress-recommended hosting provider. With a focus on speed and security, SiteGround offers unique in-house solutions for WordPress websites. Their commitment to customer support is evident through their 24/7 availability. SiteGround hosts many popular websites and offers features like automatic upgrades, daily backups, built-in WP caching, free CDN, one-click staging, and more. What sets them apart is their location-specific hosting, with data centres in the USA, Europe, Asia, and Australia.
Let's dive into their hosting plans. SiteGround offers a range of options starting from the Jump Start plan and going all the way up to Superpower. Compared to other hosting providers, SiteGround provides more CPU cores to ensure high performance. From as low as 4 CPU cores to a generous 16 CPU cores, they cater to premium websites that require extensive resources. Memory options range from 8GB to 20GB, and the lowest SSD storage option is a generous 40GB, with the maximum being 160 GB. All plans offer 5TB data transfer, ensuring smooth data movement across platforms.
SiteGround offers a generous 5TB storage, making it a great option for hosting your website. However, it's important to note that their plans are slightly pricier compared to other hosting providers like Dream Host, Hostinger, and HostGator. Starting at $60 and going up to $240, SiteGround may not be ideal if you have a limited budget. Nevertheless, it's worth mentioning that SiteGround is highly recommended in the WordPress hosting industry. It provides excellent customer support and reliable hosting with lightning-fast speed. Their WordPress-optimized plans cover everything you need to build and grow your website, whether it's an e-commerce site, blog, or booking system.
One of the standout features of SiteGround is the blazingly fast and optimized servers, ensuring optimal performance for your website. Additionally, all their plans come with free CDN and SSL certificates from Let's Encrypt. The flexibility of their hosting plans allows for automatic scaling, where you can seamlessly add more CPU and RAM as needed or rely on the automated scaling feature to handle traffic spikes without any downtime. Daily backups are also included, with seven off-site copies stored for added security. Moreover, SiteGround is trusted by numerous clients and industry experts.
If you're new to WordPress or require assistance with any WordPress-related issues, SiteGround is an excellent choice. Their customer service is not only well-versed in hosting matters, but they also possess extensive knowledge of WordPress and can guide you through common challenges. It's important to consider these factors when making a decision, taking into account your specific requirements and circumstances.
When it comes to cloud hosting plans, SiteGround offers something unique. They not only provide pre-existing plans but also allow you to configure your own custom plan according to your specific needs. This level of flexibility sets them apart from other hosting providers, especially in the realm of cloud hosting.
With SiteGround's cloud hosting, you have the freedom to choose the exact specifications you require. For instance, if you find the memory and storage space sufficient but need a little more processing power, you can easily make adjustments. Instead of having to upgrade to an entirely different business plan, you can simply customize your existing plan, adding or subtracting resources as necessary. This can often be a more cost-effective solution, saving you from unnecessary expenses.
What's impressive is that SiteGround allows you to customize your plan up to 33 CPUs and 1 TB of SSD storage, providing you with an extensive range of options. This level of flexibility allows you to tailor your hosting to suit your unique needs, ensuring optimal performance for your website.
Moreover, SiteGround's exceptional customer service and sales team are always available to assist you in making the right decision. If you're unsure which plan would best suit your requirements, they can provide valuable guidance. Based on your website's needs, purpose, and expected traffic, they can advise whether an existing plan or a custom plan would be the better choice. Their expertise extends beyond basic support; they can help you build a tailored plan that aligns perfectly with your website goals.
For WordPress websites in particular, SiteGround proves to be an excellent option due to its extensive knowledge base, expert support team, and flexible plan offerings. Although their plans may come at a slightly higher price point, the benefits and value make it worthwhile.
If you have the budget for it, opting for SiteGround could be a wise decision. This cloud hosting provider excels in both performance and reliability, evident from their impressive performance, speed, and stress test results. Their cloud architecture boasts multiple cores and generous CPU bandwidth, making it an ideal choice for growing websites, popular blogs, and businesses alike.
What sets SiteGround apart is their seamless upgrade options. Should the need arise, transitioning to VPS or dedicated servers is hassle-free. Moreover, their customer service leaves no room for disappointment. Countless positive reviews attest to their exceptional support team, renowned for their prompt and knowledgeable assistance. Available round the clock, their customer support channels include phone, live chat, and email support. Responsive phone and live chat lines offer almost instant resolutions, while email queries receive the first response within 10 minutes.
For those inclined towards self-help, SiteGround offers an extensive collection of knowledge-based articles complete with screenshots, videos, tutorials, and guides. Whether you're uncertain about SiteGround's suitability for your website or need assistance with specific requirements, their customer sales support team is just a click away. Reach out to them via the chat feature to discuss your site's needs, any existing deficiencies, and the desired outcomes from your cloud hosting. This allows you to experience their exceptional customer service before making a purchasing commitment.
So, if you're still contemplating whether SiteGround is the right choice for your website, consider the nature and scale of your WordPress site. Unsure? Engage in a conversation with their customer sales support team. It's a simple process; just initiate a live chat session and outline your site's requirements and expectations.
Hostwinds
Hostwinds is a reliable cloud server hosting platform that stands out from its competitors. Unlike many other hosting providers with fixed billing cycles, Hostwinds offers pricing based on an hourly breakdown. For instance, their basic cloud hosting starts at $0.691 per hour, while the most advanced option costs around $0.4569 per hour, equivalent to $4.99 and $328.99 per month, respectively.
What sets Hostwinds apart is its cost-effective plans that offer generous features. Although you might find slightly cheaper options, Hostwinds provides ample storage, bandwidth, and RAM, along with one-click installation options for popular applications like WordPress and Joomla.
Furthermore, Hostwinds ensures a seamless hosting transfer process, offering a free website transfer if you're coming from another platform. Additionally, they guarantee 99.9% uptime, which is impressive considering their affordable prices.
While Hostwinds may lack certain premium features like free backups, domains, and server customizations, their value for money is undeniable. For those seeking a budget-friendly cloud hosting solution without compromising on essential features, Hostwinds is an excellent choice.
So, if you desire convenience and cost-effectiveness, consider Hostwinds as your preferred hosting platform. It offers various plans to cater to different needs. With monthly or annual billing options, they provide shared hosting, cloud hosting, and seamless upgrades. Starting as low as £4.99 per month, Hostwinds is an ideal choice for budget-conscious users. You'll also benefit from ample bandwidth and storage options ranging from 30 GB to 750 GB.
While Hostwinds doesn't offer free domains or domain names, they do grant you root access to your site, enabling you to make customizations according to your preferences. Additionally, they provide a 60-day money-back guarantee, allowing you to try their cloud hosting services risk-free. Whether you're curious about cloud hosting or seeking an affordable solution, Hostwinds is worth considering for your hosting needs.
A2 Hosting
A2 Hosting is another well-known cloud hosting platform that offers a range of features to meet your needs. With its reliable performance and a wide array of options, it proves to be a solid choice.
One of the standout features of A2 Hosting is their anytime money-back guarantee. Unlike other providers, they offer a risk-free trial period where you can test out their hosting plans. If you're not satisfied, they will provide a hassle-free refund, ensuring you have peace of mind.
Their cloud plans start at just £39.99 per month, making them quite an affordable option. While their uptime stands at an impressive 99.95%, they also offer a generous amount of resources, such as 4GB RAM and 150GB SSD storage, even at the basic level.
It's worth noting that A2 Hosting doesn't offer traditional cloud hosting packages. Instead, they direct customers to their cloud VPS (Virtual Private Server) plans. This gives you greater flexibility, whether you prefer managing your own hosting or having everything taken care of for you. While the managed plans come at a higher cost, the choice is ultimately yours, depending on your needs.
However, there are a couple of things to consider. If you opt for an unmanaged VPS hosting plan, you'll need to purchase an SSL certificate separately. Some hosting providers include this for free, so it's a small drawback. Additionally, A2 Hosting doesn't provide a free domain, which other hosts often offer within their packages. Despite these minor downsides, starting at £4.99, A2 Hosting still offers competitive pricing.
In addition to its affordability, another standout feature provided by A2 Hosting is its customer service team, known as the "Guru Crew," which is highly responsive and renowned for its expertise. So whenever you have a question or need assistance, they're always there to help.
Plus, A2 Hosting takes security seriously, implementing strict measures to ensure both digital and physical safety for your website, especially with their shared hosting option.
However, it's important to note that A2 Hosting may not have the most competitive uptime compared to other providers. While they offer a commendable 99.95% uptime guarantee, some competitors go above and beyond, promising 99.9% or even 100% uptime.
If uptime is a crucial factor for you, you might want to consider other options. But keep in mind that A2 Hosting's Anytime Money-Back Guarantee remains a major benefit. However, it's worth mentioning that certain pricing plans can be a bit expensive, making their cloud hosting less cost-effective.
Regardless of the plan you choose, A2 Hosting ensures that you have access to free C panel control, which is a significant advantage. Other providers often charge over $100 for this service. Moreover, whether you opt for managed or unmanaged plans, A2 Hosting offers generous storage options, ranging from 400 GB to a whopping 15 TB. So, if you have a content-heavy website with numerous processes running in the background, A2 Hosting provides ample storage to accommodate your needs.
Now that you have a wide array of options, how can you reach the best decision? Let's find out!

What to Consider Before Choosing a Cloud Hosting Provider?
When choosing a cloud hosting provider, there are several key factors that you need to consider. Let's explore the important aspects that can help you make an informed decision.
Budget
First and foremost, your budget plays a crucial role. Determine how much you are willing and able to spend on hosting services. Opting for a cheaper hosting plan may initially seem appealing, but it's important to consider the additional costs for features like SSL certificates or free domains. In some cases, investing a bit more in a hosting plan that offers all these features bundled together might actually provide better value for your money.
Features
Price is undoubtedly an important consideration when choosing a hosting plan. However, it's equally imperative to delve into the features offered. These features may include storage capacity, RAM allocation, backup options, free domain, and SSL security. Assessing these components and determining their significance to your needs is vital. Once you've identified your requirements, you can confidently select a plan that aligns with your preferences.
Customer Support
Another important consideration is customer support. Especially if you are new to web hosting and prefer not to deal with technical aspects yourself, having reliable customer support is essential. Look for cloud hosting providers that offer 24/7 support or at least phone support so you have access to assistance whenever you need it.
Money-Back Guarantees
Additionally, it's worth exploring money-back guarantees provided by hosting companies. These guarantees allow you to test the hosting plan's full features before committing to it. Some hosting plans offer refund windows of 60, 30, or 45 days, giving you ample time to evaluate whether the plan meets your requirements. During this evaluation period, pay attention to the responsiveness and helpfulness of the customer service team. Are they quick to respond? Do they provide valuable advice to troubleshoot your issues? Assessing these factors will help you make a well-informed decision.
Cloud hosting is a modern and reliable form of hosting, with various providers offering slightly different features. Among the budget-friendly options, DreamHost and A2 Hosting stand out as affordable choices. Alternatively, SiteGround offers slightly higher pricing but provides excellent features, particularly for WordPress websites. They not only assist with hosting but also offer support for various aspects of your WordPress site.
By considering these factors, you can confidently navigate the world of cloud hosting and find the best provider that aligns with your needs. Remember to weigh your budget, prioritize customer support, and take advantage of money-back guarantees for a hassle-free hosting experience.
Aside from cloud hosting, shared hosting is also a viable option, especially for smaller websites. Many hosting providers offer both shared and cloud hosting services. If you initially opt for shared hosting, you have the flexibility to upgrade to cloud hosting at a more affordable rate on their platform. This seamless transition allows for future scalability.
To recap, it's crucial to prioritize and evaluate your cloud hosting needs within your budget constraints. With numerous options available, each with its own distinctive attributes, take your time to make an informed decision.
In conclusion, Cloud Hosting is not just another service on the digital marketing menu; it's a powerful tool that can significantly enhance your online operations and success. By leveraging this advanced technology, you get to operate with greater efficiency, scalability, and reliability. Whether it's carving out your digital identity, optimizing your website for conversions, or implementing a comprehensive digital strategy, Cloud Hosting serves as a solid foundation.