UX-UI Designer for Web Design Agency ProfileTree
We're looking for an experienced UX UI Designer to join our talented team at ProfileTree. Work within a prominent digital marketing company to create bespoke websites with excellent user functionality. A percentage of time will be spent optimising and improving current client websites and the user experience on that site.

UX UI Designer Job Description
ProfileTree is seeking to recruit an experienced UX-UI Designer to join our talented team. We are a successful digital marketing business and part of that business is creating bespoke websites on behalf of our clients.
We help businesses compete within the online market and a website is one of the best tools they have in their arsenal for doing so. As a UX-UI Designer you will ensure that client requests are integrated into the website whilst still making the necessary executive decisions that will enhance the websites' presentation and functionality.
The UI-UX Designer will be responsible for creating websites that are appealing, engaging and user-friendly. This is a fast paced role and you will be working on multiple client's projects at once.
When it comes to user experience and user interface design it is critically important that we deliver the best possible design for the agency's clients, as it will have a direct impact on the performance of their website, online leads and digital sales.
UX-UI Designer – About the role
The UX-UI Designer will be responsible for designing and developing functional websites that will benefit our clients business. They will improve the website visitors' experience by enhancing the user interface and overall user experience.
The UX-UI Designer will be responsible for resolving coding errors, improving web functionality and enhancing the website design. Their main duty is to create client websites that attract traffic, result in sales and impress our clients.
The UX-UI Designer will also have sound knowledge surrounding website design principles, colour theory, graphic design and seamless functionality. We are seeking a candidate who is able to perform both front-end and back-end development.
As part of this role, you will be required to contribute with content creators, program managers and software developers. We help a range of different businesses develop their own websites, and as such, you will be required to create and develop websites suitable for a range of different industries.
When working with clients we will be creating user interfaces for their app, website or other digital platform such as learning management systems, client portals or CRM's. There is intensive collaboration with the client managers as well as the development team to create storyboards and initial designs to help the client see the design vision and comment on it and move to sign off.
The UX-UI Designer role may include:
The following responsibilities are indicative of what the role may include. This is not an exhaustive list of duties and the UX-UI Designer will be expected to undertake additional duties that fall under the responsibility of UX-UI Designer. Your role may include:
Enhancing the user experience.
Enhancing the user interface.
Front end and back end development.
Full stack development.
Improving user-functionality.
Mapping the user journey and finding solutions for improvements.
Fixing coding errors.
Optimising design principles and colour theory.
Constructing websites that can handle a high influx of visitors.
Embedding user behaviour into the website design and development
Refining low level wireframes into clear user interface designs.
Advising clients of the technical constraints regarding their website.
Implementing new features to an existing website.
Embedding call to action features on websites.
UI-UX Designer – Essential skills and experience
For the role of UX-UI Designer, we require the following experience and essential skills:
Degree level qualification (computer science based or coding based).
At least one years' experience in a UX or UI Designer role.
Excellent understanding and knowledge of User Interface.
Excellent understanding and knowledge of User Experience.
Excellent technical capabilities for design and developing websites.
A keen eye for detail.
Sound knowledge surrounding SEO practices.
Strong communication and collaboration skills.
Sound knowledge of colour design and design principles.
Able to create attractive and appealing websites.
Able to create websites that can manage a high influx of website visitors.
Able to understand user behaviour and implement that into the website creation.
Able to explain technical website solutions in layman's terms to clients and other relevant staff.
UX-UI Designer – Desired experience and skills
The ideal person will be passionate around delivering the best web designs for a client that will have a positive impact on their business. Although not essential for the role of UX-UI Designer, we are also actively seeking candidates with the following desired experience:
At least two years experience in a UX or UI based role.
Experience working within a digital marketing agency – or similar business.
Experience building websites on WordPress and Shopify.
Experienced in using Figma (or equivalent software) for designing and prototyping website designs.
About the Website and Design Agency
ProfileTree is a digital marketing agency based in Belfast, Northern Ireland. We help local, regional and international businesses grow their digital profile and compete within the online marketing environment.
Competition online is tough for business, but with ProfileTree in your corner, success is just a click away.
We provide expert digital marketing services for small and large businesses from a range of different industries. We transform web traffic into actual sales and offer a strong Return On Investment for our services.
At ProfileTree, we help businesses carve out their niche and build upon their own digital marketing skill set for long term success.
We are a team of digital marketing professionals including content writers, videographers, social media specialists and web designers and web developers – to name just a few of the services we provide.
As a full service digital marketing agency, we are a one-stop-shop for businesses seeking to build a strong and successful digital presence.
Company values
At ProfileTree, we have strong company core values that represent our brand and guide our work ethic. All positions within ProfileTree embed these values in their work and it's something that we are very proud to uphold. Our core values include:
Dedication:
To be passionate
Hard working
Bring attention to detail
Professionalism:
Open communication
Honesty and integrity
Good with people
Efficiency:
Strive to be an expert
Commitment to deadlines
Proactive
As a member of ProfileTree, you will strive to pursue each of these core values in your work and professional interactions.
What we offer
ProfileTree is a company dedicated to ensuring employee satisfaction and job fulfilment. We prioritise our teams wellbeing and ensure that we create a positive and encouraging working environment. For the role of UX-UI Designer, we offer:
Opportunities for vertical career growth.
Opportunities for horizontal development within the company.
Opportunities to develop individuals skills and knowledge.
Regular feedback and check-ins regarding career progress.
Blended / hybrid working, with the opportunity to come into the office based in Belfast.
Fully remote working if requested.
30 days' holiday (5 inclusive bank holidays)
Flexible working hours.
Competitive salary.
Employee laptop device.
Further information and reading on the role of UX-UI Designer
Our agency creates a lot of content around UI UX designs, processes and systems to share our knowledge and insight into design best practice. For further information and reading on the role of UX and UI within website design and development, check out these articles!
How to apply for the UX-UI Designer role
If you're interested in the role of UX-UI Designer, and if you meet the essential criteria, we'd love to hear from you.
Send us a CV and Cover letter explaining why you are the right fit for the position, find other opportunities via our Career Page.
Also check out this article for some tips on creating an attractive and appealing cover letter.
Digital News & Insights
Our Digital Agency Blog with expert tips and how-to guides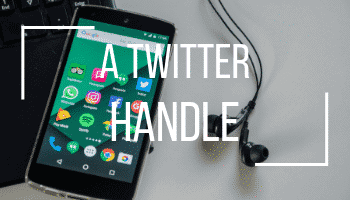 What Is a Twitter Handle?
Update: As of July 2023, Twitter became X. There have been some changes to platform and some of its features. However, the concept of a 'Twitter handle' remains basically the same except for the fact the platform is now called X. When you are using Twitter, you are encouraged to use what is called a […]
Read Article