What is Ning? You might have heard the name Ning, but perhaps you aren't aware of how it can benefit your business or organisation.
Put simply, Ning is an superb online platform for both people and organisations to create custom social networks.
A Brief History of Ning
Ning has been around for over a decade. It was launched in 2005 and by the early 2010s it had over 90,000 social networks running on its platform. The beauty of Ning is that almost anyone can create a community based around interests, hobbies and even their own business.
Since the early 2010s to the late teens, the online platform has increased in size by over 1900% by growing to over two million networks on the platform. That is compared to the 90,000 networks in 2011.
Features of Ning
The whole reason why Ning exists is to create a more personal social network — a social network that suits your target audience.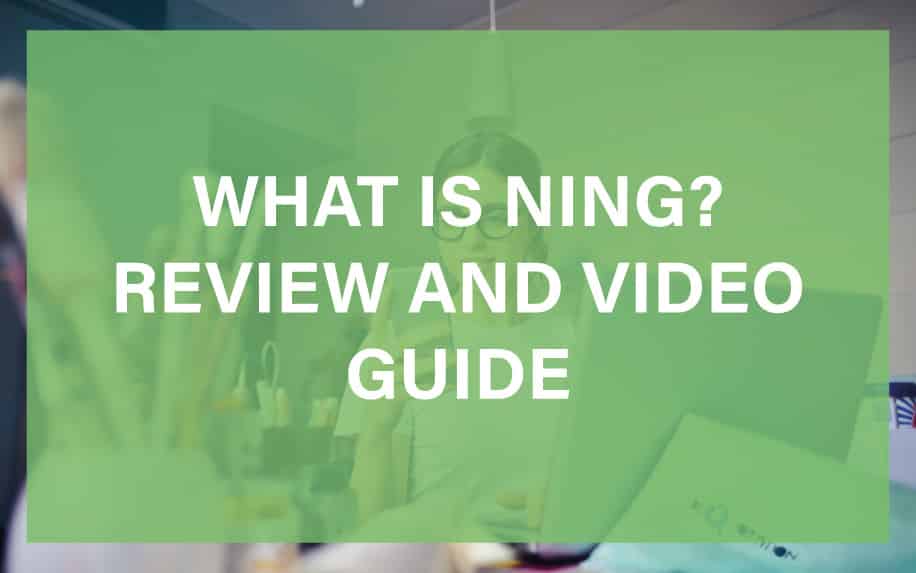 This makes it different to the likes of Facebook, Twitter, Instagram and many others. Many of these networks have millions even billions of users per month and therefore try to accommodate all of their users to the best of their ability. By doing this, they sacrifice the ideal experience for one user, to create a more accommodating site for all.
Which is why many of us jump between one network and another.
Advanced Content Management
The beauty of Ning is its content features. It has a drag and drop builder which allow users to build unique social networks. For the setup of your network, you can also choose a theme, which allows you to create a more personalised network site design. Within the theme there are also options to tweak features such as your logo and navigation to your needs.
Within the content of your site, there is also the option to include audio, videos and images. Events can be organised within the network. All users within the network can then see the event. Events could be meetings, conferences, shows and even meetups depending on the topic/interest of your network.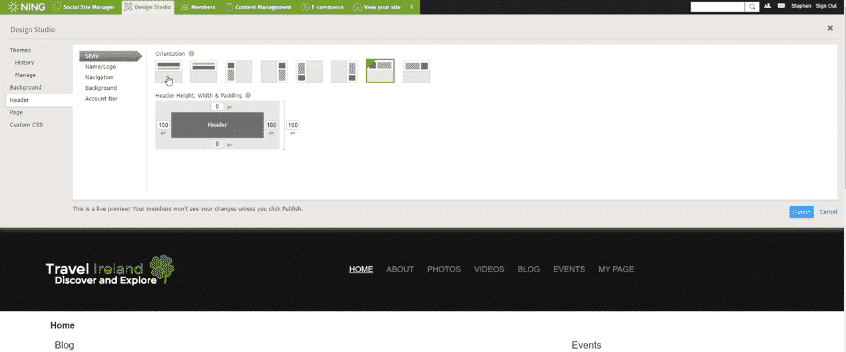 Different member groups can be created within your network. For instance if your network was about graphic design within Northern Ireland. A group could be created for Photoshop designers, another for Illustrator designers or a group could be created for logo designers or even web designers. Within each group, members could share tips and even their designs.
An activity feed and a blog can also be created within a Ning network. An activity feed can make the network more of a social network. Without using an activity feed, a user would not be using Ning to its full potential.
Business Tools
Within Ning there are multiple business style tools and features. These range from messaging users to making money on the platform.
Making money online is getting more and more difficult as the years pass. For instance YouTube has cracked down on their monitisation algorithm, meaning that fewer content creators on their platform earn money.
One great feature in Ning is their ecommerce tools. A user can turn their Ning platform into an ecommerce site. Within a network a user can setup a paid membership. This can either charge users a one off payment or a subscription based membership. Also, certain parts of content within a network can be setup to only be shared if paid for. Both are great ways to earn money from the Ning platform.
Users can also advertise on their platform or create a donation feature.
Another business tool includes setting up analytics for your platform to see how successful your network is or is becoming. The MailChimp email automation can send automated emails to launch an effective email campaign acting on behalf of your network. Private and group messaging is another feature that can be setup.
Social Networking
Along side your own social network, you can also attach your very own network powered by Ning to your other networks on platforms such as Facebook.
This allows for any posts on your personal Ning social network to be shared onto your other platforms. Users can also join your social network by using other social network logins. This means a custom login system wouldn't need to be setup.
Users can also receive notifications about the latest activities and posts on your Ning network through their social media.
Support
Ning also offer expert support for their platform. Depending on the payment package a user chooses, different support options will be offered. Each package comes with at least a 24 hour hour response time with it increasing to 12 hours for their most expensive package.
With each package users have access to the Ning community and forums which come with that as well as E-mail support. The ultimate package, also comes with access to a live chat and a personal manager.

Benefits of a NING Social Network
Let's recap:
Ning helps people create and design their very own social networking platform. This can help a user define their own brand.
It allows a user to become their very own designer and be in control of their entire platform.
There're many features Ning includes that can give your network the potential for success.
Ning can allow your platform to feel more personal unlike other networks such as Twitter and Facebook.
Ning is very easy to setup.
Watch our video above for more details. It's a full tutorial showing how to set up your very own Ning Social Media.
The tutorial shows the different steps to publish your social network.
Enjoy!