When you start a podcast, it allows you to show your expertise to your audience in a fun and captivating way. This can help you to influence your clients and encourage them to purchase your product or service. Once you've gotten their attention, your listeners may even recommend your podcast to their friends and colleagues. Starting a podcast can sound both simple and complicated at the same time, but once it's broken down into steps, it is doable for businesses of all sizes. In this blog, we're going to cover the 9 steps you need to take to start your own podcast.
What Are Podcasts?
Podcasts are a type of
content marketing
that includes a pre-recorded audio show and is available online. Similar to a radio show segment, podcasts are built into episodes and seasons. On the other hand, they differ from radio shows because anyone can start a podcast, even if they don't have a ton of funding or knowledge on where to begin. Podcasts are typically uploaded to the host business' website, but they can also be released on streaming platforms such as Spotify, Apple Music, or even YouTube. This means that when you start a podcast, you are creating a new channel to find customers and audiences who are searching on these platforms.
Why Should You Start a Podcast?
If you're still trying to decide if a podcast is right for your business, think about how a podcast can benefit you. Podcasts allow you to speak directly to your audience in a way that no other platform does. Many social media platforms feel impersonal and disconnected from the people behind the brand. With a podcast, your voice and
personality
will be front and center. Podcasts have seen an exponential boom recently, as more and more people are choosing to tune in. Since most people have been stuck at home during the pandemic, podcast listening has become more common than ever. And even for those who do still go into the office, many are tuning in during their commute! In addition, by beginning a podcast, you can
jump onto the voice marketing trend
, which has begun to take over marketing campaigns. Typically through smart speakers, such as the Google Home or Amazon Alexa, this type of marketing relies on using the voices of both the brand and the customer to create a new relationship that has never been possible before. Not only will a podcast give your voice more meaning to your audience, but it will also
boost your organic reach
through the increasingly popular platform.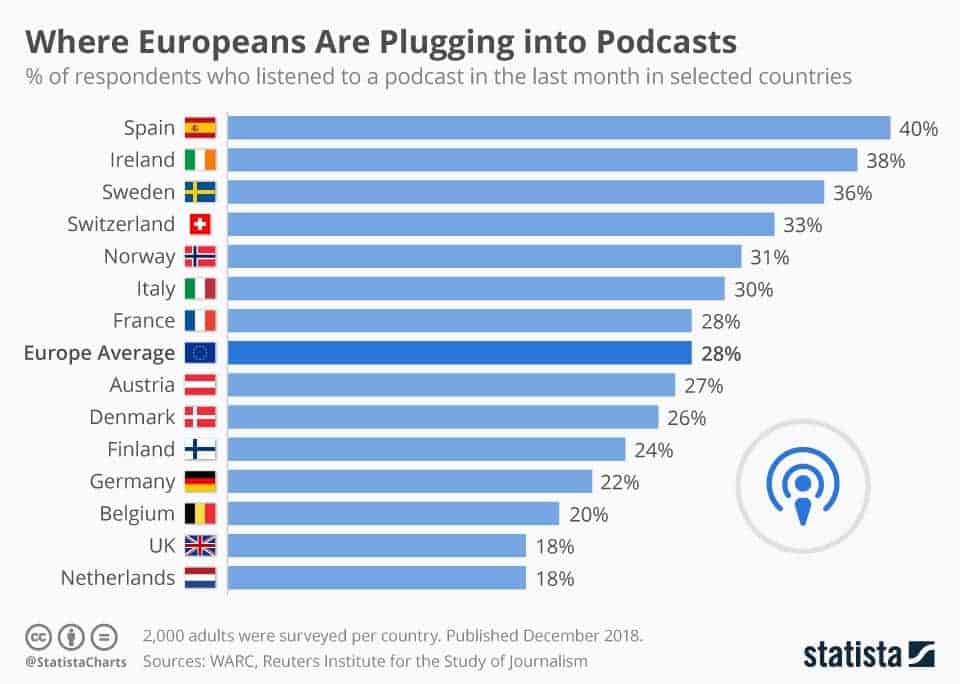 1. Choose Your Topic
If you take a look at any music streaming service, you'll find podcasts that cover nearly every topic imaginable. From PR Week's business podcast to "Office Ladies" By Angela and Pam from the US Office, listeners will always be able to find a podcast that they want to listen to. With this in mind, the first step to starting a podcast is to decide what it will be about. This can be a bit tricky, because your topic needs to be broad enough to make multiple episodes, or even seasons, but narrow enough to draw in an audience with interest in your specific topic. The goal is to find a topic that is somewhere in the middle. If you can find a niche where you're the expert and you can easily discuss it for an hour, you'll be set. Just make sure you keep your podcast easy enough for beginners to understand, while still showcasing your knowledge on the topic.
2. Decide on a Name
When picking out a name for your podcast, it is important for it to be easily recognisable and relate back to your topic. You can be straightforward with your title, or be creative and punny, as long as your listeners will be able to find your podcast. While it may sound like a good idea to include your brand's name into your podcast title. However, typically unless you already have a large audience and lots of recognition, this may work against you.
3. How Long Should Your Podcast Be?
How long to make your podcast will depend on both how much you can say on the topic and how long your listeners will tune in for. If your episodes are too short, you may not get enough interesting information in. If your podcast is too long, however, you may lose the interest of your listeners. The average podcast lasts anywhere from 20 to 45 minutes. This timeframe is coincidentally the same as an average commute, which is when many professionals tune in to podcasts. When you start your podcast, don't be afraid to test out different lengths and see what works best for you. Make sure you can fill the time easily and not be left needing to stall or cram information into your timeframe.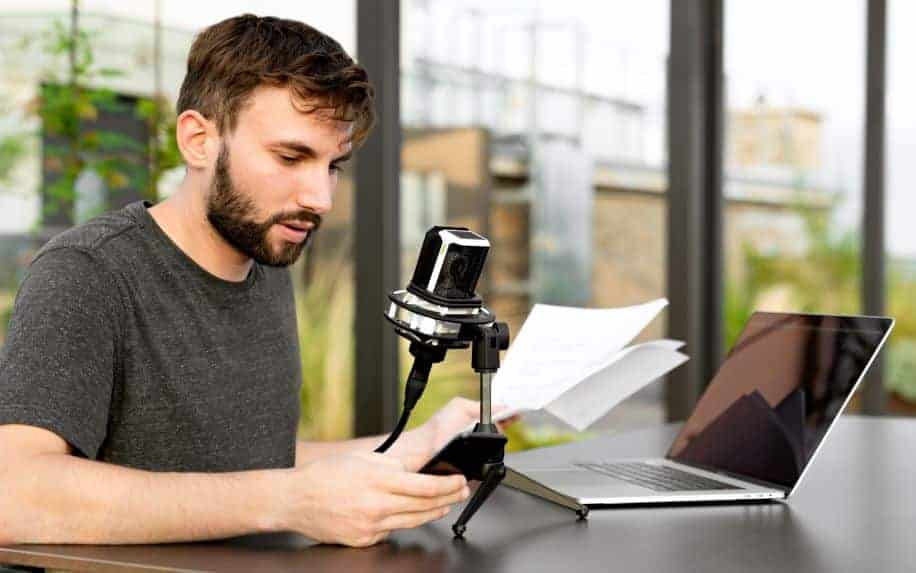 4. How Often Should You Release New Episodes?
As with the length of your podcast, the frequency will also be decided by your audience's interest and your ability to speak about your topic. No matter how often you plan on posting your podcast, having a consistent schedule is key. Keeping a schedule will help you not feel overwhelmed by recording, producing, and posting episodes. It will also help your listeners to know when to check in for a new episode and always stay up to date on your podcast. The best way to start your schedule is to record a few episodes before you even launch your podcast. This way, you can get used to producing content and learn how long it takes you to record and edit.
5. Getting the Right Equipment
Even though starting a podcast may seem daunting, you actually don't need any super high-quality, expensive equipment! All that you need to create a podcast is a phone or laptop, some recording and editing software, and a microphone. If you have these three things, you're ready to go! Regarding editing software, Apple users are one step ahead. Apple's products come with GarageBand preinstalled, which is very user-friendly and can be used to trim and edit your audio. For those who prefer Windows, there are many free and paid software applications that you can choose from to edit your podcast.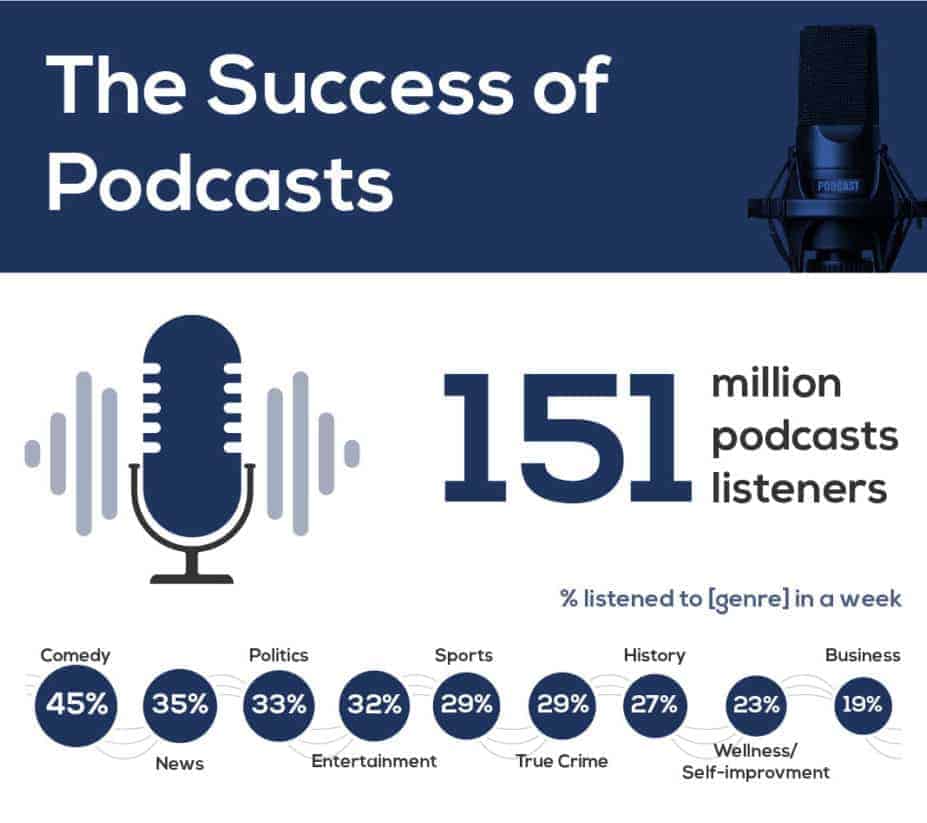 6. Consider Featuring Guests
While hosting a podcast doesn't have to include interviews or guests, they are a great way to add a little excitement to your episodes. If you do decide to host a guest on your podcast, you need to make sure they can bring something to the table for your topic. Try finding friends or colleagues who are also in your industry and ask them about their experience and knowledge. By having guests on your podcast, you are increasing your use of
B2B marketing
and establishing relationships within your industry. One of the goals of B2B marketing is to demonstrate your expertise to potential customers and to establish yourself as an industry leader. By starting a podcast, you can reach these goals. Interviews and special guests are a great way to fill in time on your podcast. By having another person on set with you, it can create natural conversation, introduce new opinions, and increase your audience. Another goal of B2B marketing is to aggregate your audience with the audience of the companies you have formed relationships. When you have someone else on your podcast, make sure they promote the episode to their followers and customers. This is an easy way to grow your reach to new levels.
7. Recording the Intro
A podcast intro is usually a short voiceover with music in the background.
The voiceover
will introduce the podcast, the hosts, and any guests at the beginning of the episode. Having a short and sweet intro can add a bit of personality to your podcast. It is important for your intro to be fun and captivating since it is the first thing listeners will hear when tuning in. Similarly, an outro is also important. Outros should thank your listeners for tuning into your podcast and also direct them to your website. Your outro is ultimately where the return on investment comes from for podcasts. It is important to make it easy and convenient for listeners to go from listening to your podcast into your marketing funnel. To do this, make sure to have a strong call to action and sell them on the benefits of visiting your site. A great example of how to direct listeners to your website is:
"Thank you for listening to our podcast on content marketing. To learn more about this topic, check out the link to our blog in the description. If you are interested in bettering your brand's content marketing strategy, contact ProfileTree today."
If you need a bit of inspiration for your intro or outro, take a listen to a few popular podcasts and see how they do it!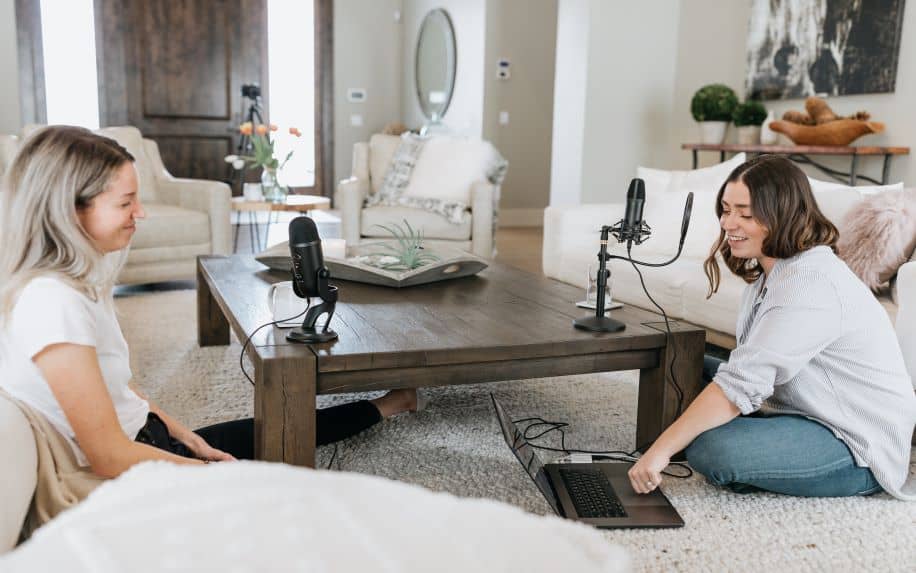 8. Design Your Podcast's Cover Art
Cover art is the first thing listeners will see when they find your podcast. It is important for your cover art to accurately portray what your podcast is about, and entice listeners to tune in. Podcast artwork should include
your logo
, easy-to-read fonts, and high quality graphics. If you are struggling to design your cover art, you can find stock images on platforms such as Unsplash and Canva, which you can use. Your cover art should normally be 1400 x 1400 pixels minimum and either a JPG or PNG file. Make sure to double-check the distribution platform you are using for their requirements.
9. Finally: Upload and Promote Your Podcast!
Before you upload your first episode, generate some excitement by posting previews on social media and notifying your network via email. This will help you build an audience and make your launch successful. When you are ready to post your first podcast, make sure to ask your listeners to subscribe and provide reviews and feedback for you to work off of. Be open to suggestions and critiques from your audience, and don't be afraid to alter your content to suit their needs. If you are starting an informational podcast, it is a good idea to also write a blog post to go with each episode. By doing this, you can promote the blog from your podcast and also embed the podcast into the blog. Promoting the podcast with the corresponding blog is beneficial for your
SEO
because it helps keep viewers on your page for longer, and will help your podcast show up in organic search results. By hosting a podcast, you can highlight your expertise in your field and reach out to brand-new audiences. This can help you gain trust and validation with your audience and be a fun and enjoyable medium to promote your brand. To learn more about promoting your brand, contact
ProfileTree
today.