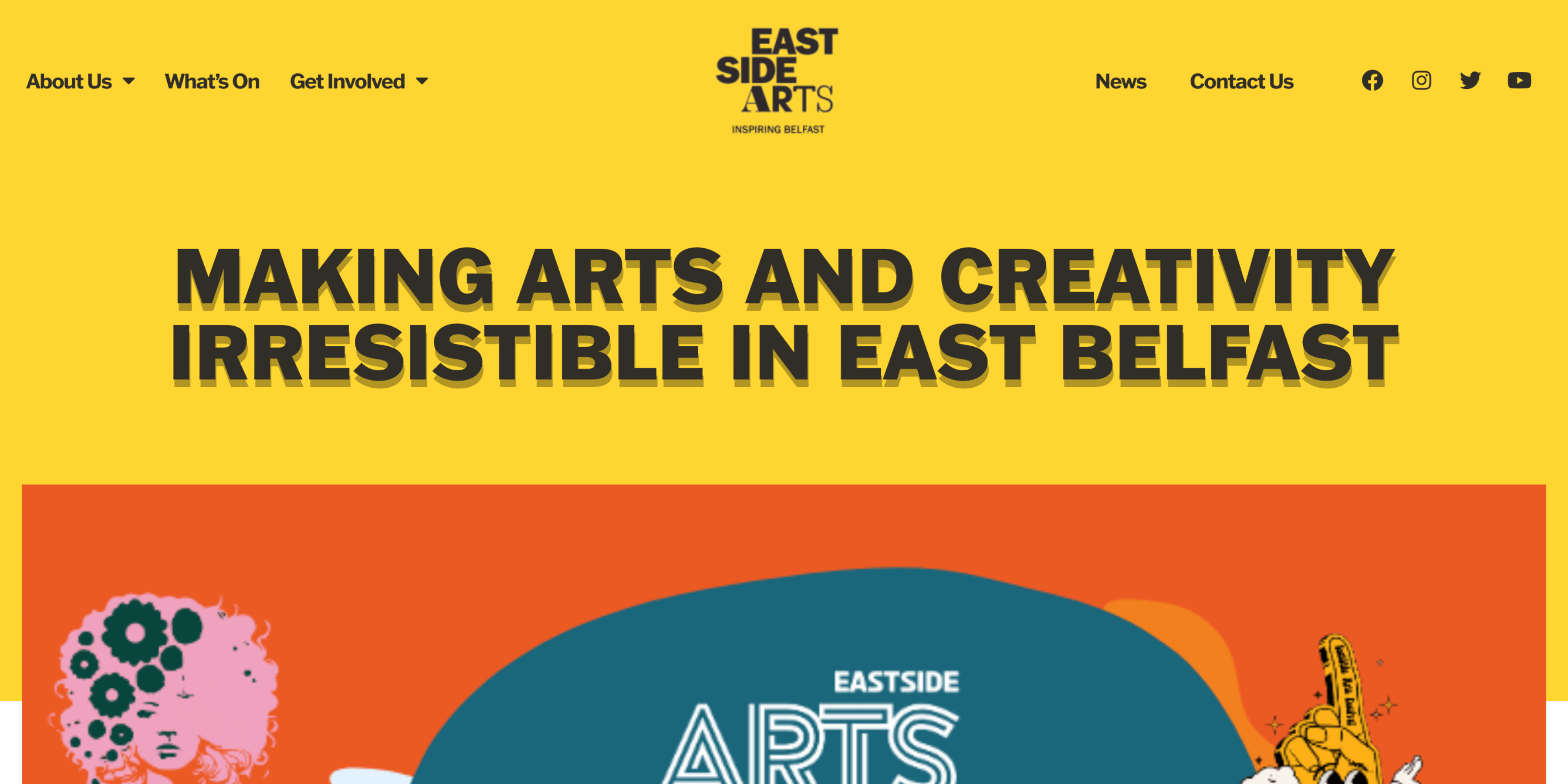 The Client
EastSide Arts is on a mission to create meaningful opportunities for connection through creativity all year round in East Belfast. Since 2016, the charity has been dedicated to ensuring that creativity is accessible to everyone in East Belfast. The goal is to connect individuals and communities, offer creative opportunities, and highlight the positive influence of arts in daily life.
Making Arts Accessible
Eastside Arts' vision centres on accessibility. They believe that arts and cultural experiences shouldn't be restricted by monetary constraints. This philosophy is reflected in their abundant offering of free events, ensuring everyone can partake in the joy of arts without the burden of expenses.
The charity is predominantly known for its EastSide Arts Festival, which was initiated in 2012 by a group of East Belfast residents passionate about arts and culture. In 2015 Van Morrison headlined the event on Cyprus Avenue and every year it continues to grow, attracting more visitors and famous faces.
Now, they continue to provide locals and visitors in East Belfast with information about what's happening in the local area, keeping the spirit of the community alive and engaging local audiences in a culturally rich environment.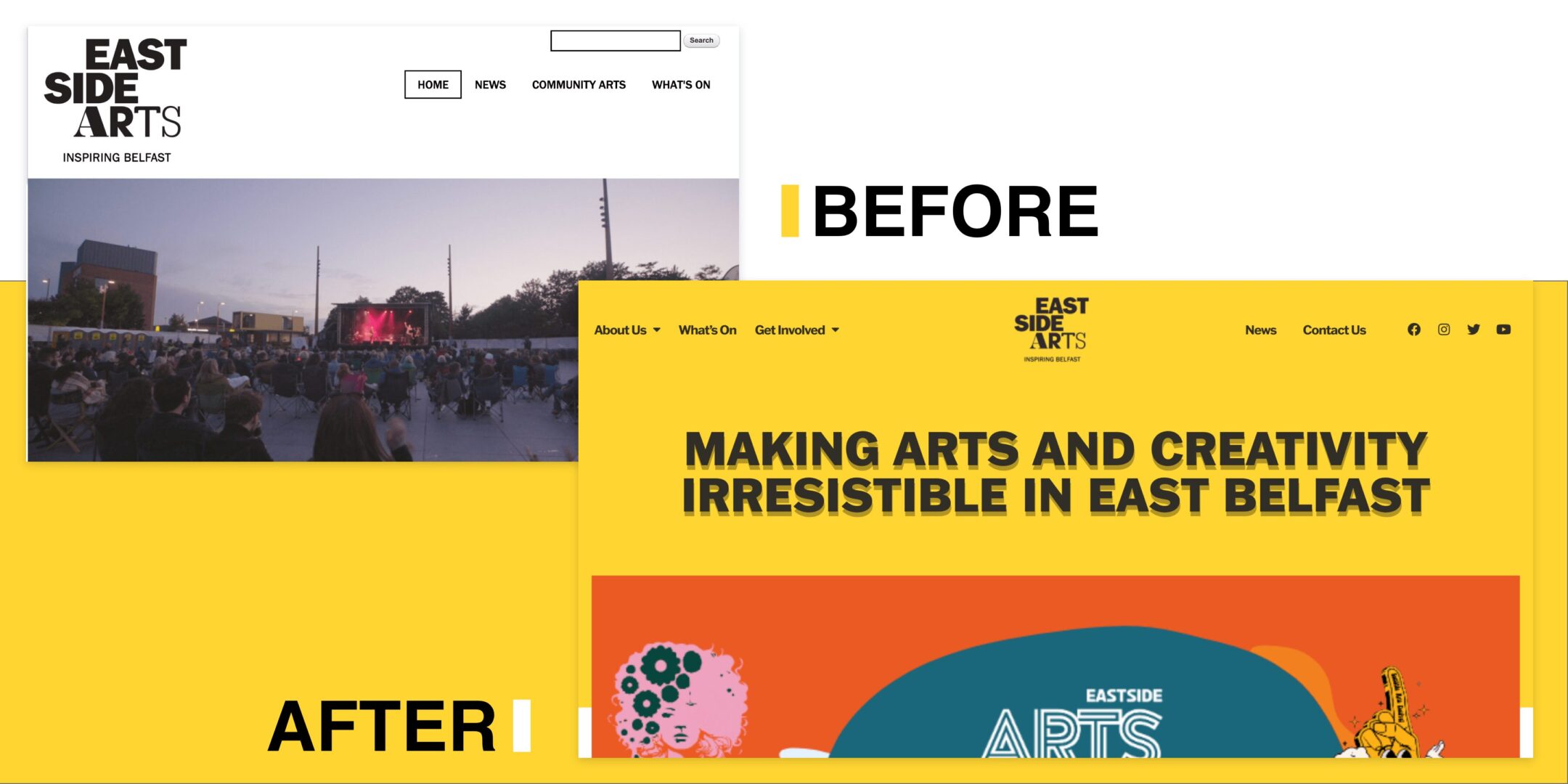 The Challenge: An Outdated Website Design for Charity Events
When Eastside Arts approached us, their main concern was their outdated website. The previous platform posed challenges in editing and updating events, a significant drawback considering the frequency with which they host events.
They desired a site that was user-friendly, enabling them to swiftly add multiple events without any hassle. It had to be simple enough for them to update event information and it needed to communicate that information clearly with audiences.
We also needed to ensure that the revised website design highlighted the impact of Eastside Arts as a charitable organisation. It needed to position them as a positive force within the community and showcase the fantastic work they have achieved.
Our developers ensured that each page of Eastside Arts highlighted the charity's commitment to art and creativity for all. Welcoming visitors to their online homepage was the first step in welcoming them to the wider community of Eastside Arts.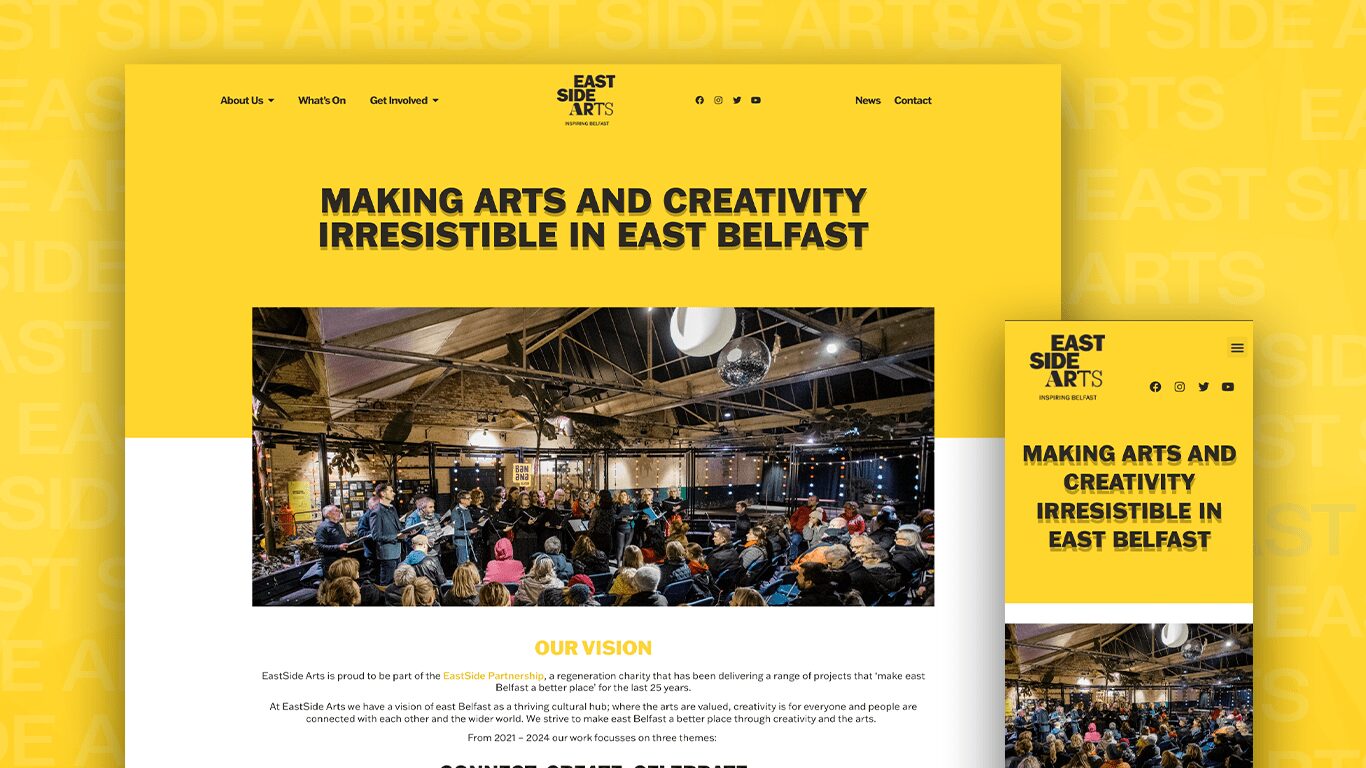 Our Solution: A User-Friendly and Visually Appealing Website
Understanding their needs, we developed a site that was not just visually appealing but also effortless to navigate and edit for both website admins and website visitors. The refreshed design gave Eastside Arts a brand-new look, and sleek website functionality, ultimately, it became an online social hub for discovering local events in the area.
Our team of dedicated web developers upgraded the website with helpful features to improve not only the performance but also to enhance the user experience. There was now a dedicated space for promoting upcoming activities and events that were happening in the local area.
Check out the specific website adjustments we made below.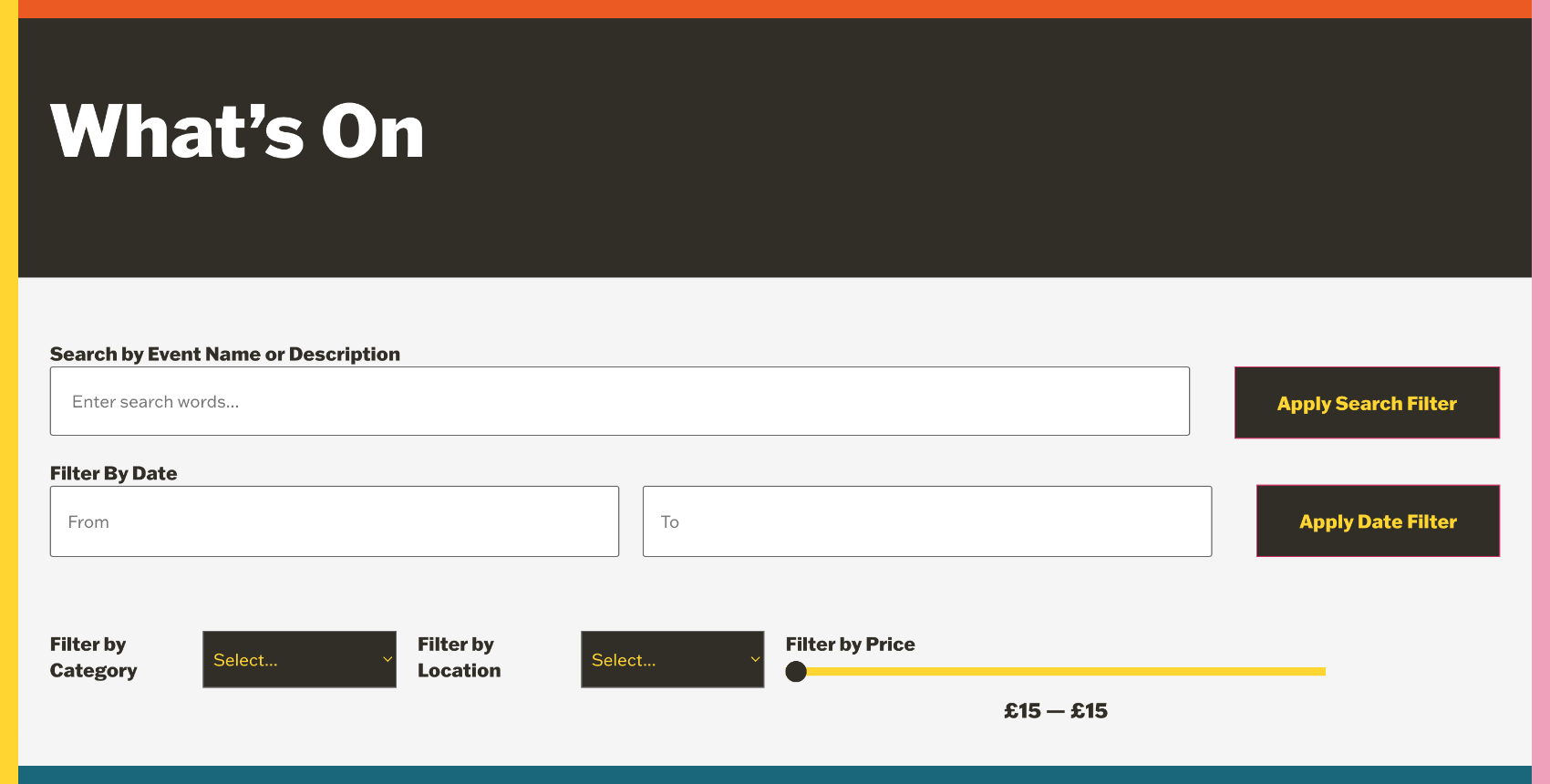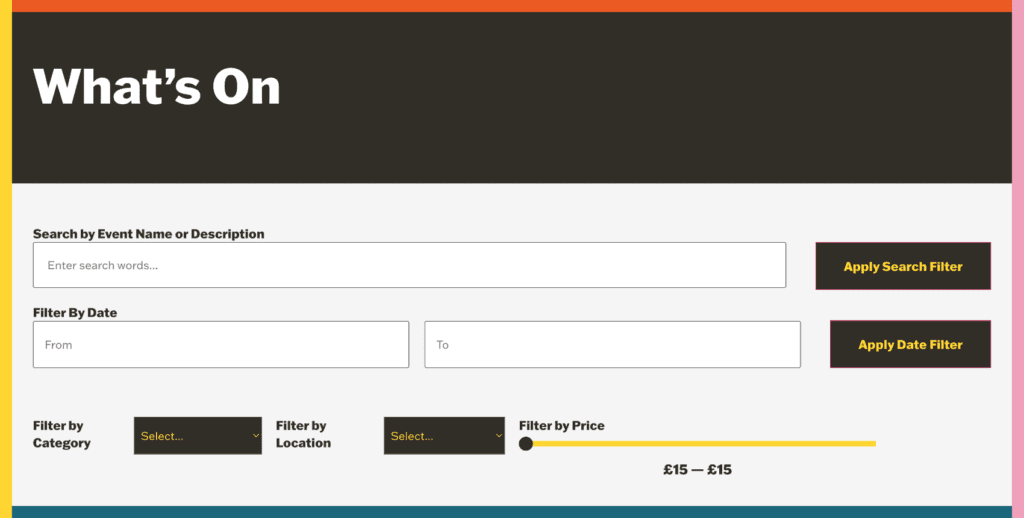 What's On
A cornerstone feature of their new website update was the "What's On?" section. This provided a comprehensive listing of all their upcoming events which was easily accessible to visitors. This ensured a straightforward sense of navigation that wasn't complicated with information about the charity or past events etc.
We anticipated that the 'What's On' section would become the most visited webpage, and so we ensured that it was intuitively displayed, visually appealing and engaging to audiences; it needed to promote the event and convince visitors to show up.
Filters
To enhance the user experience in the 'What's On' section, we also incorporated filters. Now, visitors could sift through events based on categories, hosts, dates, and even budget constraints, making it a breeze to discover happenings over a particular weekend or within a specific budget range.
About Us
As a charity organisation, we recognized the importance of a detailed 'About Us' section that could communicate the values, missions and ethos of Eastside Arts. We included clearly defined sections of;
Who We Are
What We Do
Current Projects
Past Projects
This section allowed Eastside Arts to express the importance of their organisation and showcase the positive impact of their work in how it benefits the local community of East Belfast and surrounding local areas.
Who We Are
The 'Who We Are' section also provided an opportunity for members of EastSide Arts to introduce themselves individually, connecting with audiences by sharing their passion for the organisation and the work they do.
What We Do
This section clearly defined the projects and events that Eastside Arts are responsible for. This helps the audience in understanding both what's going on and how they can become involved throughout the year.
Current Projects / Past Projects
Including a dedicated space for current and past projects was essential in promoting Eastside Arts as a charity that is dedicated to art and creativity in the local community. This is especially important when it comes to seeking partnerships, sponsorships, or recruiting volunteers. They will want to know who you are, what you do and why they should invest their time, money and effort into your particular organisation.
This section also provided an opportunity for Eastside Arts to generate excitement and buzz around their past and current projects. It continues to ensure that the charity remains seen and appreciated, facilitating future opportunities and encouraging the growth of annual festivals and events.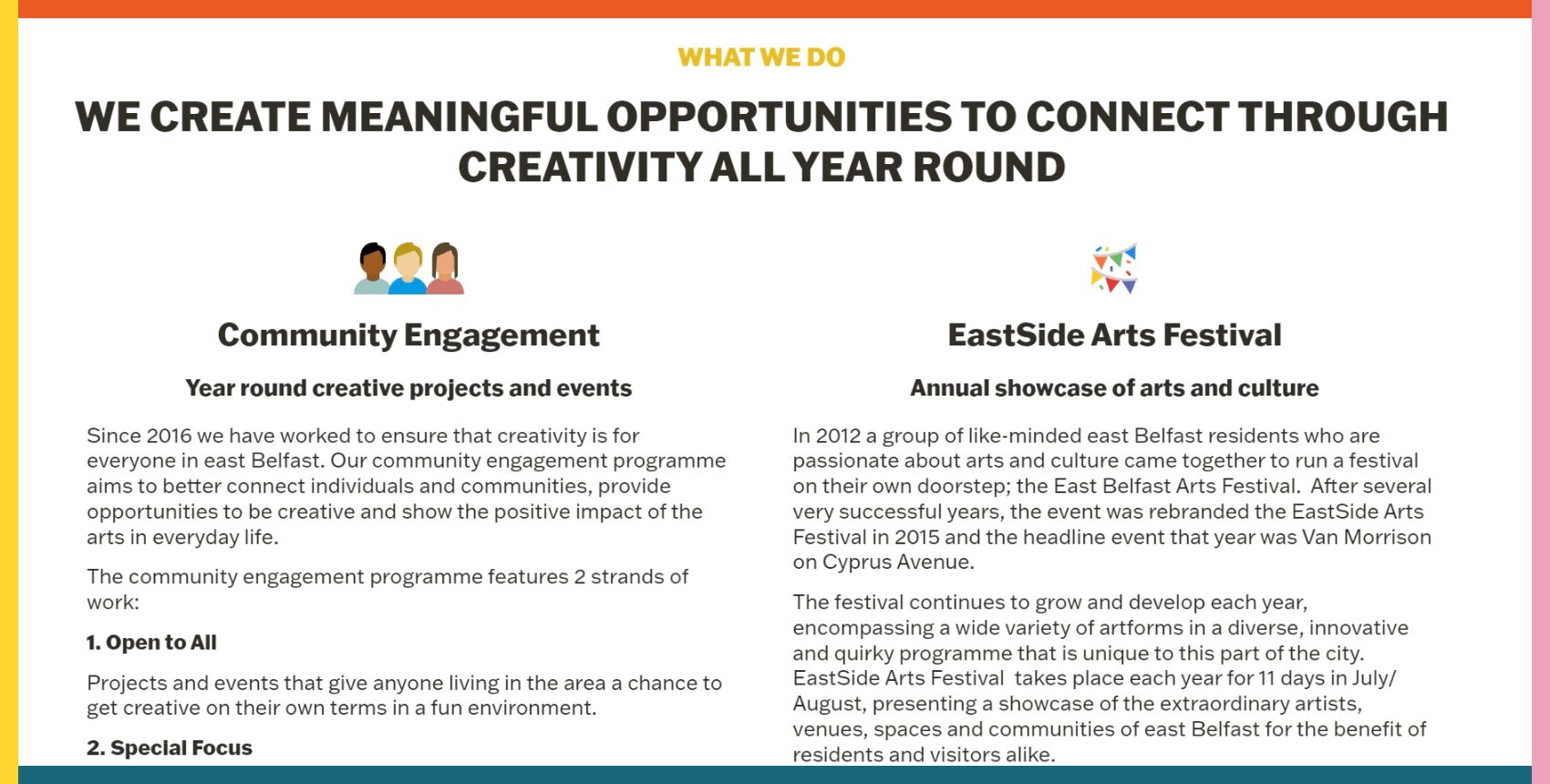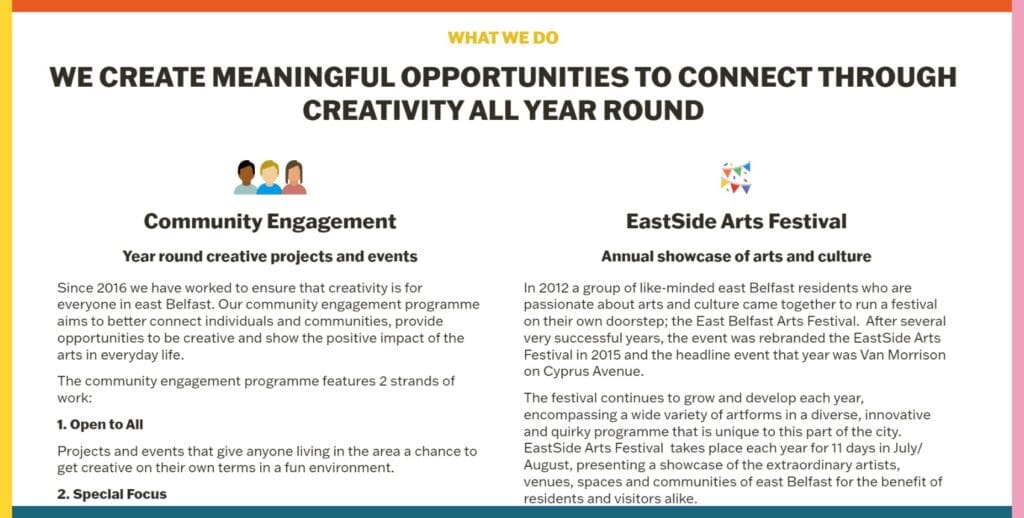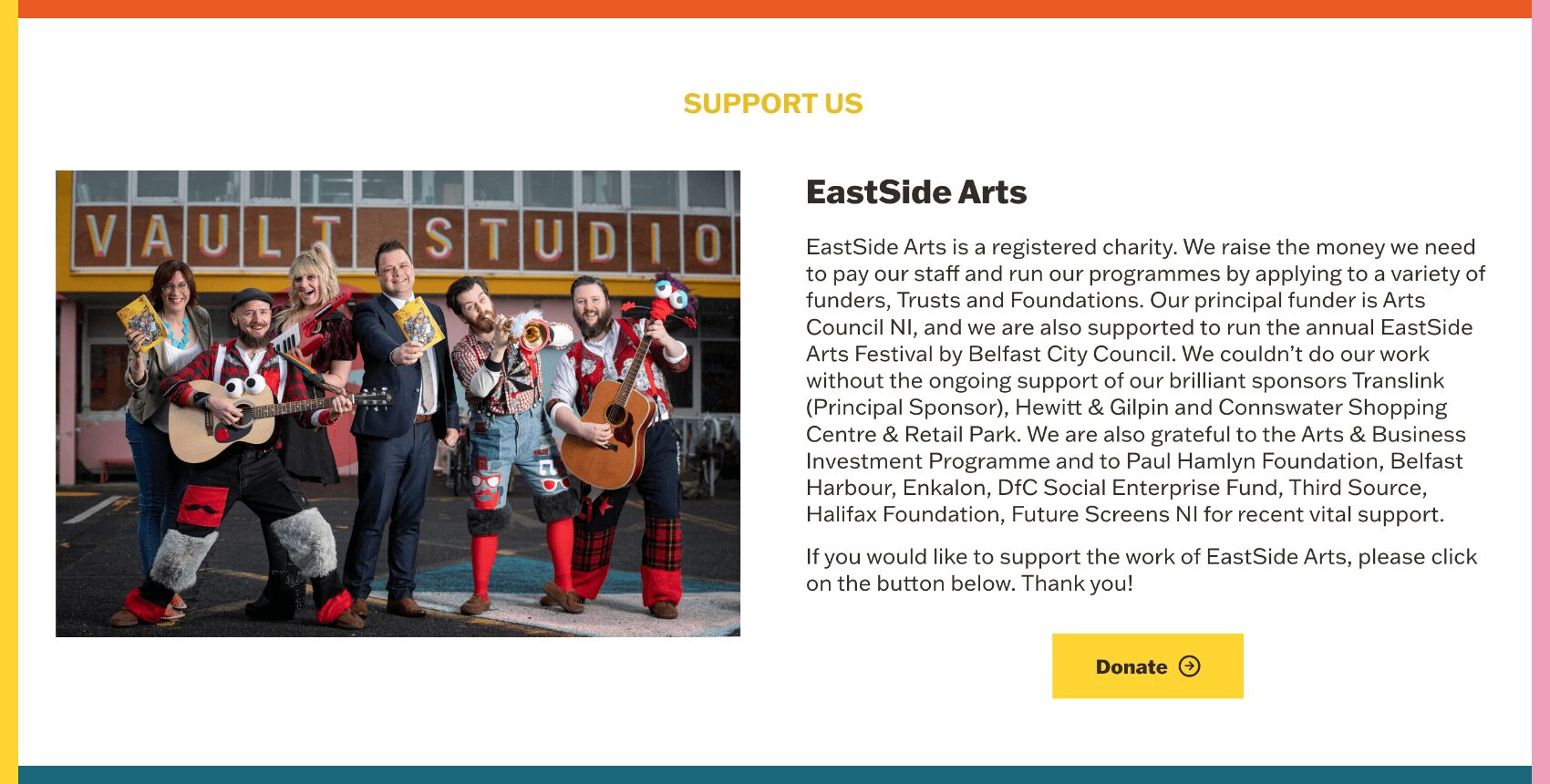 Get Involved 
As with any charitable organisation, much of the support comes from donors, volunteers and other local organisations. We ensured that this website design for charity events also included strong calls to action to encourage the local community to support Eastside Arts initiatives.
Another focus of this section was to ensure that website visitors clearly understood the different ways in which they could demonstrate their support, in whichever capacity they were able to.
Whether it was a one-off volunteering commitment for an upcoming festival or potential partnerships in working with Eastside Arts, we ensured that the website was built to encourage participation and support from those who were interested in doing so.
Newsletter Signups
We integrated website features for newsletter signups. This not only aids in keeping the community informed but also creates a direct channel for Eastside Arts to communicate with its audience. Locals could now stay updated on upcoming events, festivals, and local opportunities by signing up for the EastSide Arts newsletter.
Support Us
This section highlighted the transparency of Eastside Arts as a charitable organisation, listing organisations that have already provided support to their initiatives. This section also included a strong call to action in asking for donations, highlighted by a bright yellow 'Donate' button.
By embedding features like these, we can remind audiences that none of the great work that Eastside Arts provides is done so without support. It's a visual reminder that they are still a charity and need donations to ensure that their programmes, festivals and events remain funded.
Volunteer with us
This section also ensured that the audience misunderstood that their time was just as valuable as donations. We included images of previous volunteers and generated subtle calls to action that suggested roles they could take on, i.e.) front of house, workshop assistance, project support, ushering, ticketing, etc.

SEO impact of the refreshed website design for charity events 
The SEO impact of this website refresh was quite significant. Eastside Arts now brings in 800+ website visitors per month (which isn't bad for a local-based charity) and they currently rank for almost 1000 keywords.
These milestones have been facilitated by the hard work of our website development team. They knew the technical adjustments needed and they ensured that they built strong foundations of a high-performing website for sustained future success in local SEO.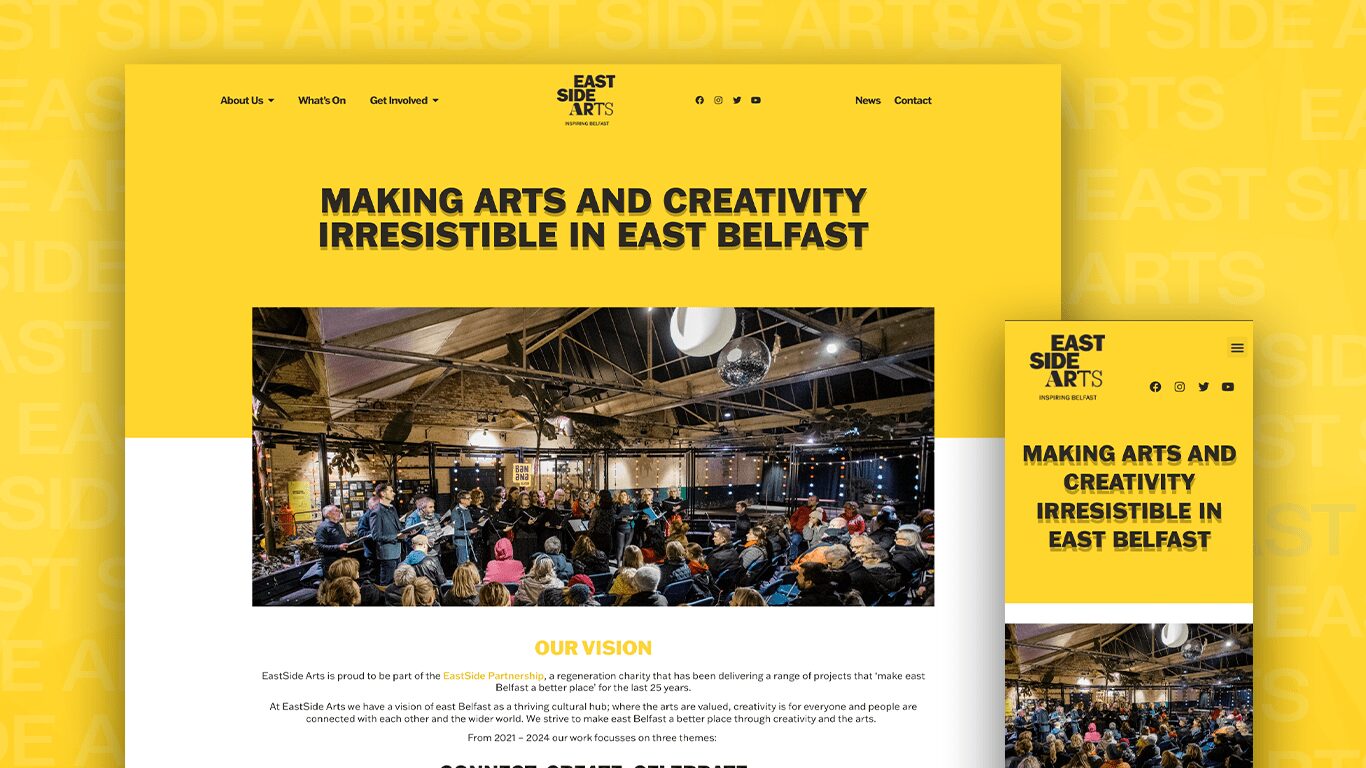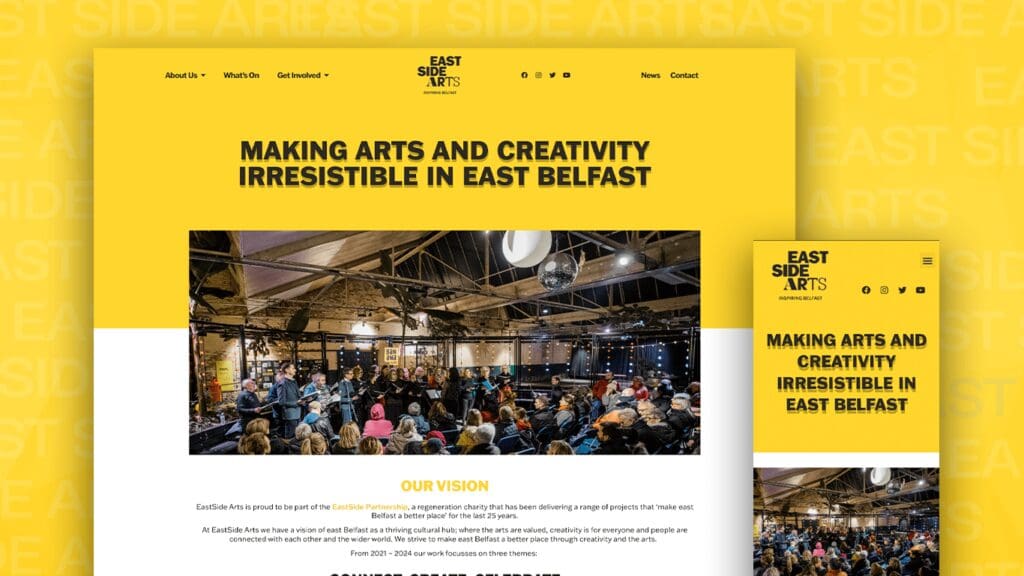 Our journey with Eastside Arts was about understanding their core needs and translating them into a digital platform that's both easy for them to manage and convenient for their audience to use.
The result? A modern, intuitive, and user-friendly website that serves as a beacon for arts and events in East Belfast. We're thrilled to have been a part of this transformation, and we're eager to see Eastside Arts continue its mission of bringing arts closer to the community.