Before you take a read through 6 simple ways you can get involvement in Digital Transformation, you may want to check out our business strategy blogs on scenario planning, porters 5 force analysis or change management.
What is Digital Transformation?
When implemented correctly, digital transformation has the ability to change how a business does things forever. It can also open new ways of delivering value to customers, enhancing their experience with how they interact with the company.
The term digital transformation is defined as the use of technology to radically improve business performance, or deliver value to customers. Therefore, businesses can strive to become operationally excellent and improve the efficiency of the business through taking advantage of this concept. 
When it comes to successful digital transformation and making sure you do not fall into the category of the 70% or more of digital transformation initiatives which are currently failing today there are several ways of doing this. Key phrases or areas of that need most attention are communication, collaboration and involvement.
Within this blog we are going to focus on one of these areas and talk about how you may the get involvement of your customers or employees in a digital transformation project.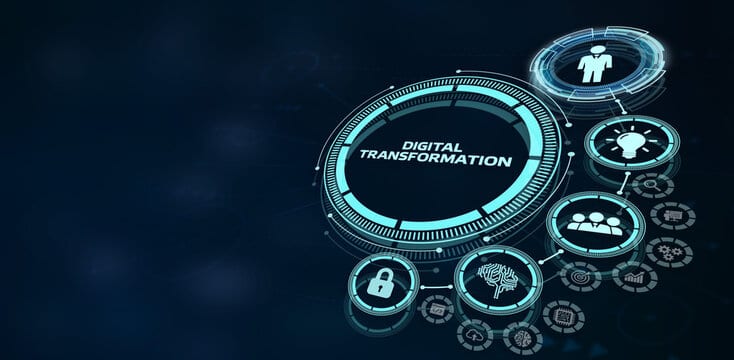 How to get people involved in Digital Transformation 
One of the most overlooked concepts within digital transformation is how the involvement of either your customers or employees can impact your likelihood of success.
Let's take a look at the ways you can ensure involvement to your digital transformation project.
Encouraging collaboration in Digital Transformation
One of the ways which you can strategize towards having key involvement through your digital transformation initiative is by encouraging collaboration with your senior leaders. These individuals are more likely to have a shared vision of where the business is going, where their input will help you align the digital transformation strategy with the vision of the company.
Because digital transformation is going to affect the company as a whole this is going to be very important. Therefore, during the early stages of the transformation you will need to set arrangements in place to encourage direction and input from management and ensure they buy in to where the vision as a whole is going.
Questions you might ask yourself at this stage;
Do your key leaders have a clear understanding of your vision?
Do each of your management team buy into your overall plans?
Have you defined the roles and responsibilities of these individuals?
Communication in Digital Transformation
Communication is going to become one of the key ways of how smooth your digital transformation project is going to go. In order for everyone to clearly understand the process and how they can be involved with each stage, you will need to over communicate.
This will involve you setting up group meetings to create awareness and understanding of your overall vision. You will also want to set up group feedback sessions to receive informative feedback and analysis of the new technology being implemented.
Questions you might ask yourself at this stage;
Have you opened clear and transparent communication channels?
Are your employees or customers clear of what your goals and objectives are?
Do they understand how their input can impact the likelihood of achieving these goals?
Building a culture of experimentation in Digital Transformation
During a digital transformation you want to be open to accepting there will be challenges and be prepared to overcome these. Building a culture of experimentation where employees are open to making mistakes and learning from them will be the best way to get the most out of the new technology being introduced.
Fail fast, learn fast is a concept in business strategy and culture and the more open your company can become to accepting this and embracing it, the higher your success rate.
Are your employees or customers open to facing challenges?
Do your employees or customer show an ability to adopt to a new cultures?
Do you understand how to get these individuals might get on board with the new ways of working? How to motivate them?
Sharing progress at different stages in Digital Transformation
Sharing your progress and keeping everyone in line with how the project is performing will be key to the results you receive. Within this step you may also want to celebrate early wins to ensure you are keeping your teams motivated, then throughout the project also demonstrate success through using different individuals as positive examples. 
Can you identify those individuals acting in line with the process?
Can you create a rewards or incentive system?
Can you set up ways to recognise and praise positive behaviour?
Inspiring others in Digital Transformation
If you are in the position of directing a digital transformation project you should be in the position to inspire employees or customers to act in line with the desired outcome of the project.
You can do this by being enthusiastic, over emphasising the importance of the project for the business, and showing how the end outcome will have a positive impact on how people are currently doing things i.e. how it is making their job role easier.
Do you employees or customers feel valued?
Have you made it clear what roles and responsibilities each individual should carry out?
Have you inspired others to share ideas, work in teams and enjoy the overall process?
Training and support in Digital Transformation
With the final step it's important that your employees/customers have the resources in place to perform effectively in terms of the new ways of working. Therefore setting up training facilities, informative sessions or providing them with the access to tools will be key to the overall performance of the project. 
Do you employees of customers have a clear and transparent on how to use the new technology?
Do these stakeholders have the ability to communicate any problems?
Have you put the tools and facilities in place for ongoing support and guidance when technology has been implemented?
Summary
That's an overview of 6 different ways you can encourage involvement within a Digital Transformation initiative. If you would like some support and guidance in around this, or other areas within Digital Transformation, contact ProfileTree today and we would be happy to help. Don't be afraid to check out our videos on our Youtube Channel too.