Why use search remarketing? This digital marketing technique can help make the most of your time, your efforts and even your budget by accessing a more niche audience for your message.
However, this is a technique which is often misunderstood. To help with this, we've compiled a guide to search remarketing, and how you can make the most of it.
What is Search Remarketing
Remarketing is a method to target potential customers online in a smarter way, designed to drive conversions through identifying quality traffic.
According to Econsultancy, search marketing is "a form of behavioural retargeting where a user of a search engine will be targeted with display ads based on their search queries." 
Search remarketing refers to the usage of a customer's search history to create a user profile. The user profile provides tailored advertisements of the consumer's preferences.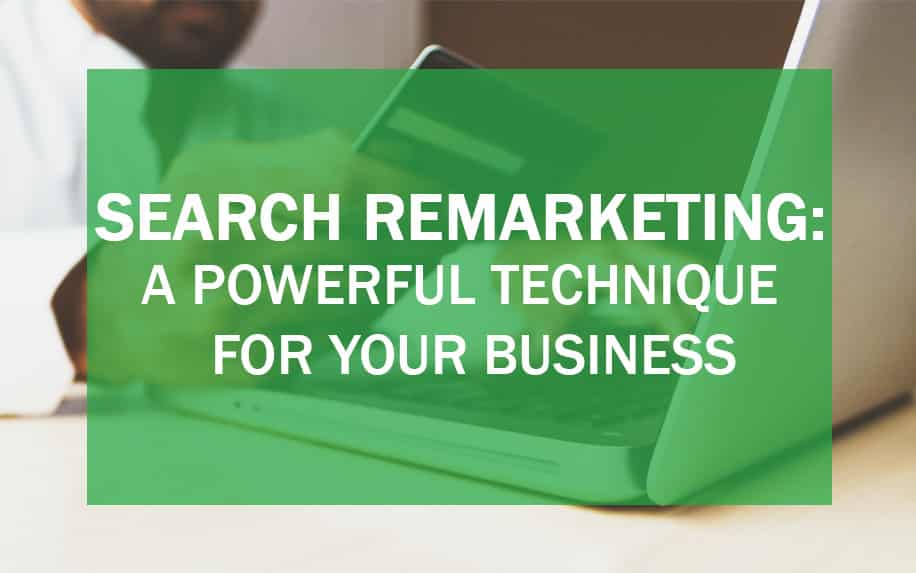 There are many online marketing strategies that brands use to attract clients – remarketing is one of them. It allows you to place your brand on banner ads and show them off to potential customers who have already expressed an interest in your product or industry. 
Remarketing gives businesses the opportunity to think like a customer.
As an example of remarketing, imagine a customer looks for running shoes through an online shopping website. By using remarketing, brands of running shoes will create a user profile of the customer and offer relevant ads. 
The relevant ads will revolve around running shoes that are tailored to the customer's preferences.
Many digital marketers use this method in their digital marketing plan. Web traffic converts two percent of first visits, while 98 percent of web traffic converts through search remarketing. 
Search retargeting is a business strategy that has shown to be very effective and efficient. It attracts customers and gains exposure of products through psychological awareness.
Search Remarketing and Site Remarketing: What is the Difference?
Search remarketing and site remarketing are synonymous, except for one aspect. Once you've used remarketing for your business, be aware that results will be instant because of the immediate call-to-action button with relevant ads. 
Search remarketing is different when it comes to the type of consumers it attracts.
Site remarketing is the process of a business reaching out to clients who have already visited the website and left before completing the transaction. 
However, search remarketing attracts customers who have never visited the business's website before. 
Search remarketing captures the attention of potential clients that conduct online searches. These online searches are relevant to goods and services in a certain industry, which allows businesses to lure customers to their brand.
Site remarketing is an advertising method that digital marketers use to display ads to customers who have previously visited their website. The customers, however, didn't acquire their product. 
This works via a pixel within their website, which sets a cookie in the consumer's browser. The cookie allows the digital marketer to pinpoint the website client with ads elsewhere on the Internet through site remarketing.
As for search remarketing, it is an advertising method that digital marketers use to display ads to clients who have never visited their website. It also gives digital marketers a plethora of opportunities to attract users who conduct online searches that are relevant to their business. 
Many digital marketers use remarketing as a way of increasing traffic of a brand and improving its SEO.
In this context, the main difference between site and search remarketing is the audience it attracts. However, both forms of remarketing are equal in its way of how it attracts its target audience. 
Both of these remarketing methods are very similar and both are used by digital marketers in business strategies.
How Does Search Remarketing Work?
Search remarketing is a method where marketers use cookies to anonymously target certain audiences all over the World Wide Web.
Search remarketing requires a brand to place a piece of code on its website, also known as a pixel. The pixel is discreet to the site visitors and doesn't influence the performance of the site visitor. 
Every time a new visitor comes to the website, the pixel drops an anonymous cookie. Later on, when the cookie visitor browses through the Web, this allows the re-targeter to know when to provide ads. 
This guarantees that the people who have previously visited the website will see the brand's ad.
Before initiation occurs in the process, it's crucial for the brand to have a set-list of keywords to use that will be applied in the search remarketing strategy. It is also best to use a wide variety of keywords.
Once the brand has defined keywords that are relevant to its product, then the process of search remarketing can begin. The process revolves around acquiring information of potential customers who have conducted an online search that may relate to the brand.
There is something you should consider about search remarketing. It gives the brand or business the ability to reach relevant, potential and new customers that were unexposed to the brand before. 
Search remarketing doesn't put its hopes on happenstance or coincidences, but it's more of a calculated approach.
Benefits of Search Remarketing
There are many advantages when it comes to search remarketing and many digital marketers utilise these. It can increases brand awareness, gains exposure for a brand, and increases ROI in a business.
It also offers the information a brand needs to understand the target audience's preferences in advertisements.
Search remarketing is so effective because it concentrates the advertisements on people who are already familiar with the brand. The advertisements are also concentrated on people who have recently shown interest. 
This is why most digital marketers who use search remarketing notice a higher ROI than from other digital marketing channels.
Another advantage would be that search remarketing reminds customers of their desire to purchase the product and possibly bring them back to the website. It also establishes brand awareness to the potential customers through repeated exposure. 
Remarketing is a constant psychological reminder to go back to the website and finish what they started.
Along with gaining exposure and establishing brand awareness, there is a final benefit when it comes to search remarketing. It allows marketers to reach potential clientele that have not been to the brand's website. 
It also re-attracts customers who have searched the brand name or a keyword that defines the brand. The brand considers people who are planning on buying the product to be much more valuable to the company. 
They are valuable because they are closer to the purchase funnel.
According to ZeroGravityMarketing, the purchase funnel is "a simple way to visualise the complex process of acquiring leads and converting them into paying customers." This means that the purchase funnel is a process of turning potential customers into paying customers.
The main advantage would be that search remarketing allows the digital marketer the ability to fulfil the needs of their target audience.
Drawbacks of Search Remarketing
The drawbacks of remarketing are few, but they are important to mention. Search remarketing has allowed better conversion rates and helped brands spread their message. However, it is not the most effective of digital marketing channels.
Brands use remarketing as a constant reminder for consumers to return to the brand website, yet 60 percent of customers forget the last display ad they've seen. 
Considering that people's attention span virtually is basically non-existent, many consumers forget the content of an ad after it's displayed.
Digital marketers have suffered from this issue. They have constantly tried to capture and keep the attention of consumers through meaningful quality ads.
Another disadvantage is that even when customers remember the ad that has been displayed, they are unwilling to click on an ad. 
Simply put, only a few customers will click on an ad and divert their browser to a brand's website. Search remarketing has been a psychological tactic to attract customers.
Unfortunately, only 26 percent of potential customers will return to a site through remarketing.
In addition, many brands or businesses generalise their display ads to the audience. 
Display ads are not tailored specifically for each individual, so it doesn't make clients feel special. This could discourage people who display any interest in the brand or product, but they aren't interested after seeing the advertisement.
Repetition is also another disadvantage of remarketing. The same ad being shown over and over again loses significance and importance. If brands keep showing the same ad, potential clients will tire of the ad and not bother to click on it. 
Again, this reverts back to the current attention span of the consumers in the virtual world.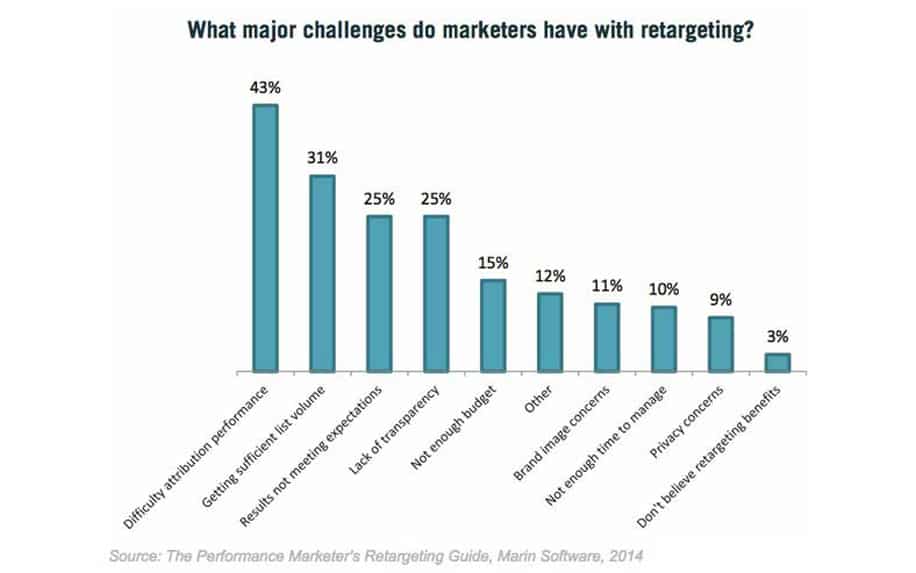 Search Remarketing Companies
There are two ways to apply search remarketing for a brand: direct search remarketing and the 'middle man'. 
Direct remarketing is when remarketing occurs internally. 
There are certain online services that implement search remarketing for your brand, instead of going through it on your own. These online services solely exist to increase your web traffic, conversion rates and brand awareness. 
Outsourcing search remarketing or implementing search remarketing within the brand's company are both valid options; they both contain benefits and drawbacks in concern of cost, manageability and extent of reach.
One of the most well-known outsourcing services is Google AdWords Remarketing. It is considered the top service for search remarketing. Social media platforms like Facebook and Twitter have provided brands with the opportunity of search remarketing through their application.
Google AdWords and Remarketing
Google has made it super easy for brands to apply search remarketing with already existing AdWords accounts. This helps initiate a remarketing campaign. 
With AdWords, you will be able to interact with your target audience again; they are the customers who have already visited parts of your site or Googled the defined keywords related to your brand.
Google offers three pricing models: 
CPC (Cost per Thousand Impressions),
CPC (Cost per Click) 
CPA (Cost per Acquisition). 
According to AdWordsRobot, Google also provides different ways to remarket or retarget your clientele.
Static/normal Remarketing – refers to the standard way of following customers on the web using a cookie after the visitor viewed a web page. Then the customer gets a banner ad on a third-party website with a static offer.
Dynamic Remarketing – allows marketers to show ads up to the specific product level which the customer visited previously. Then the customer gets a banner on a third-party website, but in this case with a dynamic banner, which contains visited products or items on visited pages.
Search Ads (RLSA) – Remarketing lists for search ads uses search keywords as parameters for remarketing. For example, marketers can use the keyword 'hotel in Amsterdam' so when someone goes on a search engine and uses that keyword, Google can serve them with your ad.
Video Remarketing – Video remarketing works on YouTube. If you wish to reach out to previous viewers of your video or those who subscribed to your channel, use the video remarketing solution.
Email-list Remarketing (Customer Match) – Upload a list of your customers' emails. Once customers sign in to their Gmail account, they will see your ads.
Facebook and Remarketing
There are over one billion Facebook users, which gives brands a plethora of advertising opportunities.
You could already be working on Facebook Ads, but you may need more conversions; Facebook has the answer with Custom Audiences. 
You can use Custom Audiences to build your target audience; this is when you create a separate list for consumers who have been to a particular page of your website.
The minimum number of customers is twenty and above, then Facebook will customise a list for you.
Alongside from website visitors, Facebook gives you the option to create a custom audience list through email and mobile application users.
Facebook Ads provides another service, known as Lookalike Audiences. This service helps businesses to reach new consumers who are synonymous to its existing target audience. 
Once a brand collects a list of website and application visitors, the brand should create an ad; finally, the brand should display the ad to the custom audience and the re-engagement of consumers will commence.
The main advantage of Facebook Ads with Custom and Lookalike Audiences is its results; it can generate more results than Google AdWords and it costs less. Facebook only applies to its social media platform, which may seem limited. 
However, since Facebook is an industry on its own, being a part of it is an achievement on its own.
Facebook Ads has proven to be an effective method for a brand to increase its web traffic because of its commonality. 
Many brands have affected users and their interest in certain businesses, because of Facebook and its exposure. Once you've been well-acquainted with Facebook Ads, you'll be able to understand your target audience and what they need.
Google Adwords and Facebook Ads are the most efficient and successful search remarketing tools, according to numerous brands.
Summary: Making It Work for You
There are many online advertising strategies which are used to draw clients; search remarketing is one of them. It permits you to place your emblem on banner commercials and display them off to clients who've expressed an interest for your brand. 
Search remarketing offers agencies the opportunity to think like a purchaser.
Remarketing doesn't position on happenstance or coincidences, however it's more of a calculated approach.
That is why most virtual entrepreneurs who use search remarketing note a higher ROI than from other virtual marketing channels.
Good luck!have