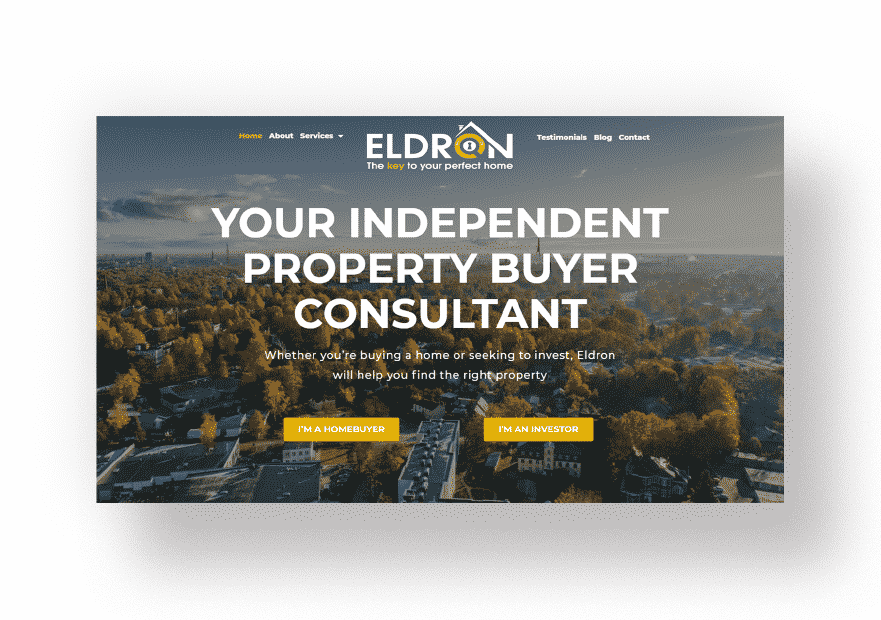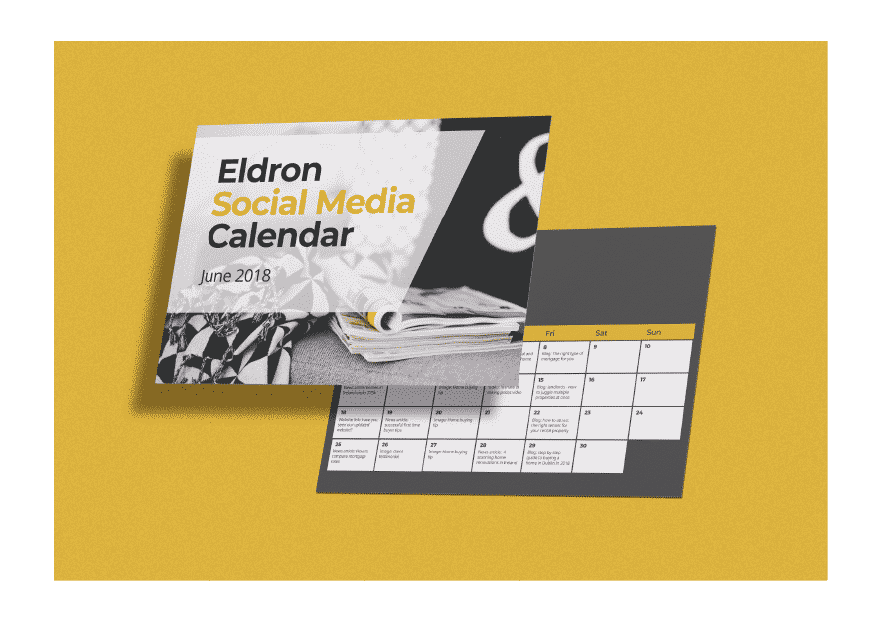 Our Approach
Digital Transformation
Following consultations with Eldron, it was swiftly identified that a flowing, engaging and user-friendly website was essential in growing their success. The team at ProfileTree set about designing and developing a website which fully incorporated Eldron's established branding across all pages. The site included a number of unique landing pages, highlighting the company's business journey, as well as its key services, client testimonials and a page to host blog posts, including company news and announcements.
As an essential element of Eldron's fresh content strategy, all content, including web pages and blog posts, were optimised with high performance keywords. Following these measures ensured that our client got off to the best possible start in regards to SEO ranking. Once Eldron's new website was designed and developed, ProfileTree took over hosting, guaranteeing a secure and functioning website both in the present and into the future.
Eldron's digital transformation didn't end with a secure and functioning website, however. ProfileTree guided the client in spearheading their fresh marketing strategies across all content, including social media. Our team of analysts and marketers continued to handle social media for Eldron, targeting their required audience with engaging, shareable content engineered for increased sales and organic growth.
Results
Building organic growth
A stable, engaging and secure site, with hosting services ensuring functionality into the future.
A content strategy prioritising SEO requirements, engineered to boost credibility and achieve organic growth.
A social media marketing strategy designed for increased engagement and sales conversions.
Expertly produced and marketed video content, driving web traffic and potential buyers to the site.
Website design for property agents
There has been a major shift in how buyers and renters go about finding a property, potential customers are no longer calling into high street property agent stores, instead they are searching for available properties in the comfort of their own home in property websites.
In fact, in 2018 a shocking 93% of home buyers used online property websites when searching for a home and this number is only expected to rise in the future.
A property agents website is essentially the online store of properties that are available in a selected area. The power of a well designed property agent website is not to be underestimated, it can essentially make or break a property business in today's competitive and digital environment.
Competitive website design for property agents
The competition for online estate agent websites is one of the fiercest markets there is. With established property agent websites like Rightmove, which is the largest in the U.K., it can be challenging for smaller scale property agents to carve out their own digital presence and rank highly in search engine results.
The amount of competition requires an expert web design approach in order to create appealing websites that are capable of competing online and against property agent giants like Rightmove and Zoopla.
With sleek web design, engaging content and well functioning features, your property agent website has every chance to carve out its own digital presence and become a property agent website that customers use and return to.
User Interface for property agent website design
Probably one of the most important aspects of website design for property agents, is the User Interface. This relates to everything that the website visitor interacts with; the pages, toggle buttons, filter options etc.
The User Interface is crucial for ensuring that website visitors are able to navigate your website with ease. It should create a pleasurable viewing experience and encourage them to return to your website when viewing other properties.
User Interface features for property agent website design:
Some of the User Interface features that should be included within property agent website includes:
Separate web pages
Include separate web pages in order to help customers differentiate between your web content. Some web pages you may want to spend time investing in includes:
Properties for sale
Properties to rent
Commercial properties
Properties for auction
Land sales
New homes
Find an agent
Mortgage helper
Blog page
Separate web pages help website visitors easily access the content that they are looking for. It is also worth keeping in mind that ' About Us' pages are usually not sought in property agent websites, to put it bluntly customers don't care who you are, they are looking for a home, not a backstory.
Helpful features
There are many helpful features that you can add to your property agent website, helping potential customers in their search for a home. Some helpful features that you may want to include are:
Chat to an agent (AI chatbot)
Mortgage calculator
Arrange a viewing
Any helpful features that make the navigation more streamlined and enhance the user interface should be sought and included into your website design for property agents.
Filters
Filters are a great feature to add onto your property website in order to help the visitor navigate through the available properties. Some filters that you may want to add to your website, includes:
Price / budget
Postcode / area
Bedrooms
Property type
Search radius
If your property agent website just has a list of properties in random formatting, it's going to be difficult for the visitor to filter through the property options. Every potential buyer and renter have their non-negotiables when searching for a property, so it makes sense that property agents should provide filters to aid in their search.
Colour theme in property agent website design
You should pay attention to the colour theme used within a property agent website. As a general rule of thumb, you should only use a maximum of 3-4 colours, with white being the main background colour, deviations from this rule may result in a website that is overwhelming and not appealing to the visitor.
Think about using the following colours for property agent website design:
Blue
Blue conveys feelings of trust, integrity and support, which is useful for property agents that are trying to gain the trust of potential clients.
Orange
Orange conveys feelings of optimism and energy, it's also great for grasping the attention of your website visitor and encouraging them to stay around your website for longer.
Yellow
Yellow conveys feelings of joy, friendship, optimism and happiness – all of which you want to be associated with a client and their home hunting journey.
User Experience on property agent websites
The User Experience or UX, refers to how well the website operates. Visitors expect things to load properly and they expect website buttons to do what they're supposed to do. A property agent website is going to have lots of different features embedded within it, from application forms to interactive videos, and they all need to perform well in order to meet the visitors expectations.
If your website doesn't load its features properly or struggles to perform ordinary tasks, then it creates a negative User Experience, which only serves to frustrate the visitor and discourage them from returning to your site. You should seek the assistance of a web developer in order to audit your UX as they will have the technical know-how for fixing any issues.
Why do property agents show sold properties on their website?
It may seem counteractive to show already sold properties on your property agent website, but it is for good reason. Some reasons why properties agent websites do this, includes:
It provides website visitors with a ballpark figure on how much similar properties are selling for.
It showcases your talent as a successful property agent for buyers and sellers.
It generates interest from potential buyers and renters who are interested in that area.
Some properties need to have a survey completed before the keys are handed over, some agents prefer to keep the property online before this has been completed.
It may be a good idea to have a filter or separate page for sold properties as it may lead to visitor frustration if they are having to sort through properties to find available ones on the market.
SEO in property agent website design
Another important part of website design for property agent websites is the content that populates the actual website. SEO stands for Search Engine Optimization and this is the process of attempting to rank on search engine results through organic means.
When people search for something on Google, the search engine will attempt to provide them with the best answers available. If your website's content isn't answering the questions that people have, then it will struggle to rank on search engines results. In other words, people aren't altruistically interested in hearing about your business, they want answers to their questions, and as such your website should provide this.
ProfileTree – experts in website design for property agents
Here at ProfileTree, we have created outstanding property agent websites for multiple clients. We create online selling machines and help property agents carve out their own digital presence with sleek design and well functioning features. Check out our other digital marketing projects.
If you would like to hear more about our website design for property agent websites, get in touch and we would be happy to help!