The AI industry in the UK has experienced a significant boom, marking a transformative period for technology and industry. This surge in AI adoption has opened up a plethora of opportunities for businesses across various sectors, fostering innovation and driving economic growth within the UK. 
Table of Contents
How Many AI Companies Are In The U.K.?
There are 3,170 active AI companies in the UK.
60% of the identified companies are dedicated AI businesses.
40% are diversified companies with AI as part of their broader offerings.
An average of 269 new AI companies are registered per year since 2011.
The data indicates a diverse landscape within the U.K. AI sector, with a majority, or 60%, of the identified companies specialising exclusively in AI. These dedicated AI businesses focus primarily on developing and providing artificial intelligence solutions, products, or services, showcasing the depth and specialization within the field.
On the other hand, 40% of the companies are diversified entities, incorporating AI as just one aspect of their broader offerings. These companies are likely leveraging AI to enhance, complement, or innovate their existing products and services, illustrating the widespread applicability and integration of AI across different business models and domains.
Revenue And Employment Of AI Companies
AI Companies in the U.K. generated £10.6 billion in AI revenues.
71% of all UK AI revenues (£7.6 bn) are generated by large firms.
AI Companies employ over 50,000 people in AI roles.
AI companies have generated a substantial £10.6 billion in AI revenues, with larger firms dominating the largest market share. The generation of 50,000 AI roles also indicates not only the significant economic impact of the sector but also the potential for the development of new roles and job opportunities alongside the continued growth of the AI industry.
Where Are AI Companies Based In The UK??
London, South East and East of England account for 75% of registered AI office addresses and 74% of trading addresses.
1 in 5 UK AI companies have international offices, mostly in North America and the EU.
Northern Ireland accounts for less than 1% of the total AI trading locations identified across the UK.
Within the agricultural technology sector specifically, Northern Ireland is one of the regions with the most notable proportions of AI activity.
Northern Ireland accounts for less than 1% of the total AI trading locations identified across the UK. This indicates a relatively small AI presence compared to regions like London, South East, and East of England.
However, these findings also indicate a gap within the market for NI businesses to develop AI-based services and products. Those who do so will benefit from being amongst the first businesses to spearhead AI integration within the NI market.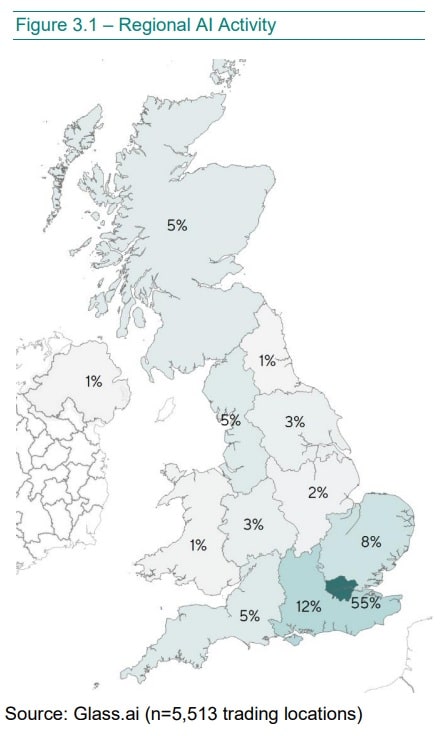 What Size are AI Companies in the U.K.?
The report found that 96% of the identified AI companies are SMEs.
60% of AI firms were micro-businesses (1-9 employees).
28% of AI companies were small businesses (10-49 employees).
8% of AI companies were medium-sized (50-249).
The report highlights a contrasting landscape within the UK AI sector, revealing that while a substantial 96% of the identified AI companies are Small and Medium-sized Enterprises (SMEs), the majority of the sector's revenue is generated by large firms, contributing 71% (£7.6 billion) of all UK AI revenues.
This disparity underscores the significant economic impact of large firms in the AI industry, despite the prevalence of SMEs in terms of company numbers. This could also suggest that larger diversified tech firms may be better equipped to integrate AI into existing offerings versus smaller dedicated startups.
Nonetheless, the fact that small new entrants make up the majority of AI companies, highlights entrepreneurship and dynamism within the UK's AI industry.
Barriers to AI Implementation in the UK
Even in sectors with strong AI usage, there are barriers to AI implementation. Some of the key barriers that the report highlighted were:
Lack of sector-specific data
AI systems need substantial amounts of high-quality, sector-relevant data to train on. Many sectors lack sufficient data that is specific to their industry processes, customers, etc. This limits the ability to develop highly customized AI solutions.
Uncertainty about efficacy
Customers are hesitant to adopt AI systems without evidence of their performance and impact specifically within their sector. But without adoption, it's hard to demonstrate efficacy.
Reluctance to change
Many sectors are hesitant to adopt disruptive AI technologies, especially if it means overhauling or replacing existing processes and systems. This inertia impedes the adoption of even highly promising AI applications.
Implementation costs
Transitioning to new AI systems represents a cost in terms of system integration, training, and business process changes. This creates reluctance, even if AI could add value.
Job displacement concerns
Some sectors are concerned about displacing existing workers through AI automation. This makes them slow to adopt and unsure about adopting the technology.
Sectors face chicken-and-egg dilemmas around lack of data, evidence, and incentives to drive change. This results in AI adoption happening inconsistently, in pockets within sectors rather than transforming entire industries. Even where the technology shows promise, psychological, financial and organizational barriers hinder broader adoption.
Final Thoughts On AI Industry Trends
The AI sector in the UK is undergoing a transformative period, characterized by rapid growth, economic contributions, and a diverse landscape of companies.
The Artificial Intelligence Sector Study Research Report by the Department for Science, Innovation & Technology (DSIT) has shed light on the vibrancy and dynamism of the sector, revealing the prevalence of SMEs, the significant revenue generation by large firms, and the geographical distribution of AI companies.
While regions like London, the South East, and the East of England are AI hubs, there are emerging opportunities in areas like Northern Ireland, particularly in agricultural technology.
The sector's growth has also led to the creation of numerous job opportunities, highlighting the potential for further development of new roles in the industry. This data could help mitigate the concerns associated with job displacement in favour of AI technologies.
In this article, we have explored the key findings from the; Artificial Intelligence Sector Study Research Report. This study was conducted by the Department for Science, Innovation & Technology (DSIT) and published as of March 2023. 
For more related content, check out: Digital Age Statistics | Best AI Marketing Tools.