What is WordPress.com?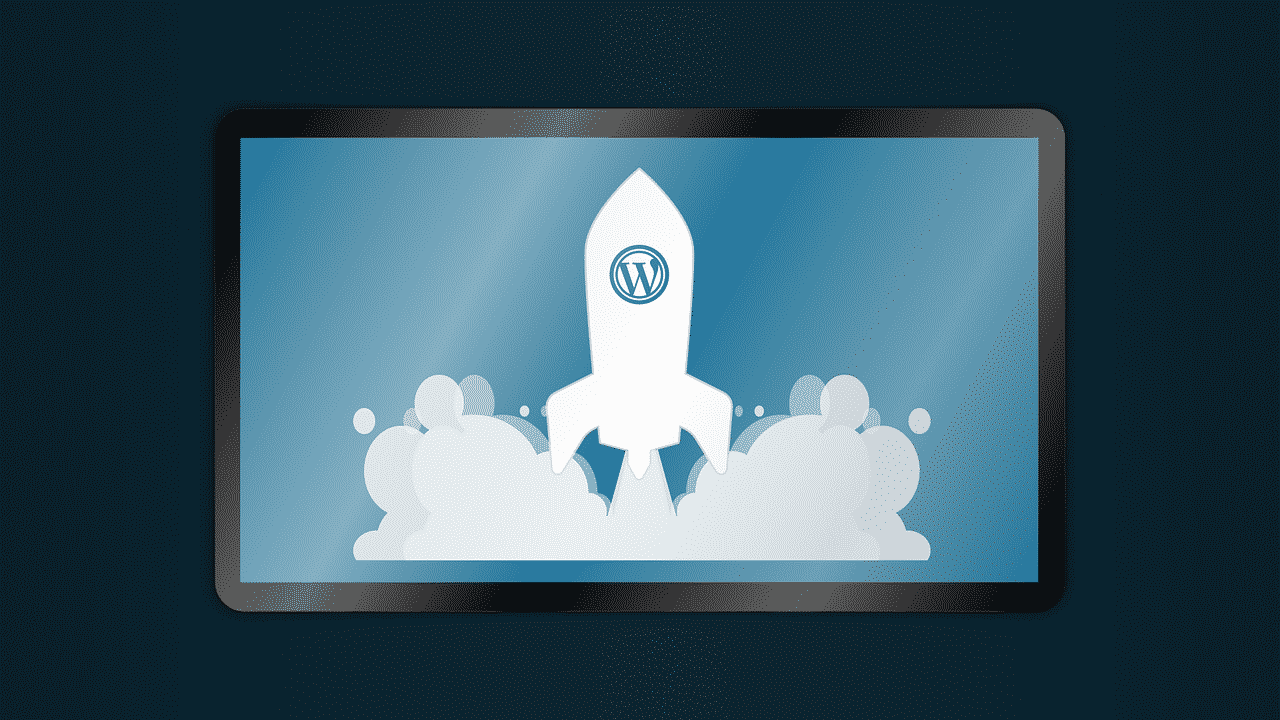 WordPress.com is one of the worlds biggest blogging platforms. It works very similar to WordPress.org as it uses WordPress as a platform to work. Although it uses WordPress as its core, WordPress.com faces a lot of limitations with themes and the fact you cannot installs plugins. 
This makes this platform perfect for users wanting blogs and not websites and it is very easy and simple to setup. Below I will be showing a step by step guide on how to setup a WordPress.com account so you can create your blog about your favourite ideas and hobbies.
Step 1: Choosing your site name/details.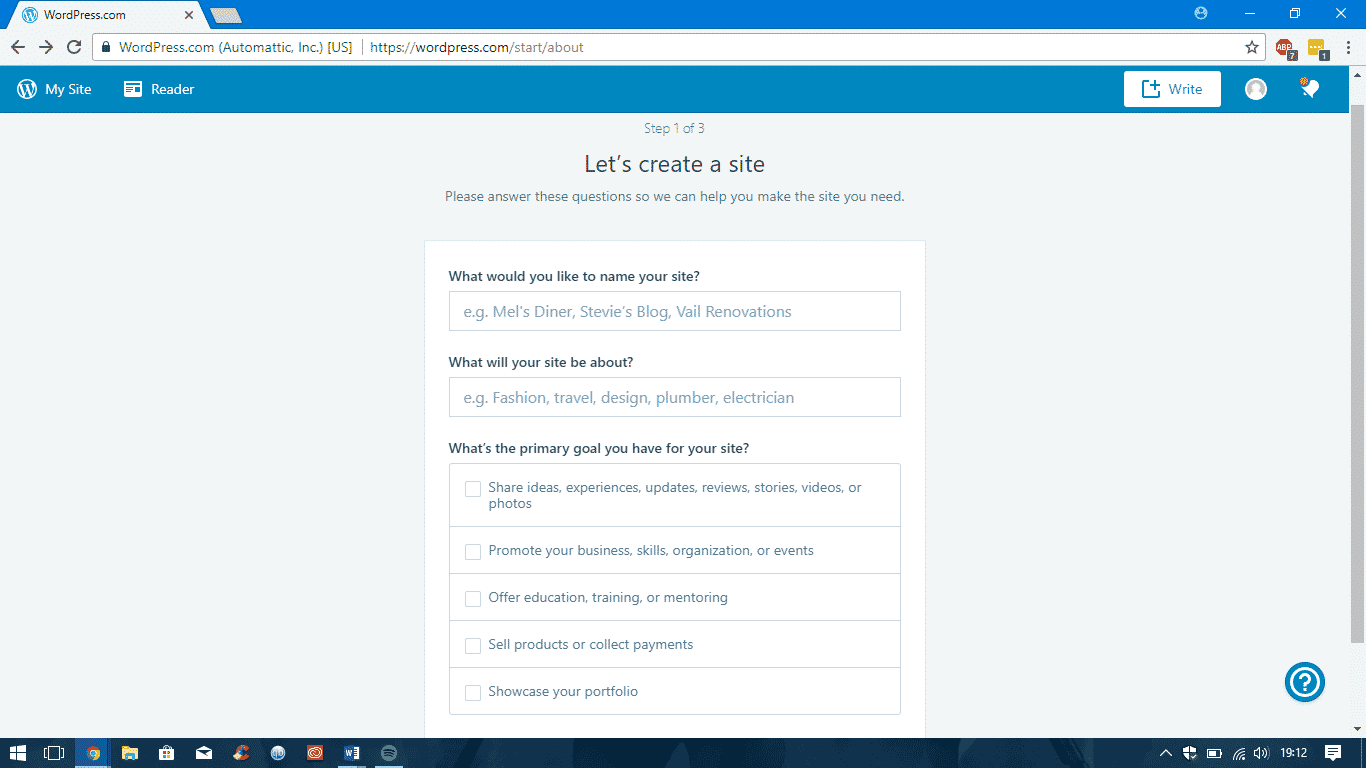 Step one to creating a WordPress.com blog site is by going onto the website itself. You can see in the above image the URL/web address of this. When you are on the site you will be brought to a place to sign in to your account/site. Here you can also hit sign up and you will be brought to the screen shown above. 
The above is the first step of three to creating your WordPress.com blog/site. Here you will choose the name of your site, explain what the site will be about and also tell WordPress what your site will about.
Step 2: Choosing your domain name.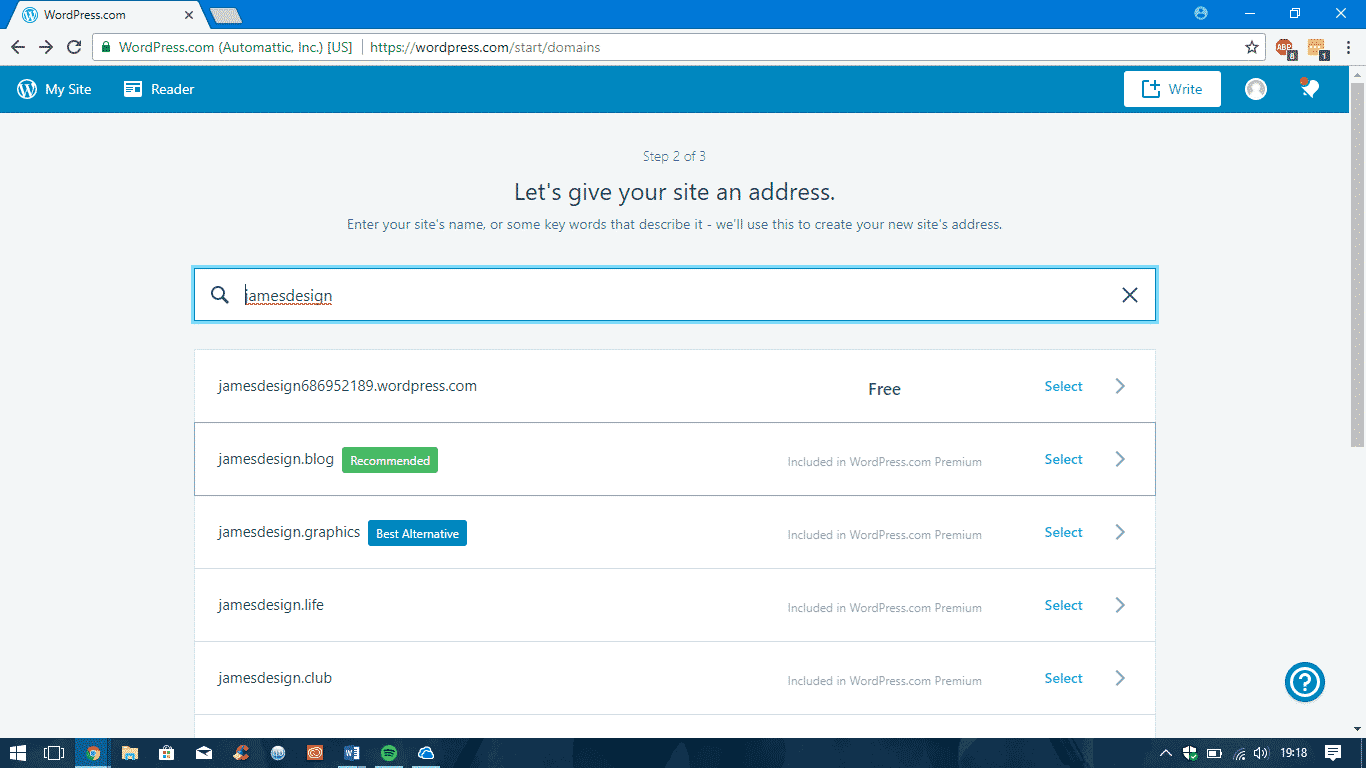 The next step to creating your WordPress.com site/blog is choosing your domain name. In the above image you can see that there is a search bar to help you define the domain name you would like. I have chosen jamesdesign. From here WordPress.com shows you suggestions for your domain name. You can choose one of these names (which are free of charge). Once you select a name you will be brought to the third step.
I myself have chosen jamesdesign.blog as my blog is going to be about my passions and hobbies. I would also like to display a portfolio on this site.
Step 3: Choose a plan that is right for you.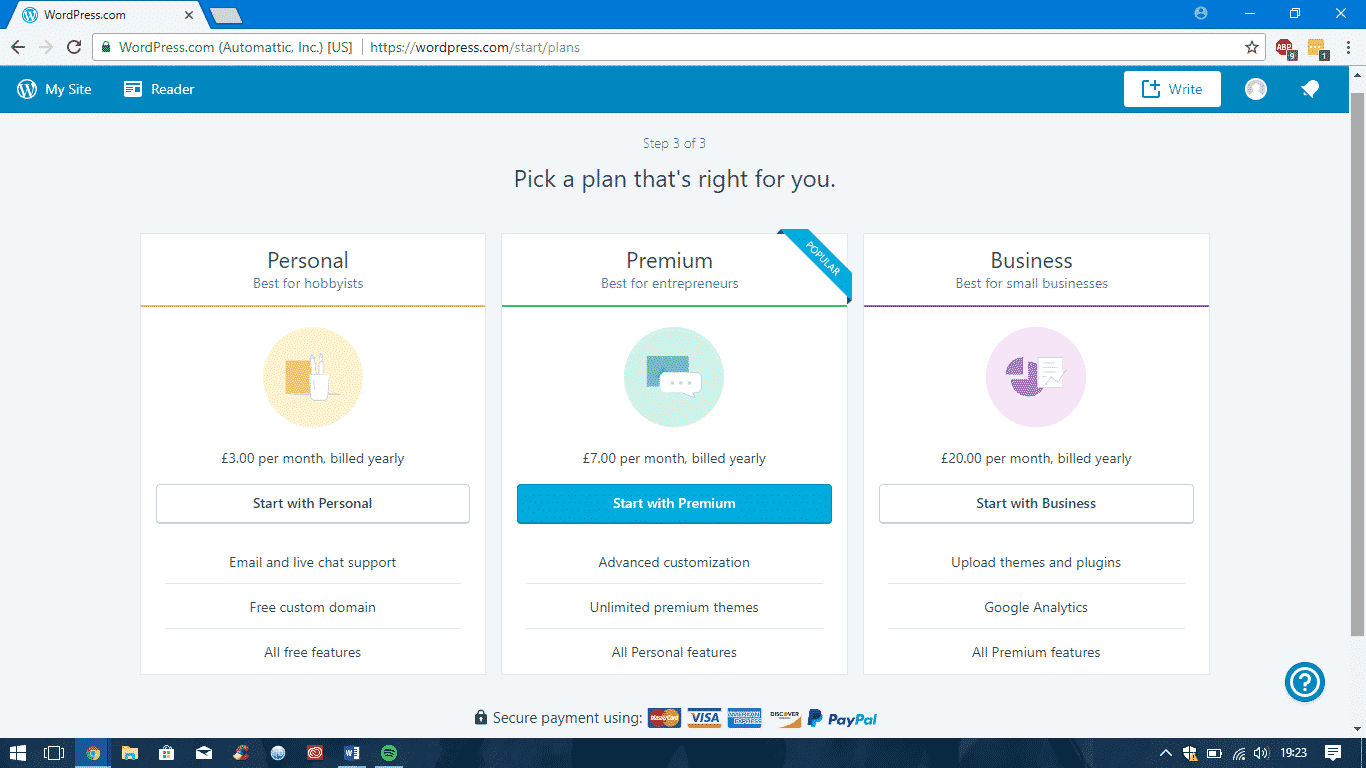 The next step in creating your WordPress.com site/blog is choosing the right plan for you. There are three different plans in which you can choose from. There is the Personal plan, the Premium plan and the Business plan. 
The Personal plan costs £3.00 a month and is perfect for a hobbyist, who would like to blog their hobbies and their life. The features you will receive with this is email and chat WordPress.com support, free domain and all the free features. 
The Premium plan is recommended by WordPress.com. It is more suited towards entrepreneurs as they would like to make there their business more official with a website. With this plan you will have advances customisation, access to more premium themes and all the personal plan features. This plan will cost £7.00 a month.
The final plan will cost you £20.00 a month. This plan is perfect for established businesses. With this plan users will get access to all the features in the Premium plan, google analytics and also access to more themes and plugins.
For my blog I have chosen the Personal plan, since it is only a small hobbyist blog.
Step 4: Choose Privacy protection?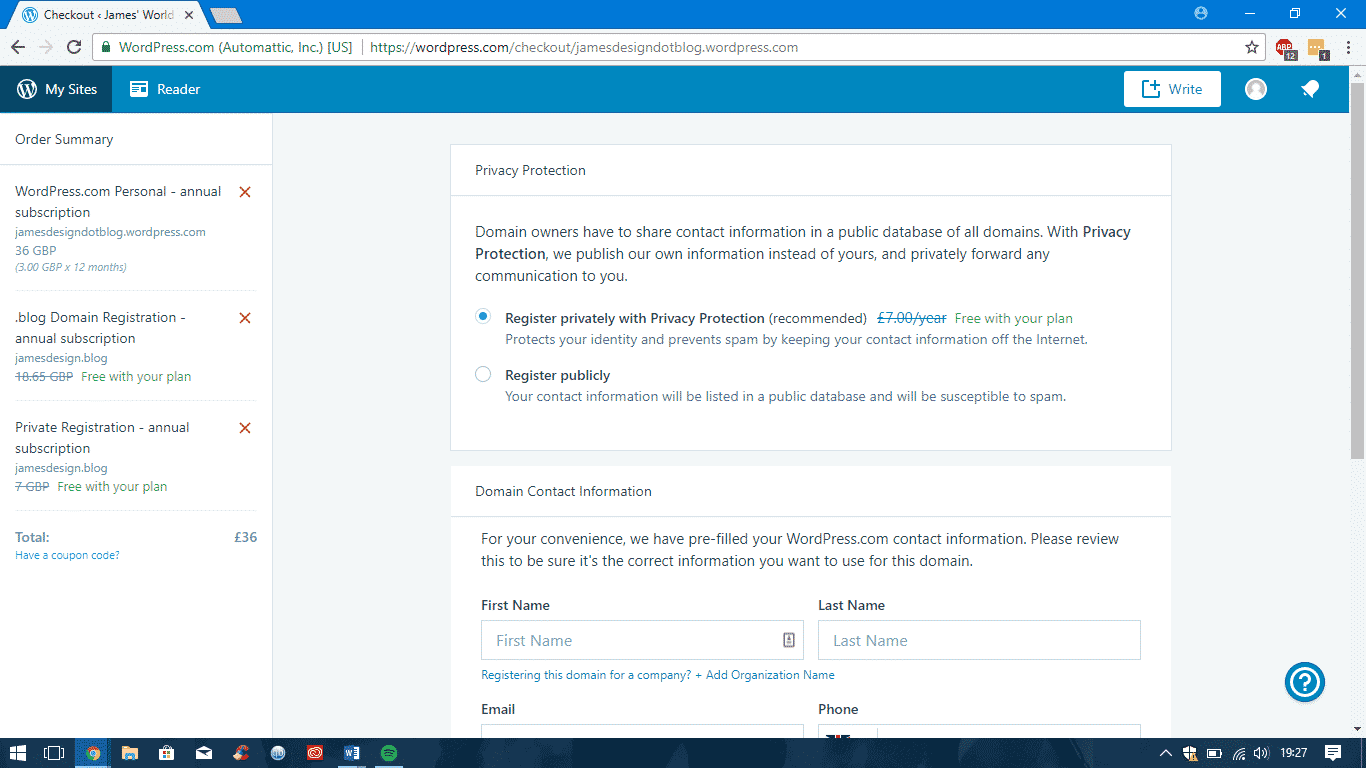 The fourth step is quite simple. You can either choose to protect your details associated with your domain name from being made public. Of course I would highly recommend this as your information will be private. For my plan this comes free but if it is not free I would recommend paying the £7.00 a year for it.
Step 5: Contact Details.
WordPress.com requires you to then enter contact details for your blog/site. These are the details that will be protected by the privacy protection. Here you will need to enter your name, address, email and phone number.
Step 6: Final Step.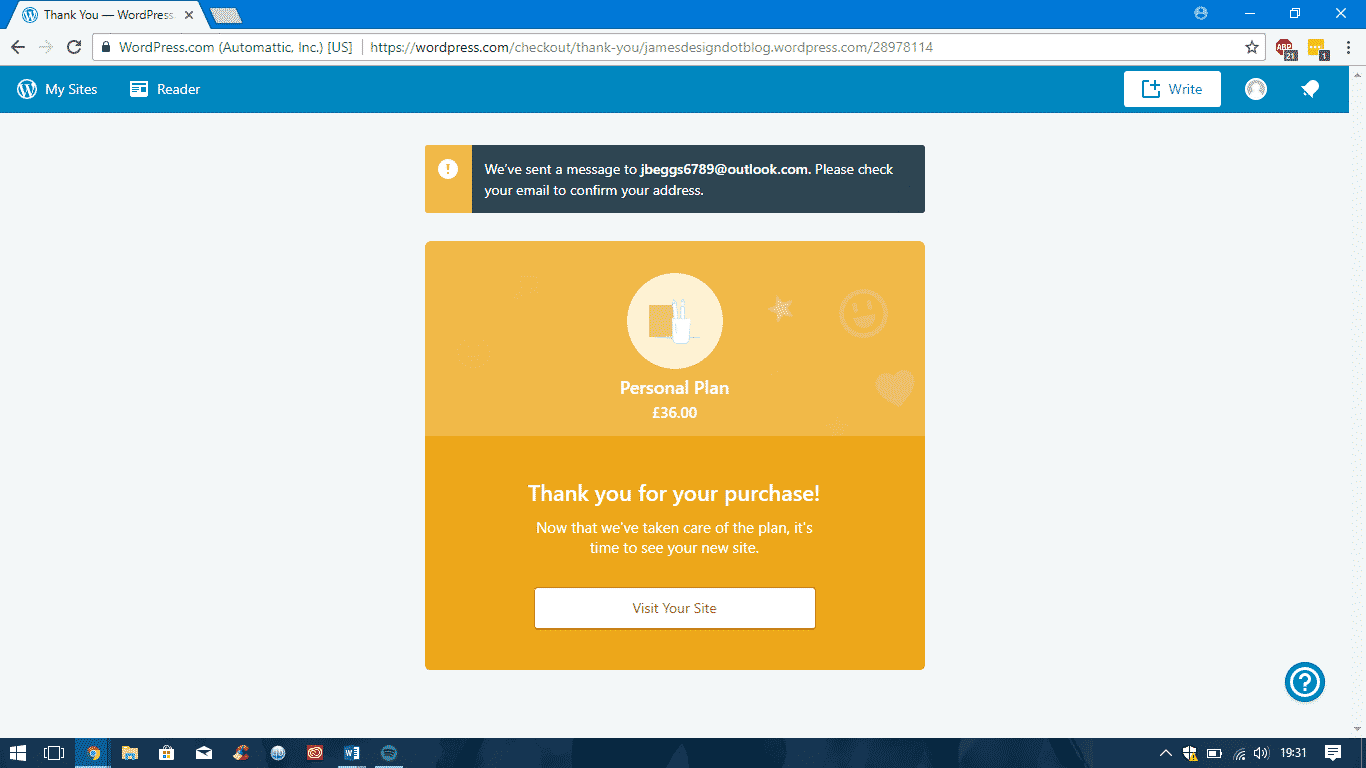 The final step in creating your site/blog is visiting your site. From here you can start to build your WordPress.com site/blog. Here you will be able to start to write posts and have numerous amounts of pages.
Find our other WordPress.com Tutorials below
Part 1; Creating your blog | Part 2; My first post| Part 3; Adding a new page  | Part 4; Creating a new menu