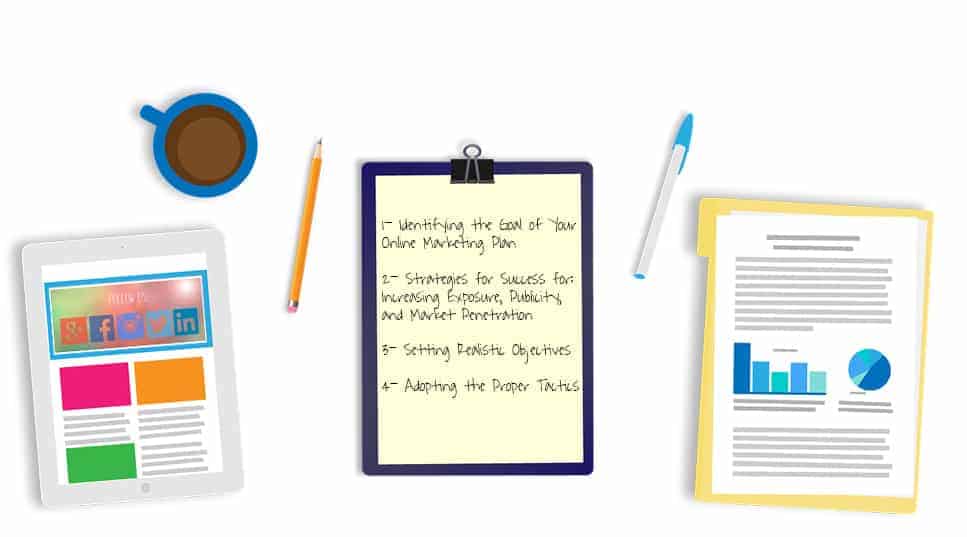 To ensure the success of your online campaign, careful planning is a must. An online marketing plan shows you the amount of exposure you should expect. It also ensures that you are ready for any problems that may face you during your online campaign. Now, assuming that you are familiar with the concept of online marketing, let us walk you through a digital marketing plan template. Starting from the identification of your goal, then the proper strategies and objectives and finally the appropriate tactics for your plan. Finally, we shall discuss some previous success stories as a digital marketing plan example.
Step 1: Identifying the Goal of Your Online Marketing Plan
Knowing your goal is an essential part of any online marketing plan.  It puts you on your first steps to the road of success. A business may choose to launch an online marketing campaign for several reasons. These reasons may be (but are not limited to):
a)Increasing exposure,
b)Good publicity,
c) Market penetration.
Now let us explore these options and identify their digital marketing strategies for your online marketing plan.
Step 2: Strategies for Success
A)Strategies for Increasing Exposure
Now that you have identified your end goal, it is time to choose your most suitable strategy. When it comes to an online marketing plan, your strategy is concerned with the digital medium that you will be using. If your aim is to increase your business's exposure, you will find that the first thing you'll need to do is to improve your search rankings. This is otherwise known as Search Engine Optimization (SEO for short) where you edit your content to ensure that it is up to the Search Engine's algorithms of relevance. To begin working on your SEO, make sure you follow our SEO checklist.
Another important channel for online exposure is social media, where you will be able to generate lots of views and interactions through the creation of an online page. This page will be the go-to place for any individual interested in your business. This is effective when your business is already successful and you are looking for further growth.
B)Strategies for Publicity
To earn good publicity, the customer needs to feel that their voice is heard. Your online marketing plan should involve constant customer interactions to collect information about their current satisfaction level and any necessary improvements. In this case, social media is your friend as it simplifies customer interactions while providing you with a permanent location for your business updates. SEO may be used in this case to further improve customer awareness of these pages to avoid unobserved conversations about your business on non-official pages.
C)Strategies for Market Penetration
This is relevant to a business that is looking to expand into a new market. This is essentially a hybrid of the 2 previous strategies where your business's online marketing plan will be aiming to both increase exposure and spread good publicity. This caters to the creation of a brand that the customers regard as positive. Social media page set is essential including the use of Display ads to attract new consumers that are unaware of your business. People need a reason to choose your business over another. In the case of a product, you need informative advertising that proves that your product is superior to others. In case of a service, being unique with creative ads will give you the edge over your competitors.
Step 3: Setting Realistic Objectives
We all strive for success, but setting realistic objectives is essential to accurately observe the effectiveness of any decision. The first thing you need to consider is your current position. This involved how many people are following your business, how many hits it gets on search engines and how often it is discussed online. It is of no doubt that the hardest part of online marketing success is those initial 100 follows. Afterwards, your online presence starts to organically grow from all the discussions happening online. A good rule of thumb is that you should set realistic objectives and aim for at least 70% of that objective.
Try to maximize the benefit out of your current campaign by setting several objectives that cover both short term and long terms goals. Preferably, your short term objectives should augment your long term vision of the business.
Step 4: Adopting the Proper Tactics
Social media is an essential tool for any online campaign, its strength comes from the incredible versatility it provides. For the purpose of exposure, you will find yourself producing a lot of ads and perhaps some promotions. Remember, creativity is key to getting that edge over the competition.
Another approach if you are interested in gaining public relations is to engage the consumers. This can be in the form of discussion about what they like in your business or even just normal social interaction if you are going for a more "local" business type. Giving consumers the sense that their voice is heard can work wonders for your brand. It generates acceptance and brand loyalty. Many studies indicate that a consumer is much more likely to recall a brand that they have interacted with recently and they are much more likely to recommend your business once they've had a positive experience.
Success Stories
Now that we have gone through all the necessary steps to coming up with a plan, let's explore a digital marketing plan example or two.
1- GoPro
A company that makes a heavy-duty camera that works in harsh conditions. Their product was already successful as it was adopted by thrill-seeking adventurers who used it to capture their adventures. Naturally, any company would want to capitalize on that success and that is exactly what GoPro did with their YouTube channel. This channel hosted content captured by GoPro users and was a huge success (currently sitting at 5 million subscribers).
This has generated massive amounts of exposure for the company and has caused them to become the "go-to" brand when it comes to portable video capturing hardware. The YouTube channel was a proof of the quality of their product as well as the close connection they have with their community which essentially allowed the community to become a cornerstone of their marketing strategy. They knew that they already had the product and all they needed was exposure so they went for a straightforward online campaign.
2- General Electric
This company decided to let go of traditional website design and instead opted for online video content on their website that showcased their work. This was a bold move but it showed their audience that they have no interest in talk and instead choose to prove what they are capable of. GE knew that they wanted publicity and their bold statement of "no words and all action" earned them consumer respect.
3-Red Bull
An already successful energy drink company needs to raise awareness for their new flavors. They turned to Instagram as their sole channel for their online marketing plan where they used eye-catching yellow colours to promote their new tropical flavours. Their new product was easily able to penetrate the market  simply relying on their already established brand. Capitalizing on that online presence allowed for the success of their new product with little expense.
Overview of Your Online Marketing Plan
Initially, it may seem like a lot of information to take in. But once you've followed these 4 simple steps you will find that the road to your online success is clear. First, identify your end goal; then choose the proper online channel depending on your desired strategy. Then, all what's left is that you have to set realistic objectives and adopt tactics that suit your goals the most. There you go, there is your fail-proof online marketing plan. Make sure that you set both short term and long term objectives that complement each other. These are your available tools. Compliment this knowledge with creativity and hard work and you will definitely achieve success.