Whether your goal is to develop some fundamental internet marketing skills to launch a career, or to develop the infrastructure for a business. There is a range of courses, that fit your requirements. The internet marketing sector, has become one of the largest of any industry. Despite this, because of the digital skills gap it is still one of the most underutilized. Therefore, internet marketing courses can be so practical and the development of these sought-after skills mean a much more potent marketing scheme.
Internet marketing courses are easy to find and simple to use. Through this article we're going to talk about the importance of these courses and look at some examples. Lastly, we're going to look at how you can find the best fit for you.
What is Internet Marketing?
Internet marketing or online marketing is a broad term that may encompass a large variety of different techniques. Internet marketing is often targeted for a specific audience. It is also often interactive, and provides measurable positive outcomes. These are some of the attributes that make it such an effective form of marketing.
Internet marketing is often divided into several large categories, which may include SEO, social media advertising, cost per click advertising, email marketing and more. If you any of those terms sound unfamiliar, you're in need of an internet marketing course!
How Important Is It, Really?
If you're looking to sell, advertise or promote anything online, you need internet marketing. Most of the time this is the only way you're going to see any results. You post a picture online and wait for people to respond to it. If you're lucky, that will work out just fine. However, most of the time you need to familiarize yourself with the advanced techniques of internet marketing.
Generally, the short answer is yes, it is very important!
Where To Find Internet Marketing Courses
Nowadays, you can find courses online for almost anything. Learning a new skill has never been easier. Lynda is one of the online sites that offer countless online courses. Now, all Lynda's courses can be found on LindkedIn Learning. Once you've started your subscription you will be allowed to take part in as many online courses as you wish. They have a wide range of expert-led marketing courses and other courses related to design, photography or even IT.
Better yet, you can choose from a selection of marketing courses depending on the type of internet marketing you are interested in. For example, you may choose to take part in their Twitter Marketing course to familiarize yourself with Twitter in particular. On the other hand, you may choose to take part in their Advanced Google Analytics online course to understand how that works.
Let's take their Online Marketing Foundations course as an example of what their internet marketing courses consist of. This course is one of the courses approved by the American Marketing Association. It will offer you information about a number of topics including:
What is online marketing?

Creating engaging web copy

How online analytics work

Using goal tracking

Essential SEO techniques

And many more!
The course is four hours and 43 minutes long, and obviously you can access it at your own pace and take as much as you need from the content provided. All this and more information can be found on the website for each and any course you select.
This online platform is known for being founded by two of the most elite universities in the world. edX was founded by Harvard University and MIT in 2012 with the goal of increasing access to high-quality education. They offer online courses taught by professionals and experts in the field.
All of their courses are provided by known educational institutions around the world in order to ensure the best quality education. Therefore, their courses tend to last longer than a few hours and could be a little pricey. However, at the end of each program, you will be granted a certificate proving your participation and acknowledging your effort.
For argument's sake, let's take a look at their Digital Marketing program. This course is one of the internet marketing programs offered by edX. It is a 4-course program offered by the Wharton School of the University of Pennsylvania. The course lasts around 5-6 weeks per course, which totals around 20 weeks. Moreover, each course is provided at $585. Throughout the program you will skills such as:
How to leverage new models to increase profitability

New techniques in Market Research and Social Media Analytics

How to generate more words of mouth and make more use of social media to market your products.

And much, much more!
Coursera is another online platform that has partnered up with many top universities and institutions to offer high quality courses online. All of their courses are taught by expert instructors from the world's best universitions. Their courses are instructed through video lectures, several assignments and discussions forms.
Beyond that, you can look at obtaining specializations and online degrees. In terms of the subjects taught, Coursera offers courses in many internet marketing topics. An example of that is their course titled Marketing in a Digital World.
This course takes place throughout four weeks of study with six to eight hours of work per week. The course is averagely rated 4.6/5 by users and it is offered in numerous subtitles including Chinese and Turkish. It is considered a beginner level course so it will teach you a lot about:
The tools used for internet marketing such as the internet, smartphones and 3D printing

The shift of power from the producers and firms to the consumers.

The basics of understanding how marketing works in the digital world today.
The Digital Marketing Institute provides certification for digital marketing and sales professionals. Their courses are categorized by professional levels and difficulty starting from Professional Diploma, Postgraduate Diploma and lastly Masters.
The price of the course is set at USD $2,445. Given this relatively high price tag, the DMI will provide you with certification that can enhance your professional career. The course is designed to inform you about various aspects of internet marketing including:
How to strategize and implement digital marketing campaigns that are effective.

The secrets behind the types of internet marketing including social media and search marketing.

The current practices, theory and skills related to the digital marketing world today.
Udemy is another website that offers a wide selection of online courses. Amongst their wide variety are internet marketing courses. Their selection for internet marketing courses varies from the general to the specific. One of the courses offered is titled Internet Marketing Course – Intro to Website marketing, you can tell this is one of the specific courses that focus on one thing. On the other end, they offer a 12 in 1 course titled The Complete Digital Marketing Course, which is one of the more general and broad ones.
Let's take a look at what these two courses have to offer. First, the Intro to Website Marketing course is offered for free on the Udemy website and does not require any prior background or experience. If you're interested in understanding the basics of website marketing, this is the place to go. This course will take you through the need-to-know of the following:
Conversion Optimization

Social Media
Enrolling in this course will provide you with lifetime access to four hours of on-demand video lectures. You can access these videos on mobile and TV. Furthermore, upon completing the course you will be granted a certificate of completion.
On the other hand, we let's take a look at The Complete Digital Marketing course offered by Udemy. This course is priced at $9.99 on the website and gives you lifetime access to 22.5 hours of video and 10 articles.
You need no prior experience to enrol in this course as it will help you explore the field of internet marketing and eventually master it. This course is designed to help you improve your professional career through internet marketing. Whether this is by turning your business around and developing it or improving your personal skills to become a marketer.
How To Find The Perfect Fit For You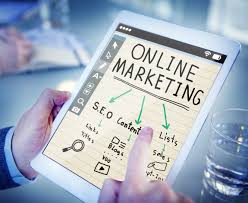 Finding the perfect internet marketing course for you is not that difficult. There is a huge selection of internet marketing courses online that range in prices, duration and other specifications. As much as the range of available internet marketing courses might excite you, we are all limited to the commitments we can make, the same goes for the marketing course you would like to subscribe to. The following is a list of four criteria which might help you determine what internet marketing course is the right one for you!
Length
The length of the course is very important to consider because it has real implications on your goals. Depending on the course length you choose, the distribution of content taught to you throughout a period of time will be affected. Therefore, you may not develop the skills you would like to, when you would like to.
For example, if you were looking to start a business in the very near future, you can't choose a course that runs for too long. At that point, you may not have advanced your skills as much as you would've liked before starting your business.
The consequences of such a choice may prove difficult to overcome. Conversely, if you were to pick too short a course, it may be less comprehensive than you had hoped and you would complete it with time to spare. This means that the skills you have developed may be more superficial than you would have preferred.
Skills offered (taking into account your skills and weaknesses)
Inside any course offer, you are likely to find the list of skills that they will try and teach you during your study. It is important to strongly consider what these skill can offer you. You may want to develop the skill set you already have, or you may want to establish skills you've never had before. This is why it is vital, you decide your goals before choosing your course.
For example, if the course is a simple introduction and you know your skillset is beyond that, move on to the next one. It is also important to determine your level, whether you're at a beginner's level, intermediate or advanced. Many website will specify the level at which you should be at to take the course. Therefore, making it a lot easier for you to decide.
Price
This factor is probably the most tangible criteria when considering an internet marketing course. Price will probably be a limiting factor for your options for courses. The more expensive the course you pick, the more quality training you are likely to receive. However, this is not always the case. If you study what resources are actually being offered to you, you will probably be able to get more value for money than what you paid for.
Many of the more advanced courses offered by universities and elite institutions will have a relatively higher price tag. However, do realize that the quality and uniqueness of the content provided is probably well worth your money. Also, the more expensive course will offer you a certificate of completion which you can add to your CV.
Pace
Last but certainly not least, is pace. Pace is very important to keep in mind. This will allow you to judge how well you will be able to fit the course within your daily schedule and if you will be able to commit to it. Most online internet marketing courses are provided in way that allows you to control your own pace. This is beneficial in the sense that you are grasping as much information as your mind can process.
However, some courses are more demanding than others and you will have to make a decision. If you know that you will not be able to commit daily, then try weekly or even biweekly courses. It is important to look at the number of hours each course is and determine for yourself. Sometimes, this is the most important factor as it will decide for you whether it is worth the money or even worth your time.
Finally, you're set to go find the perfect internet marketing course for you! Remember to consider the four factors listed above when making your decision and good luck!