Why have a contact list on WIX? A contact list is important to any site that allows users to signup for services, Ecommerce etc as it helps to keep track of everyone who interacts with the site and the features they're signed up to or use.
For instance it will help divide customers on an Ecommerce site into those who have bought products and into those who have subscribed to the newsletter of the site but haven't bought products.
With WIX it is very easy to edit any contacts. This could because they've changed the way they interact with the site, have now bought a product after being signed up to the news-letter or have unsubscribed from the site.
Watch the video tutorial below or visit our 'Organising Contacts and changing a contacts subscription status' article.
To Access Your Contact List
Accessing your contact list is simple: every template that offers one of the services mentioned above has a contact list. If a template doesn't have any of the features mentioned above, it is simple to add one of the services to your site. This then makes an automatic contact list on your WIX site.
To access simply go to your WIX dashboard, then head to the 'Contacts and CRM', then contact list. It will then show all of the contacts attached to your site. From this dashboard you can edit the users name, email, phone, address and also there subscription status.
If you don't have any contacts on your site as of yet, you can easily import contacts using your email account such as Gmail and Outlook using a CVS file. This file imports your email contacts.
Editing Your Contacts
The first step to editing a contact when in the 'Contact list' panel is to click on a panel. This will open a right hand sidebar on the page with all the contacts information within it. The information displayed will be the name of the contact, contact information, any labels and any attachments attached to this certain contact.
To edit any of this information, you will either see a blue edit button or a blue add button. You can also find any tasks, notes and chats attached to the contact. Labels allow users to be divided within the database of contacts. For instance you can have a label for all of your subscribers and then a label for all of your customers who have a bought a product. This can also help when sending emails, as you can then choose a label to send certain types of emails such as marketing. Attachments are just any type of files that need to be attached to a contact.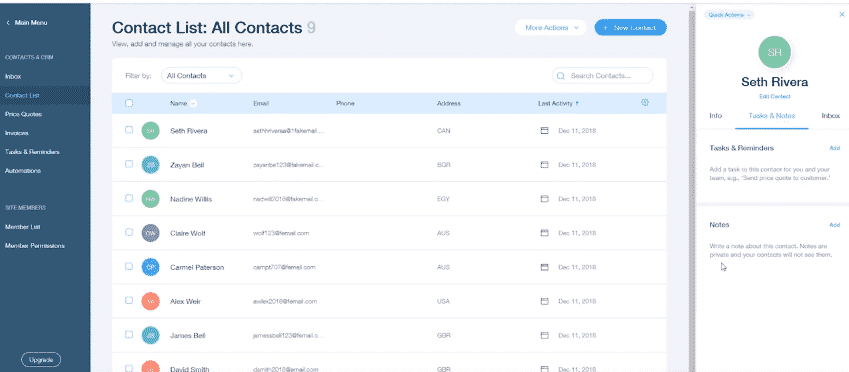 Notes and tasks are great as you can set a task for yourself to do with this certain contact. It could be a reminder to send information to a contact or to add another product to their order as a gesture of goodwill. Notes also allow to keep a note about any boundaries or problems that may face that contact. A note could be, 'Contact using phones ONLY during 9-5, Monday to Friday and email every other time.' It could also be a place to keep a note of any customer allergies if you sell food (especially if you sell food subscription boxes).
Want to learn more about WIX?
How to Connect 3rd Party Marketing Apps – Add Domain to your Wix Site – Automated Emails with Wix – Editing a Website With Wix